While the TV tray was the epitome of chic comfort in the 1960's, TV dinners are increasingly becoming a thing of the past as families realise the advantages of eating together at the table.
Because of this new value, the eat-in kitchen has also quickly become a must-have rather than luxury, so we have put together some beautiful table and chair combinations to suit your home and lifestyle.
BTW, check out our Kitchen Design Ideas section if you need more design inspiration.
Let's first look at why eating at the table is a good idea
The absence of screens at the dinner table is said to result in families who eat together to communicate better, gain more enjoyment from their meals and even chew better. This allows for better food absorption, quicker satiety and ultimately a lower BMI.
Also, recent Swedish research found that children from families who dine at the table are likely to be more confident, do better at school and are less likely to get into all sorts of trouble.
These meals are often enjoyed at the kitchen table, rather than the traditional dining room table, as it usually means less effort setting and clearing the table.  It also creates a more intimate and less formal family environment.
Not only is this a good thing for families, but also for the world of design, as we get to rediscover the humble kitchen table and chairs.
Due to its more informal, family-oriented nature, people tend to have much more fun with their kitchen dining design, often making use of a mix of styles and colours, thereby setting the tone for fun family suppers.
Here are the 5 coolest kitchen table and chair combinations
Traditional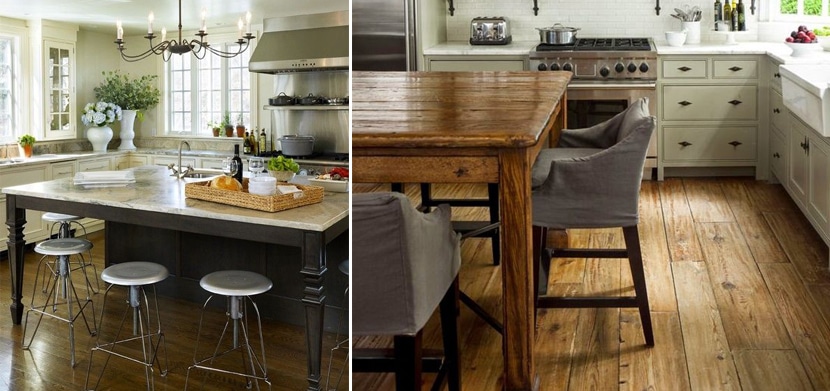 Georgiana Design & My Sweet Savannah
Both these homeowners have taken the traditional kitchen table and given it a twist. We love the idea of the traditional table that gets a marble top and forms part of the kitchen workspace.
Another twist on the traditional farm-style kitchen table is upscaling the chairs just a little.  Slipcovers create a modern, more luxurious look while allowing you to remove and wash them.
Round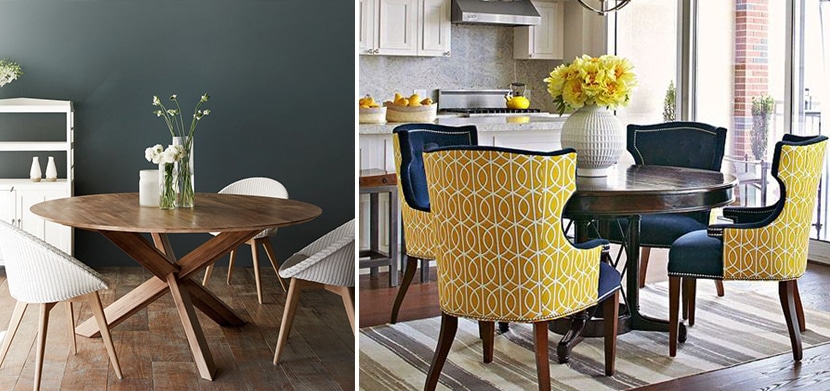 BlogBeen & Better Homes & Gardens
Round tables create the ultimate social environment as all diners are perceived to have equal social standing.  It has the ability take on an elegant look and lends itself to better traffic flow, both of which make for an easy transition from the kitchen to the living areas which explains its popularity.
Colourful
los mundos de Alisia & Pink Friday
A fun, trendy kitchen chair idea is to create a collection of odd and old chairs and paint them different colours.
It offsets beautifully against either a raw wood or white kitchen table and will pick up on a variety of colourful textiles you may want to use for scatters, curtains or tablecloths.
Painting only the feet of stools is a more subtle approach and allows you to push the stools in under the table to create more kitchen space.
Rustic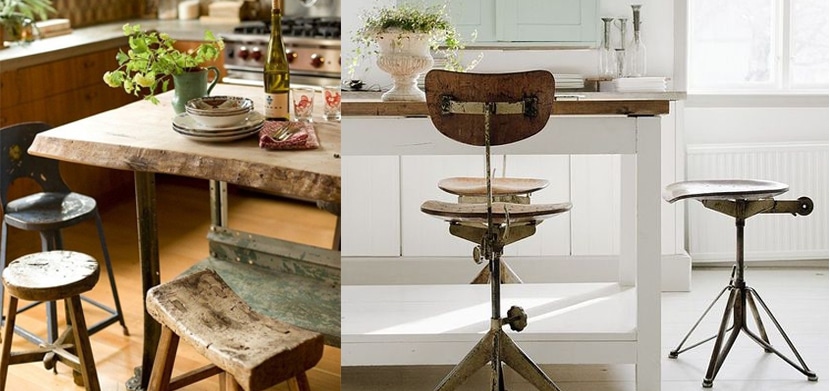 Under The Beautiful Sky & Wanderlust
This is a great example of how farm-style kitchen dinner spaces can take on a completely different look.
Beautiful, convenient stools full of character are sure to guarantee a hearty meal and family conversation, while upcycled bar stools in a fresh, white setting create a sense of warmth without taking anything away from the clean feel of the kitchen.
Chic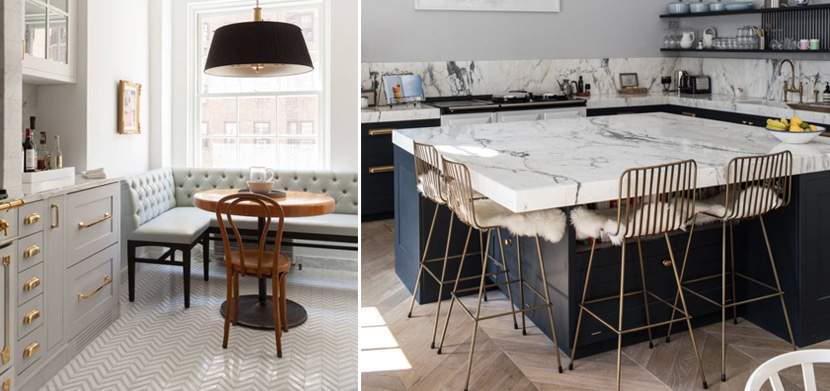 Frog Hill Designs & Laura Butler Madden
Kitchen tables and chairs don't have to be vintage to be comfortable.  These two exceptionally chic kitchen dining spaces with marble and gold features have a laid-back, conversational feel due to the soft upholstered and faux fur chairs.
Banquet seating facing the kitchen allows the cook to join the family in comfortable conversation while placing the chairs at the kitchen island involves the family in the cooking process. 
What to look for in a kitchen table and chairs
Lofty ideals and sassy décor aside, if your kitchen table arrangement is not comfortable, you're not likely to sit there and enjoy any of the benefits.
Here are a couple of rules of thumb to get the right table-chair combination and optimise the experience.
Allow 30 cm between the chair seat and tabletop.
Chairs without arms generally work better at a table as they take less space, but if your chairs do have arms, they should be about 18cm from the table bottom or apron.
Each guest should have 60 cm – 75 cm at the table to eat comfortably, and their chairs should be at least 15 cm apart.
If you have a rectangular table, an additional 30 cm should be left at each end of the table to allow for the people sitting at the heads.
When mixing chair styles, try to get ones that have the same or similar seat and back heights. Exceptions to this rule include benches and the chairs at the head of the table.
Few people have kitchens large enough to accommodate a large table and chairs, so looking for space saving options such as stools and benches that push under the table is a good idea.
There are about as many kitchen table-and-chair combinations as there are meals to prepare.  Carefully consider your family needs and dynamics and settle on a look and feel that truly reflects your personality.
Get in touch with our consultants who are experts at helping homeowners design functional, personal kitchens.
Feature Image: Elle Decor South Africa & Bolig Pluss
Book a Design Appointment
If you enjoyed our design ideas, subscribe for updates.
Get kitchens design ideas in your inbox.
Check out these posts for more Kitchen Design Ideas.
Most Popular
Dublin Kitchens: The 7 Latest Trends
The 12 Most Influential Kitchen Design Trends from the US
5 Tips for Designing Small Kitchens
6 Exciting Colour Palettes for Kitchens with Personality
6 of the Best Solutions for Corner Cupboards
10 of the Most Beautiful Kitchen Backsplashes
Types of Kitchens
In-Frame Kitchens – 5 Things You Should Know
What are Shaker Kitchens and Where are They From?
What Exactly are Hand Painted Kitchens?
The Top 10 Trends for Modern Kitchens
Design Ideas and Trends
5 Clever Ways to Increase Natural Kitchen Lighting
How Much Value Does a Fitted Kitchen Add to Your Home?
12 Must Have Celebrity Kitchens of the Rich and Famous
Families
10 Kitchen Design Tips for Families with Kids
6 Tips for a Kitchen for a Large Family
Cabinets, Doors, Kitchen Islands & Finishes
9 Essential Kitchen Cabinet Types
Get the Perfect Kitchen Finish for your Lifestyle!