Great lighting is essential for efficiency and safety in your kitchen, but lighting does not have to be only functional task lighting.
While task lighting is important, lighting also sets the mood, can serve to illuminate and highlight your favourite kitchen features, as well as be a striking focal point in the room.
Selecting the right lighting for your kitchen can be tricky as you need to take into account the height of the ceiling, the amount of natural light present, what they are going to be used for, their use of power and how big the actual light fittings should be in the space.
Use these lighting ideas to create a professional lighting design for your kitchen.
BTW, check out our Kitchen Design Ideas section if you need more design inspiration.
1. Use Simple Downlights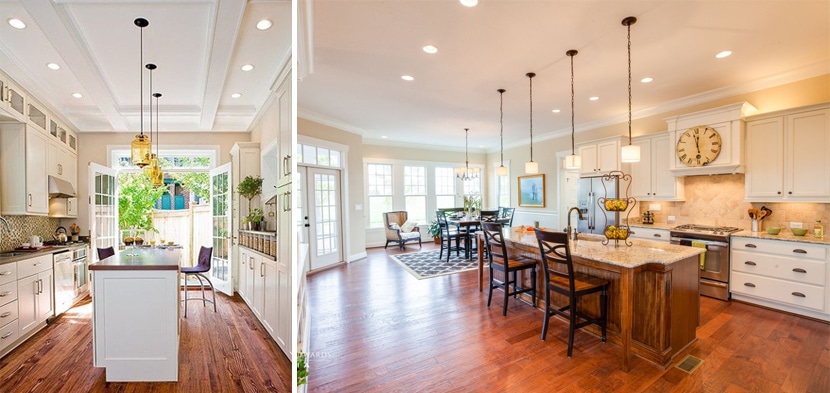 Downlights, also known as recessed lights, are a simple way to ensure that there is sufficient light in your kitchen. They sit subtly within the kitchen ceiling and can fit in with almost any kitchen style or decorative lights. Using a dimmer switch is also helpful for controlling the amount of light needed for any situation.
When planning all your lighting, it's a good idea to consider the colours used in your kitchen. Darker walls and cupboards will not reflect light as well as lighter ones. Darker kitchens will, therefore, require additional lighting.
2. Illuminating Under-Cabinet Lighting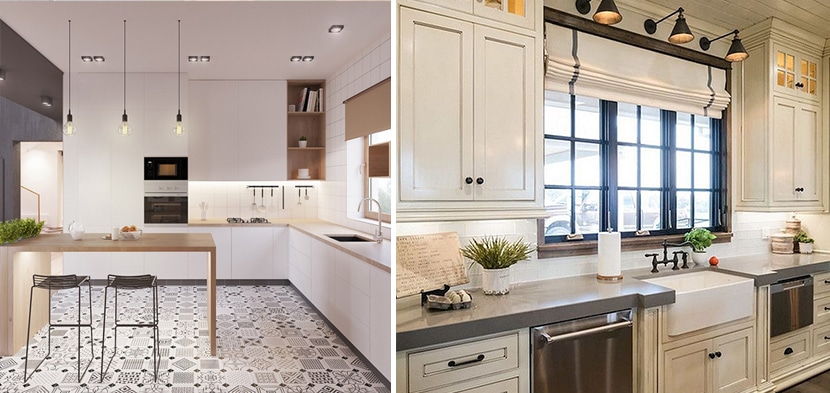 Not all light fittings need to be seen; sometimes simply seeing the light is enough, especially for task lighting on countertops. Most commonly, LED lights or strips are added underneath a cabinet or cupboard, shining down onto the countertop.
This is a great way to ensure that a hard-working space is well lit and shadow-free for safe food preparation while allowing the rest of the kitchen to have dimmed light if required.
These hidden lights can also be used to draw attention to décor and accessories that are placed on the countertops.
3. Make a Statement With a Pendant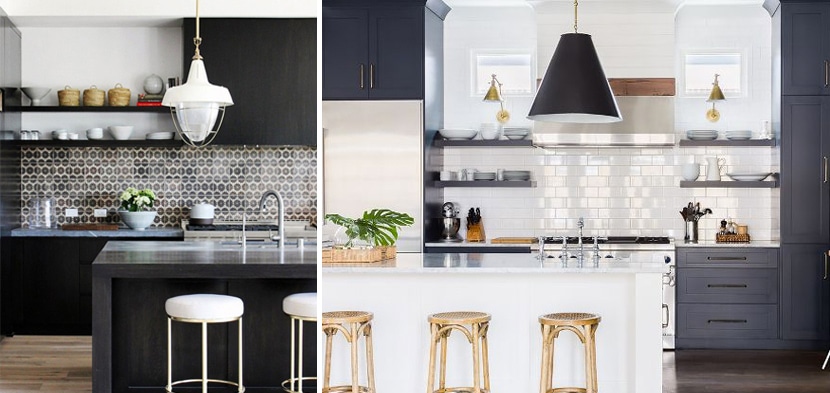 Pendant lights work in many kitchen spaces, but they work particularly well in kitchens with high ceilings or when installed above a large kitchen table or island.
Pendant lights can help a high ceiling appear lower, and they also assist in balancing the scale in a room. Always install pendant lights at a height that will allow them to stay out of the way, typically 75cm – 90cm above the work or table surface.
Pendant lights come in countless designs and materials, so you are sure to find something that suits your style.
4. Try a Cluster of Pendant Lights
>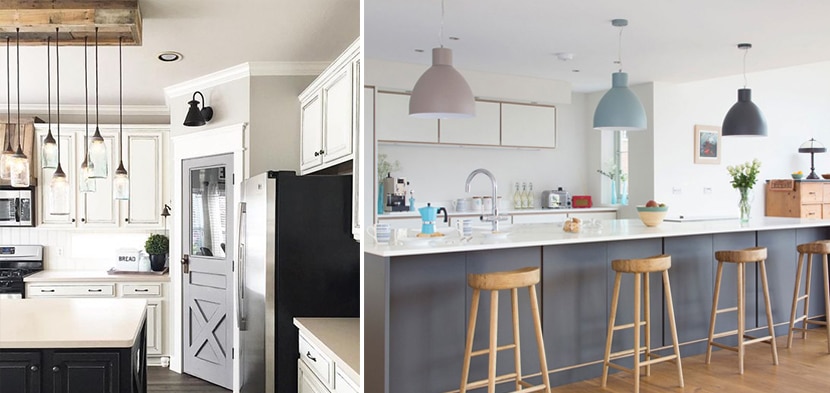 Our Faux Farmhouse & Ideal Home
Pendant lights can also be grouped to compliment a large area or to serve as a visual divide in a large open plan space. Some lighting fittings are manufactured as a cluster of lights, requiring a single electrical point when fitting them, but you can also create a cluster by hanging a few close together.
Using multiple pendants of the same design will create a sense of uniformity and rhythm. For a more informal look, try grouping fittings in the same colour or style.
5. Keep Your Bulbs Bare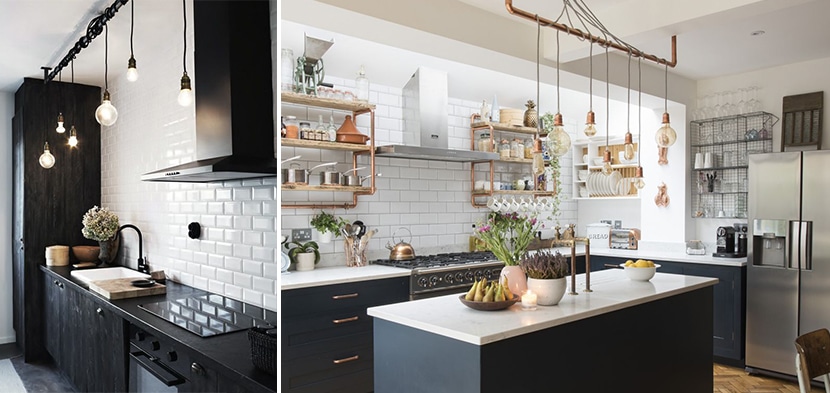 Attractive lighting does not always have to involve a lampshade or pendant. For a subtle pendant accent, take advantage of beautiful light bulbs by leaving them exposed or simply covered by glass.
It is helpful to combine these exposed lights with targeted task lighting in other areas of the kitchen.
The task lighting ensures that the exposed lights can be dim enough to be easy on the eyes, while still acting as ambient lighting. For maximum energy efficiency, choose LED filament bulbs.
6. Classic Chandeliers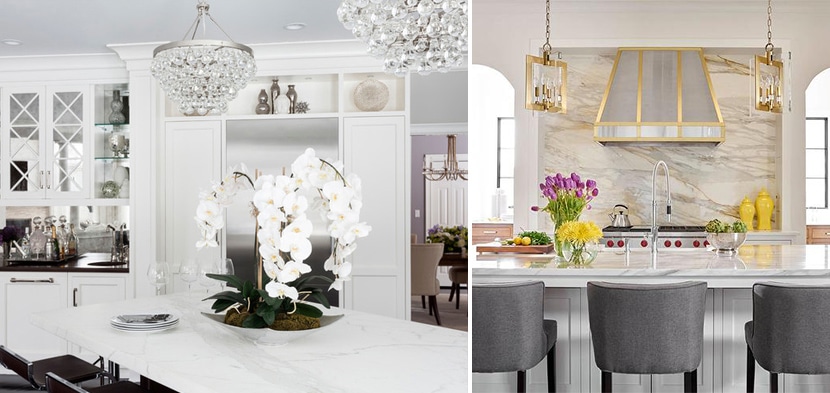 Chandeliers can be a wonderful statement piece in a kitchen. The range of styles includes simple designs to large, elaborate chandeliers with many lights, crystals, beads or tassels. Since the light bulbs on chandeliers are often exposed, they can also produce a lot of glare.
Apart from having them on a dimmer, you can also use frosted globes and bulbs with lower wattage to eliminate any visual discomfort.
7. Modern Statement Fittings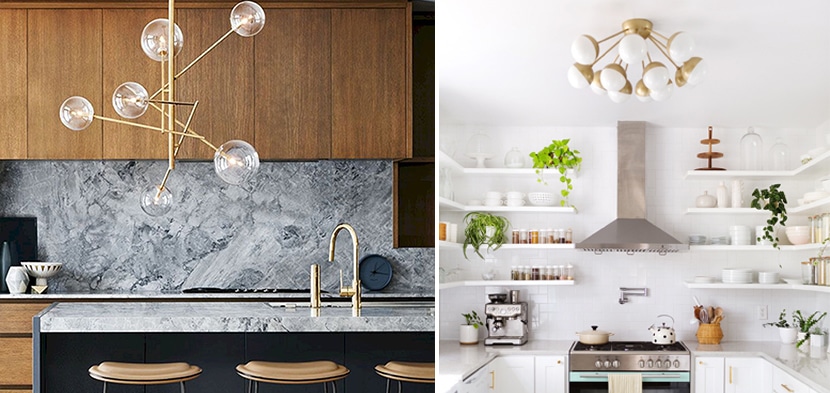 Beacon Lighting & A Beautiful Mess
The traditional chandelier has had a makeover in recent years, and the results are modern light fittings that make fantastic focal points in any room in your home. There are many styles available, but most include globe shaped lights and have either brass, copper or gold elements.
These metallic touches can easily be brought out in other accents within the kitchen, including plumbing, appliances or kitchen accessories.
Using similar styled light fittings in different rooms is an excellent way to develop a consistent look and feel in your home. For assistance in all aspects of your kitchen including lighting layout and design, speak to one of our friendly consultants.
Book a Design Appointment
If you enjoyed our design ideas, subscribe for updates.
Get kitchens design ideas in your inbox.
Check out these posts for more Kitchen Design Ideas.
Most Popular
Dublin Kitchens: The 7 Latest Trends
The 12 Most Influential Kitchen Design Trends from the US
5 Tips for Designing Small Kitchens
6 Exciting Colour Palettes for Kitchens with Personality
6 of the Best Solutions for Corner Cupboards
10 of the Most Beautiful Kitchen Backsplashes
Types of Kitchens
In-Frame Kitchens – 5 Things You Should Know
What are Shaker Kitchens and Where are They From?
What Exactly are Hand Painted Kitchens?
The Top 10 Trends for Modern Kitchens
Design Ideas and Trends
5 Clever Ways to Increase Natural Kitchen Lighting
How Much Value Does a Fitted Kitchen Add to Your Home?
12 Must Have Celebrity Kitchens of the Rich and Famous
Families
10 Kitchen Design Tips for Families with Kids
6 Tips for a Kitchen for a Large Family
Cabinets, Doors, Kitchen Islands & Finishes
9 Essential Kitchen Cabinet Types
Get the Perfect Kitchen Finish for your Lifestyle!