With the kitchen being the heart of the home, it is crucial to have a cleverly designed kitchen that is efficient and visually uplifting. We've compiled a list of 5 essential tips to create a designer kitchen that won't bust your budget.
BTW, check out our Kitchen Design Ideas section if you need more design inspiration.
First, Get the Layout Right
Avoid the frustration of a poorly planned kitchen by getting the layout right before you do anything else.
Start your planning with the three kitchen fundamentals: the stove, the refrigerator and the sink. Position them close to one another in a work triangle, while adding workspace and wide pathways that enables free movement. Incorporate a recycling corner, space for a bin, all your appliances and electrical outlets.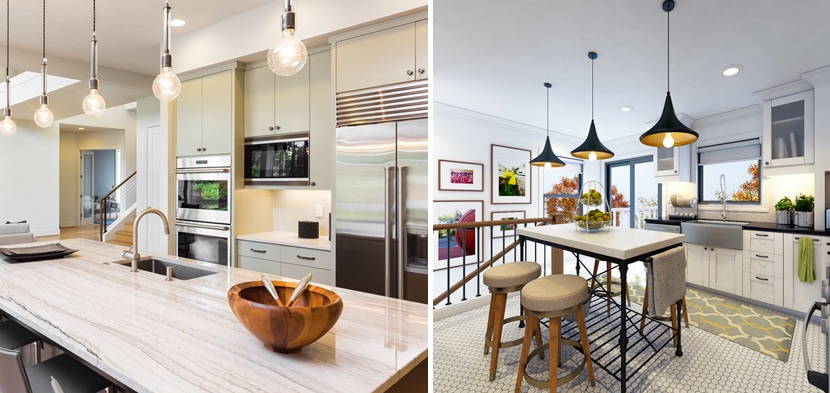 If you love cooking for guests opt for a multifunctional kitchen that has a working island with comfortable seating. If you have a young family, prevent accidents by placing the stove in a low traffic zone while ensuring the fridge is accessible to the whole family.
Try different layouts until you find one that accommodates the needs of your home. A good layout can help you make decisions about kitchen hardware.
Here are our 5 tips for creating a designer kitchen on a budget
1. Buy the Best that You Can Afford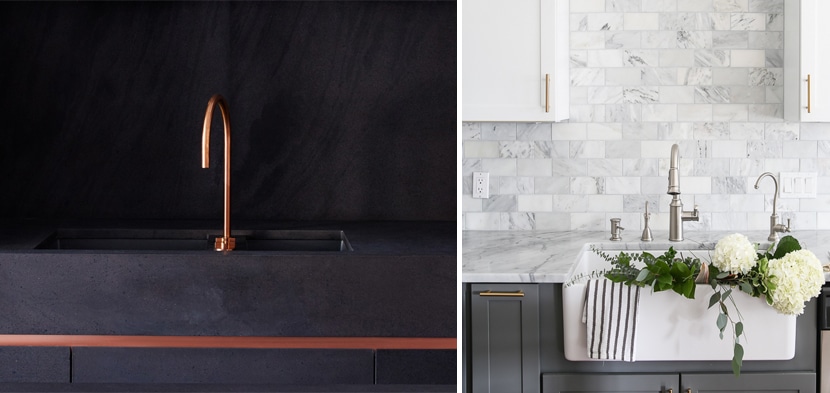 Even if you are remodelling on a budget, it is important to spend money on the finishes that matter. Countertops and faucets influence the whole feel of a kitchen and have to withstand a lot of use, so invest in great quality items that will form the basis of your interior. Avoid trendy fittings and make the most of your investment by sticking to timeless materials that will last.
Natural stone, like granite, and solid surfacing, like Corian, are certainly more expensive, but they are extremely hard-wearing and require little to no maintenance. Wood, concrete and steel countertops are not as expensive and will add character to a kitchen. These materials can be well worth the investment as long as they are maintained properly.
Establish the style of your kitchen before picking a faucet style. Mixer taps are ideal for a contemporary interior, while double taps are reminiscent of classic design and are suited to traditional interiors.
High-arched faucets are perfect for washing up big pots and pans, while a compact faucet can squeeze in under a low windowsill. Consider the function and practicality of a design before taking them home.
 2. Pay Attention to the Small Details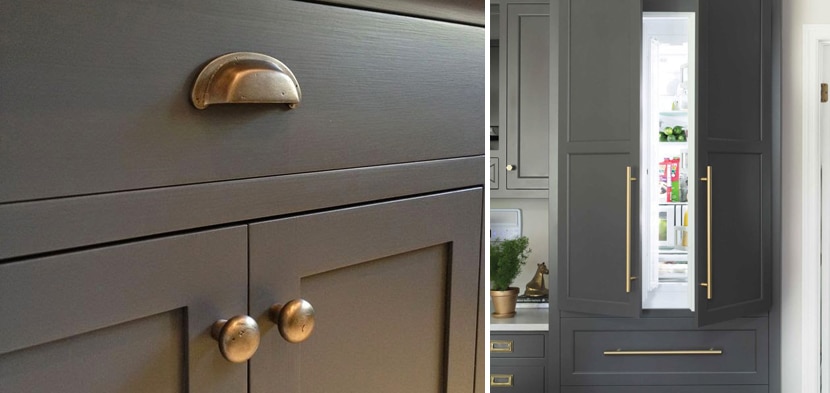 Farmhouse Urban & House Beautiful
Cabinet hardware will reflect the style of the entire space, in spite of their small size. Knobs and drawer pulls can strengthen a theme or deplete the aesthetic harmony of your kitchen. Use the rest of your kitchen finishes as a guide to direct you to the cabinet hardware design and finish.
There are great cabinet hardware brands that come at very competitive prices. Always test the items for durability before you commit.
3. Focus On Your Floor Finish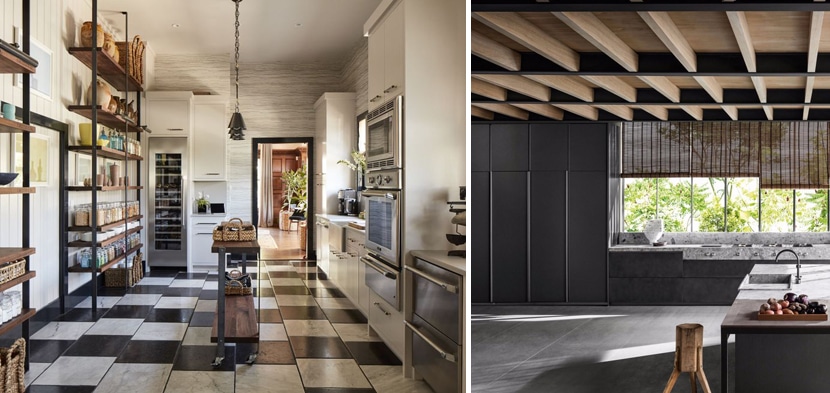 House Beautiful & ArchiProducts
There are many budget-friendly flooring options available. Cement finishes, laminate, and vinyl are all well-priced options that are also very durable. Floors don't have to be expensive, but they do have to be installed correctly. Your kitchen floor should withstand daily harassment, so sidestep a misadventure and get a professional to install the flooring.
4. Clever Cabinetry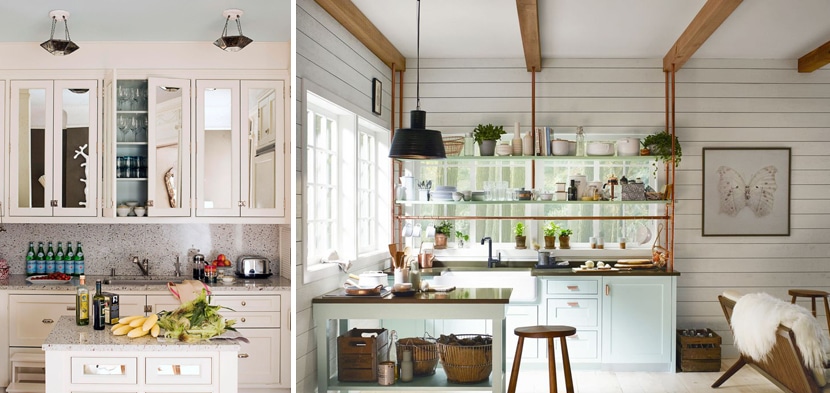 House Beautiful & House Beautiful
Cabinets can look expensive without the cost. If you're revamping a kitchen, get a professional to come in and assess your existing cabinets and the carcass. If the carcass is still in good condition, you can either only replace the cabinet doors, or you can refinish the cabinet fronts. You can also add faux panelling, or remove the doors entirely to embrace open-shelving.
5. Layered Lighting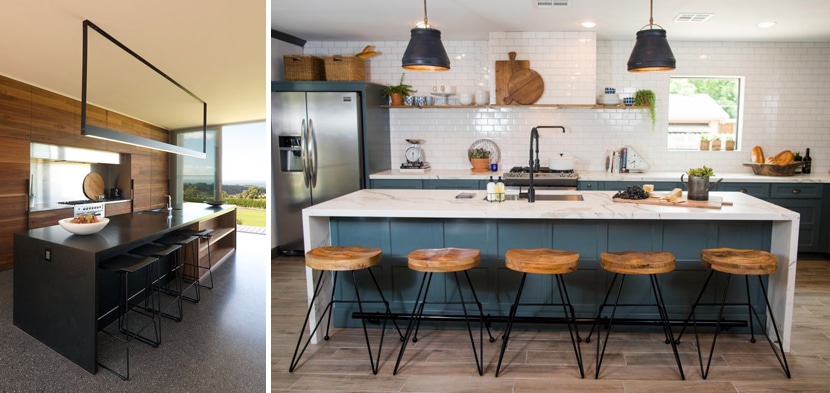 Create the perfect ambience with layered lighting that illuminates the whole kitchen. Use warm white bulbs for a comfortable, welcoming glow. The size of your kitchen, natural light sources and colour of its interior are good indicators of how many light fixtures you will need. As a general rule of thumb, lighter coloured kitchens need less lighting than darker coloured kitchens or kitchen with little natural light.
Create intrigue with dramatic focal lighting like a chandelier above a kitchen island or use accent lighting to highlights a focal in your kitchen. Statement light pieces will add drama at a relatively low cost and add a designer touch to your kitchen.
A designer kitchen on a modest budget can be within reach with some clever planning. Contact our consultants for advice and assistance in creating your designer kitchen without spending a fortune.
Book a Design Appointment
If you enjoyed our design ideas, subscribe for updates.
Get kitchens design ideas in your inbox.
Check out these posts for more Kitchen Design Ideas.
Most Popular
Dublin Kitchens: The 7 Latest Trends
The 12 Most Influential Kitchen Design Trends from the US
5 Tips for Designing Small Kitchens
6 Exciting Colour Palettes for Kitchens with Personality
6 of the Best Solutions for Corner Cupboards
10 of the Most Beautiful Kitchen Backsplashes
Types of Kitchens
In-Frame Kitchens – 5 Things You Should Know
What are Shaker Kitchens and Where are They From?
What Exactly are Hand Painted Kitchens?
The Top 10 Trends for Modern Kitchens
Design Ideas and Trends
5 Clever Ways to Increase Natural Kitchen Lighting
How Much Value Does a Fitted Kitchen Add to Your Home?
12 Must Have Celebrity Kitchens of the Rich and Famous
Families
10 Kitchen Design Tips for Families with Kids
6 Tips for a Kitchen for a Large Family
Cabinets, Doors, Kitchen Islands & Finishes
9 Essential Kitchen Cabinet Types
Get the Perfect Kitchen Finish for your Lifestyle!