The finishes in your kitchen should not only be beautiful, but also practical. Choosing these finishes can become a challenge though, so here is our quick guide to choosing the right kitchen finishes for your specific lifestyle. In order to determine the most suitable finishes for your kitchen, you will first have to establish the specific requirements of the room and the various activities that will take place in it.
BTW, check out our Kitchen Design Ideas section if you need more design inspiration.
Ask yourself these three important questions before you start:
1. What does your family setup look like?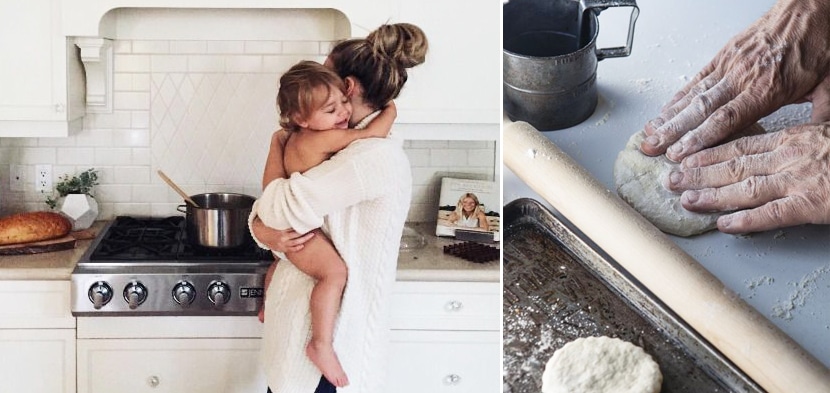 Your Tango & Modern Day Forager 
Consider all of the ages that the space needs to cater to, including Grandma and Grandpa, children and babies. A kitchen for 7 people over 3 generations will look vastly different from a kitchen for a young professional couple. This will also determine special requirements, like a kitchen island with scratch proof counter for a homework station or non-slip floors for spills and messes.
If you have a family member in a wheelchair, or someone with specific disabilities or challenges, these will also need to be considered in your overall kitchen design.
2. Does your kitchen also cater for your pets?
Many pets live in the kitchen because it's warm and that's where the family congregates. If you have pets in your kitchen, you'll need to think about where they sleep, how they're fed and where their food and other paraphernalia is going to be stored. Make sure that everything has a place and that you won't trip over a feeding dog or a sleeping cat. There are many possibilities for our furry friends, from integrated feeding stations to cubbies for sleeping. Discuss all of these with your kitchen designer who will be able to help with a creative solution.
The size and agility of your animals will also have a big impact on your choice of floor finish: larger dogs can really damage wooden floors with their nails while a scratch-resistant and easy to clean tiled floor might be a better option.
What other functions do your kitchen need to fulfil?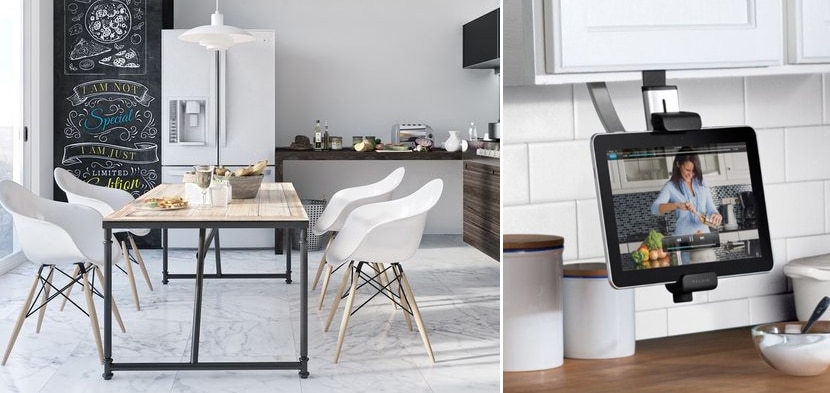 Consider this carefully since it will influence your choice of finishes and will give your kitchen designer a clear direction of the design, look and feel that you are after.
Would you want to entertain guests in the space while you prepare food? Will you need an area for homework or a small work station for your computer or laptop to research a recipe? Does your kitchen serve as a craft station or general work area? Consider your answers carefully, making notes as you use your existing kitchen throughout the day.
Choosing the right kitchen finishes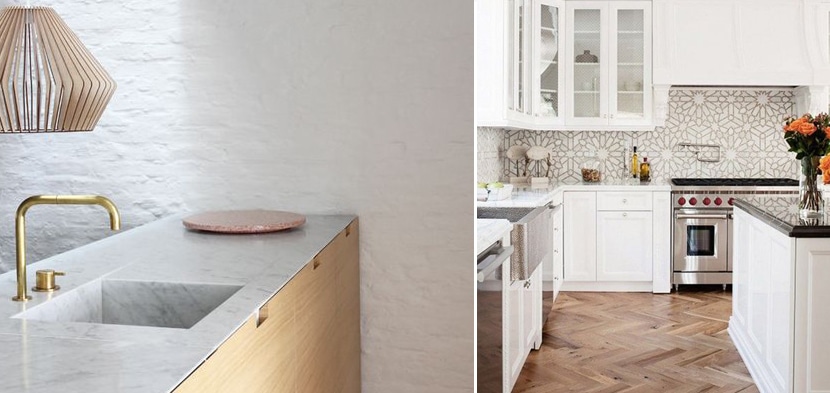 Petite Passport & Savvy Home Blog
After you have outlined the functions of your new kitchen and your designer has finished the layout, the next step would be to choose your kitchen finishes. Consider the following elements before you start shopping:
Durable, Scratch & Heat Resistant Worktops
Counter tops and surfaces are the workhorses of the kitchen and have to take lots of knocks and extreme temperatures. There are so many different options available that it can be really difficult to know what to choose.
Natural stone like marble, slate and granite are very trendy, but can be quite expensive. Their durability however is excellent, and they will give you a long-lasting, hygienic and heat-resistant surface.
Composite stone products like Corian® make a great choice as well. They are heat resistant and in case of scratching or other damage, can be easily repaired by a specialist. While not as expensive as stone, it is still a very durable option.
Solid wood is a popular choice for its beauty and ease of use. The surfaces can used directly for chopping and cutting, like butcher blocks of old. They need some special care to prevent warping or cracking and have to be cleaned properly to ensure food safety.
Metal tops have made their way from restaurant kitchens into the home, and remain a popular choice for their industrial look, hygienic properties and durability. Stainless steel tends to be the metal of choice, although copper and brass are also being used for their luster. While not as hard as stainless steel, they are prone to scratching.
High pressure laminates on post-form tops are a cost-effective solution. The designs are endless and their properties are excellent. It's not like the laminates of old where a hot saucepan will melt the surface – these are heat- and scratch resistant and since they're non-porous, they're also hygienic. They are also very easy to install and replace if necessary.
Floor Finishes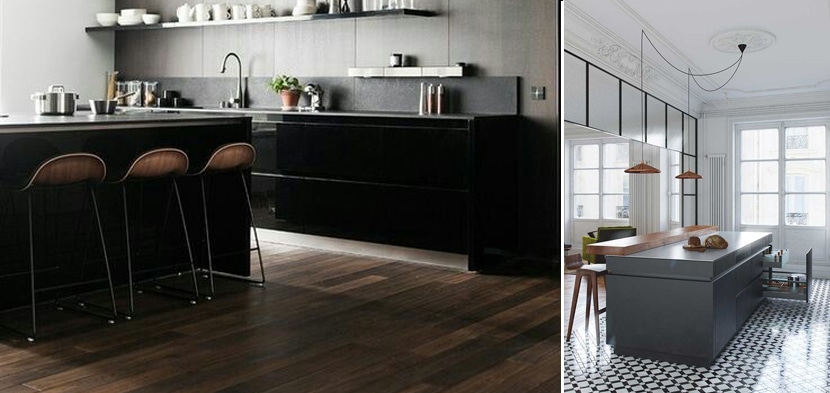 There is a wide range of tiles, vinyl, laminate and engineered- and hardwood floors, slate and concrete options available in the retail market. Find the best fit for your kitchen and budget.
Tiles come in a massive variety to suit every look and price. A very popular choice for their easy cleaning properties, tiles are also hard and cold, so consider installing under-floor heating before laying them. Also check with the manufacturer which sealants are necessary to make them water-resistant and prevent slips.
Hardwood is warm and lively and is considered a good investment in any home. They do however need to be sanded and resealed every few years and are susceptible to water stains and scratches. Ensuring that you use the correct sealing products will minimize any damage.
Laminate flooring and engineered wood flooring come in a large variety of finishes, imitating all colours and grains wood, bamboo and even stone. It is easy to install and to replace if necessary. The prices of laminates vary greatly, so buy the best product you can afford. This will ensure the durability and longevity of your floors.
Vinyl flooring comes in tiles or sheets and can be installed as an easy do-it-yourself project. It's durable and can also be installed directly over existing floor finishes. Vinyl is easy to clean and soft underfoot but is prone to scratches and marks.
Concrete and cement are very trendy options that are tough and scratch resistant for floors that need to work hard. There is a large variety of colours and textured effects to fit the look and feel you are after. Concrete floors periodically need to be resealed, but if maintained properly they can last a lifetime. Make sure that you get a specialist to install your concrete or cement finish floor, making use of proper drying techniques and expansion joints, to prevent cracking and peeling.
Wall Finishes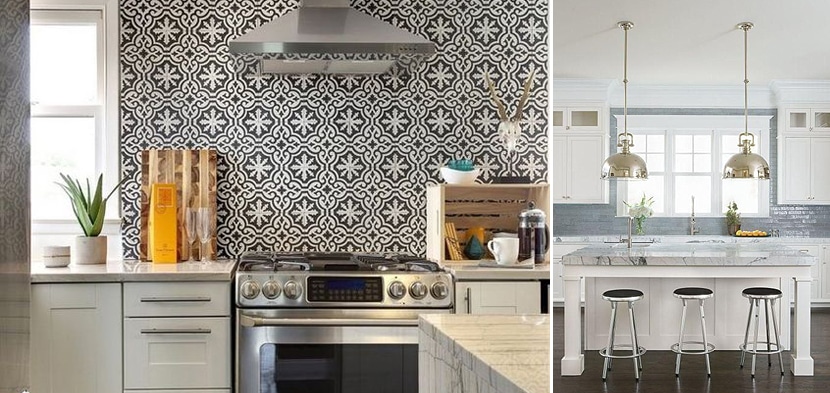 Cement Tile Shop & Luxe Source 
Tiles have always been a popular choice in kitchens because they are easy to clean and can add interest with colour or pattern. Splash back tiles are not only practical, catching all the grease and water splashes onto their easy to clean surfaces, but can also make a striking focal point in the kitchen. It can be installed in utility areas only, or as a wrap-around feature in the room. Tile choices include ceramic, porcelain, glass, stone and composite materials. With the wide variety of shapes and patterns available, the decorative looks that can be achieved are endless.
Paint is a very cost-effective solution for those area in a kitchen where tiles are not being installed. By using a product that is specifically formulated for kitchens, you will have a wipeable and mould-resistant wall finish that's easy to maintain and touch up. Paint comes in low sheen or matte, mid-sheen, eggshell and high gloss finishes to suit the style of your kitchen.
Glass and metal cladding add a luxury element to a kitchen area. Popular choices in recent years have included copper or stainless steel paneling and back-painted glass or tinted mirror panels between upper and lower cabinets. They are a bit more high maintenance than tiles because they tend to not hide dirt and fingerprints as well, but are perfect for a low-traffic kitchen.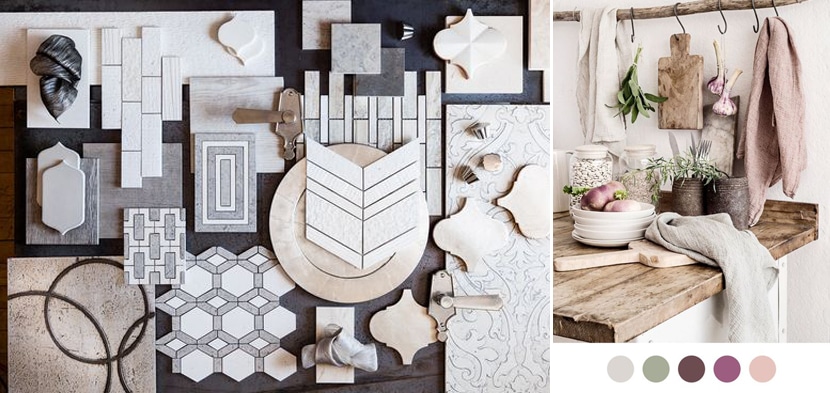 Book a Design Appointment
If you enjoyed our design ideas, subscribe for updates.
Get kitchens design ideas in your inbox.
Check out these posts for more Kitchen Design Ideas.
Most Popular
Dublin Kitchens: The 7 Latest Trends
The 12 Most Influential Kitchen Design Trends from the US
5 Tips for Designing Small Kitchens
6 Exciting Colour Palettes for Kitchens with Personality
6 of the Best Solutions for Corner Cupboards
10 of the Most Beautiful Kitchen Backsplashes
Types of Kitchens
In-Frame Kitchens – 5 Things You Should Know
What are Shaker Kitchens and Where are They From?
What Exactly are Hand Painted Kitchens?
The Top 10 Trends for Modern Kitchens
Design Ideas and Trends
5 Clever Ways to Increase Natural Kitchen Lighting
How Much Value Does a Fitted Kitchen Add to Your Home?
12 Must Have Celebrity Kitchens of the Rich and Famous
Families
10 Kitchen Design Tips for Families with Kids
6 Tips for a Kitchen for a Large Family
Cabinets, Doors, Kitchen Islands & Finishes
9 Essential Kitchen Cabinet Types
Get the Perfect Kitchen Finish for your Lifestyle!