With house prices climbing and neighbourhoods getting more crowded, our houses and especially apartments are getting smaller and smaller.
Even though the kitchen is such an important room in any home, it often ends up as one of the smallest when space is an issue.
A small sized kitchen, however, does not need to actually feel small. We spend so much time is spent in the kitchen planning and preparing meals, as well as cleaning up that it is worth investing in making it a space we love.
Here 5 tips on how to design the most practical little kitchen – let's show you how much can be done with a small space!
BTW, check out our Kitchen Design Ideas section if you need more design inspiration.
1. Make Use of Multifunctional Spaces
In a small space, being able to use one area for multiple purposes will help to make it feel less cramped and more accommodating.
Having an area, such as a kitchen island, where you can both prepare food and then serve and eat it is a perfect example of this. Kitchen islands can either be permanent fixtures, tables or movable counters that are placed on wheels.
Make sure to have a practical choice of countertop that is both durable and quick to clean.
Bar stools or backless chairs help to convert a preparation area into an entertainment area without interrupting the flow of the room or access to the counter.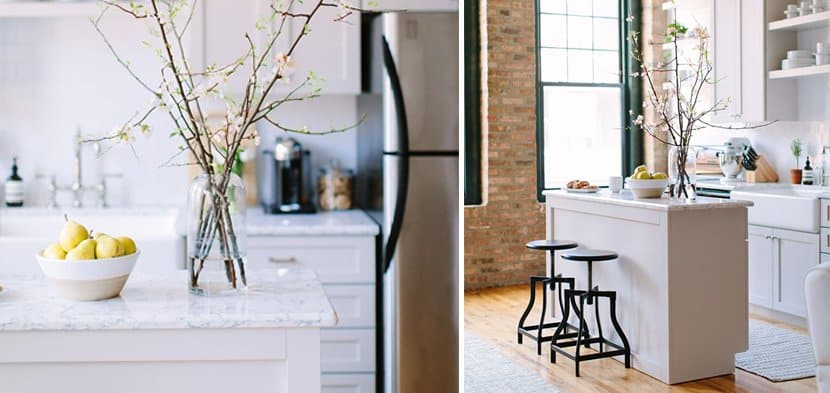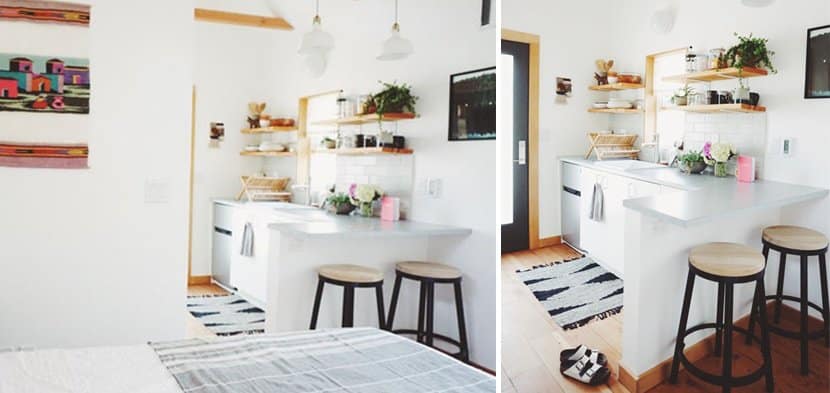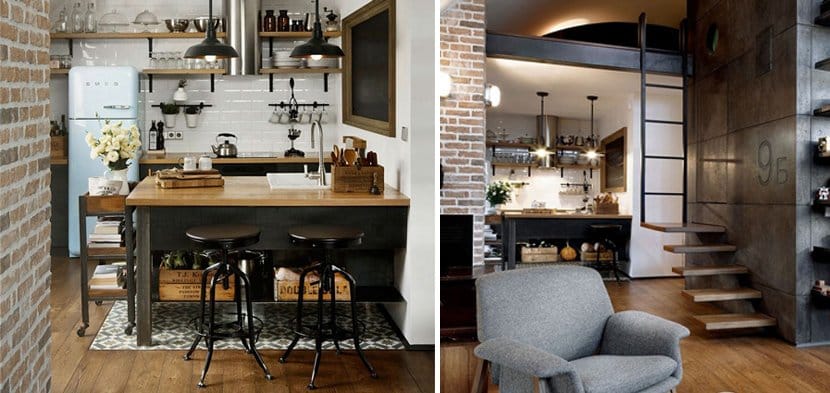 2. Keep It Open Plan
In very small spaces, like studio apartments, the kitchen may not even be a separate room. Use this to your advantage by making it a feature area.
Having a completely open plan kitchen maximises the available floor space and allows you to be with family or friends while preparing food.
Another great point to note is that not all appliances have to be placed directly in the kitchen area. Large appliances, such as refrigerators, can be placed where they are out of the way, but still easily accessible for a good workflow.
Be sure to use unobtrusive features like simple lights, and to keep the kitchen design in line with the rest of the space to make it feel as though the kitchen is meant to be there.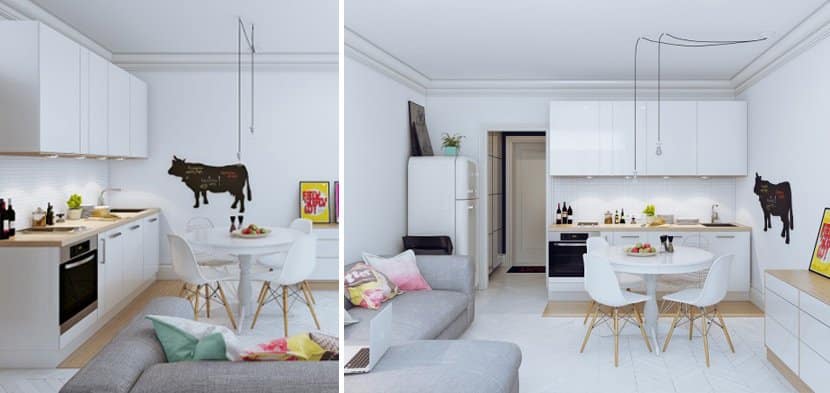 3. Maximise Storage Space
Storage is often a problem in a small kitchen. Maximising the use of wall space, with cabinets right to the ceiling, is a great way to increase storage and make the ceiling feel higher.
Alternatively, the space above cabinets can be used as a display space for a few favourite kitchen items that are beautiful, but seldom used.
Other good storage options include having hanging space below wall cabinets for items like pots, pans and knives and using the space below the kitchen sink well.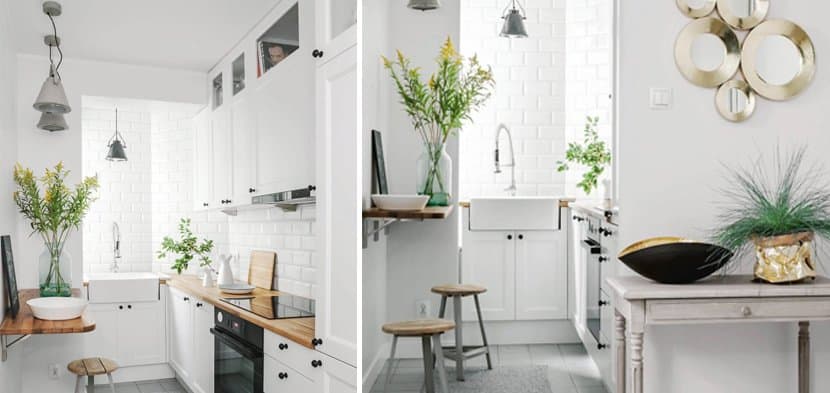 4. Keep Some Shelves Open
While still maximising on storage space, keeping some shelves open, without doors, can help to make the room feel bigger.
Instead of cutting off space with cabinets, open shelves allow the space to feel open and more spacious.
The open shelves can be used for items that are used every day, such as crockery and cooking utensils, as well as being a display unit for some of the bulkier but beautiful kitchen items like mixing bowls, glassware and a few special décor pieces.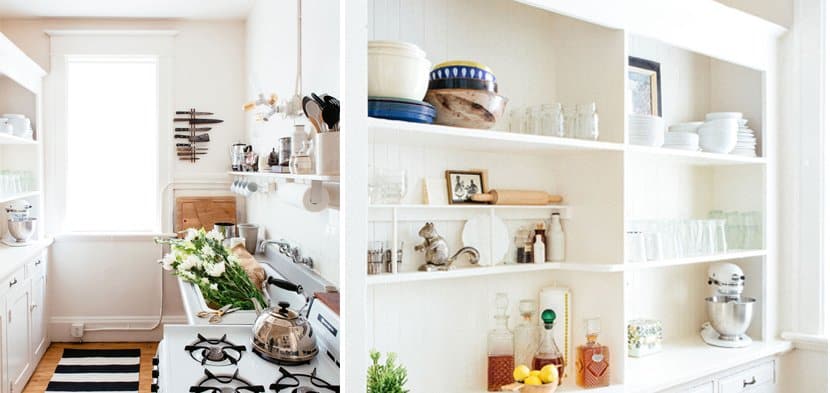 5. Stay Organised
Clutter can quickly make any room feel even smaller than it is. Be sure to stay organised and minimise clutter by regularly clearing out any unnecessary items within the kitchen that are barely used.
Minimising clutter does not mean that nothing can be on display, but rather that each item should have a specific home.
Keeping counter space relatively open allows for quick and easy preparation and clean up, without having to work around unnecessary objects.
Use containers for smaller objects, such as utensils, keeping them all neatly in one place.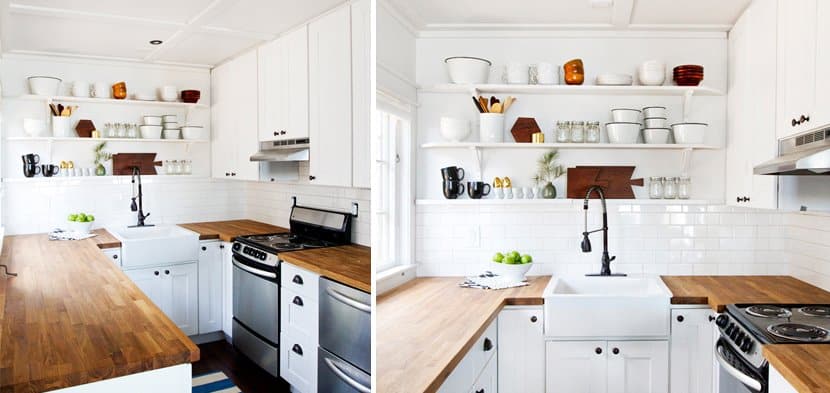 By ensuring a good design, including the right items and appliances and keeping organised, any sized kitchen can become your dream kitchen.
No matter the size of your kitchen space, our friendly designers would love to assist you in designing the perfect space for your lifestyle.
Book a Design Appointment
If you enjoyed our design ideas, subscribe for updates.
Get kitchens design ideas in your inbox.
Check out these posts for more Kitchen Design Ideas.
Most Popular
Dublin Kitchens: The 7 Latest Trends
The 12 Most Influential Kitchen Design Trends from the US
5 Tips for Designing Small Kitchens
6 Exciting Colour Palettes for Kitchens with Personality
6 of the Best Solutions for Corner Cupboards
10 of the Most Beautiful Kitchen Backsplashes
Types of Kitchens
In-Frame Kitchens – 5 Things You Should Know
What are Shaker Kitchens and Where are They From?
What Exactly are Hand Painted Kitchens?
The Top 10 Trends for Modern Kitchens
Design Ideas and Trends
5 Clever Ways to Increase Natural Kitchen Lighting
How Much Value Does a Fitted Kitchen Add to Your Home?
12 Must Have Celebrity Kitchens of the Rich and Famous
Families
10 Kitchen Design Tips for Families with Kids
6 Tips for a Kitchen for a Large Family
Cabinets, Doors, Kitchen Islands & Finishes
9 Essential Kitchen Cabinet Types
Get the Perfect Kitchen Finish for your Lifestyle!