Do you ever look at kitchens in magazines and on blogs and wonder how they get it looking so effortlessly stylish? It's not only the cabinetry and hardware that make your kitchen: styling your kitchen often add the touches that elevate the design to the next level.
We spend so much time in the kitchen, so it is important for it to be a space that inspires creativity, cultivates joy and welcomes guests. Here are our top tips on how to style your kitchen like a pro, creating that picture-perfect room.
BTW, check out our Kitchen Design Ideas section if you need more design inspiration.
1. Include Some Open Shelving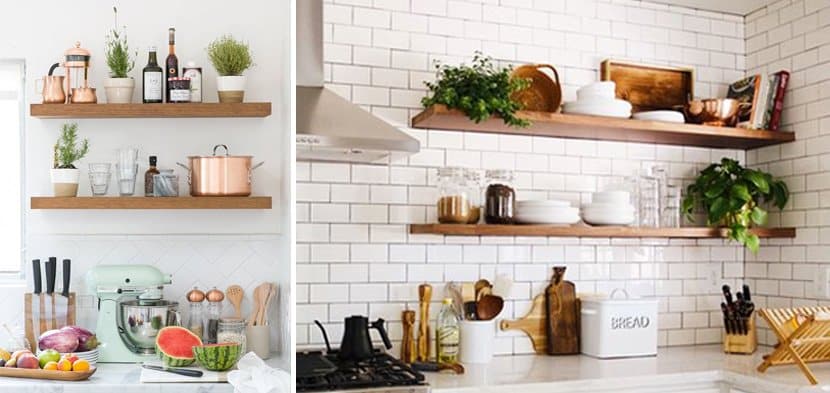 Good open shelves are found in many well-styled kitchens. The shelves themselves create a beautiful feature, especially if they contrast with the wall or backsplash behind them. They also present the perfect opportunity for displaying your favourite kitchen items, making them both attractive and practical.
Include a variety of items on the shelves, placing regularly used items on the lower shelves and less frequently used items on top. Use items of varying heights and aim for balance. That means that the visual weight on the one side should match that on the other.
The image on the left illustrates that beautifully: the top shelf holds 3 small copper items that are perfectly balanced by the single copper pot on the right.
2. Display Colourful Cooking Books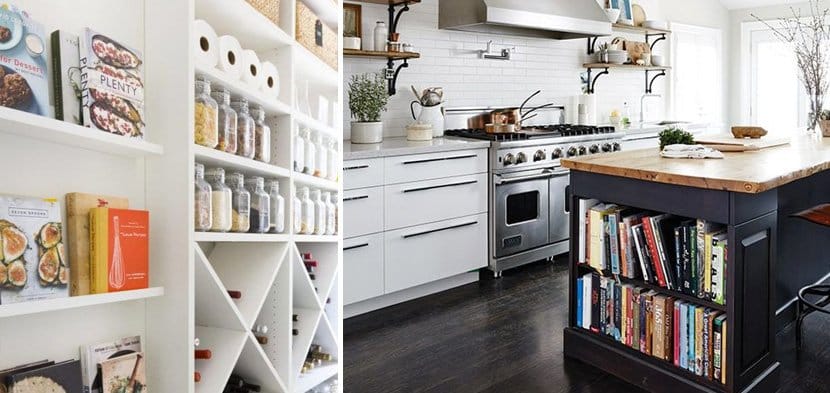 Many kitchens end up with a wide selection of cooking books stacked away in a cupboard, never to be seen or used. By displaying these books, many of which are bright and beautiful, you are more likely to feel inspired to look through them and try some new recipes.
Whether it's one book on a recipe stand or a full shelf of books, it's bound to inspire creativity and add a colourful personal touch to your kitchen.
3. Add a Touch of Greenery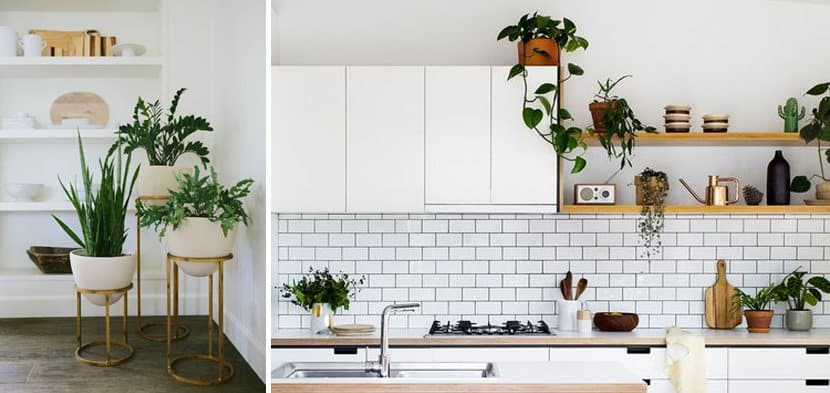 Becki Owens & The Design Files
Flowers have always been a popular styling item, but recently, indoor plants have made a comeback as the styling tool of choice. Greenery is a great way to bring life into the kitchen.
This can be in the form of herbs on the windowsill, trailing plants on high shelves, small potted plants on the counter or large potted plants in an otherwise unused corner.
Plants not only look good; they are also highly effective air purifiers. Group plants in threes, and play with varying heights and species to add interest shelves or countertops.
If you travel a lot or are simply not good at keeping plants alive, consider displaying a realistic artificial plant.
4. Show Off Your Cutting Boards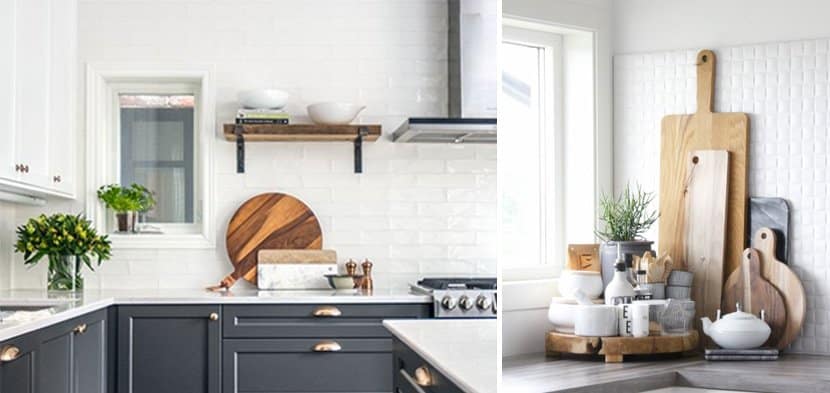 House and Home & Mittogvaarthjem
Wooden cutting boards are perfect for entertaining and creating beautiful cheese or charcuterie platters, but they can be bulky to store in cupboards.
The beautiful textures of wooden cutting boards and platters make a great décor statement on a countertop, especially when there is a selection of boards of various sizes. Wood is especially great to add warmth and texture to a modern kitchen.
Be sure to keep the counter space around the boards clutter free to achieve the best effect.
5. Incorporate a Beautiful Rug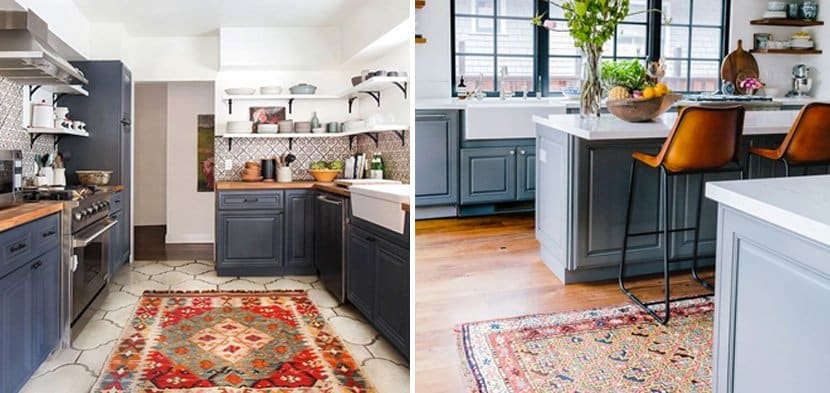 Kitchens can often end up feeling like clinical spaces. While it is essential to maintain high levels of hygiene in the kitchen, it doesn't mean that the room has to be cold. Adding a rug not only makes it warmer under your feet; it is also a great way to add colour, pattern and vibrancy to the room.
Choose a good quality rug that can withstand kitchen traffic, is easy to clean and that won't curl up on the corners. Loose floor rugs are also an easy way to switch up the style of the kitchen for different seasons, as they can simply be rolled up and changed or moved around the house.
6. Make Use of Utility Organisers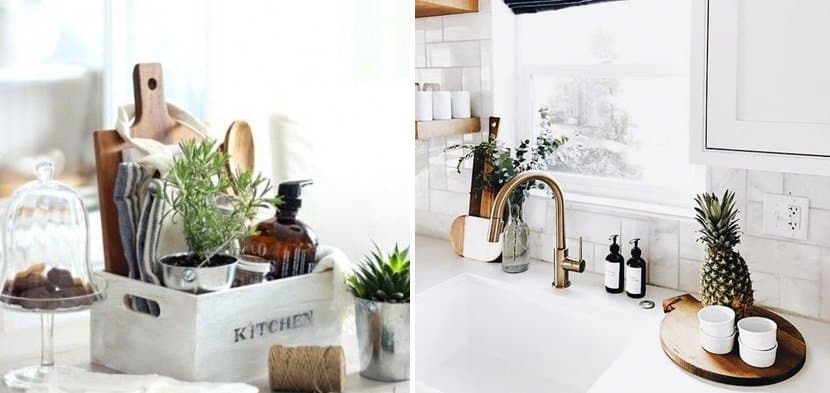 While preparing food or before eating, you'll often need to wash your hands in the kitchen. Sprucing up the soap dispenser or placing it into a styled container are great ways to quickly improve the look of your kitchen.
This also means you can leave them out on the countertop, rather than packing them away, making it simpler to wash your hands.
Add a matching dispenser for dishwashing detergent or hand lotion, and finish the look with a small container of fragrant herbs for a lovely aromatic touch.
The easiest kitchens to style are those that start with a great base design. For help designing a stunning kitchen to match your needs, contact one of our friendly consultants. They would love to work with you in designing and achieving your dream kitchen.
Book a Design Appointment
If you enjoyed our design ideas, subscribe for updates.
Get kitchens design ideas in your inbox.
Check out these posts for more Kitchen Design Ideas.
Most Popular
Dublin Kitchens: The 7 Latest Trends
The 12 Most Influential Kitchen Design Trends from the US
5 Tips for Designing Small Kitchens
6 Exciting Colour Palettes for Kitchens with Personality
6 of the Best Solutions for Corner Cupboards
10 of the Most Beautiful Kitchen Backsplashes
Types of Kitchens
In-Frame Kitchens – 5 Things You Should Know
What are Shaker Kitchens and Where are They From?
What Exactly are Hand Painted Kitchens?
The Top 10 Trends for Modern Kitchens
Design Ideas and Trends
5 Clever Ways to Increase Natural Kitchen Lighting
How Much Value Does a Fitted Kitchen Add to Your Home?
12 Must Have Celebrity Kitchens of the Rich and Famous
Families
10 Kitchen Design Tips for Families with Kids
6 Tips for a Kitchen for a Large Family
Cabinets, Doors, Kitchen Islands & Finishes
9 Essential Kitchen Cabinet Types
Get the Perfect Kitchen Finish for your Lifestyle!