What are In-Frame Kitchens?
In-Frame Kitchens (called inset kitchens in the US) is a type of kitchen design where the door of the cabinet is inset within a wooden frame, and the frame is fixed onto the front face of the kitchen carcass.
The frame provides strength to the front of a cabinet and is also considered a visual feature. In-Frame Kitchens borrow from traditional cabinet furniture construction and conjures up images of traditional craftsmanship and long-term durability.
BTW, check out our Kitchen Design Ideas section if you need more design inspiration.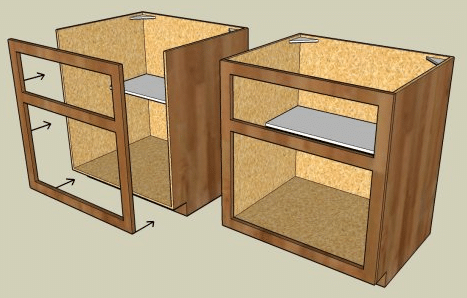 No doubt, when searching for kitchen design ideas, you have certainly come across the term "in-frame kitchens". So what are they are where did they come from?
History of In-Frame Kitchens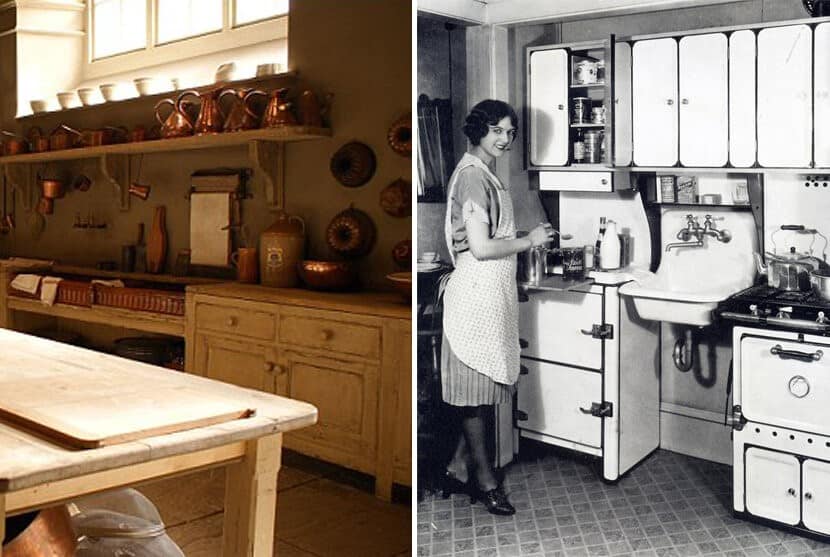 For centuries, all cabinet furniture items were made using the in-frame method where a door of a cabinet is perfectly fitted within a wooden carcass. The concept of a custom fitted kitchen with in-frame kitchen cabinets only became popular in the early 1900's.
Having a visible frame or face frame had been a feature of the original kitchen cabinet design. But with the advances in high-pressure laminate technology post World War II, manufacturers were able to cut costs greatly by introducing frameless kitchens.
This innovation along with endless design possibilities quickly rendered in-frame kitchens cupboards old-fashioned and suitable only to traditional shaker or country style kitchens.
But in recent years, with a global move back to durability and longevity, in-frame kitchen carcasses with custom-fitted doors have become a prominent feature in kitchen design trends again because of the fine craftsmanship of the units and detail that accompany the installation.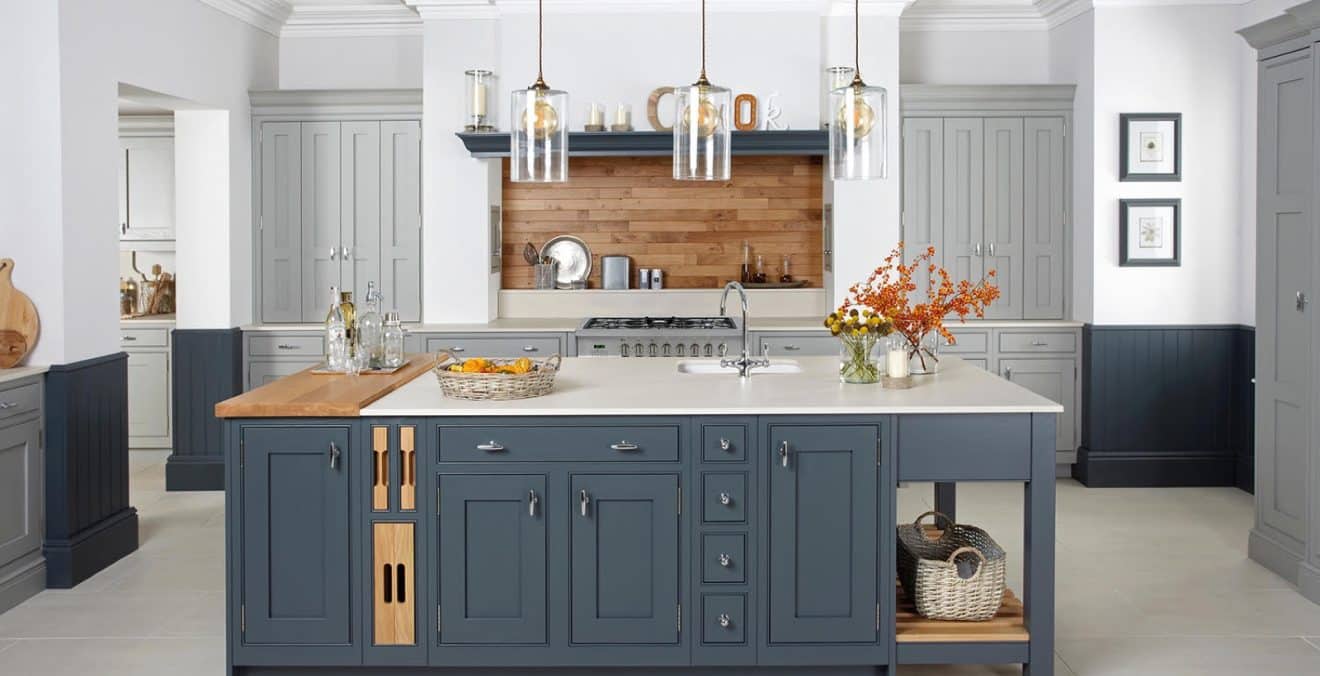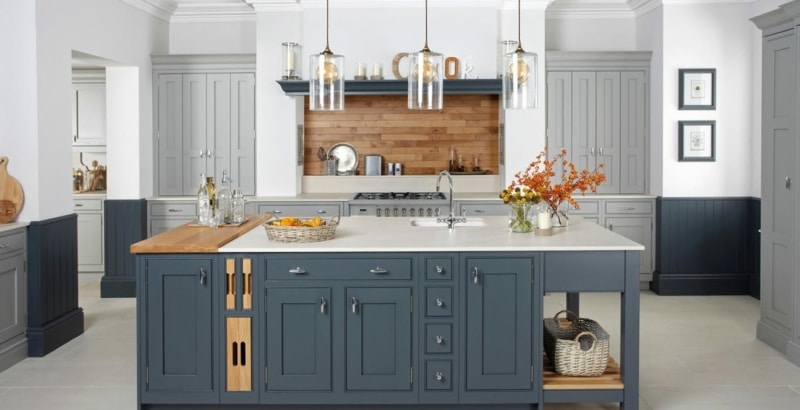 The Difference Between Frameless and Framed Kitchen Cabinets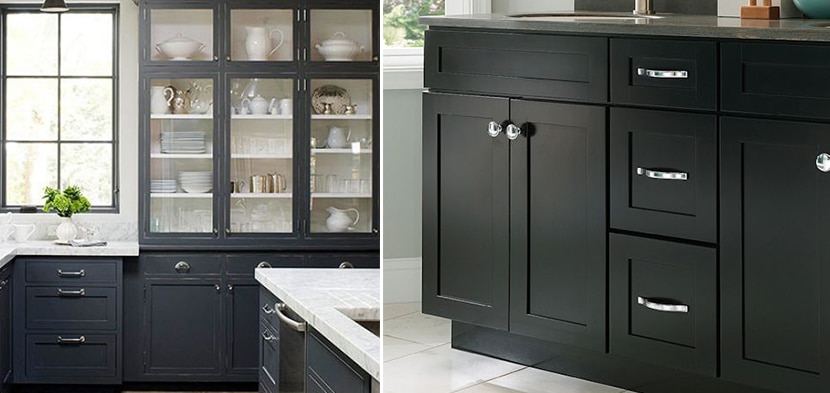 Kitchen Craft & Kitchen People
Frameless kitchen cabinets consist of a plywood, particleboard or chipboard carcass. The edge of the carcass is laminated with edge banding concealing the edge of the cabinet. The doors are fitted directly to the carcass of the cabinet.
As there is no frame, they cost less and take much less time to build. Because of the reduced amount of wood necessary, this style of kitchen cabinet quickly became very popular for its affordability.
Framed kitchen cabinets have a frame fitted to the carcass first, after which the cabinet door is fitted to the frame The doors can either be fitted inside the frame (inset or in-frame kitchen cabinets) or sit on top of the face of the frame, with the frame being partially or completely concealed.
In-Frame Kitchens Pros and Cons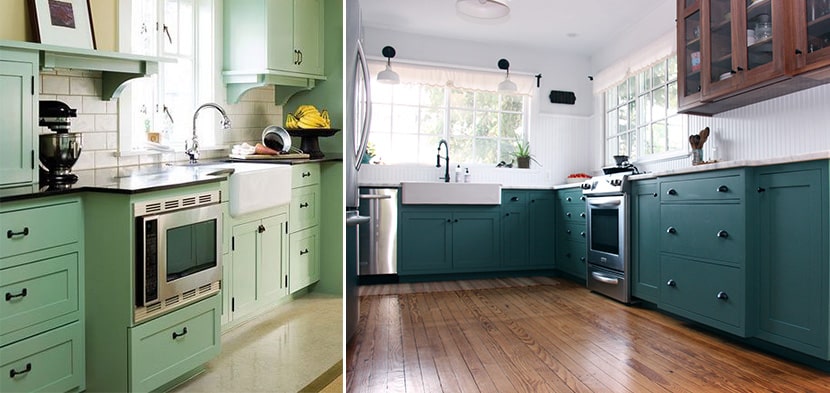 Pros
They Look Better – A simple and elegant look, this type of kitchen design looks better no matter the style of your kitchen. The edges of the cabinet doors are less likely to show wear and tear, making your kitchen look great for longer.
They Are Custom-Made – Because the doors have to be made to fit perfectly into the frame, you can be assured of attention to detail and superior craftsmanship of your kitchen cabinet doors.
They Last Longer – While in-frame kitchens have mostly been reserved for traditional kitchen designs, modern styles are now also opting to use an in-frame design given its durability and use of solid wood.
They Are Made With Solid Wood – The solid wood frame forms an integral part of the kitchen design and allows for a variety of styles.
They are more durable – In-frame kitchens use a much more rigid form of construction. While in-frame kitchen cost is higher than that of a frameless kitchen, the latter tends to be less durable.
Doors won't sag over time – When using exposed hinges, the cabinet doors are hung onto the solid wood frame and are far less inclined to sag over time.
Cons
They are more expensive – In frame kitchens using traditional cabinetry construction are anywhere from 15% to 30% more expensive than frameless kitchens. This is because of the additional materials needed to create the frames and the additional time needed for construction.
Slightly less cabinet opening clearance – You don't have quite as much space to get you plates or saucepans in and out of the cabinet. The presence of a frame slightly reduces the opening clearance when compared to frameless cabinets.
Slightly less drawer space –  There is a frame around the drawer opening which means that the drawer has to be about 40mm narrower to fit inside the unit compared to a frameless kitchen.
Slightly more awkward to clean – In Frame Kitchens can be a little bit more awkward to clean because you have to dust in and around the frames.
They have to be custom built – This is not an off-the-shelf type of kitchen. The doors also have to be fitted by a reputable kitchen specialist, since there is no room for error the way there are with other styles.
They will require resetting from time to time – Moisture, wear and tear, and subtle movement over time will mean that you will require the services of a qualified carpenter to reset your in frame cabinets. This will give them a new lease on life and will help to maintain that perfect, clean look.
5 Things to Consider when Choosing an In-Frame Kitchen
1. In-Frame Kitchen Carcasses and Cupboards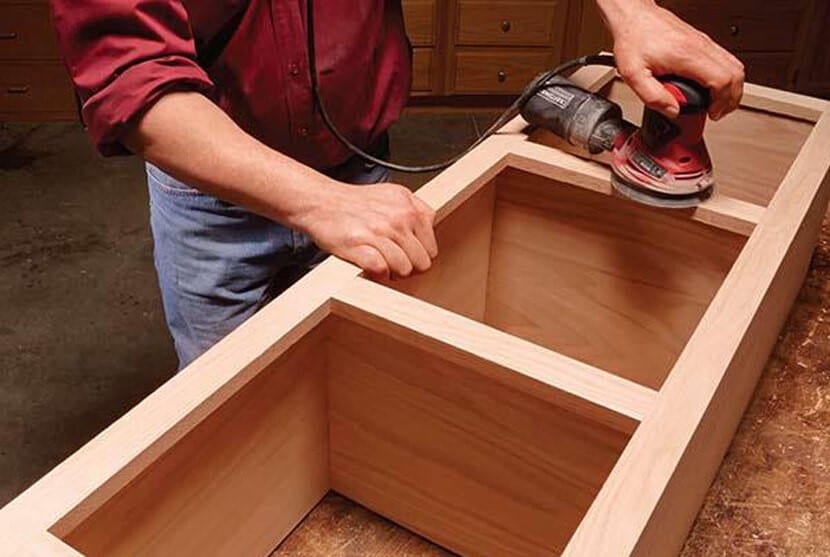 In-Frame kitchen carcasses are built using 18mm solid pine, plywood or particleboard and are glued and screwed for additional strength. The face frame is then made using the same solid wood as the cabinet door fronts. While this does increase the cost, it lends superior stability and durability to your kitchen cabinets, ensuring that they will last a lifetime with the proper care and maintenance.
But why does the in-frame kitchen construction process leave you with a better product?
In Frame Kitchens are made using traditional cabinetry techniques and epitomise time-honoured craftsmanship and durability.
What Are Traditional Cabinetry Techniques?
Traditionally, cabinets were made using joinery techniques like mortise and tenon joints and dovetail joints. These techniques are however time-consuming and in a society that required increased manufacturing speed, were replaced with simpler joins to enable mass production. Lately, though, we have come to favour craftsmanship and quality again. Using traditional cabinetry techniques require skilled hands and attention to detail, resulting in more durable furniture items.
Handmade Kitchens & Family Handyman
2. In-Frame Kitchen Cabinet Doors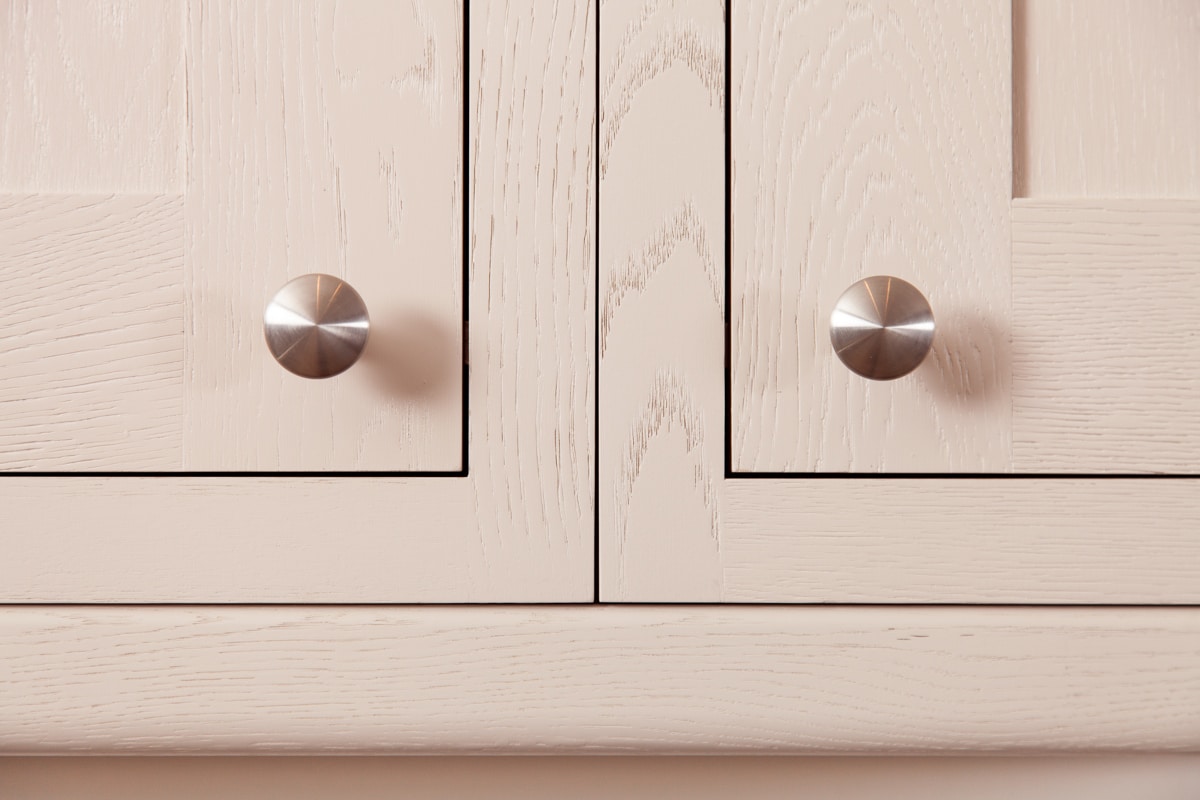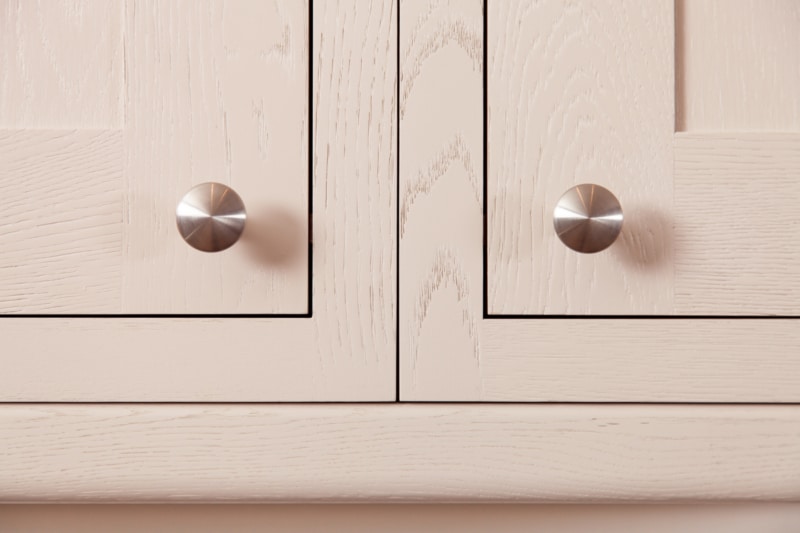 The cabinet doors can be made from solid wood, veneered MDF (Medium Density Fibre Board)  or plain MDF and painted depending on the style of your kitchen and your budget.
The doors are set into the frame to be flush with the rest of the cabinet when closed, necessitating the use of a door handle or knob.
Insist on your kitchen supplier using mortar and tenon joints for drawer and cabinet fronts. This type of joinery is stronger and has a much longer lifespan than cheaper joinery methods.
Regardless of the material used, the finishing and colour palette options on in frame kitchen cabinets are endless, allowing you to create your ideal kitchen.
3. In-Frame Kitchen Hinges and Door Installation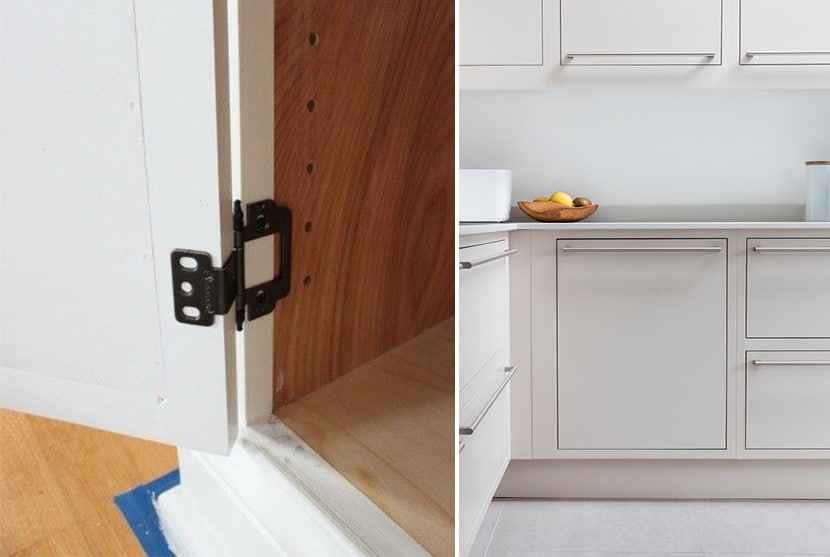 Pink Toes and Power Tools & Cupboard Door Company
Types of Hinges
Exposed Hinges – Traditionally, the cabinet doors were hung using brass butt or flush hinges. The hinges are screwed into both the solid wood frame and the edge of the door. This makes for an extremely strong and ridged fixture that is unlikely to weaken or sag with continued use.
This also allows the door to fit perfectly inside the frame flush with its surface. The doors are custom made for each frame, so no further adjustment to the height of the door is necessary.
Note: Hanging doors this way is extremely time-consuming and laborious. Especially with brass butt hinges which have to be sunk into the door. Therefore, this method is rarely used these days.
Concealed Hinges (AKA European Hinges) – These type of hinges are hidden from view and allow the doors to open within the frames. The hinges are screwed into the carcass (not into the wooden frame) and to the back of the door. They employ a special mechanism to compensate for the offset distance from the edge of the frame to the carcass.
Door Installation
Kitchen doors can be hung in 3 different ways:
1. Full Overlay – The doors cover the edge of the carcass – Used predominantly in Frameless Kitchens.
2. Partial Overlay  – The door sits on the cabinet face frame, leaving a gap between the doors, allowing the edge of the carcass to be seen. This gives a lot of flexibility when installing the cabinet doors – Used mostly on Framed Kitchens. 
3. Inset or In-Frame – The doors are set flush into the face frame which has been fitted onto the carcass of the cabinet. Used mostly on Framed Kitchens.

4. In-Frame Kitchen Drawers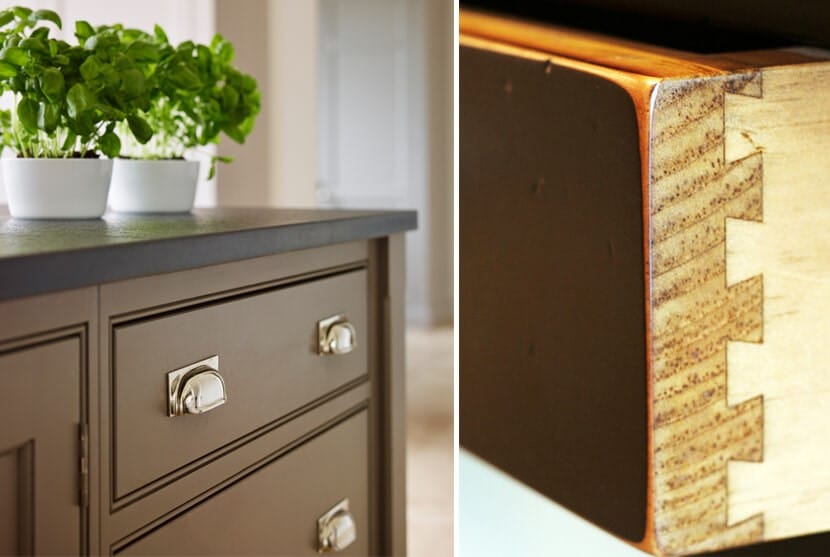 Humphrey Munson & Furniture Construction
Drawers of in-frame kitchens cabinets are generally made from solid wood or particleboard. You could even choose to have the drawers constructed using dovetail joints. This is a centuries-old technique, ensuring a superior join (see image above on the right). This further guarantees the durability of the drawer and will prevent wear and tear.
As with the cabinet fronts, drawer fronts are set into the frame of the cabinet. This allows the face of the in frame kitchen drawer to be flush with the face frame of the cabinet.
Always opt for soft-closing runners for an added bit of luxury.
5. Finishing Your In-Frame Kitchen Cabinets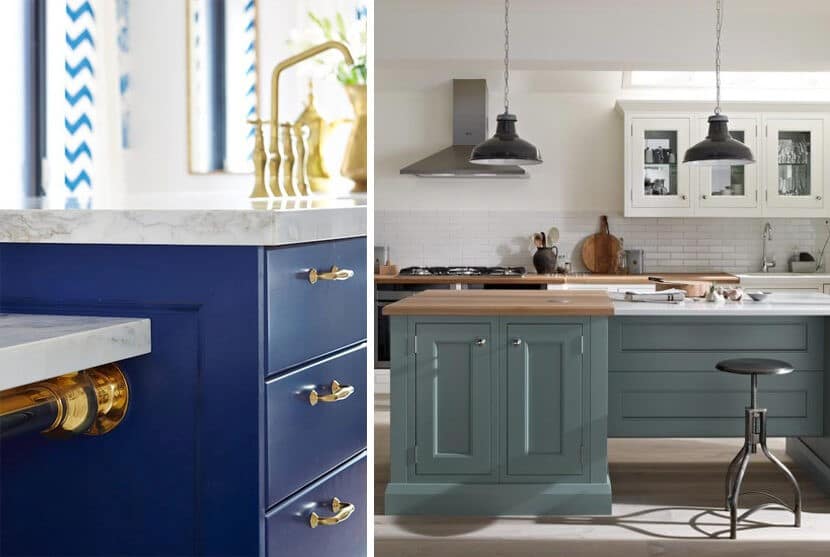 In-Frame kitchen cabinets can be finished in a variety of different ways to suit your kitchen style.
Painted In-Frame Kitchen Cabinets
If you choose an in-frame painted kitchen, ensure that your kitchen supplier first primes the cabinets in their factory but do hand-finishing on site after installation. This will ensure that any damages that may have occurred during delivery and installation will be rectified before the installer leaves your home.
Solid Wood In-Frame Kitchen Cabinets
Just like the frames, in frame kitchen cabinet doors can be made with solid wood. Popular solid wood choices for kitchen cabinets include oak, cherry, maple and alder. The wood can be varnished or stained to your specifications.
Veneer In-Frame Kitchen Cabinets
Where solid wood is not suitable, a particle board cabinet with a wood veneer front could be an option. This is usually reserved for rare wood species, or to get a burl wood effect.
Laminate In-Frame Kitchen Cabinets
Laminates are usually the most affordable option for kitchen cabinetry and the design options of laminates are endless. The base is made from particleboard, and the laminate is applied using high heat and pressure. This results in a durable and affordable scratch- and chip resistant finish.
In-frame kitchen cabinets are beautiful, durable and made using quality craftsmanship. Whatever the style of your home, and in frame kitchen will be an asset to your lifestyle and your family. For more information on getting your in frame kitchen, contact one of our designers here now for your free consultation.
Book a Design Appointment
If you enjoyed our design ideas, subscribe for updates.
Get kitchens design ideas in your inbox.