Japanese interiors are a minimalist's dream. The need to resist natural forces as well as embrace the Zen philosophy of wabi-sabi still shape the architecture and interiors of this island country. A balance of simplicity, subtlety, and nature is what underlines a Japanese kitchen.
Homes go through renovation every few decades, but that doesn't change their minimalist core. The covetable simplicity and harmony of Japanese houses have made their way into homes the world over. Here are the top 10 kitchen design trends from Japan that are influencing interiors worldwide.
1) Wood & Natural Colours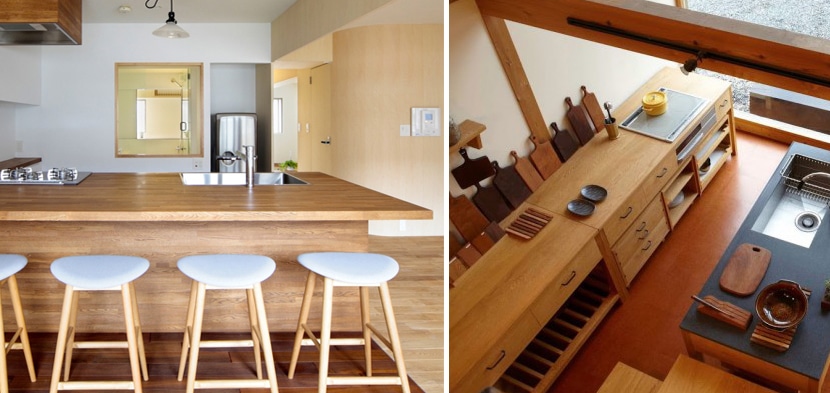 Japanese kitchens often consist of a light wood like pine, with the grain still clearly visible. The island's humid climate and unpredictable weather patterns make wood an ideal building material. A wood-beam construction is ideal for resisting earthquakes, typhoons and mould. The basic structures in traditional homes were left open to inspection, as a result some Japanese interiors have a stripped-down aesthetic . The restriction of metal-use during the Edo-era combined with the strength of wood and abundance of lumber encouraged the development of wood construction.
Contemporary kitchens also rely on natural materials but can incorporate steel, concrete and stone among others. However, the colour palette stays neutral with white, browns, greys and black.
2) Cabinet Screens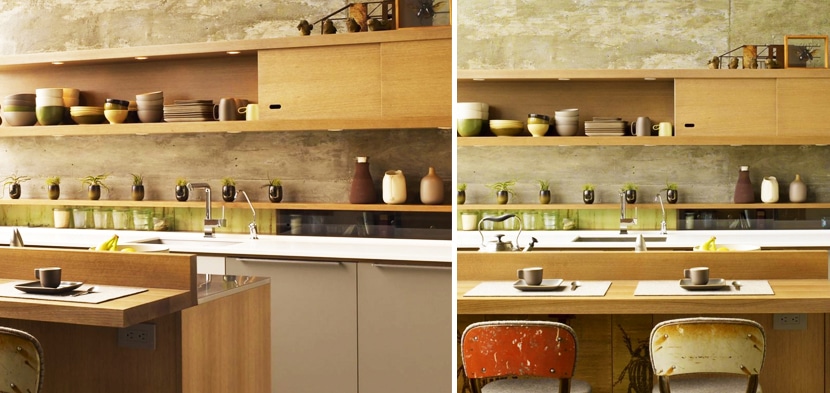 Cabinets in Japanese kitchens often have screens similar to shoji screens instead of hinged cabinetry. Traditional Shoji screens that are made from washi paper with a bamboo or wooden frame still feature in most Japanese homes today. These space-saving and efficient screens are affordable and lightweight. Kitchens that do have hinged cabinet doors don't have door handles; they are regarded as unnecessary additions.
3) Integrated Living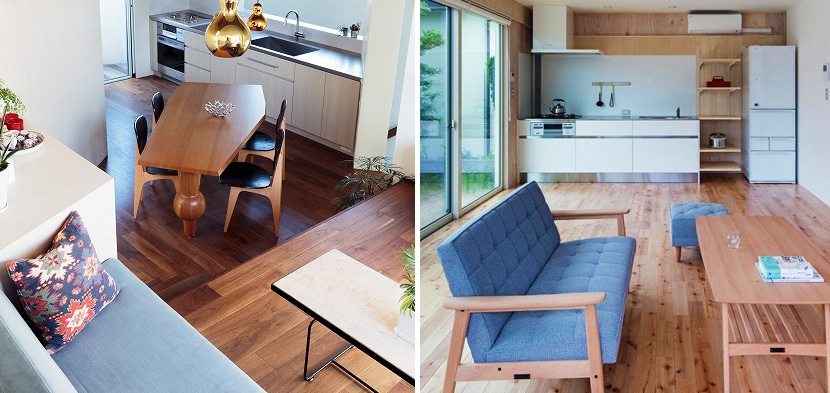 Because Japanese cooking can be time-consuming, integrated living allows the cook to socialise with the rest of the family. But it is not the only reason that an open-plan layout is favoured.
Japan has a 30-year renovation culture, meaning they rebuild the entire house leaving only the original structure intact before it's older than 30. Architects focus on keeping the natural ventilation at a maximum, which result in layouts that are open with minimal furnishings. Homes are often small and consist of multiple levels which call for open-plan living. Permanent fixtures like walls inhibit free movement and practicality in levelled houses. Therefore, thin shoji screens act as room dividers where needed.
4) Tiny Kitchen, Tiny Tools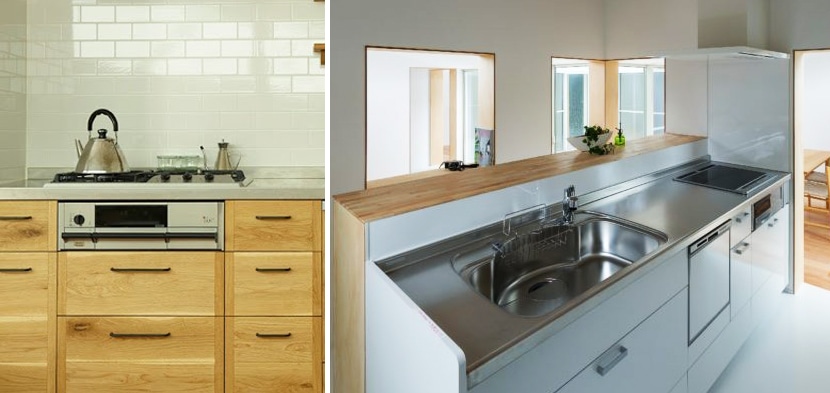 The average home in Japan is 121.7 m2 with the kitchen only a small part. The function of a Japanese kitchen is slightly different from a western one and is rooted in tradition. The Japanese separate social and home life almost entirely, which eliminates the necessity of a large kitchen for entertaining.
These compact kitchens, especially those in micro-homes, need small appliances. When it comes to cooking, expect to find a two-plate gas or induction stovetop with a compact broiler for fish. Built-in ovens and dishwashers are rare, while convection microwave ovens are petite. In contrast, wash basins are very big in comparison to the rest of the utilities.
5) Floating Shelves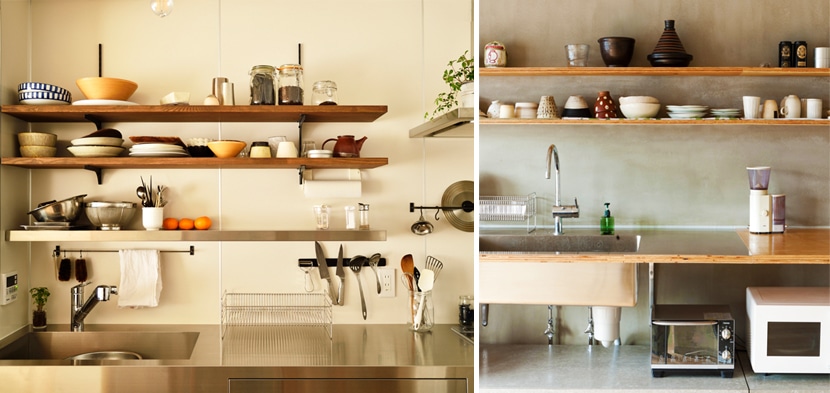 Upper cabinets in a Japanese kitchen are rare because they prefer the simplicity of open shelves. Kitchens generally have one or two floating shelves on one wall, with a naturalistic arrangement of cups and plates. A magnetic strip near open shelves holds chopping and carving knives. These shelves are void of clutter and overt decoration.
6) Suspended Shelving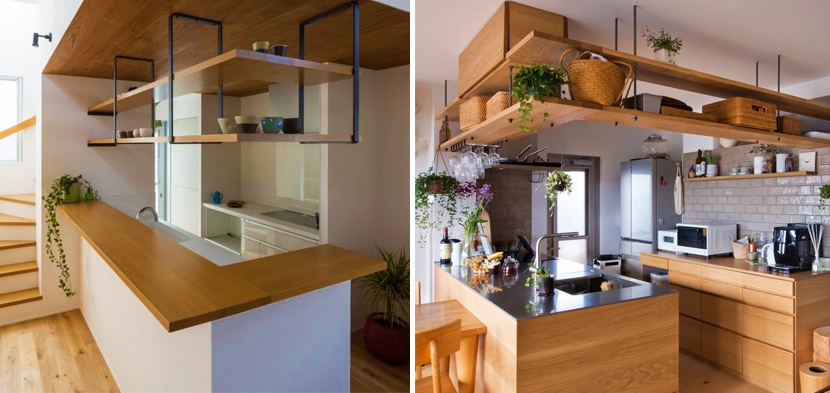 Similar to open shelves, but too high for practical storage, suspended racks are a contemporary addition to Japanese kitchens. Metal or wood strips suspend the shelves, which can be left empty or filled with plants and lesser-used items.
7) The Hidden Worktop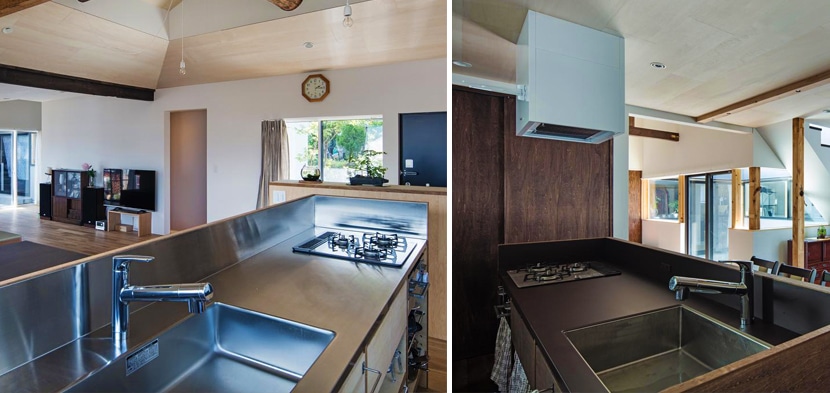 Due to open-plan layouts, some kitchen worktops have barriers that hide the preparation and cooking area. The barrier eliminates the appearance of clutter. Homes that are free of clutter conform to the kanso principle: without clutter, a person can have the mental clarity to focus on what is essential.
8) Adjacent Dining
ALTS Design & Arakawa Architects
The dining area is frequently incorporated into or near the kitchen counter. This area is not only a breakfast nook as families enjoy most of their meals there. Families put a lot of time and effort into cooking, so, socialising is easier with the dining area located nearby. Popular options include a T-shape, with the seating area perpendicular to the kitchen counter, and l-shape where the table is an extension of the kitchen counter. Different chairs often accompany the dining table, illustrating the shibui principle which is understated beauty through subtle contrast.
9) Hanging Utensils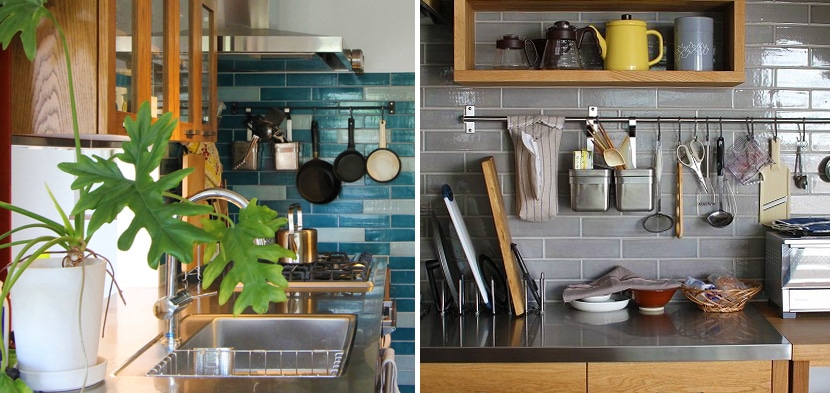 Japanese kitchens are smaller in size, consequently, alternative storage like S-hook hangers are helpful in hanging smaller items. Therefore, pans and utensils line a wall to add to the simple and understated aesthetic of the kitchen.
10) The Minimum of Minimalism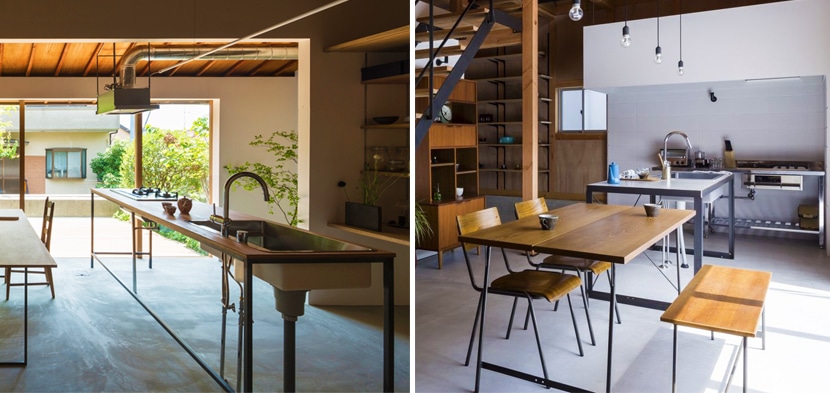 Because there is a need for simplicity and tranquillity, non-essentials like decoration, fall away. Naturalness is expressed in the design of homes with the "aesthetic ideal of emptiness". Due to the minimalistic tendency kitchens sometimes have an unfinished and industrial appearance. However, there is symbolism in the design; that imperfection is certainly intrinsic to life and adds balance to the aesthetic.
Book a Design Appointment
If you enjoyed our design ideas, subscribe for updates.
Get kitchens design ideas in your inbox.