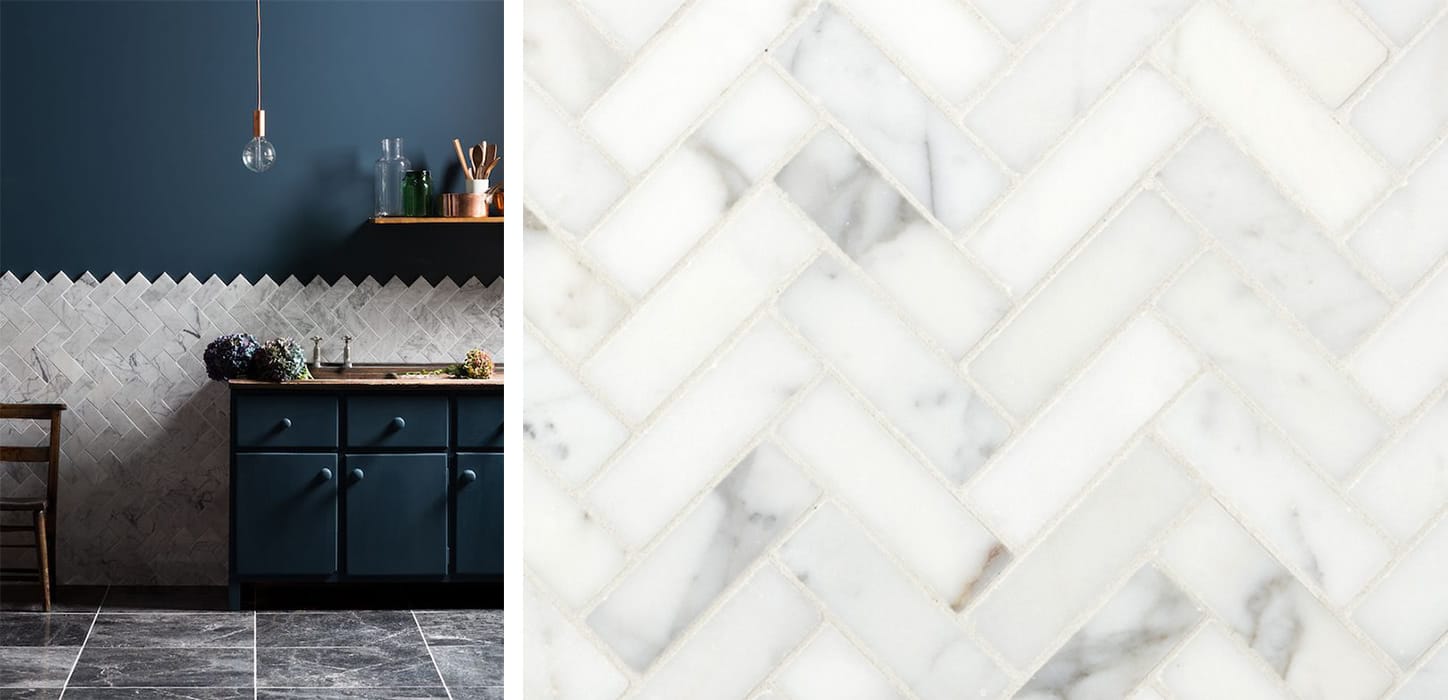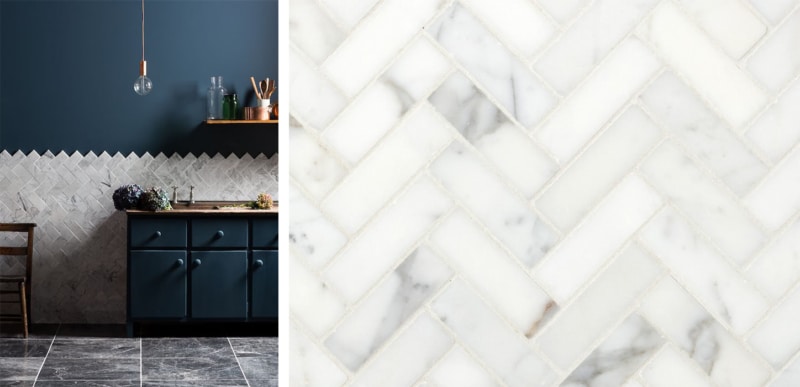 Introduction
Tiles are not only an aesthetic element in a kitchen; the tiles that you choose have to be practical, economical, durable as well as add to the look and feel of the room.

But choosing tiles can be daunting. There is such a large variety of tiles in the market that knowing what to choose for which surface can feel like an impossible task.

We have put together this handy guide to help you with that decision. We will be looking at type of tiles, how to choose the one that is going to be most suitable to your lifestyle, shape, trends, and how to take care of your tiles to get the most out of them.
Click Through to Specific Sections
Different Types of Tiles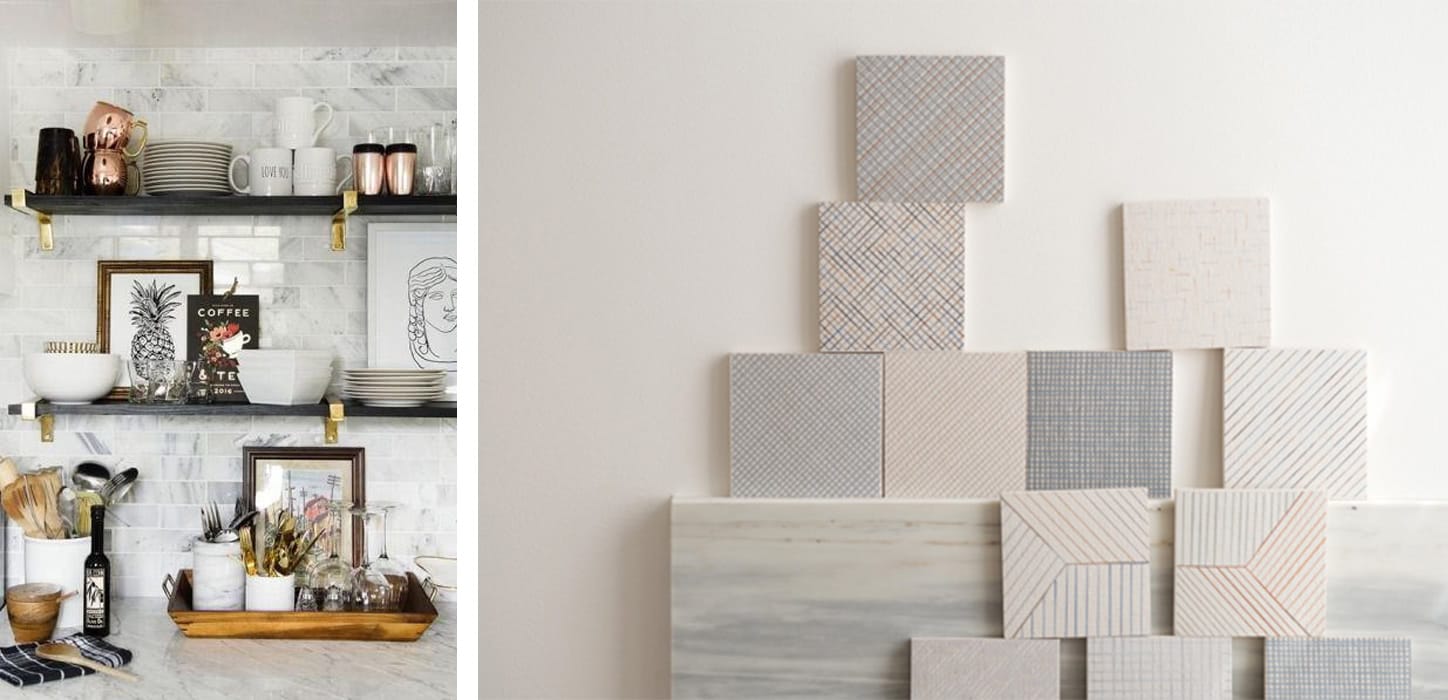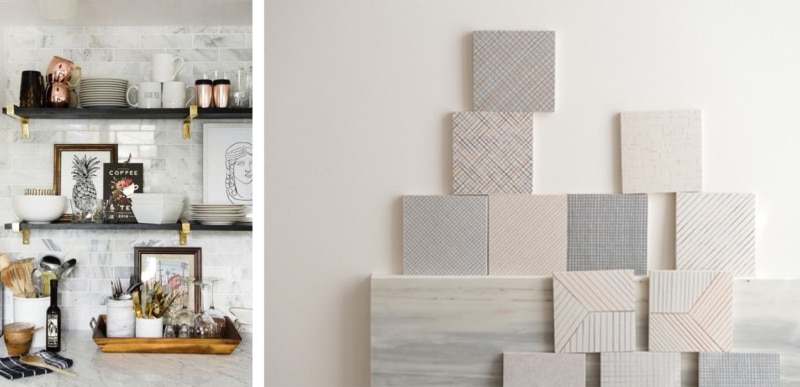 There are quite a few different types of tiles available, but they can be divided into 2 basic groups: manufactured tiles, and natural stone.
Manufactured Tiles
Non-porcelain ceramic tiles
Porcelain ceramic tiles
Glass tiles
Terracotta
Cement
Natural Stone Tiles
Granite
Marble
Limestone
Slate
Not all types of tiles are suitable for all surfaces however. The application and intended use will determine which tile can be used where.
Manufactured Tiles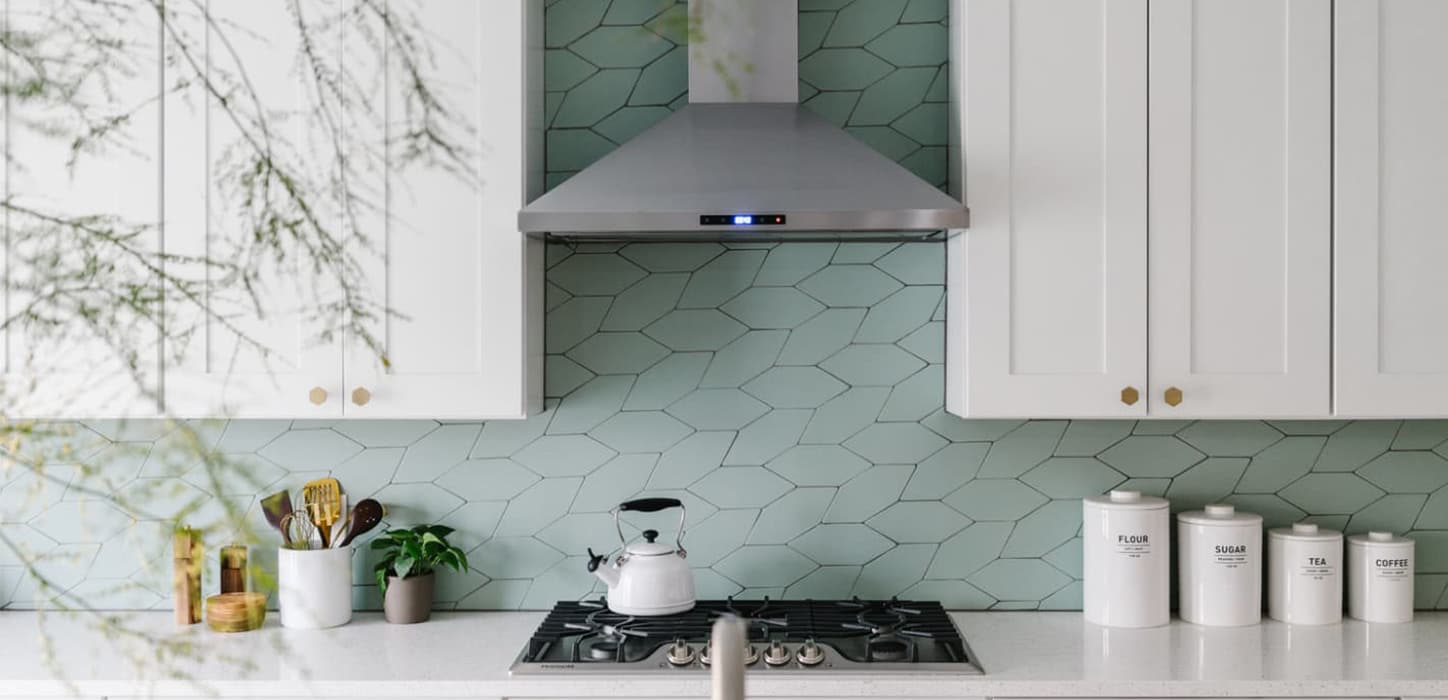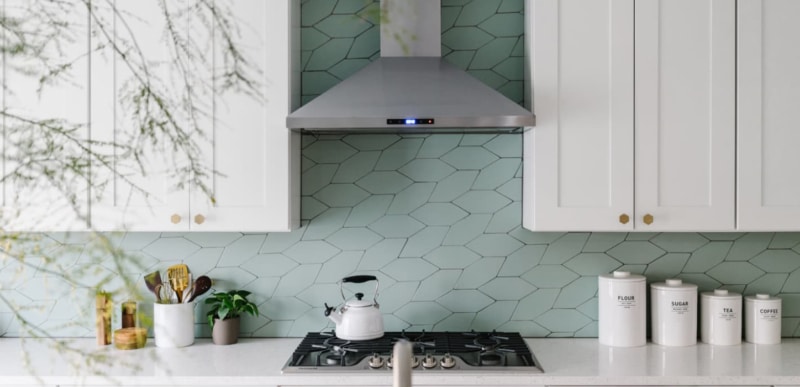 These tiles are generally made from different kinds of clay or glass. The materials are quarried, prepared through mixing, or melting, and then it is formed into the required shaped with a mold. Tiles can be formed through dry-press methods, by pouring slush into a mold and letting it cure, or through extrusion.
1. Non-porcelain ceramic tiles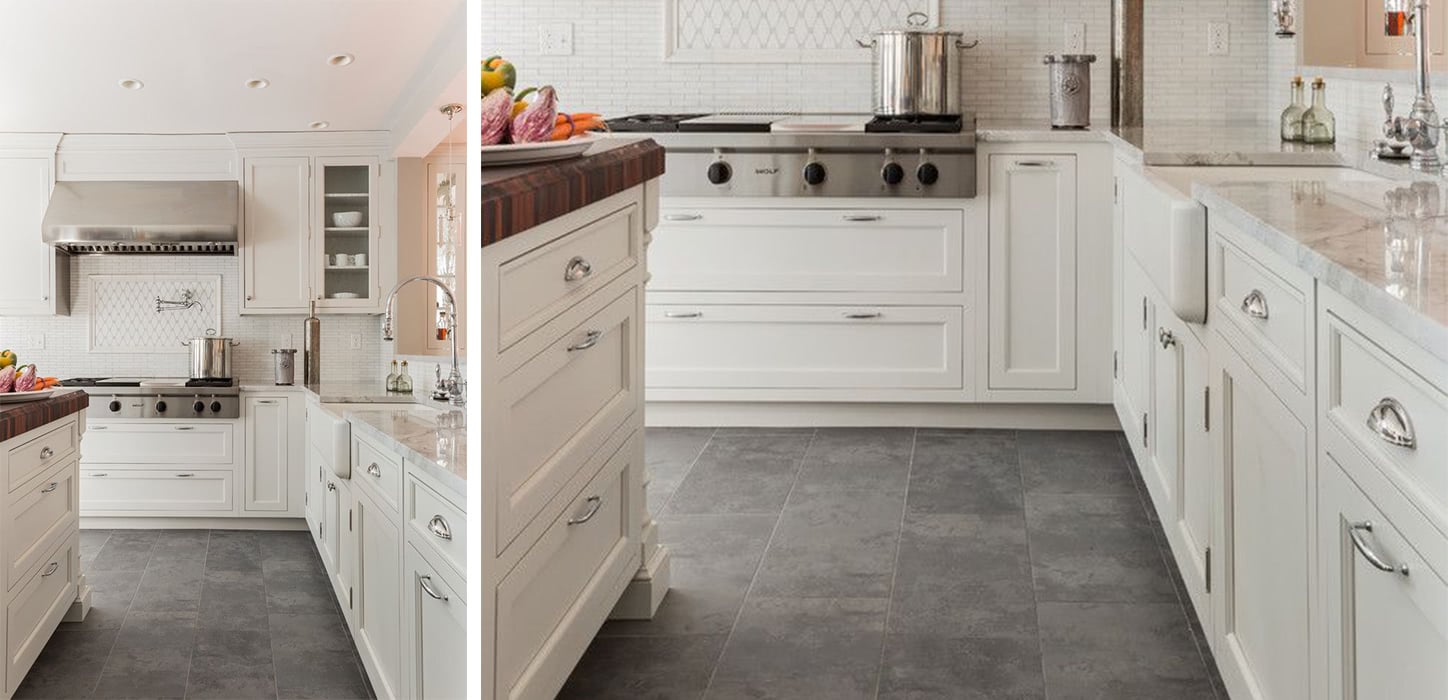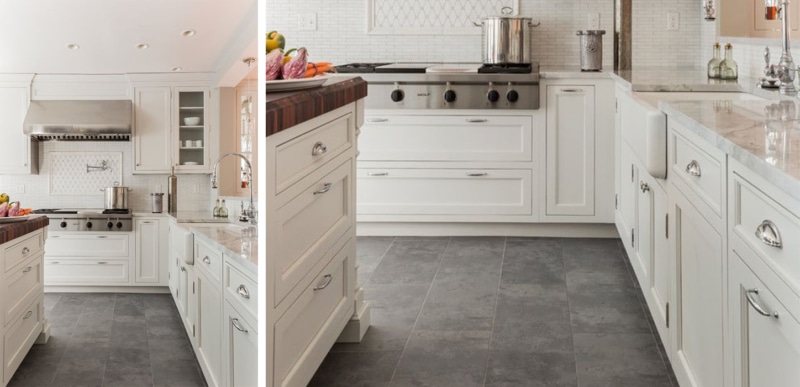 Ceramic tiles are the most versatile and cost-effective tiling solution available.

The tiles are made by shaping and firing a selection of clays and minerals to form a biscuit. These are then glazed and can then be printed with a pattern or texture before firing them again.

They are extremely practical, economical and durable. Because of the tile's glazed surface, they are also hygienic and allow for a multitude of designs and finishes.

Ceramic tile come in many different shapes, sizes, patterns and colours and are suitable for use on splashbacks, walls and floors in domestic kitchens.
2. Porcelain ceramic tiles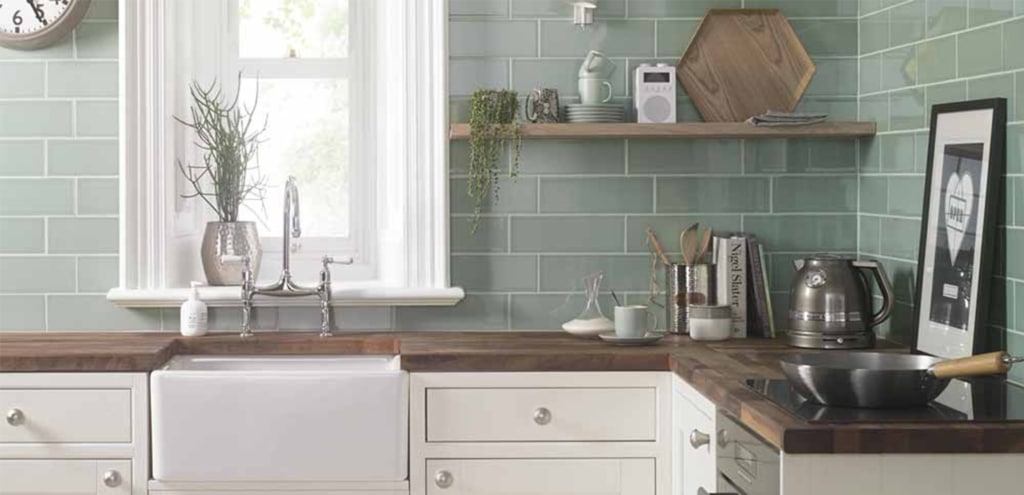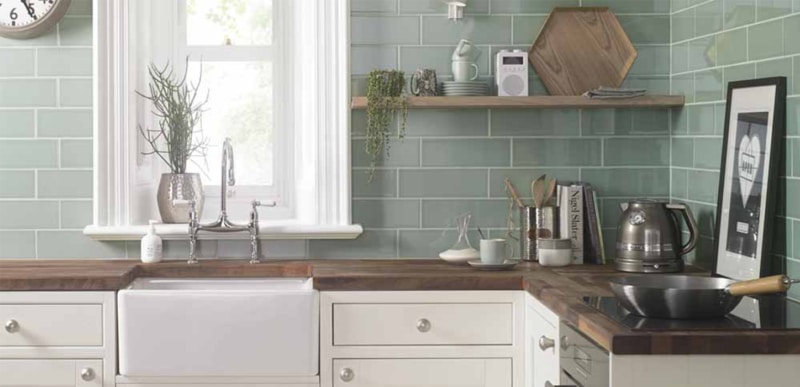 Porcelain tiles are manufactured in much the same way as ceramic tile, but also contains 50% white dust or sand called feldspar. The clay used is much finer, resulting in a denser product. Because this dust melts during the firing process, it acts as a bonding agent between all of the other ingredients, making the tile much harder, more durable and most importantly, more water-resistant.

The colour of a porcelain tile will extend all the way through the tile, meaning that scratches and chips will be less visible.

Also available in a large variety of shapes, styles and colours, porcelain tiles can be used on walls, floors and as a splashback in both domestic and commercial applications.

Porcelain tiles can be glazed or unglazed.

Because of their high durability and water resistance, glazed porcelain tiles are ideally suited to high-traffic and high-moisture areas.
3. Glass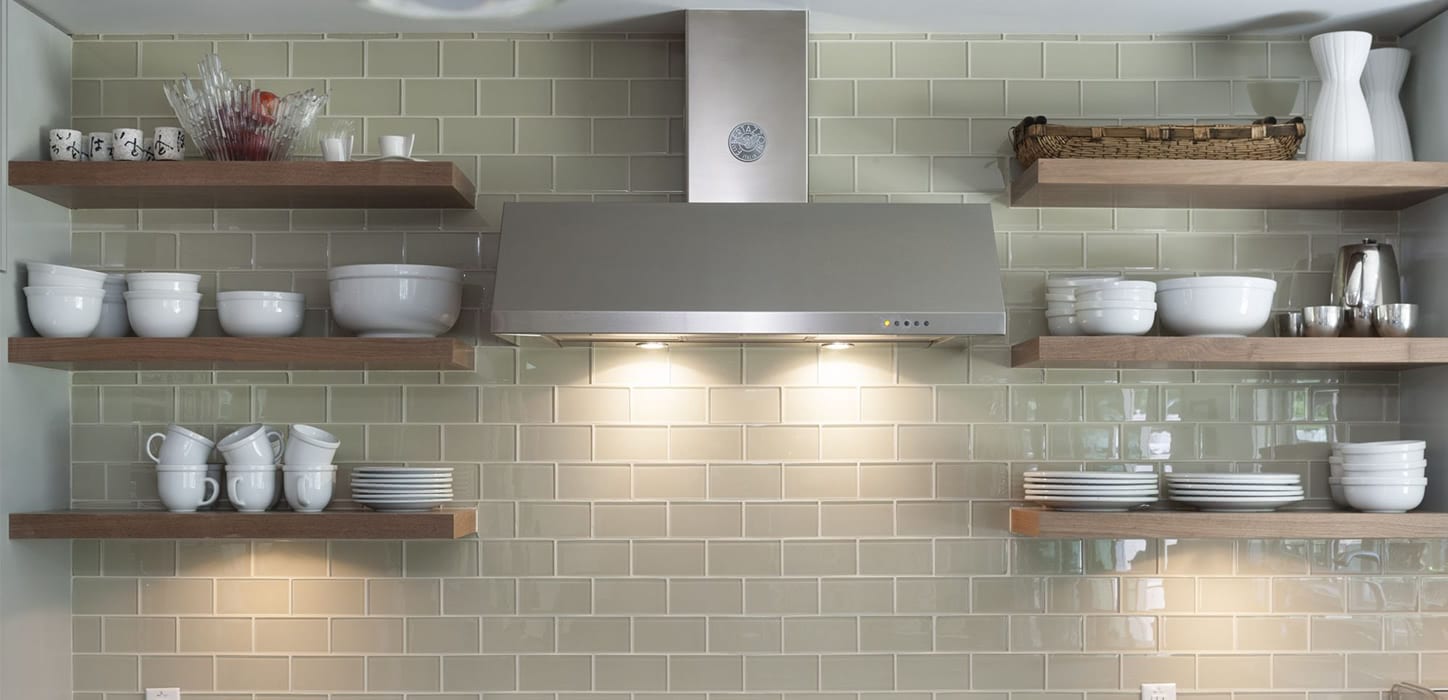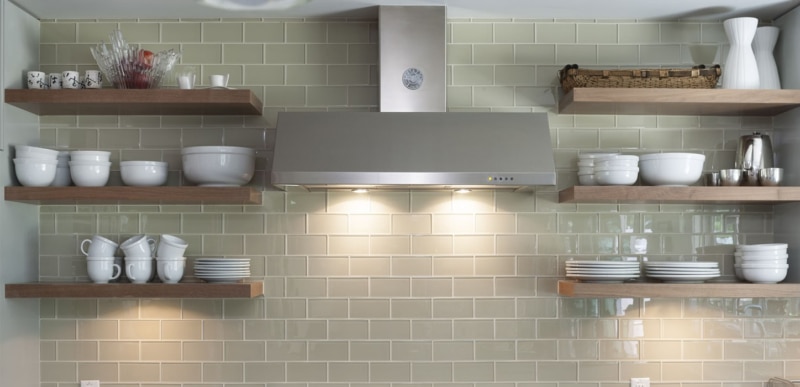 Glass tiles are one of the oldest forms of decorative tile and can be dated back to earlier than 200BC. Traditionally, glass tiles were mostly used in mosaics to provide luminescent colour.

In the early 20th century, glass fusing, an ancient technique, regained popularity. This enables glass workers to create glass tiles that are sturdy enough to be used as floor tiles as well.

Glass is non-porous and anti-bacterial, which makes it highly suitable for using in a kitchen.
4. Terracotta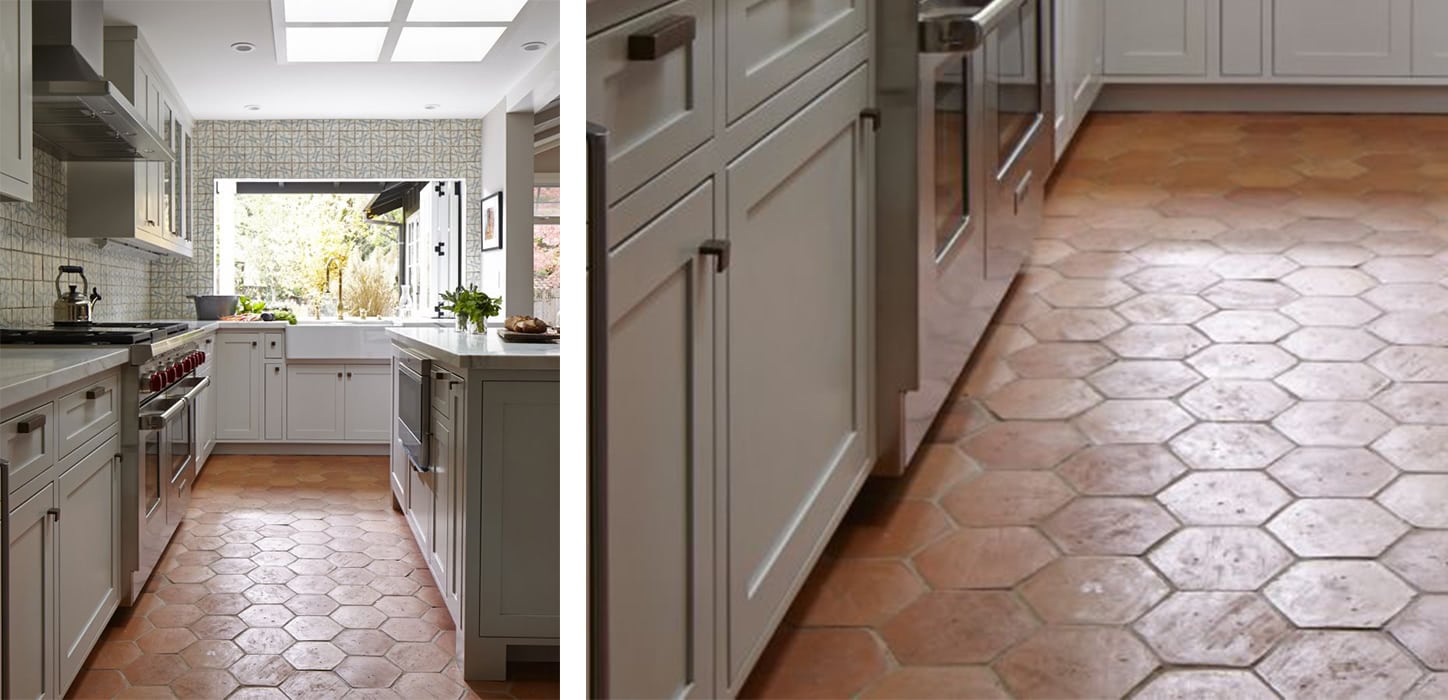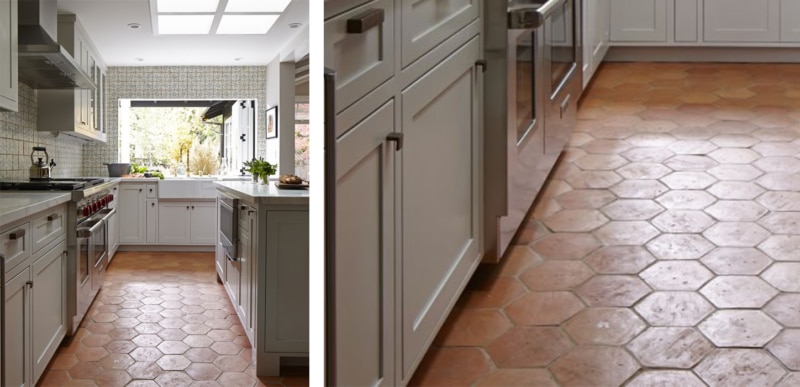 Terracotta or baked earth tiles have been used as a floor covering for centuries. The tiles consists of unglazed, raw clay that is fired to harden.

The distinctive red-brown colour is directly related to the type of clay being used.

The tiles are porous, making them prone to collecting dirt and staining. Terracotta tiles should be sealed annually to keep them looking beautiful. This is especially necessary if they are being used in a kitchen.

Their uneven surface and sometimes slightly irregular shapes make them ideally suited to traditional, rustic and eclectic interiors.
5. Cement or Encaustic tiles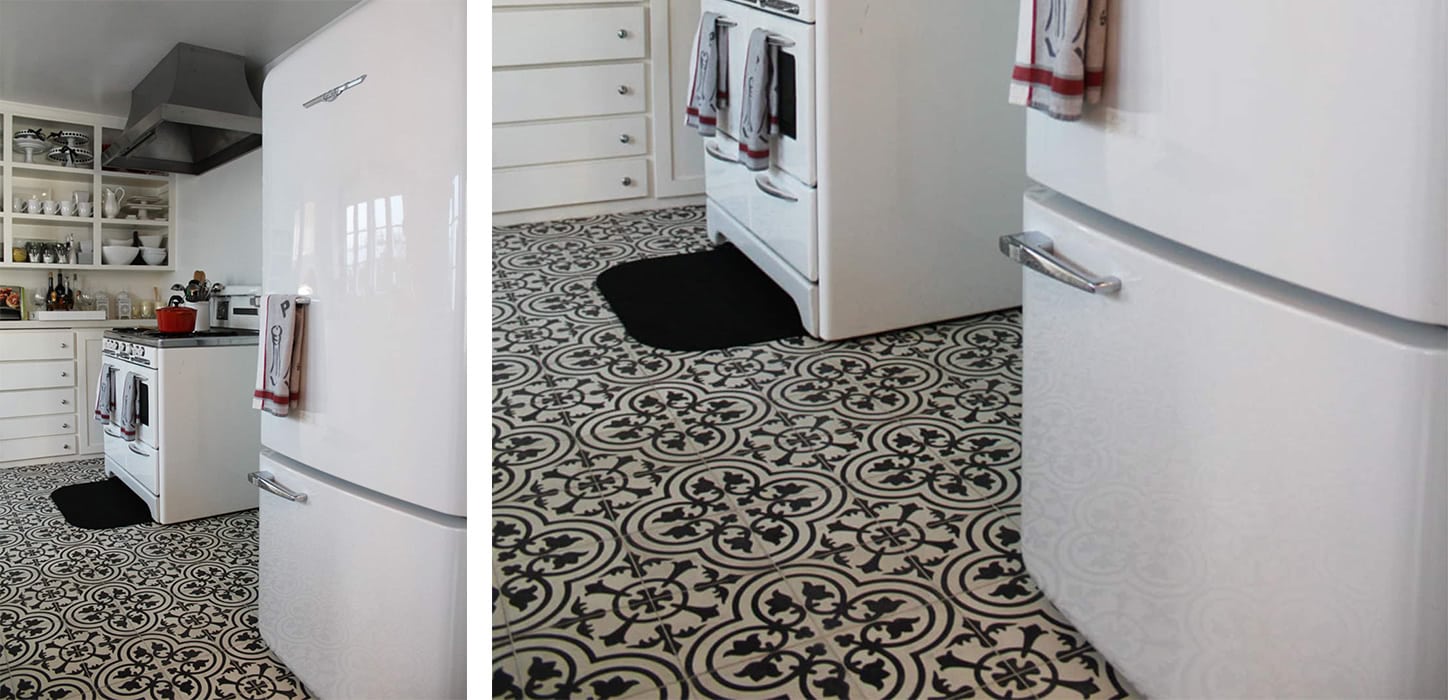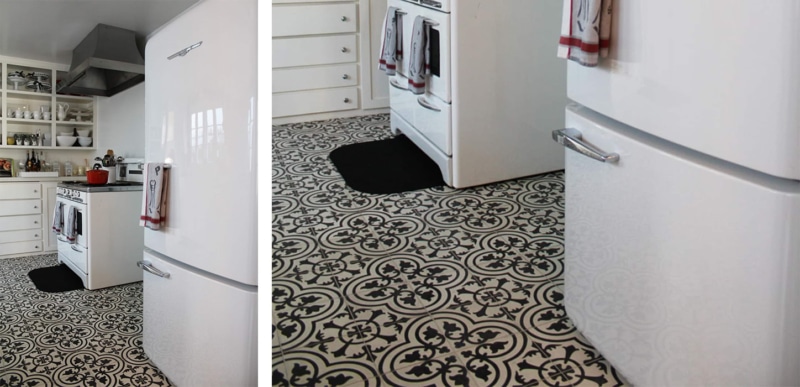 Encaustic cement tiles are pretty decorative tiles with patterns made up of different coloured clay that are pressed into the tile. The pattern forms an integral part of the tile, causing it to wear extremely well.

The first encaustic tiles can be seen as early and the thirteenth century. The handmade effect is still achieved today, although modern manufacturing uses hydraulic presses to apply the clay patterns.

The pattern is first molded after which the background colour is applied to the back of the pattern and then pressed.

The tiles are then fired and can be glazed or unglazed.
Manufactured Tile Surface Finishes
Manufactured tiles can have one or a combination of the following surface finishes:
Textured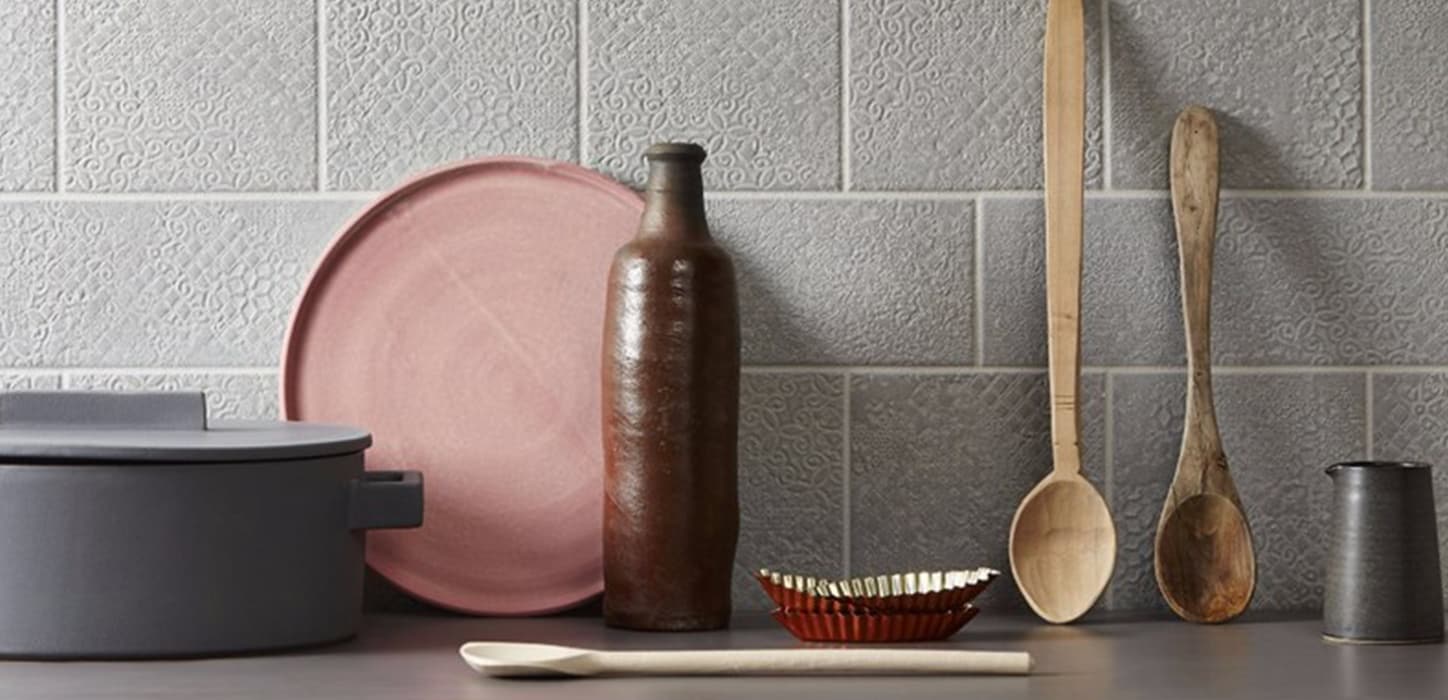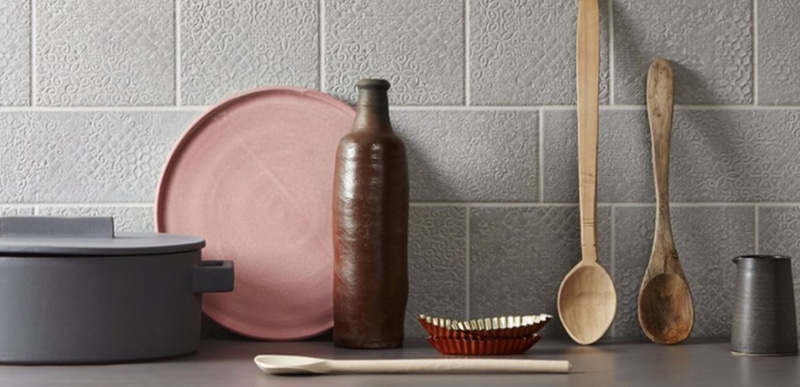 A texture is applied by imprinting on the surface when it is being molded.

This technique allows ceramic tiles to have any kind of pattern or texture applied to them.

Textured tiles are more slip-resistant than smooth tiles, and so are ideally suited to kitchens floors where spills happen more frequently.
Gloss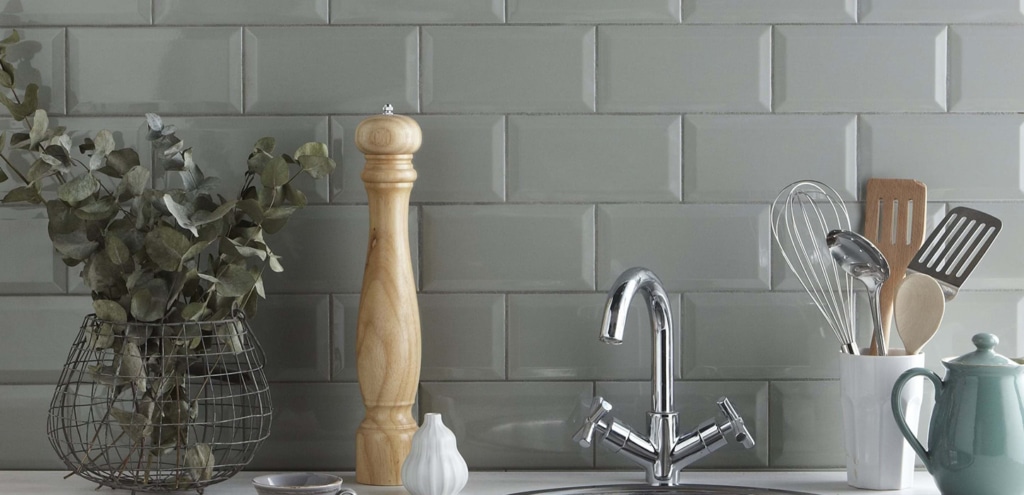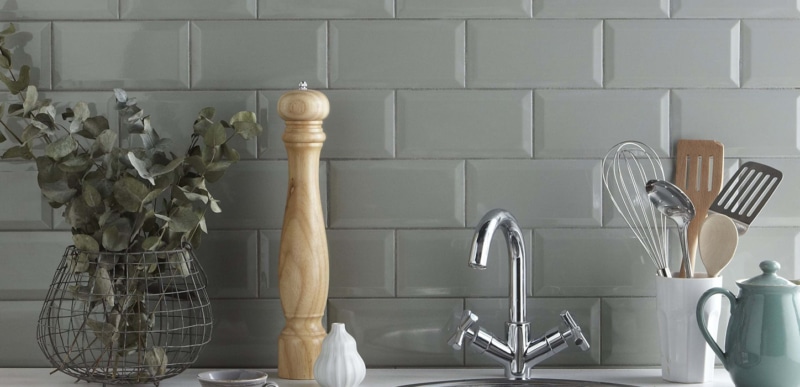 A high gloss glaze has been applied to the tile before firing, resulting in a shiny surface. This is better suited to walls, because glossy tiles tend to be less slip-resistant. These type of tiles also show up dirt quickly, making them less suited to floor surfaces.

High gloss tiles are great as a splashback in a kitchen, because the smooth surface makes them easy to clean.
Mate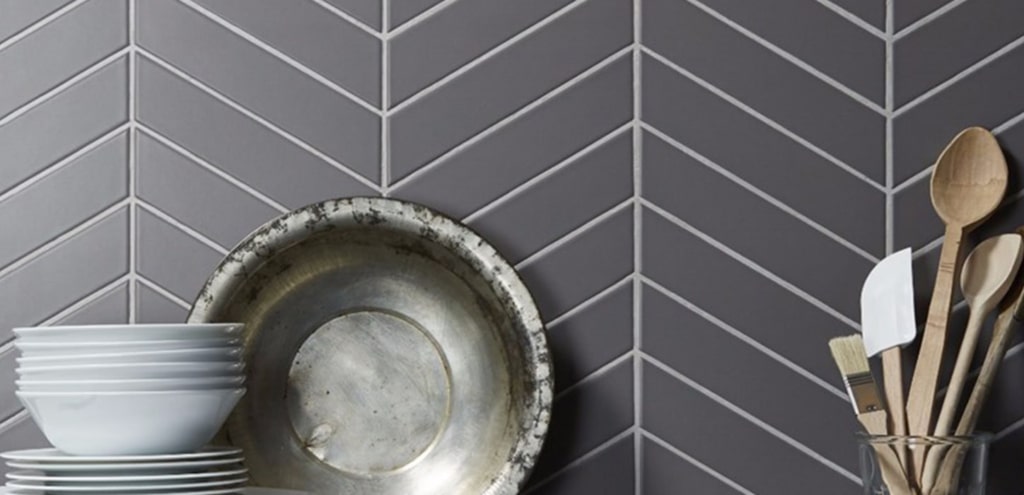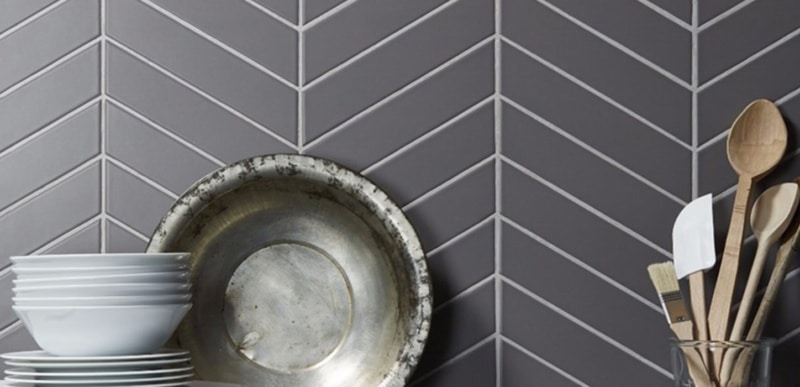 Matte tiles have been sealed with a satin glaze before firing, resulting in a tile that is less shiny, but that still has the durability of a sealed tile.

Matte tiles work really well in a modern kitchen, and they are available as floor tiles as well as wall tiles.
Printed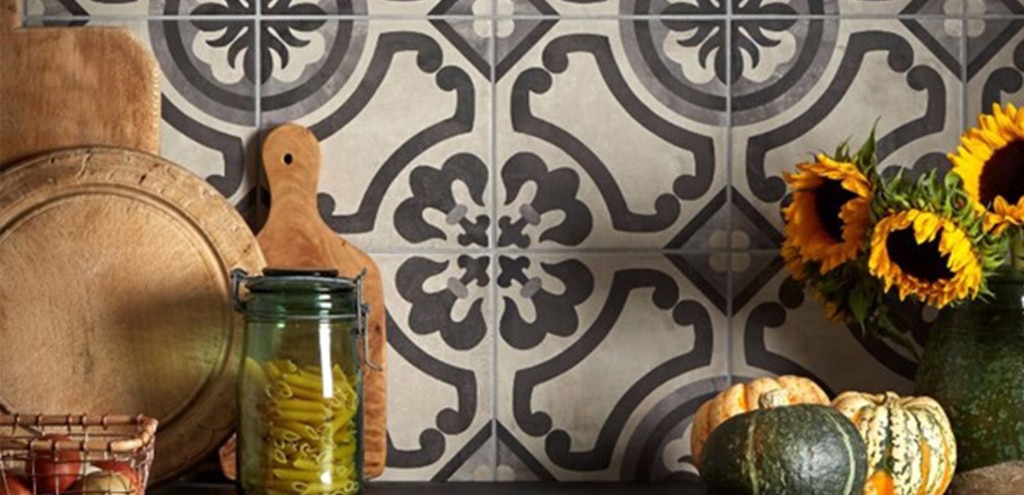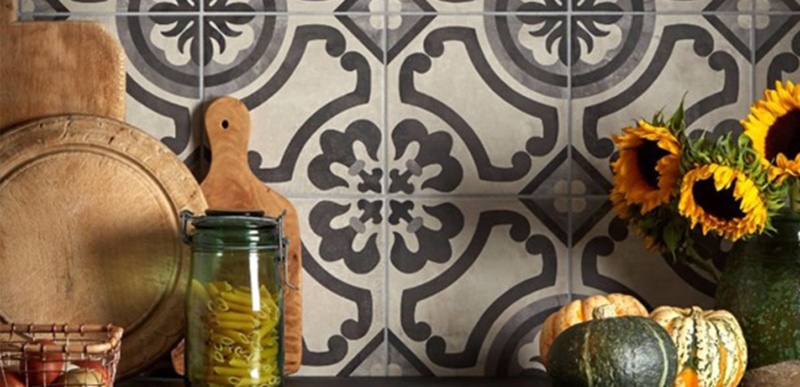 Printed tiles are the latest development in tile technology. The surface is printed through high definition inkjet printing to give it a patterned finish.

This allows any design to be applied to the tile before firing, so that marble, wood and photographs can all be applied to a durable tile surface.
Natural Stone Tiles
Natural stone tiles are beautiful, durable and will add value to your home. The nature of the material allows for irregularities in pattern and colour, which is part of its appeal.

While they can be slippery when wet, a suitable sealer will make natural stone tiles more slip-resistant.

Most natural stone tiles are suitable for both floor and wall applications, although softer stones like limestone will not be suited to high traffic areas.
Granite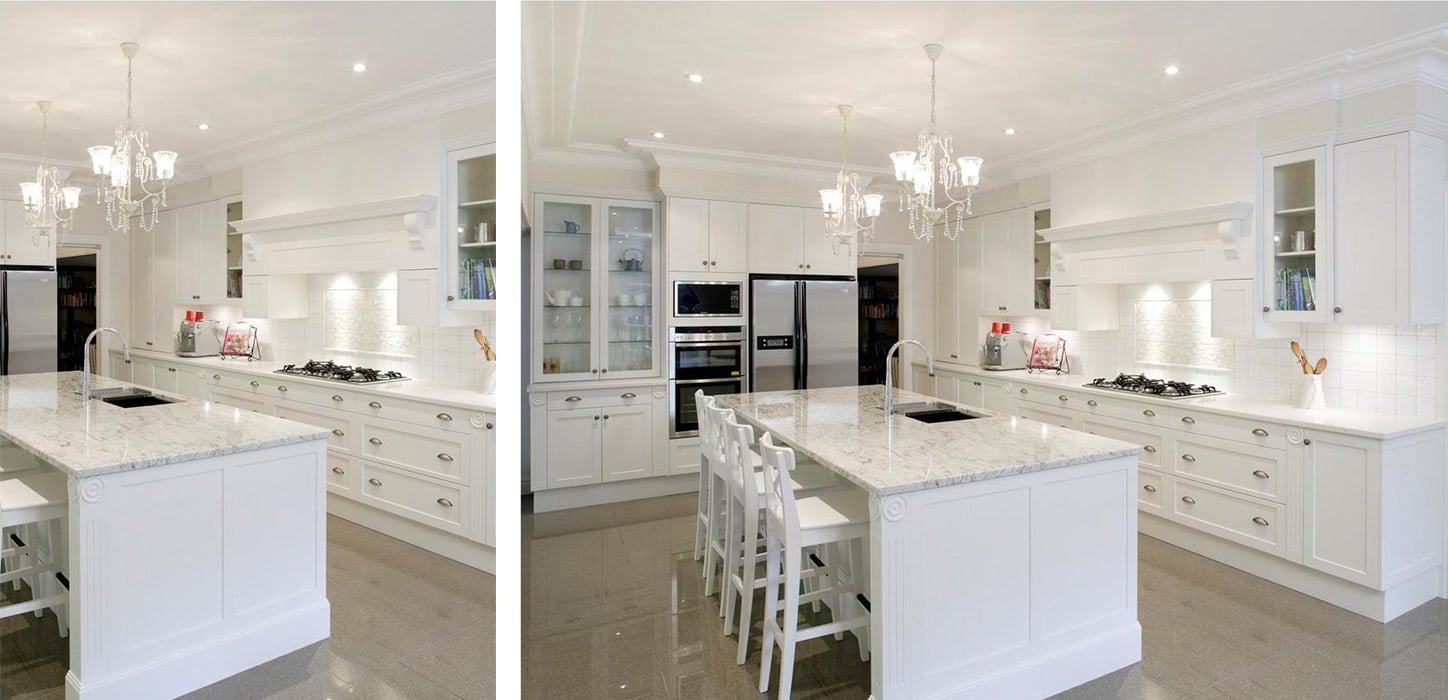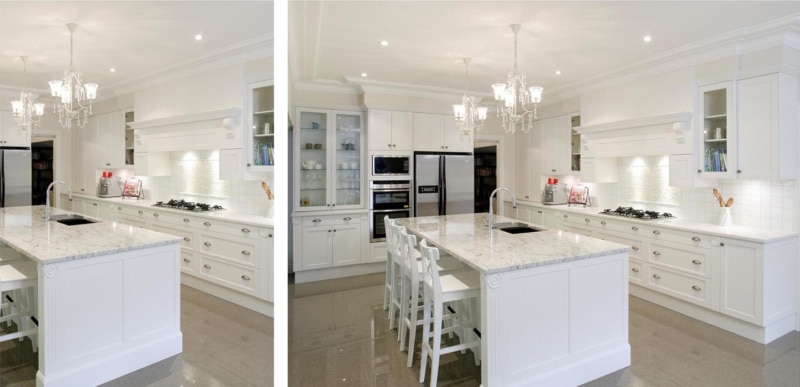 Granite is incredibly dense and hard, making it perfect for high-traffic areas like kitchens. While granite is more often used as countertops, tiles can also be applied as floor or wall finishes.

This stone has a very distinct speckled appearance, and is available in a massive variety of colours.

Granite is almost completely impervious and it is also highly crack and scratch-resistant.
Marble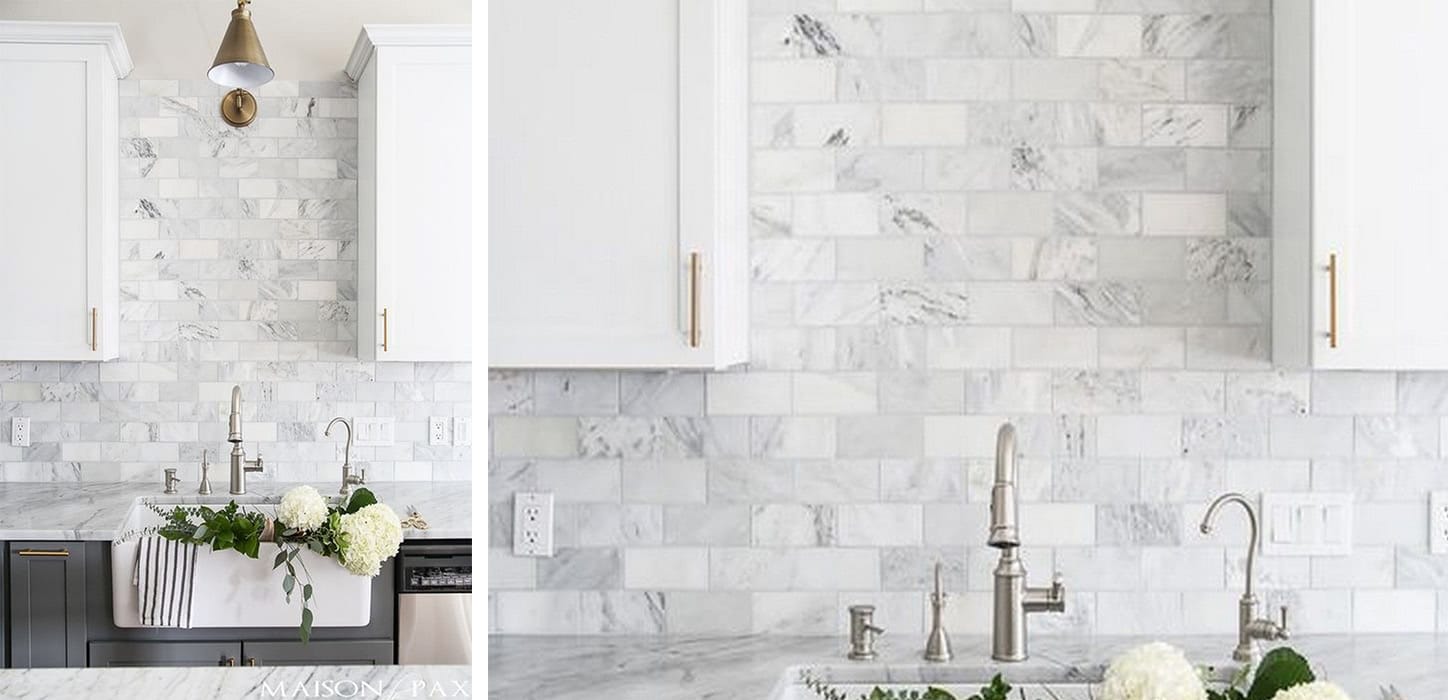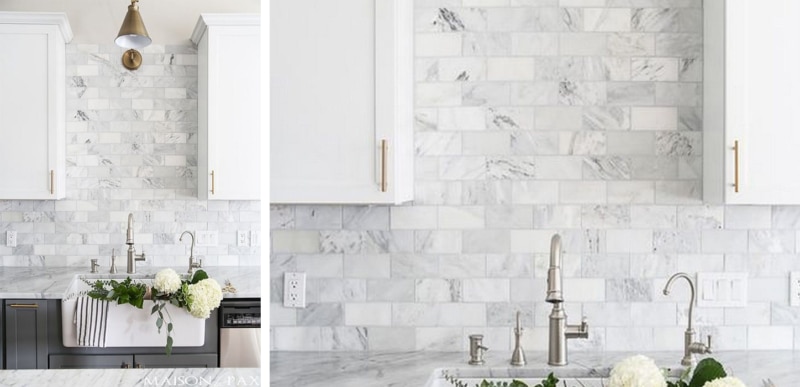 Marble has been synonymous with luxury interior finishes for many years. It's rich veining and variety of colours make it suitable to both traditional and ultra-modern kitchens.

Because marble is more porous, floor tiles will have to be honed and sealed to withstand spills and stains and to maintain their natural good looks.
Limestone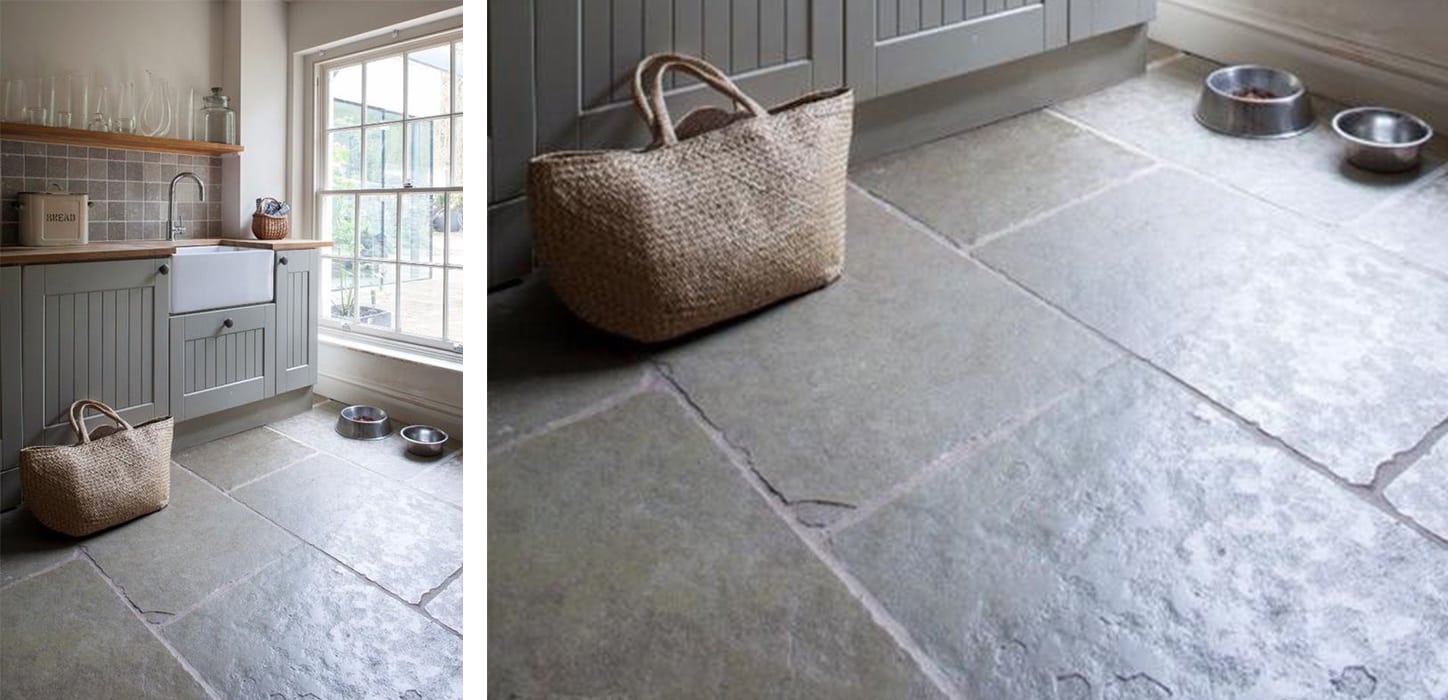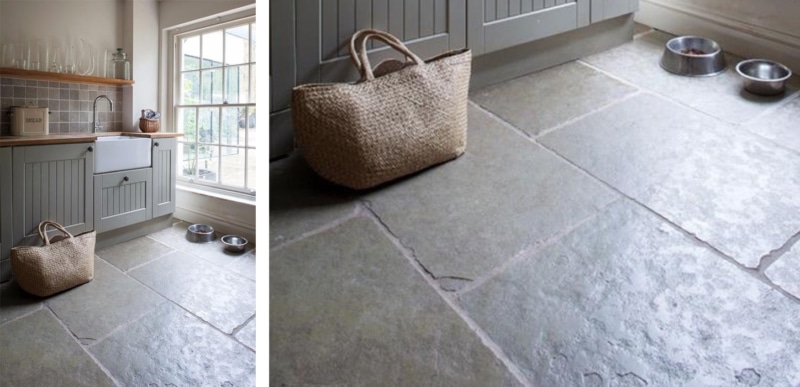 Limestone is a softer stone that has beautiful rich colours ranging from light grey to a deep charcoal after several oil applications.

Limestone can be textured or smooth, but because it is a very porous stone, care should be taken to protect it in a kitchen environment. It is also a softer stone which makes it prone to scratching.

It is also a highly sought-after splashback and countertop finish.
Travertine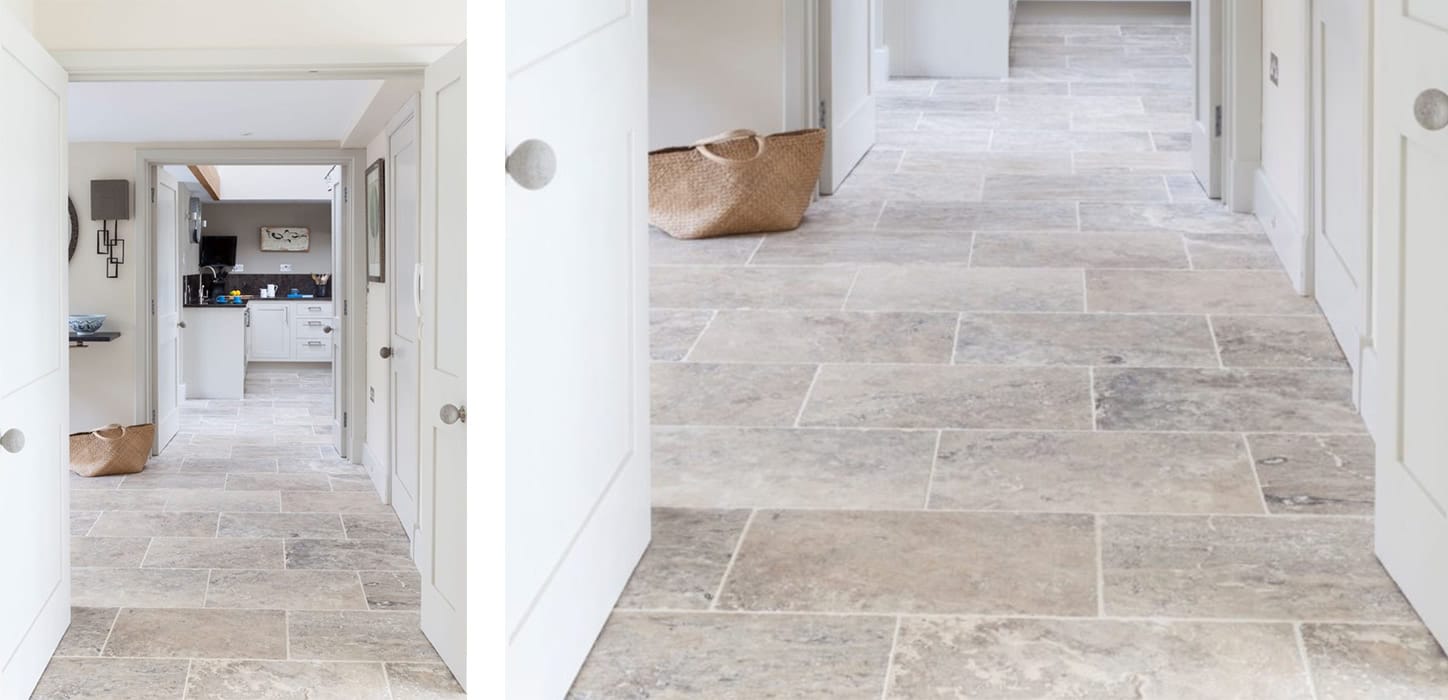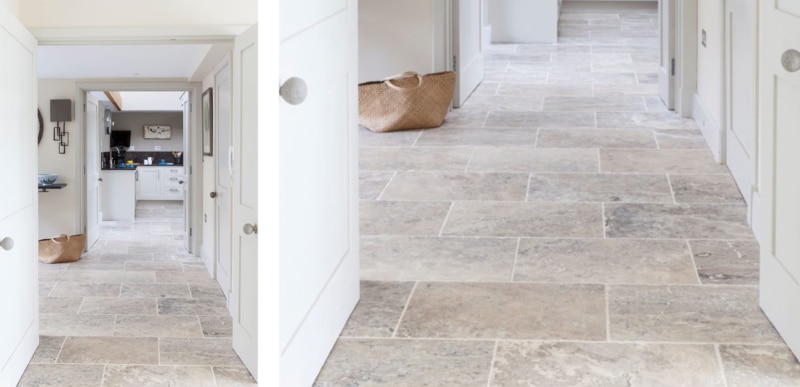 Travertine has a very distinct look, with embedded crystals and large pores. It is a soft stone that can scratch and stain easily, so it is not suited to a high-traffic kitchen.

While unfilled tiles can be used on walls, it is best to use filled tiles in a kitchen environment to ensure hygiene.

Travertine should be sealed regularly to ensure it retains its appearance.
Slate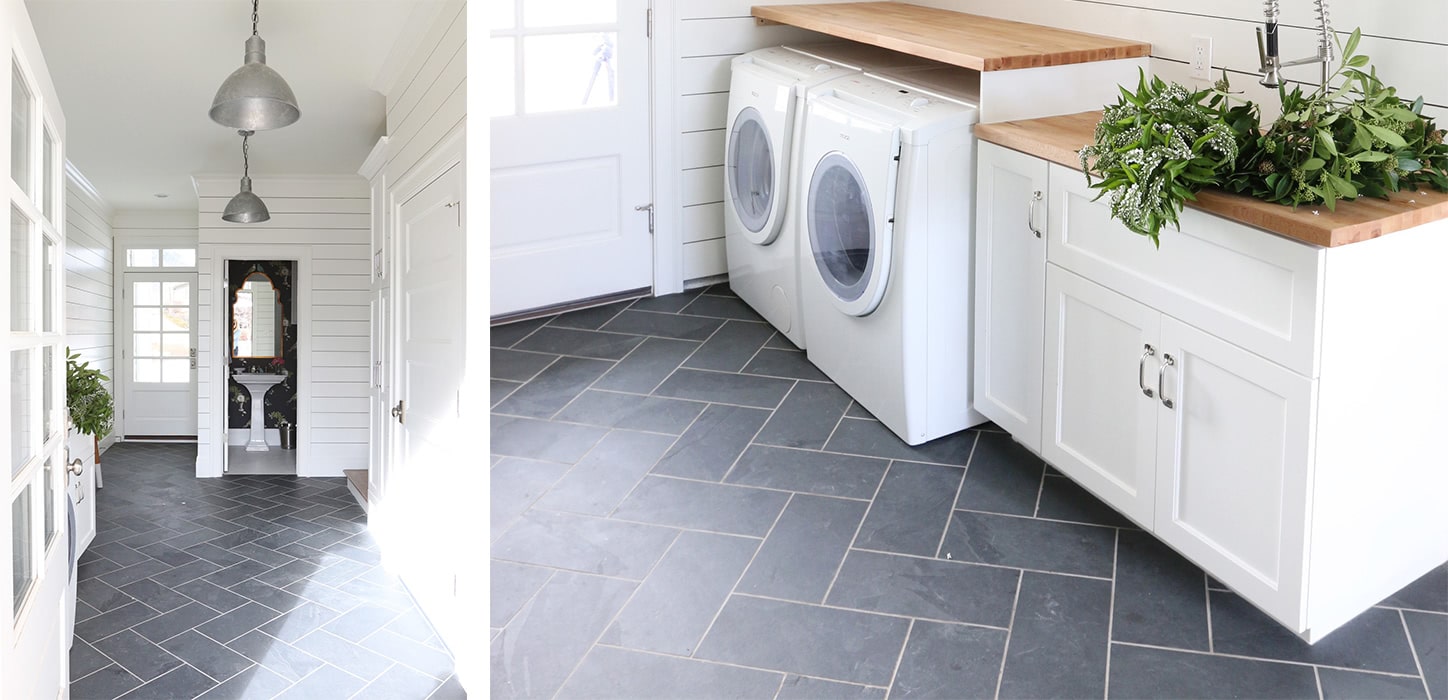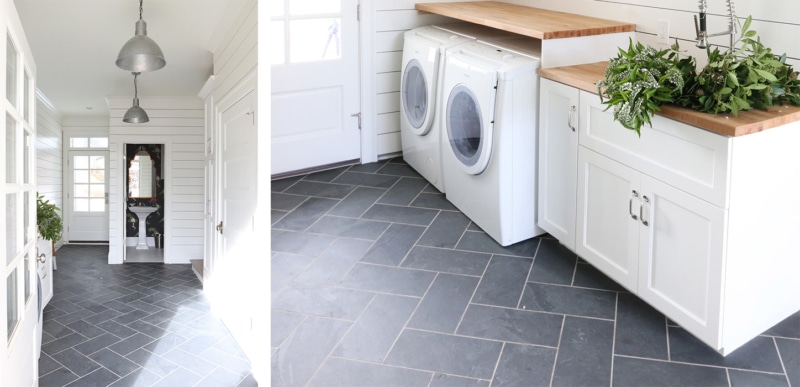 Slate is very dense and durable, making it ideal for high-traffic areas like kitchens.

While the tiles are usually textured, it is possible to get a honed and polished surface.

Slate tiles are suitable for use on both floors and walls.
Natural Stone Tile Surface Finishes
Tiles can have one or a combination of the following surface finishes:

Natural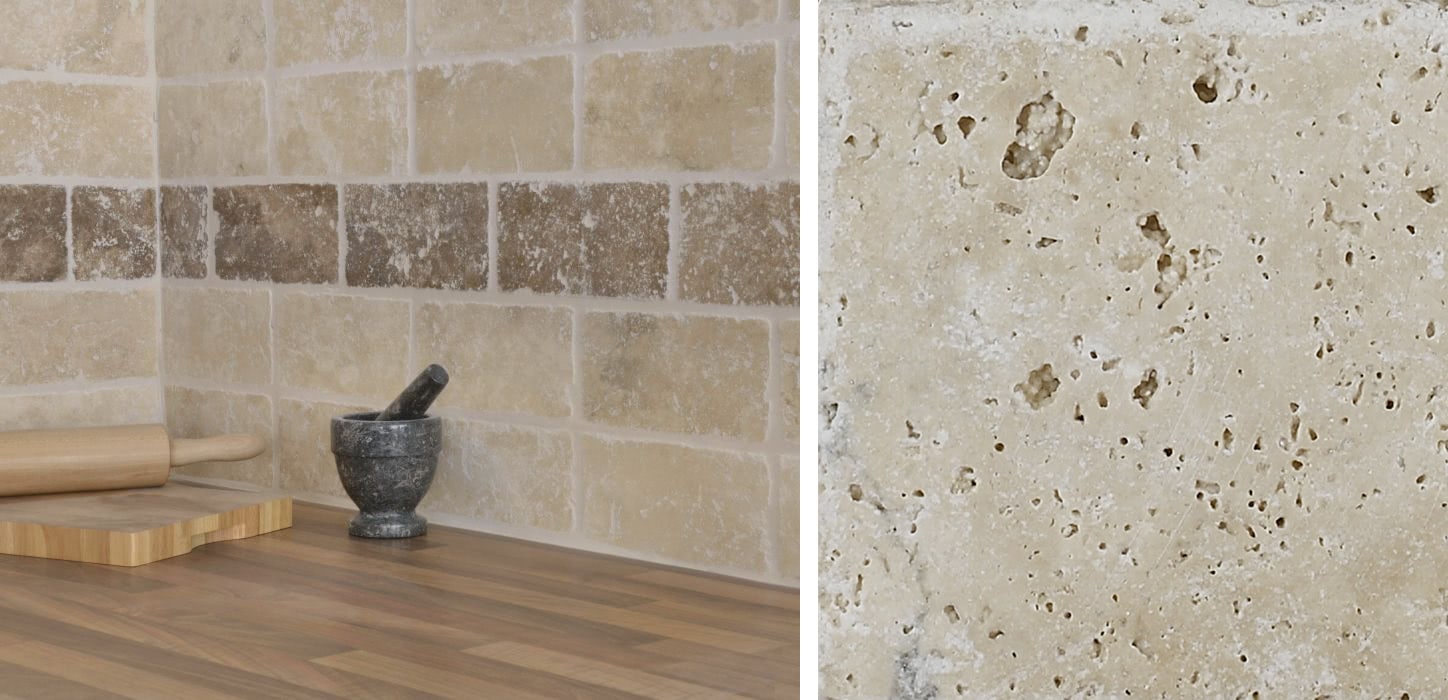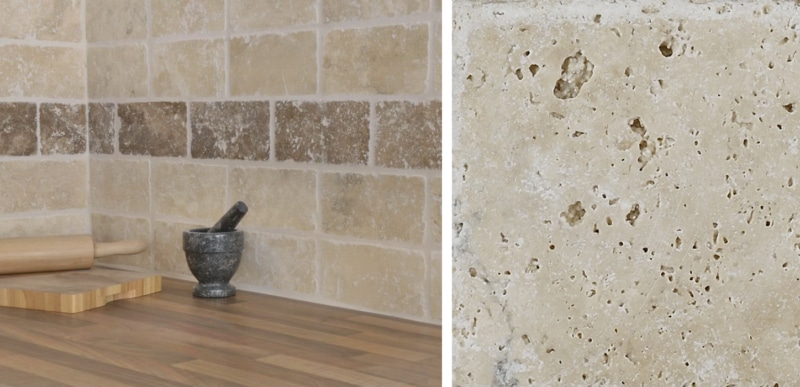 The natural imperfections of the stone is preserved to emphasize veins, crystals, pitting and other irregularities.

After removing the stone from the earth, the slab is cut into the required shape. The stone is then sanded with first, a very coarse abrasive pad, then a less coarse pad, and finally a buffer. This process gives the tile a flat and natural appearance.
Honed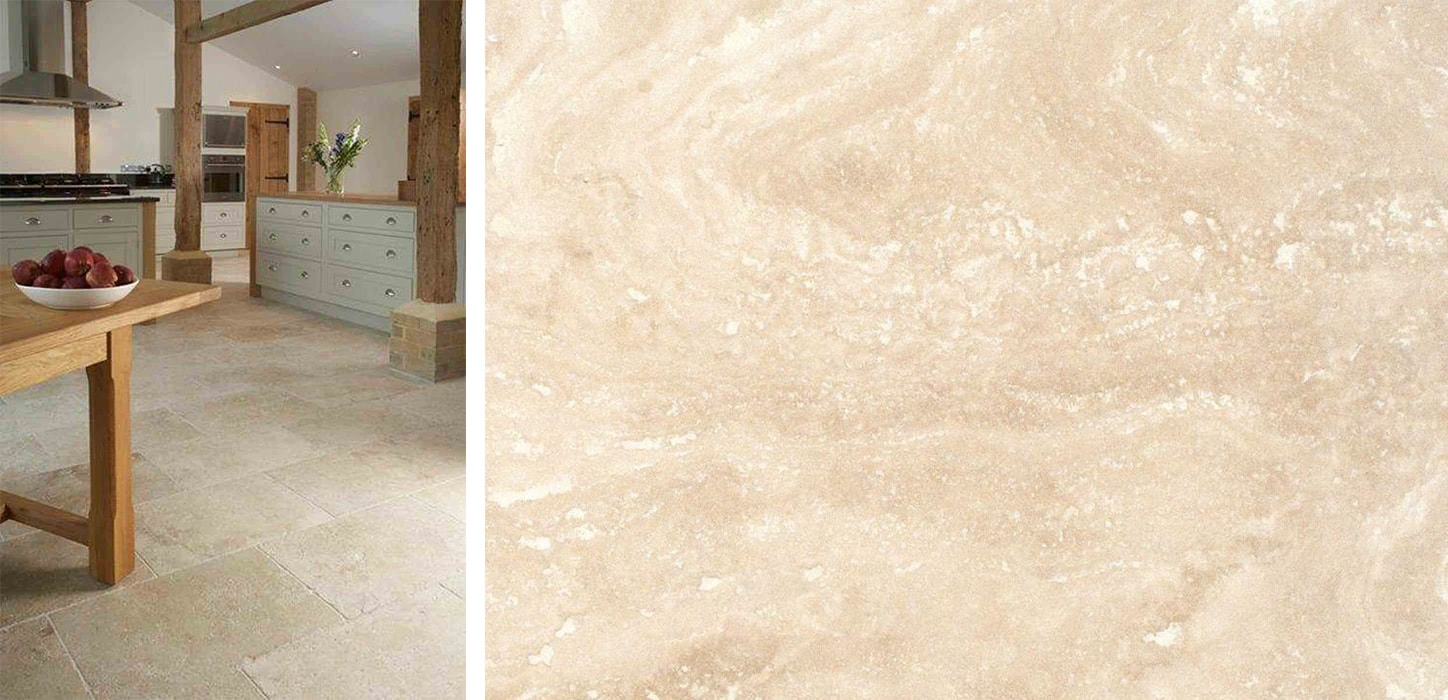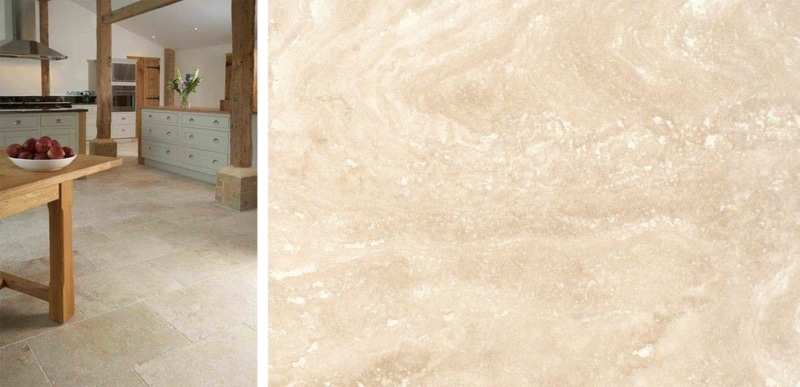 A honed tiled has the same finishing process as a natural tile, except that it is not buffed.

This results in a coarser surface that is more slip-resistant, making is highly suited to floor finishes.
Some tiles can however be filled as well to prevent the pits or natural indents in them from gathering dirt. The holes are filled with matching resin, mixed with stone dust.
Determining Your Needs
Now that you know your options, you will need to look at a few other factors to determine which type of tile is going to be the best choice for your kitchen.

1. Intended use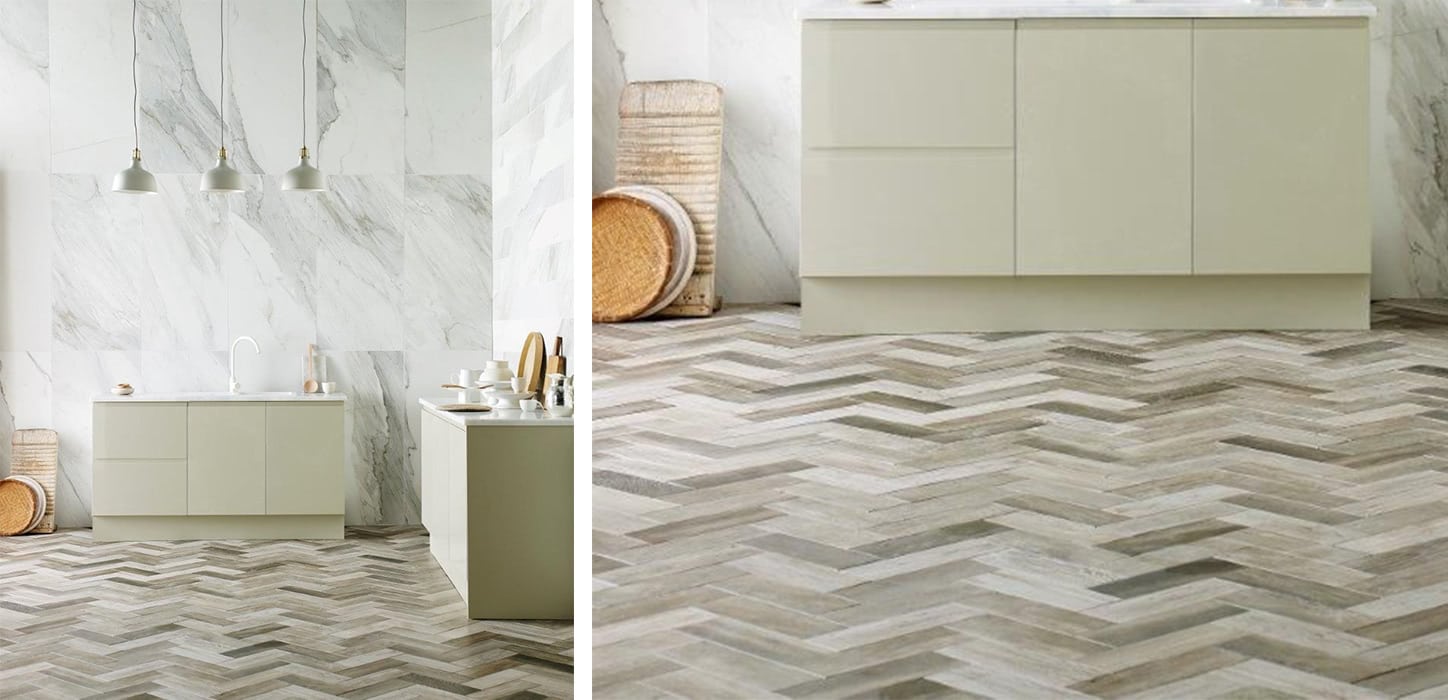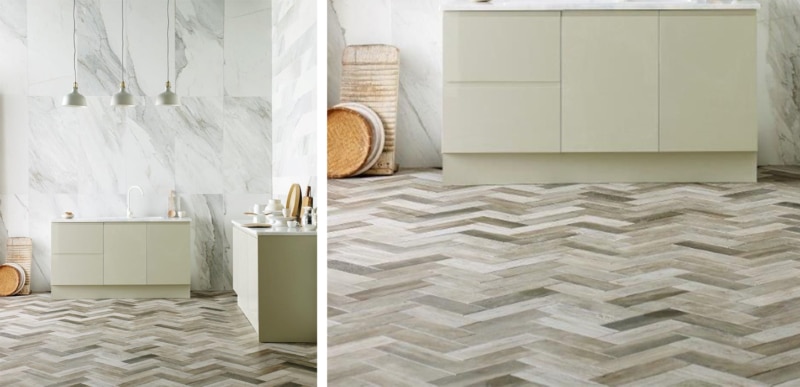 While a floor tile can be successfully installed on a wall, a wall tile cannot necessarily be installed on a floor. A floor tile has to be slip-resistant and be strong enough to withstand weight.

To determine whether a tile is suitable as a floor tile for your specific needs, you will need to look at the PEI rating. Tiles are rated according to the Porcelain Enamel Institute (PEI) Grading system to determine suitability of application.
PEI 0: not suitable for floors; intended for walls only
PEI 1: suitable for very light foot traffic only
PEI 2: suitable for light residential traffic
PEI 3: suitable for medium residential traffic
PEI 4: suitable for high-traffic residential areas
PEI 5: suitable for commercial applications
2. Your lifestyle will also have an impact in your choice of tile.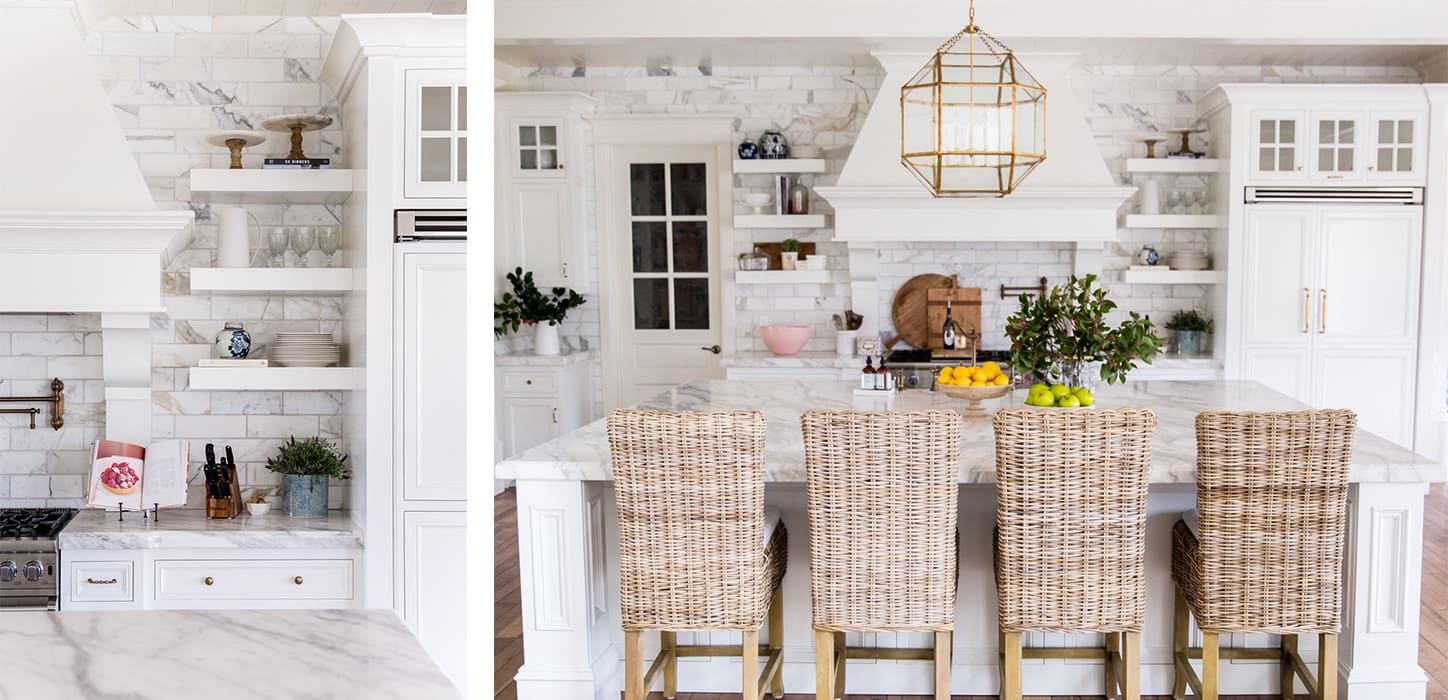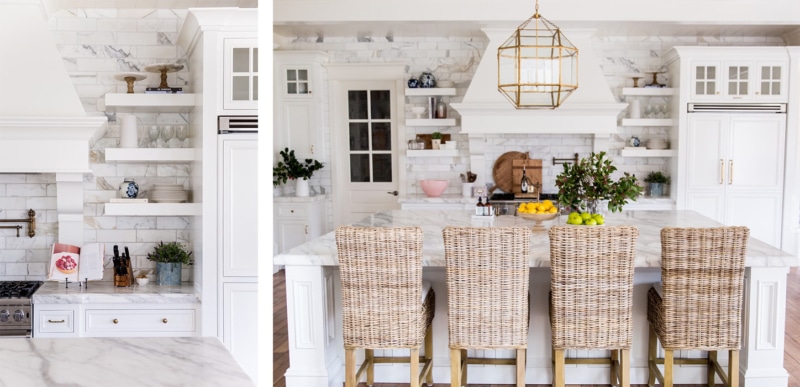 A kitchen that endures high traffic and serves as a multi-functional space will require tiles with little to no maintenance.

Ensure that tiles are non-porous for optimum hygiene, slip resistant to prevent accidents, and stain resistant for increased durability.

Porcelain tiles and non-porous natural stone tiles like slate are the best options for a heavy-duty kitchen.

A space that is used less frequently by fewer people, could benefit from a finish that might be less stain and dirt-resistant.
Budget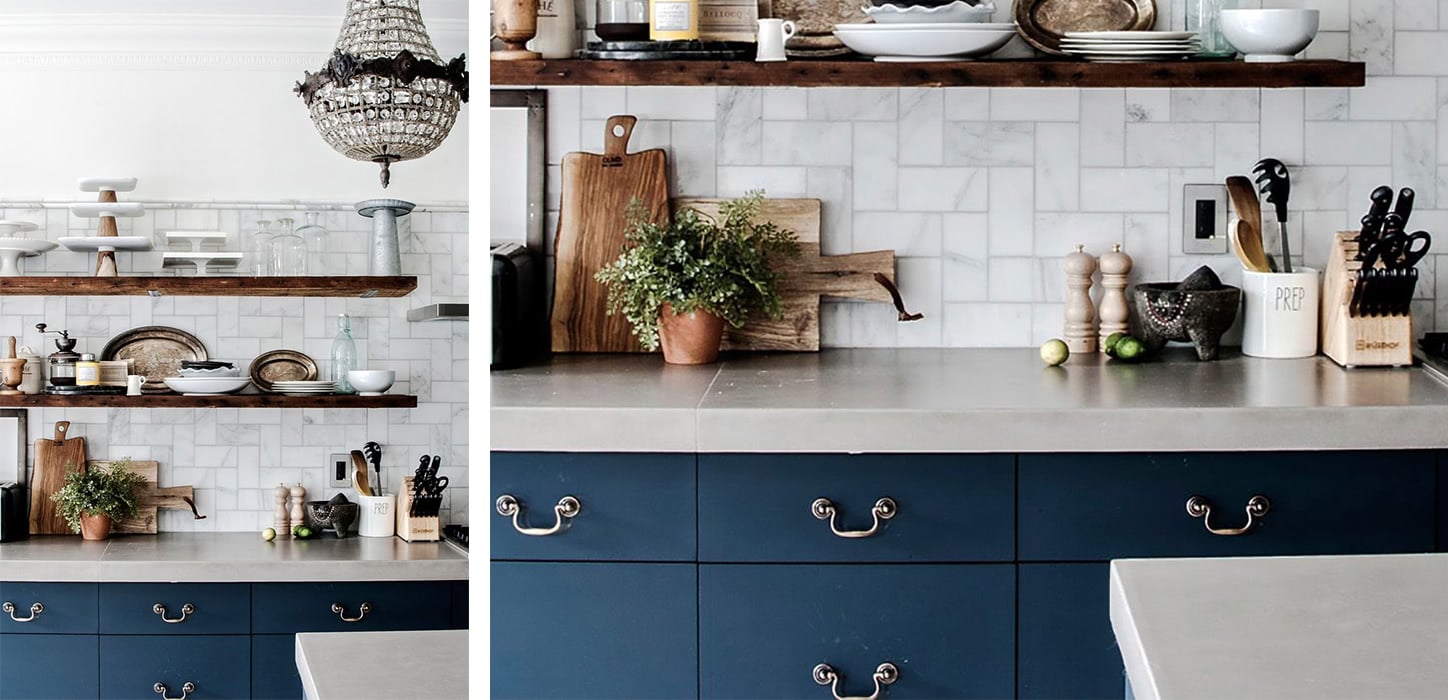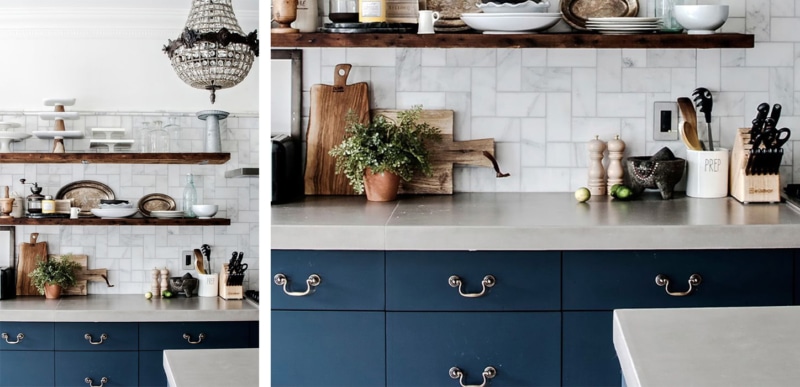 As always, budget will play a large role in your choice of tiles.

Imported natural stone tiles will be more expensive than locally produced ceramic tiles. But natural stone is likely to add more value to your home in the long run.

It is important to always buy what fits your lifestyle and budget best.

Ask your local tile supplier to make a recommendation on what is the best choice for your specific kitchen and budget.
Title Shapes
Tiles come in a variety of shapes to suit different designs and applications. Here are some of the most popular ones currently available.
Square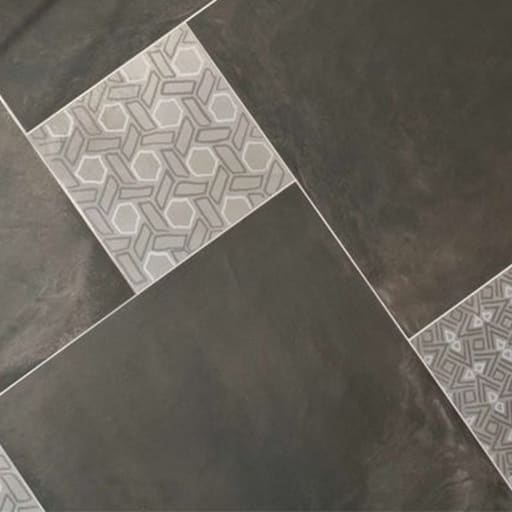 One of the most basic tile formats, square tiles come in a variety of sizes from tiny mosaic tiles to 1200x1200mm tiles or bigger. Use combinations of different sizes for added interest.
Rectangular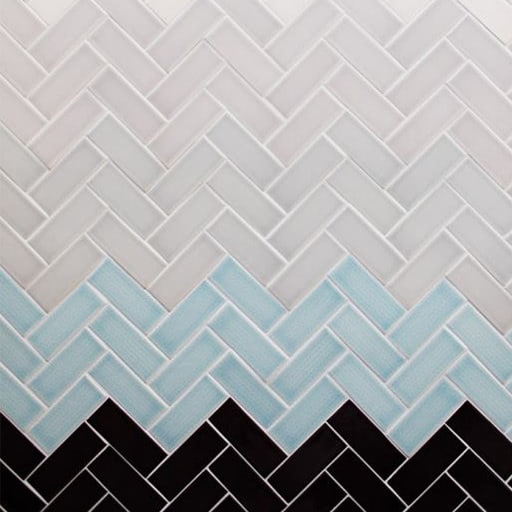 These tiles come in many different lengths. Popular metro or subway tiles also fall into this category. Rectangular tiles can be laid in multiple patterns, like herringbone and brick course.
Octagonal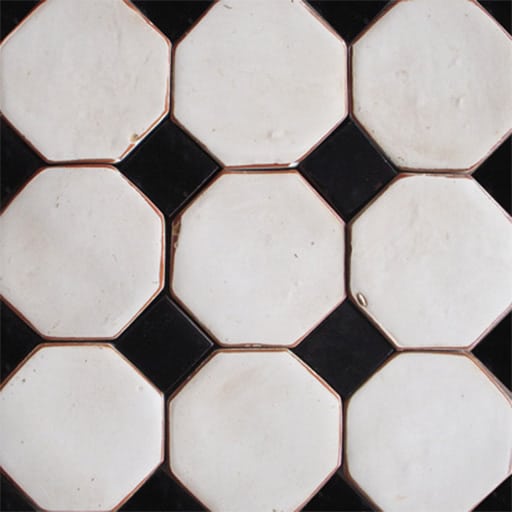 Octagonal tiles are to be used on their own or with a smaller square tile to create and intricate pattern with the option of using different coloured tiles.
Hexagonal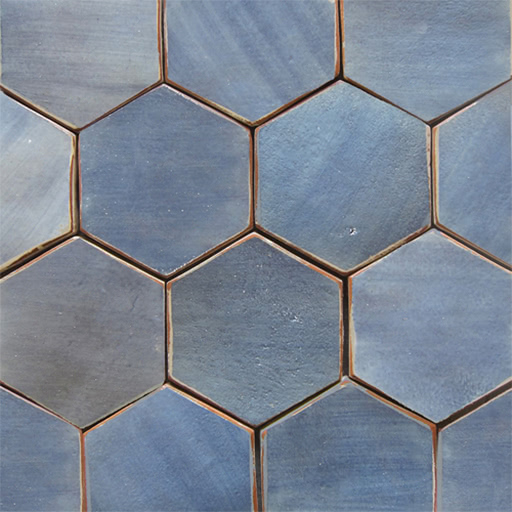 Hexagons fit into each other without the need for an additional smaller tile insert, while creating a beautiful geometric pattern.
Arabesque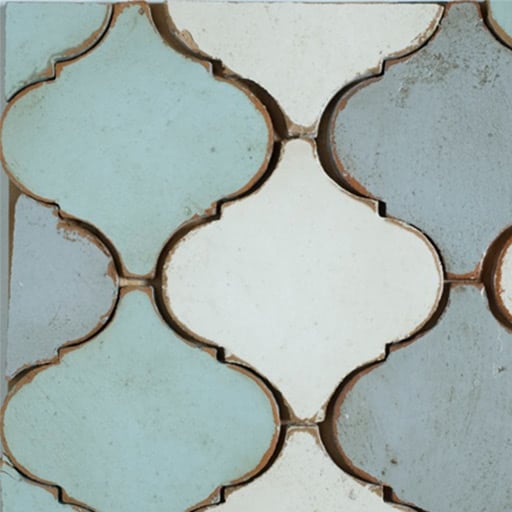 A more traditional tile format that has been used for thousands of years, these tiles have made a big comeback in recent years as a decorative floor and wall finish.
Fish Scales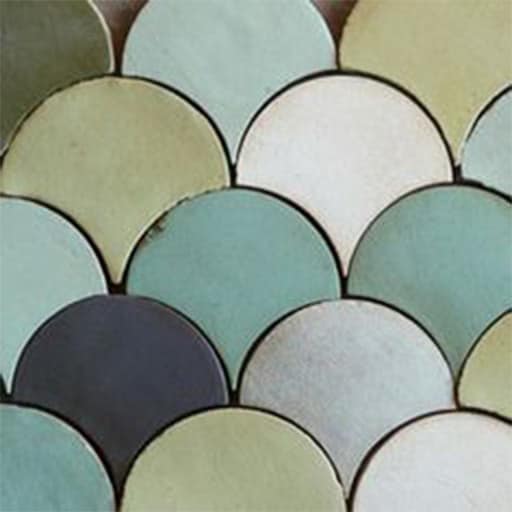 Another ancient tile format that can be applied in a single direction or by installing tiles in a perpendicular pattern.
Moroccan

An very old and intricate pattern created by using 2 different shape tiles. This is a very popular pattern for both floors and walls.
Cut Corners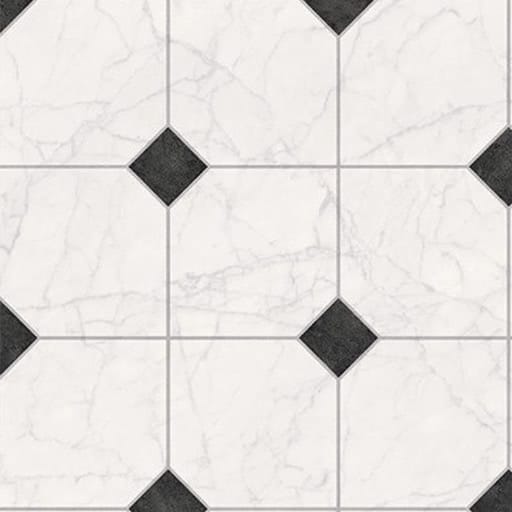 Square tiles that are used with smaller format tiles, they can be installed to create beautifully colourful or monochromatic geometric patterns.
Diamond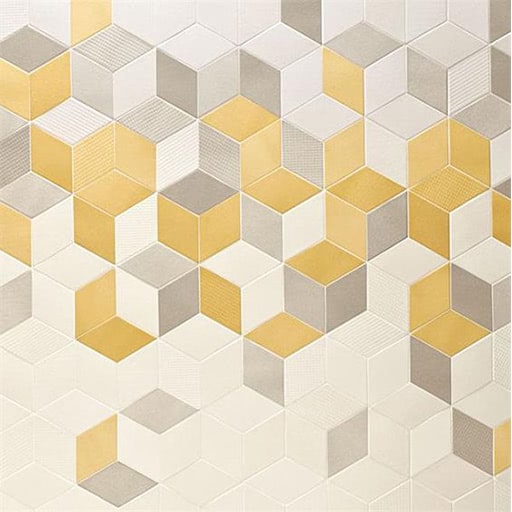 Diamond shaped tiles can be installed in a single colour, or with great effect in different shades to create a cubist pattern.
Picket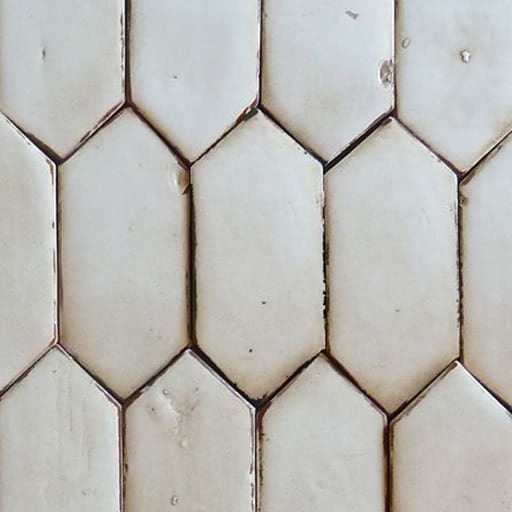 A combination of a rectangular tile and a hexagon, these pretty geometric tiles make interesting focal walls and floor patterns.
Mixed Geometric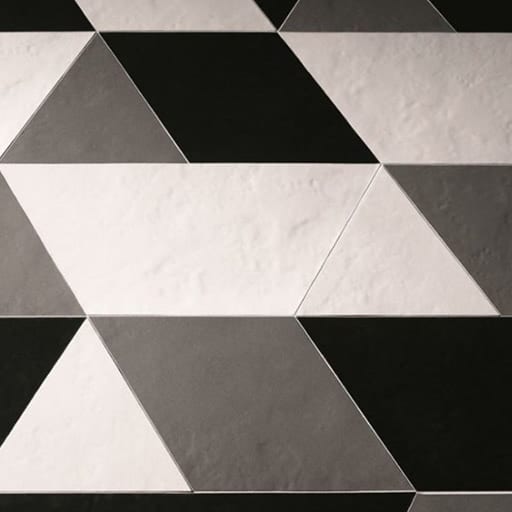 A pattern made up of tiles in rhombus, trapezoid and triangle shapes, this beautiful pattern offers a multitude of layout options to create different looks.
Random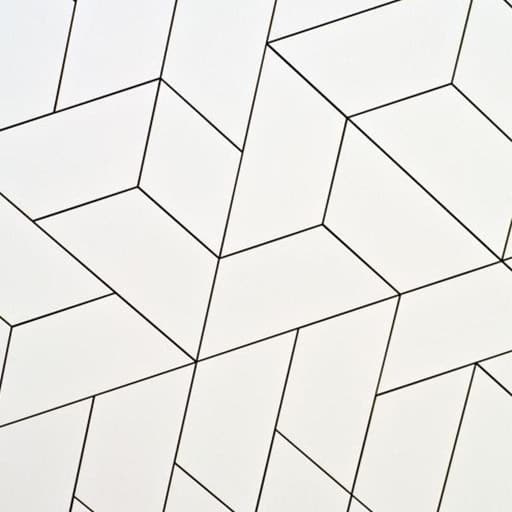 Any number of patterns can be created by combining tiles in different geometric shapes. These intricate patterns can be accentuated with contrasting grout.
Tile Trends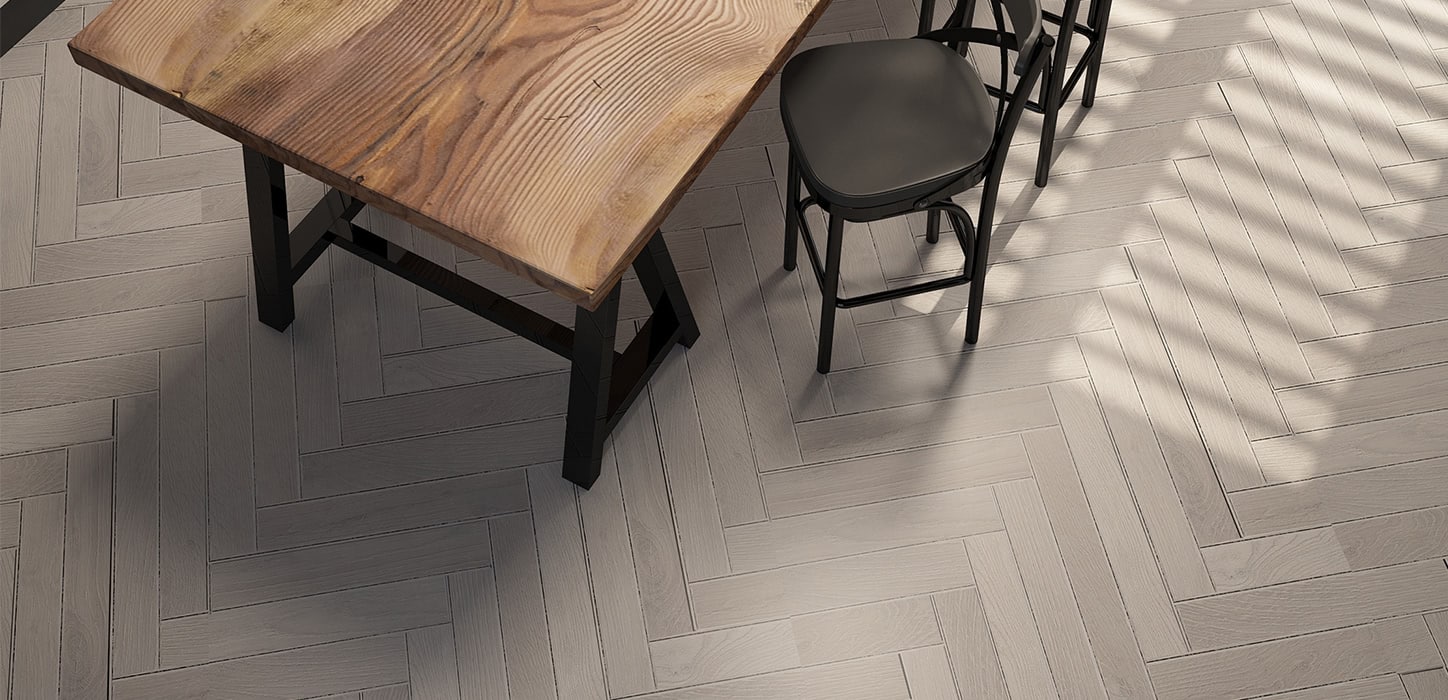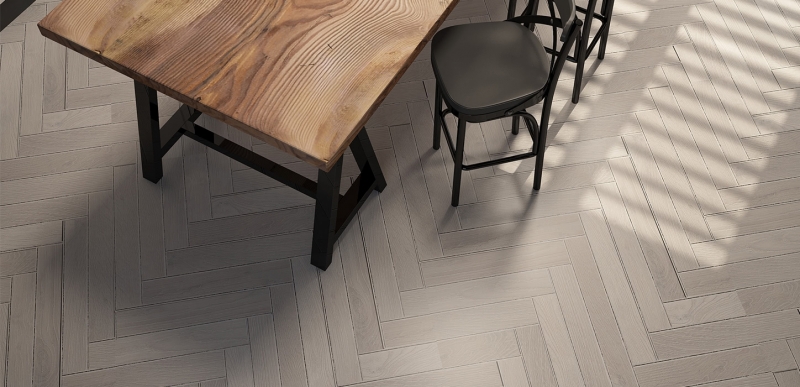 The selection of tile designs and colours available in the market are as big as the imagination. There are however a few popular trends which we'll be looking at here.
Geometric Natural Stone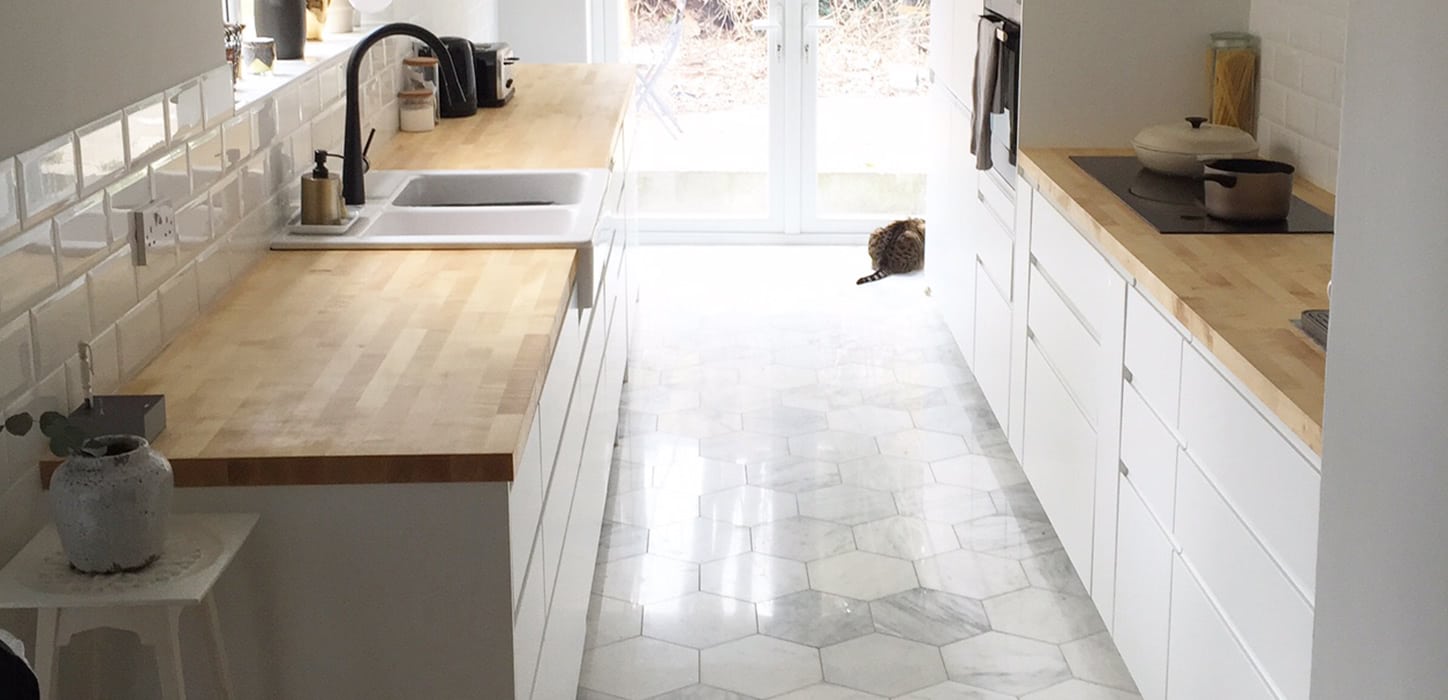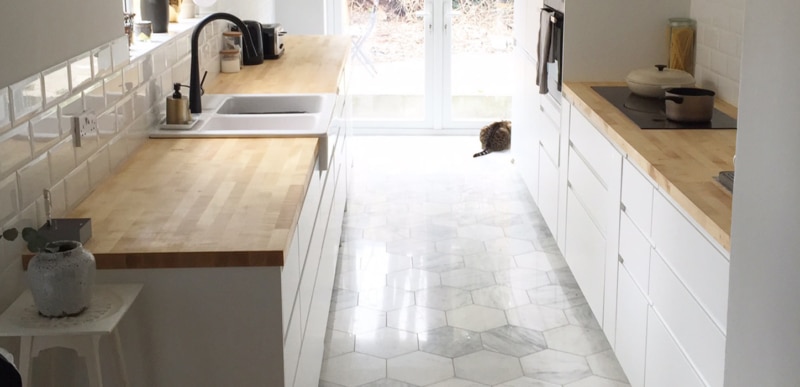 Natural stone floor tiles have never been out of fashion, but the latest trend is to have them in any shape but square or rectangular.

Subtle, yet they create an instant focal in a room. Look out for imitation natural stone as well, where patterns are printed onto ceramic tiles.

These are much more cost effective and because of the digital printing techniques used to make them, they are virtually indistinguishable from the real deal.
Wood-Look Tiles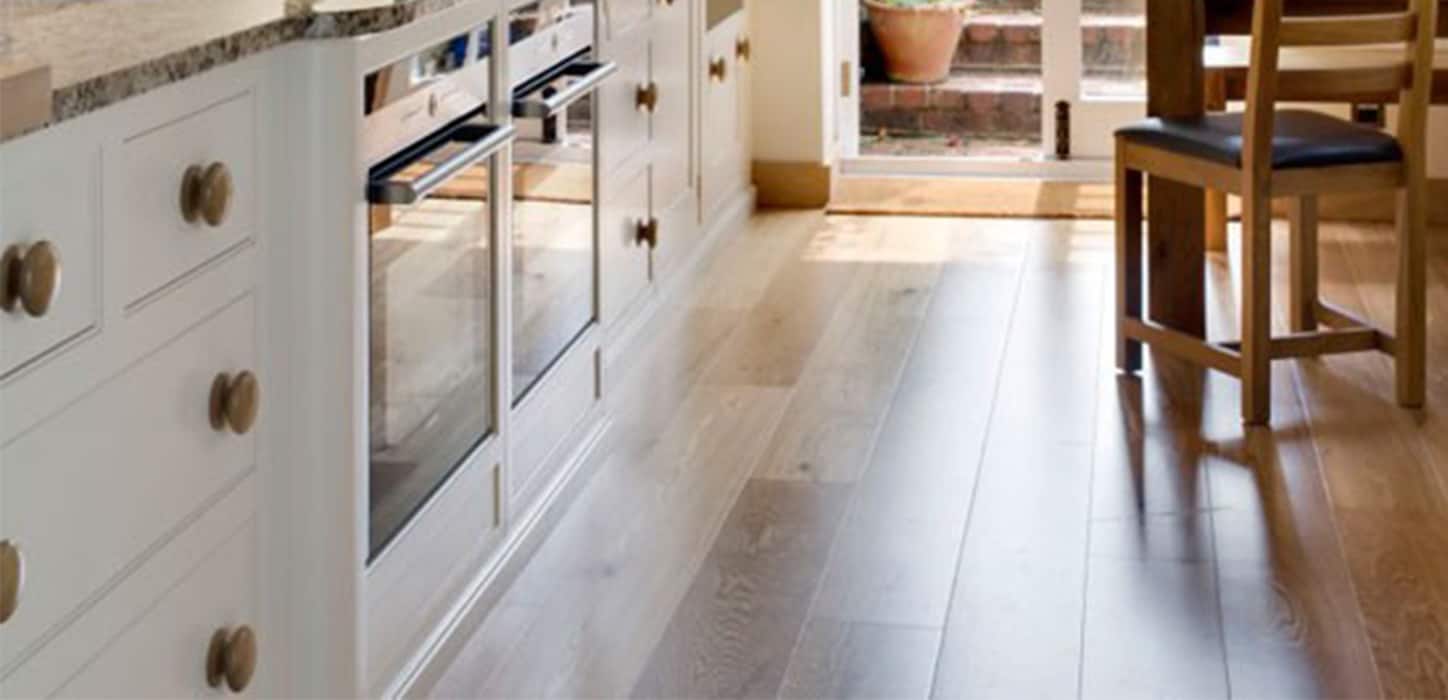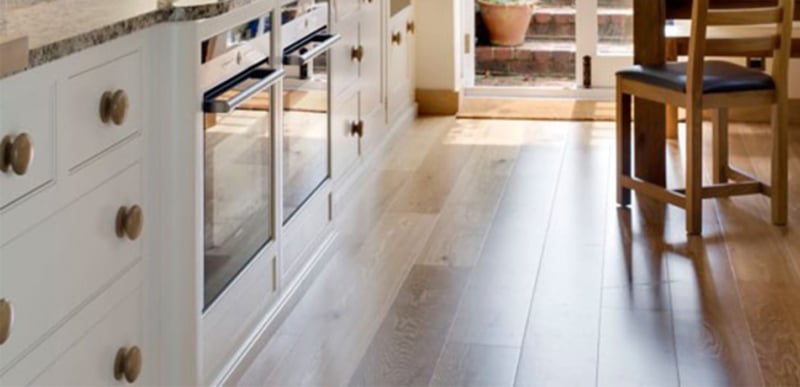 Combining the warmth of wood with the flexibility, durability and low maintenance of tiles, this popular trend looks set to stay.

Wood-look tiles are available in every possible wood finish, colour and grain that real wood is available in.

These tiles come in a variety of shapes and sizes to mimic real wood, from wide and narrow planks to parquet. Suitable for both wall and floor installations, they add beautiful texture and warmth to modern and more traditional kitchens alike.
Patterned Tiles