Dublin Kitchens: The 10 Latest Trends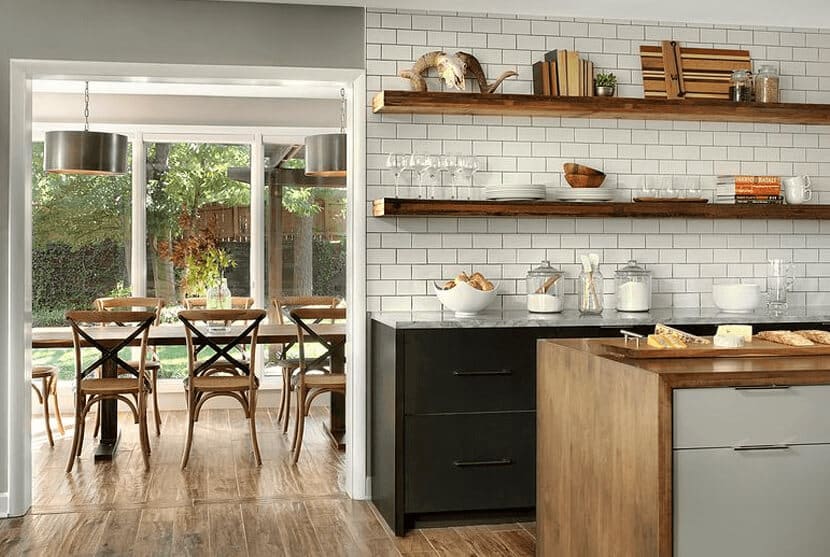 The Top 10 Dublin Kitchen Trends this Year:
Light Wood
Two-tone Cabinetry
Contrasting Colours
Open-plan Living Kitchens
Eclectic Mixes
The Finer Details
Warming Metallics
Decorative Pendants
Floor To Ceiling Tiling
Winter or summer, the kitchen has in recent years become the heart of the home again. With the focus shifting to home-cooked meals and family time, the kitchen is where families gather and memories are made.
Whether you're looking to update, completely revamp or just give your kitchen a quick facelift, it's always good to get as much inspiration as possible first. Every year there are a few stand-out ideas in interior design – here's a look at the 10 latest trends in the best kitchens in Dublin today.
BTW, check out our Kitchen Design Ideas section if you need more design inspiration. Or better yet, visit our kitchen showrooms in Dublin for practical advice and inspiration!
1. Light Wood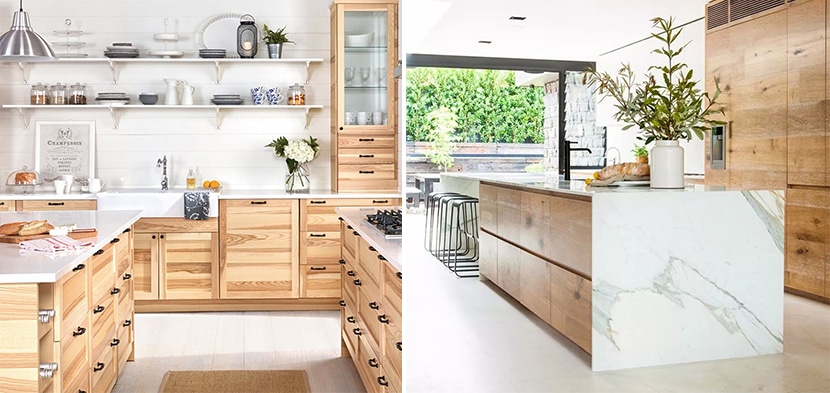 Light wood is a firm favourite in Dublin Kitchens this year, with a focus on sustainability and responsibly sourced wood. Native Irish woods like Ash or Birch make beautiful light wood cabinetry, and because they are Irish species of hardwoods, your kitchen will also contribute to the local economy.
Match your light wood cabinets to durable luxurious tops like marble for a classic look, or with stainless steel for a contemporary kitchen.
2. Two-Tone Cabinetry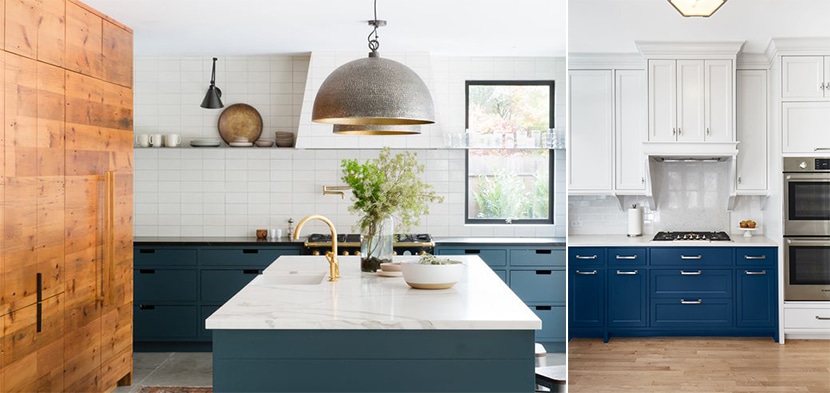 If you struggle to choose between finishes, don't worry – you can mix and match! Not only are paint colours being combined in upper and lower cabinets; textures are also working together to create a unique contemporary kitchen. This is a very popular trend in fitted kitchens in Dublin.
3. Natural Stone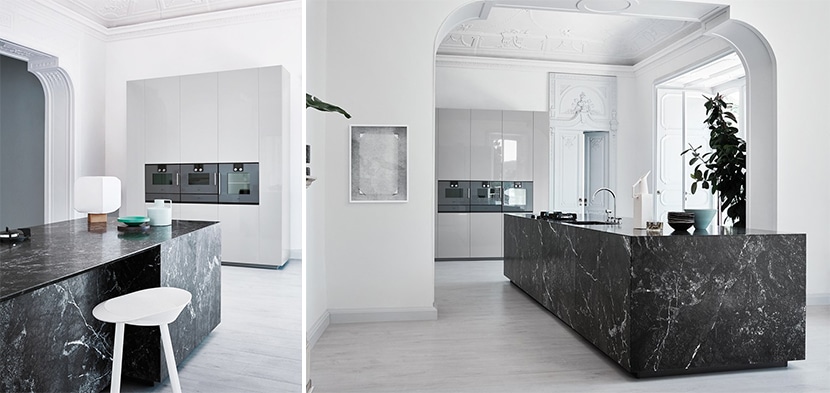 Stone in all its forms is back! Whether you prefer marble, quartz, limestone or soapstone, these highly coveted and durable surfaces will add a touch of luxury to your Dublin kitchen!
We have literally written the book on all there is to know about kitchen countertops, so get your copy here to help you decide on which natural stone surface is best suited to your lifestyle.
4. Dark and moody or bright with pops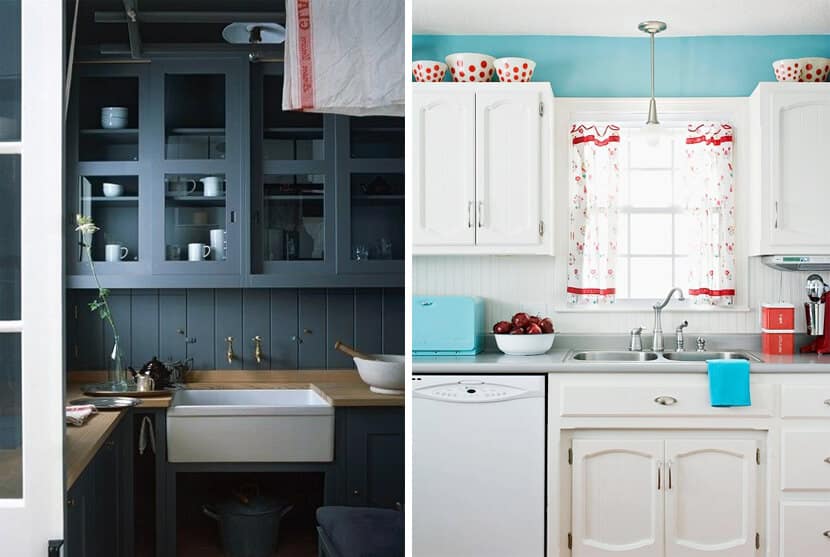 The colour options are perfectly contrasting this year: on the one hand there are deep blues with marsala and charcoal, combined with natural wood and metal. And on the other hand, there is white as snow with bright colour pops in acid yellow, cherry and turquoise mixed with stainless steel and marble.
So whichever side of the spectrum you fall in, you can be bang on trend.
Always consider the amount of natural light you have in your kitchen when choosing a darker palette or opt for a lot of electrical lighting to compensate.
A white kitchen, on the other hand, can look cold and clinical if it is not broken with some colour or warmth. Read our post on natural light in the kitchen to find out more.
5. The Open-plan Living Kitchen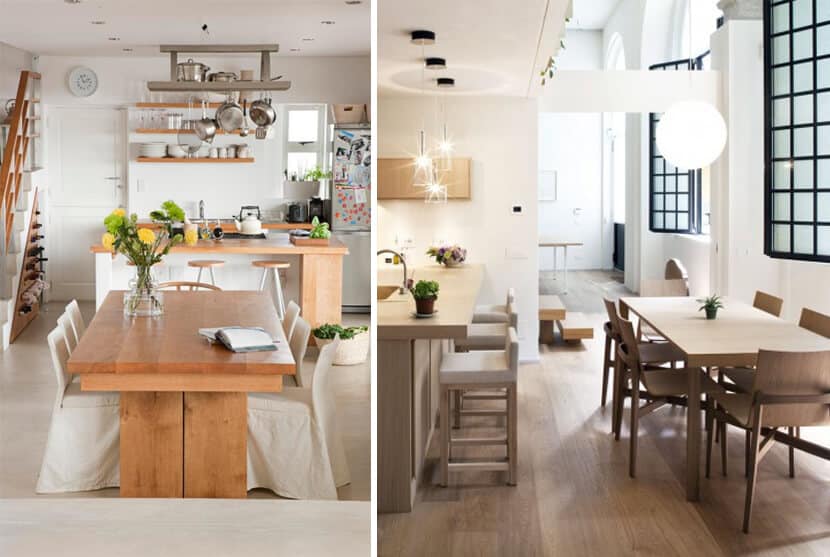 The kitchen has in recent years reclaimed its place as the heart of the home, taking on the style of the living areas and integrating with the more social spaces. It has become the place where not only meals are being prepared, but where families spend time with each other and their friends, and where homework and hobbies are done.
For a very sophisticated room, ensure that the dining table matches the finishes used in the kitchen, whether in the same colour or material. This will create a cohesive room that seamlessly flows between utility and social areas.
6. Eclectic Mixes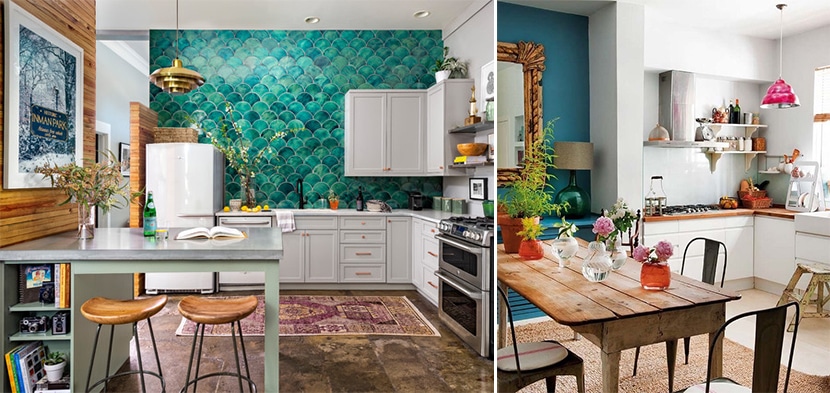 Can't decide on a style or look? That's okay – just mix it up! More and more bespoke kitchens in Dublin are unique mixes of styles and textures. Combine open shelving with closed-off cabinets, and wooden cabinets with glass fronts. Even different styles of cabinets are being combined to create a look that is unique to your lifestyle and home décor.
To ensure that everything works together, choose one universal feature: a colour, a wood finish or even a repeated profile will ensure that there is an identity in the design.
7. The Finer Details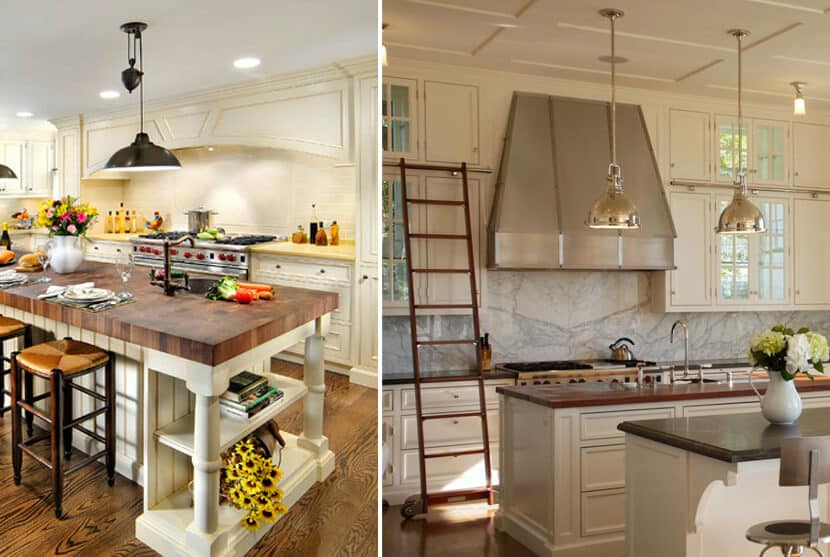 While minimalist kitchens are still popular, it has been taking a few pointers from its more elaborate counterpart: attention to the small details is what matters. When looking for kitchen companies in Dublin, be sure to look at the attention to detail in their showroom.
Careful consideration is given to handles, corner details, edging on cabinetry and other finishing touches like turned columns, mouldings and carvings. It doesn't have to be complicated, just a touch of something interesting. The cabinets may make the bulk of the kitchen, but the personality is in the detail.
While handleless kitchens in Dublin are also trendy, be sure to insist on practical finger pulls and soft-closing hinges and drawer runners to add to the enjoyment of the room.
8. Warming Metals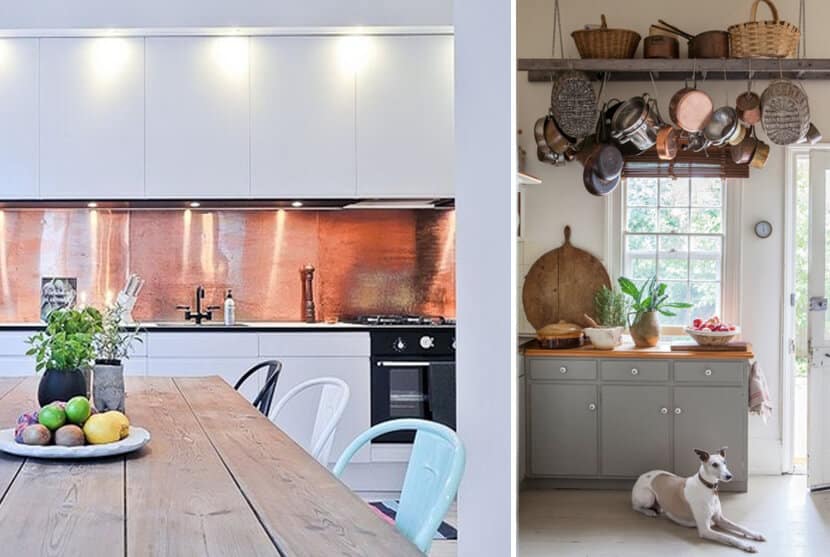 We have been seeing this beautiful reddish-orange metal for a few years now in everything from wall finishes to clothing, and it looks set to stay for a while longer. Use it on countertops and splashbacks, in decorative light fixtures and in accessories for a modern touch to your kitchen.
A soft metal, it is an excellent heat transmitter so take care when using it very close to a hot surface like an oven or hob.
9. Decorative Pendants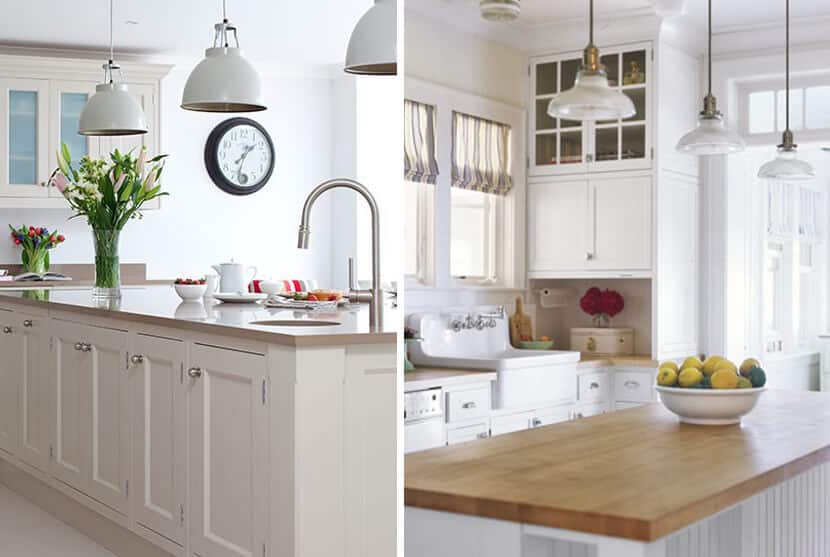 Gone are the days of fluorescent, functional-only lighting in kitchens. Pendant lights with LED lamps make for great task lighting and even a chandelier can add a sophisticated touch to your space. Hang pendants directly over a kitchen island for a beautiful feature that is perfect for task lighting as well.
Handmade kitchens in Dublin are favouring beautiful artisinal lighting pieces that emphasize craftsmanship over off-the-shelf fixtures.
10. Floor To Ceiling Tiling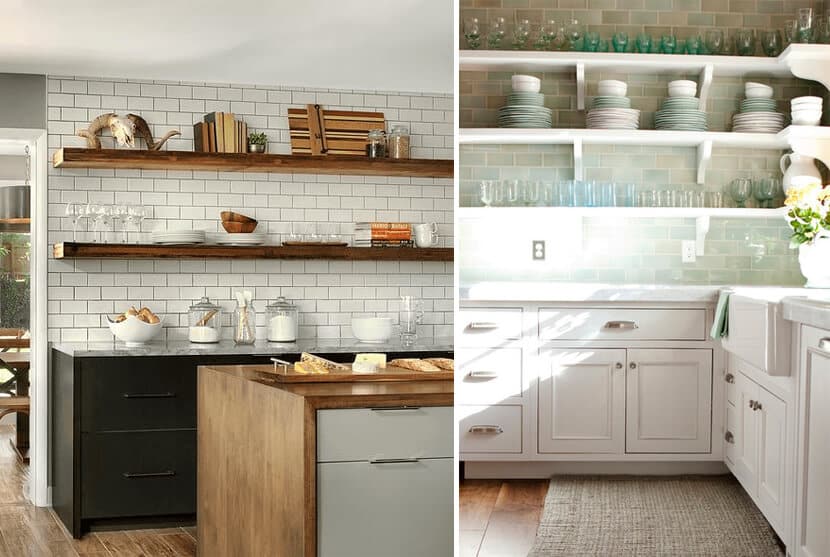 Our last trend is focusing on tiling. New kitchens in Dublin are installing tiles from the floor or lower cabinets to the ceiling on one of the kitchen walls to create a focal: an ideal treatment behind and range cooker or modern gas stove.
When choosing a tiled focal, opt to have only paint and splashbacks in the rest of the room for a fresh, contemporary look.
Now that you are inspired to renovate your Dublin kitchen, give one of our designers a call!
Book a Design Appointment
If you enjoyed our design ideas, subscribe for updates.
Get kitchens design ideas in your inbox.
Check out these posts for more Kitchen Design Ideas.
Most Popular
Dublin Kitchens: The 7 Latest Trends
The 12 Most Influential Kitchen Design Trends from the US
5 Tips for Designing Small Kitchens
6 Exciting Colour Palettes for Kitchens with Personality
6 of the Best Solutions for Corner Cupboards