The Top 10 Trends in Dublin Kitchens this Year:
Easy to Clean
Warming Wood
Ultimate Convenience
Clever Storage
Open-plan Living Kitchens
Environmentally Conscious
Smart Appliances
Outdoors Integration
Large Islands
Touchless Faucets
The global pandemic has totally changed the way we experience our homes. Kitchens, bathrooms and living rooms were suddenly being used for work, school, relaxation and socialising for months on end.
For many people, the kitchen became the hub of the home again. Enjoying meals at home while carrying on with the rest of our lives became a daily family activity. For some, their kitchens were truly being used for the first time! With that, practicality became the most important requirement in kitchen design.
These top 10 trends in Dublin kitchens show that our kitchens can be highly effective rooms where we want to spend our time, instead of having to.
BTW, check out our Kitchen Design Ideas section if you need more design inspiration. Or better yet, visit our kitchen showrooms in Dublin for practical advice and inspiration!
1. Easy to Clean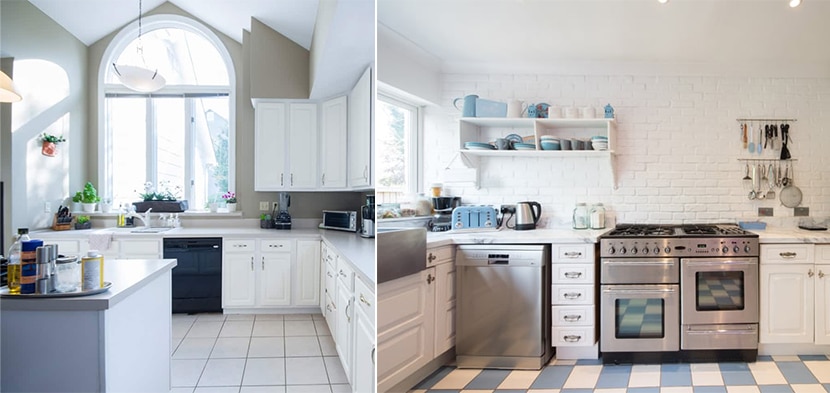 It is no surprise that the biggest trend is having a kitchen that is easy to clean. Fitted kitchens in Dublin are using surfaces like stainless steel or non-porous composite stone tops. Vinyl or tile floors are easy to keep clean while adding character to your contemporary kitchen.
We have literally written the book on all there is to know about kitchen countertops, so get your copy here to help you decide which natural stone surface is best suited to your lifestyle.
2. Touch-free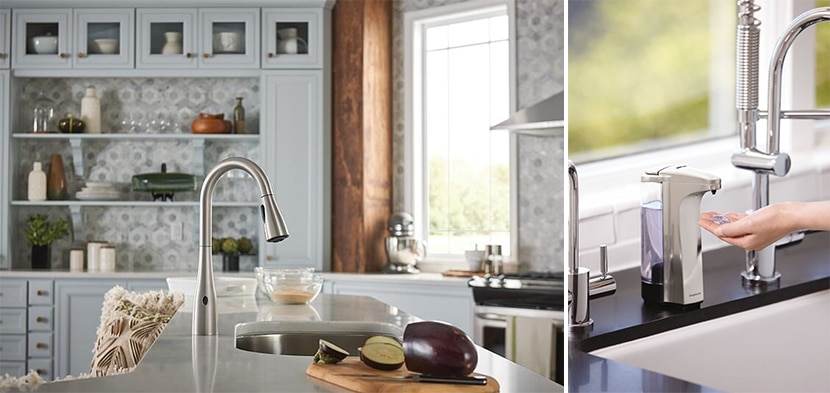 Touch-free taps used to be considered a luxury and hand sanitiser was found only in hospitals and restaurant kitchens. But both of these have now become an essential part of bespoke kitchens. Sensors allow the use of the taps without getting them dirty with food particles or bacteria.
Touch-free hand sanitiser dispensers, both integrated and freestanding, now sit next to taps and ensure that your kitchen is germ-free and safe. Because we understand that it can be daunting, we have together this guide to help you choose the best taps for your Dublin kitchen.
3. Ultimate Convenience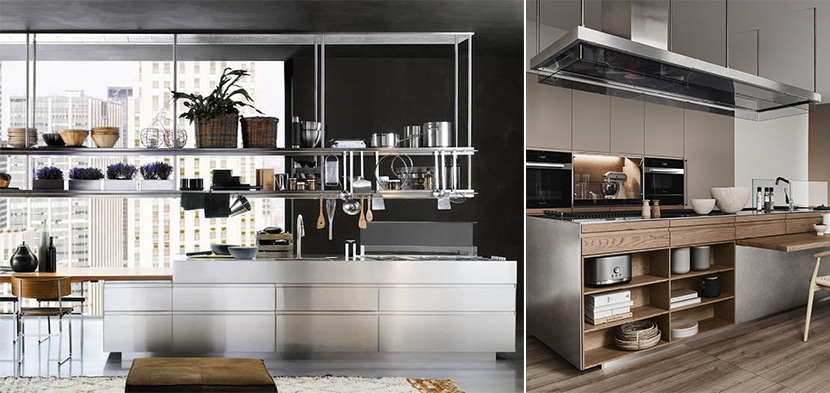 Our kitchens' shortcomings were highlighted more than ever during the last 18 months. Convenience and ease of use in the kitchen have become a priority.
Multifunctional appliances, warming drawers and bar fridges allow you to make whatever you need, and keep it at the correct temperature. And an integrated grill gives you restaurant-style steak, even when you are at home.
Induction hobs that allow for faster meal preparation are also in big demand, thereby helping you make the most of your time in your Dublin kitchen.
4. The Open-plan Living Kitchen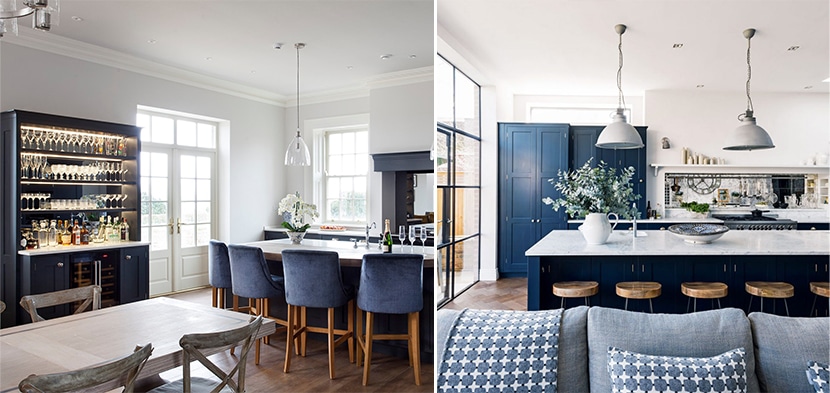 The kitchen has taken centre-stage in our homes again. It is taking on the style of the living areas and integrating with the more social spaces.
For a seamless look, ensure that the dining table matches the finishes used in the kitchen, whether in the same colour or material. This will create a cohesive room that flows between utility and social areas.
5. Big Islands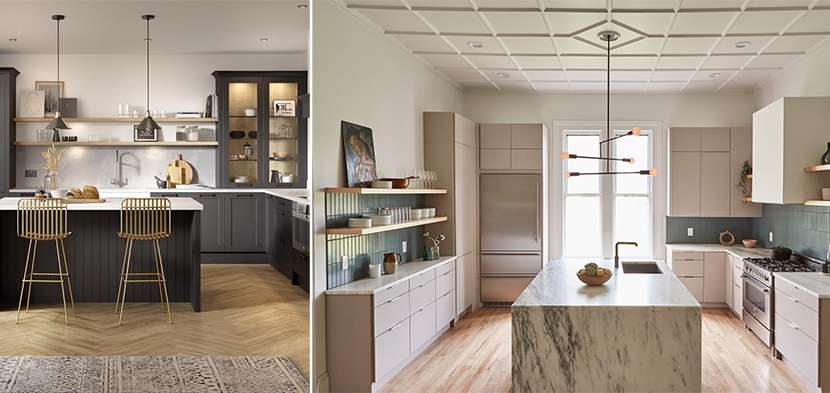 Baking, homework, meals and crafts: the kitchen island is where it is all happening! Make the most of your kitchen space with a big multi-purpose island.
The layout of your kitchen will determine whether you can integrate appliances like a hob, or whether you keep it simple with only a prep bowl and some seating.
Having enough space around an island is essential to the flow of your Dublin kitchen, so get in touch with one of our designers to help you bring your vision to life.
6. Clever Storage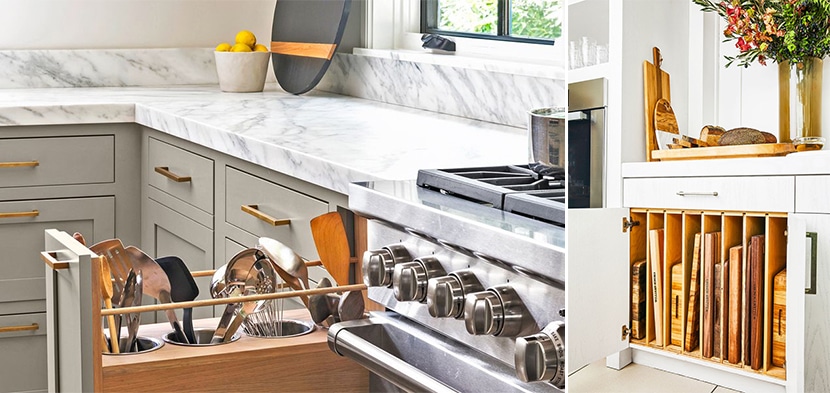 Many people have started to buy in bulk to avoid too many trips to the supermarket. So, clever storage has become crucial to the functioning of the kitchen.
Drawer inserts, door shelves and cupboard organisers all help to make the most of whatever space you have available.
For our favourite ideas, read this post with the latest clever storage solutions.
7. Warming Wood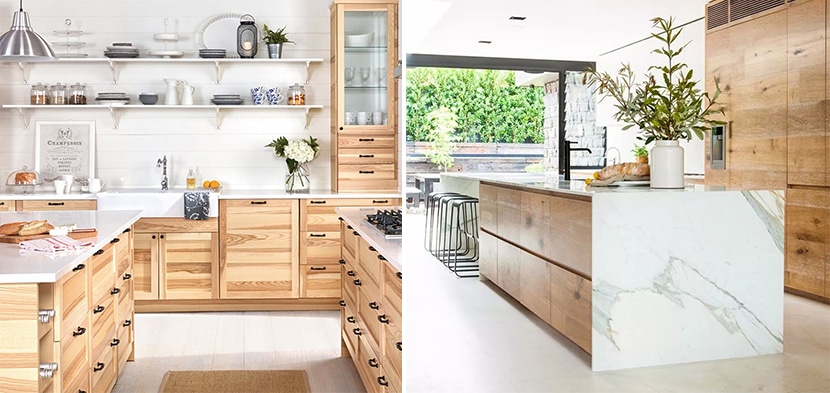 Warming wood textures and finishes are still firm favourites in Dublin kitchens this year, with a focus on sustainable and responsibly sourced wood.
Native Irish woods like Ash or Birch make beautiful light wood cabinetry, and because they are Irish species of hardwoods, your kitchen will also contribute to the local economy.
8. Environmentally Friendly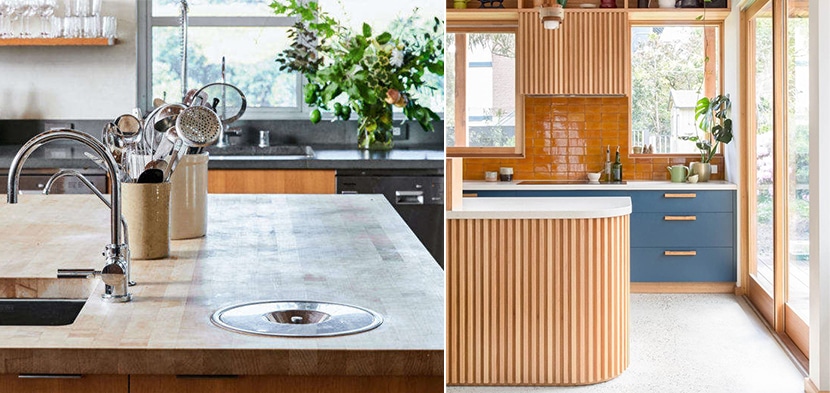 Not composting yet? Now is the time to get on board! It is estimated that we waste 250,000 tonnes of edible food per year. This has a huge financial and environmental impact.
Put your scraps to good use by composting and improving the soil of your house plants or kitchen garden.
Cutting down on power usage by investing in green appliances is another way to do your part. Read our post on natural light in the kitchen to reduce your footprint even more.
9. Smart Appliances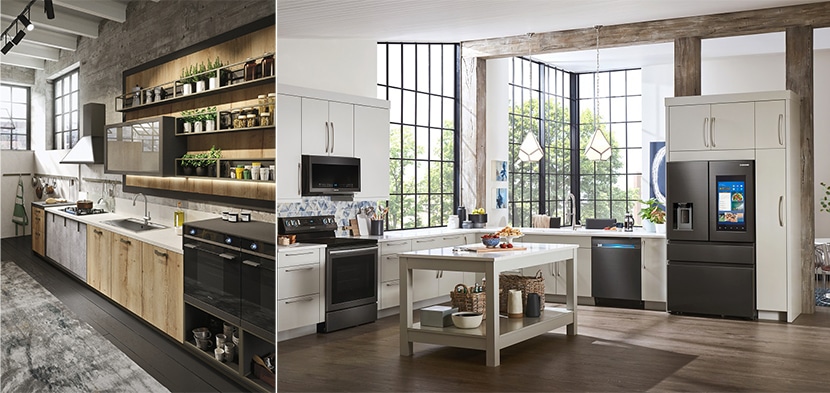 Smart appliances connected via IoT (internet of things) throughout our homes are there to simplify our lives.
Set cooking times with a smart oven so that your home-cooked meals are ready at supper time. A smart vacuum will happily clean your floors while you get on with more important things, while the washing machine can be controlled from the convenience of your desk. And a fridge that makes your shopping list based on what's inside sounds like a dream!
10. Outdoor Integration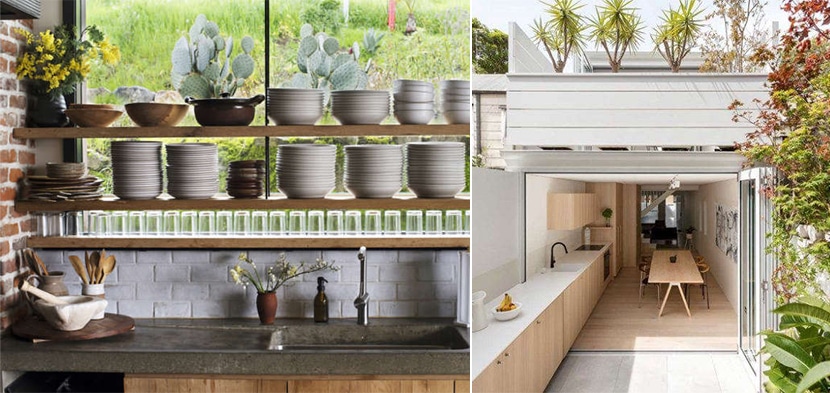 If you can't go outside, bring the outdoors in! Plants are calming and create an atmosphere of health and wellness. The latest Dublin kitchen designs have big windows and doors. These open onto inspiring kitchen gardens and outdoor living spaces. If space doesn't allow, you can create your kitchen garden indoors with potted and hanging plants.
Now that you are inspired to renovate your Dublin kitchen, give one of our designers a call!
Book a Design Appointment
If you enjoyed our design ideas, subscribe for updates.
Get kitchens design ideas in your inbox.
Check out these posts for more Kitchen Design Ideas.
Most Popular
Dublin Kitchens: The 7 Latest Trends
The 12 Most Influential Kitchen Design Trends from the US
5 Tips for Designing Small Kitchens
6 Exciting Colour Palettes for Kitchens with Personality
6 of the Best Solutions for Corner Cupboards