There's no denying it; the US his a major influence on culture and design across the world. Whether you get your design fix through beautiful images on Pinterest or follow celebrities to emulate their homes, we are inundated with imagery from the States.
While many of the interior design trends we see originate in Europe, their high-street interpretation and absorption into popular culture are often driven by the US consumer.
Let's look at the top 12 most influential kitchen design ideas from the USA.
BTW, check out our Kitchen Design Ideas section if you need more design inspiration.
1. Open Plan Living Spaces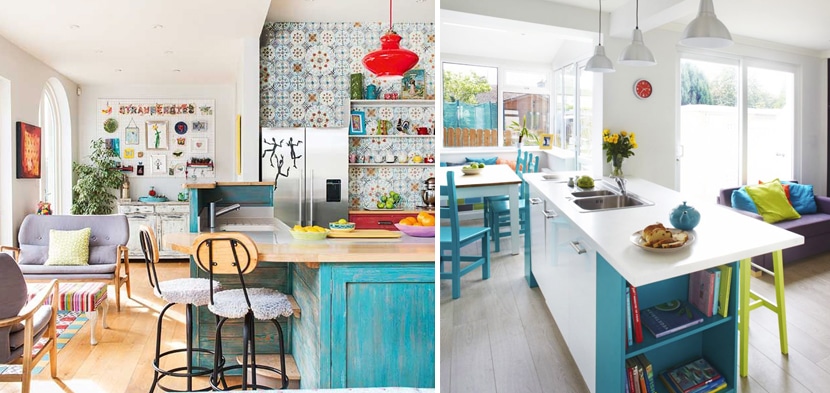 Designed with families and gatherings in mind, the integrated kitchen/living room merges your cooking area with your home's primary living area. Think Monica's kitchen from Friends.
Designers further bring these areas together by including integrated appliances as well as multi-functional eating and working areas to enable a seamless flow between the two living spaces.
2. Going Bold with Dark Colours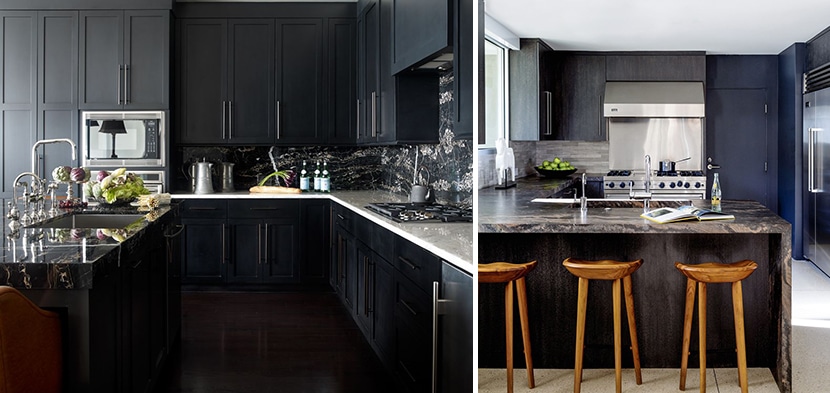 Atlantic Homes Mag & Elle Décor
Black, navy, charcoal and maroon are a few of the deeper hues that add richness and sophistication to modern-day kitchens. You can see darker colours not only accessories but also on a bigger scale like on cabinetry and walls.
A dramatic dark kitchen is not necessarily masculine; the right fittings, countertops and accessories can soften the space. If you're going dark, let in the light through natural or artificial lighting, and add glossy accessories to bounce more light around the space.
3. Modern Traditional Design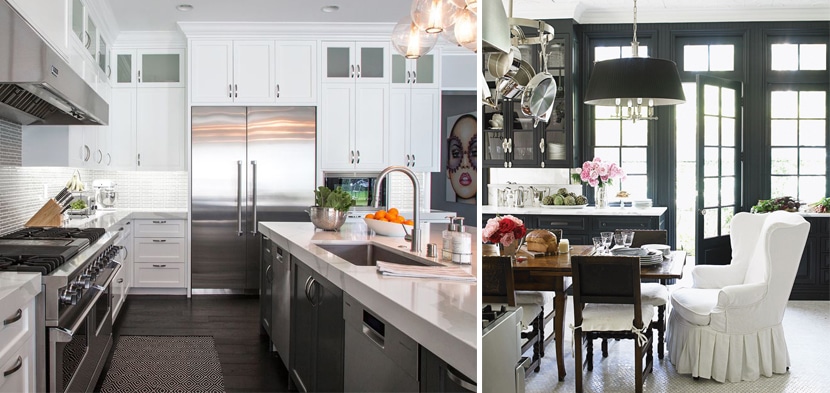 Deborah Leamann & House Beautiful
This trend sees homeowners with traditional kitchens making the shift to simple, no-frills design. Without taking anything away from traditional design, designers are incorporating its elements into more modern spaces through subtle details and finishes.
Look for elements like spindles, cabinet crowns, and plate racks to come back into prominence.
4. Banquette Seating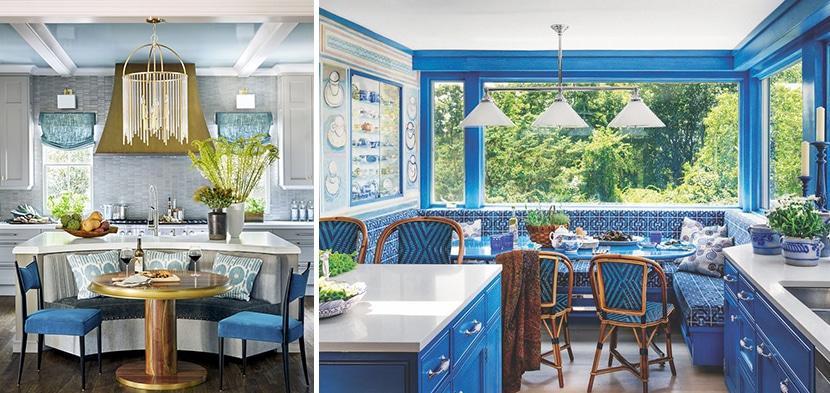 House Beautiful & House Beautiful
This old-school design element is making a huge come-back. The humble banquette seat is, however, getting a modern twist: replacing the symmetrical block seats with a looser interpretation. Use only one or 2 benches with an array of loose chairs, or two different bench seats to add interest.
5. Strong Metal finishes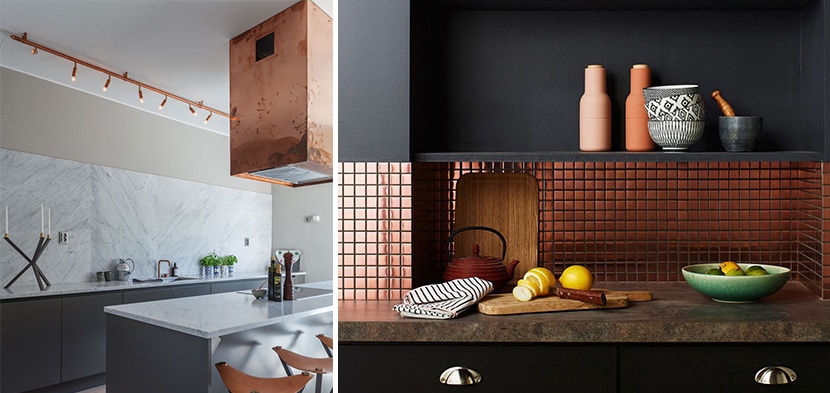 Metals have never been out of fashion in kitchen design and certain amount of design elements have always been made using copper, stainless steel and brass.
However, the latest US trends point toward the increased use of metal finishes, with traditional wood surfaces being exchanged for metallic versions. From countertops and cabinet fronts to sinks and appliances are all being treated with copper or stainless steel finishing to provide a trendy alternative to the norm.
6. Super Smart Integrated Spaces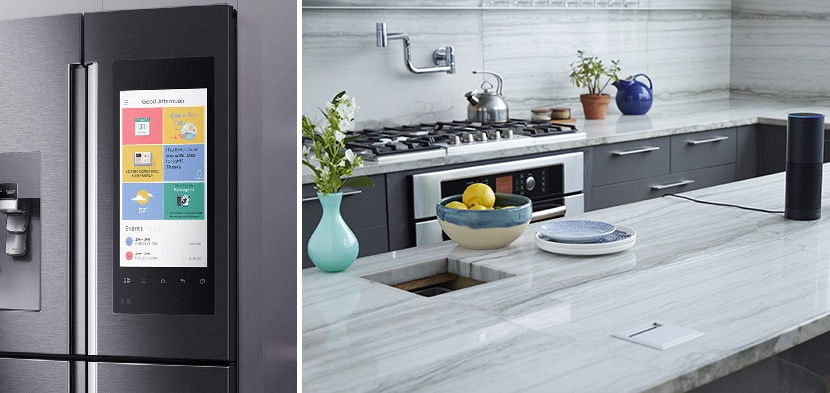 Samsung & Tech Radar
With integrated technology becoming a standard, the smart kitchen is the logical successor of the traditional version. To accommodate our lifestyles, designers look to incorporate charging points and docks for phones and tablets. These are now commonplace devices in the kitchen.
State-of-the-art technology like smartphone-integrated and voice-activated refrigerators, countertops, steam ovens, coffee makers and the like are also quickly becoming the must-have items in a designer kitchen.
7. Move Over Metro; we're going square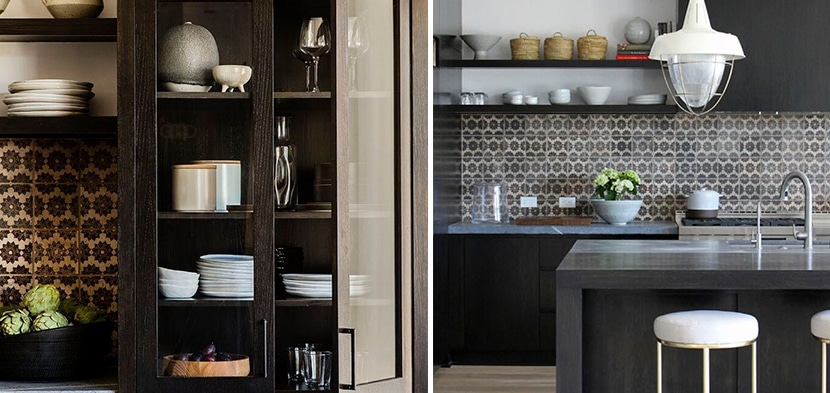 Disc Interiors & Disc Interiors
We're glad to see square tiles in all sizes making a comeback: from small mosaics and colourful Moroccan tiles to plain white large-format. It's hip to be square! Arrange them straight and orderly, offset, bohemian or diagonally. The shape of the square tile allows for endless layout possibilities!
8. Simple Lines and Plain Cabinetry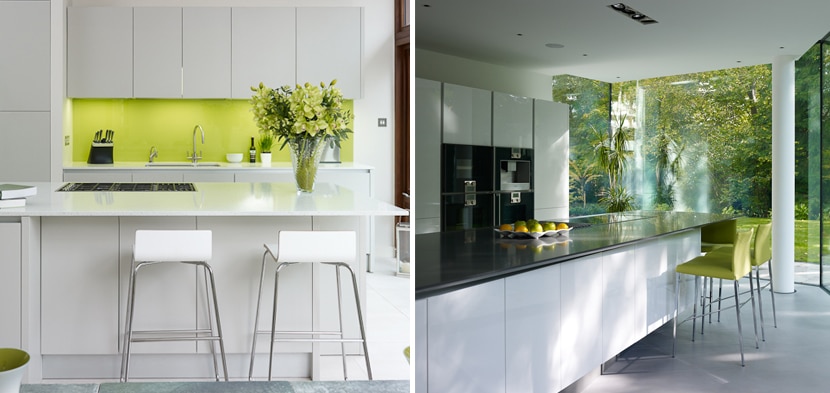 Alistair Nicholls & Alistair Nicholls
Simple lines and plain cabinets are aligned with minimalist or modern design. Unadorned cabinetry is being favoured over more decorative styles, in an attempt to keep clutter from crowding the kitchen. It's easier to be effective in a clean and clear space, and it's easier to keep a simple space tidy than it is a cluttered one.
9. Majestic Marble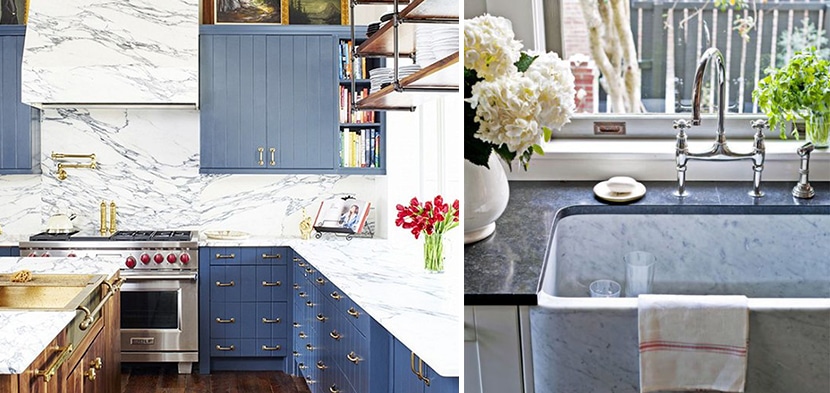 Nothing new here, but this classic is trendier than ever. Marble is being splashed all over the kitchen; on walls, floors, countertops, built-in sinks, and even lighting. The durability and ethereal appearance of marble have etched this stone deep into homes, and now it's solidifying its presence evermore; but this time in the shape of black marble.
10. Terrazzo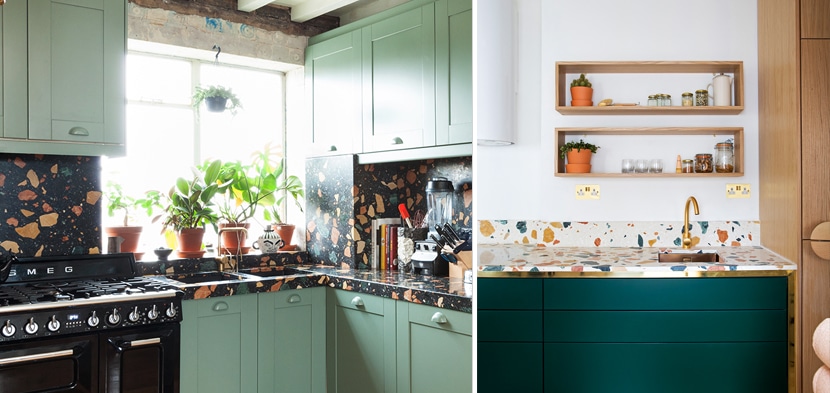 The biggest thing to hit interiors this year is old-school terrazzo. This might sound foreign and unfamiliar, but you're sure to recognise terrazzo as a much-loved 70's flooring option. Terrazzo originated in 18th century Italy when they mixed marble chips with cement and polished and buffed after installation.
Today many variations of terrazzo are available through mixing of a concrete or resin base with aggregates like glass chips, porcelain, marble, pebbles, sand, shells and more. Terrazzo is a greener alternative and more heat and scratch resistant than solid stone options and, if sealed correctly, are hardier when it comes to resisting stains.
This customisable material can be used as countertops, flooring, signature sinks or be installed as a kitchen backsplash. The opportunities for terrific terrazzo designs are endless!
11. Statement Lighting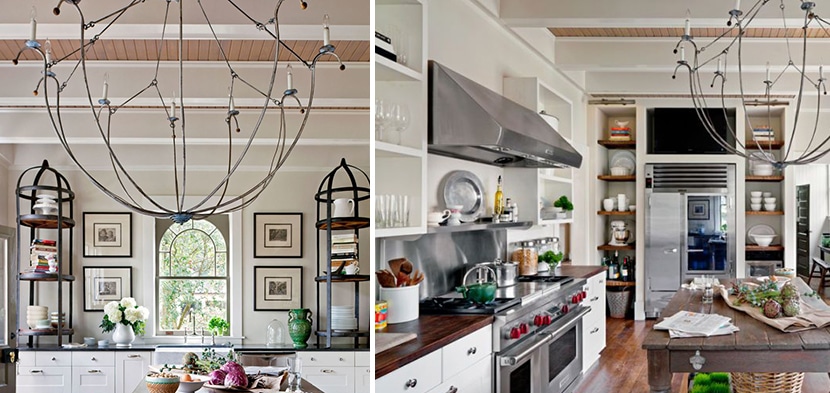 House Beautiful & House Beautiful
As interiors become more streamlined, the focus is shifting to minimalist statement accessories. Big, bold lighting pieces are the ultimate kitchen accessory; they don't take up any counter space, which means they can be any shape, size and made from almost any material. Trends are telling us that statement lighting is the way forward.
12. Concealed Hoods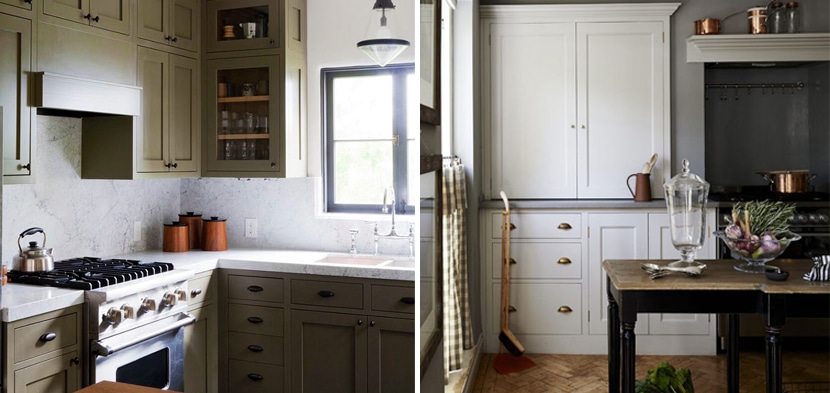 Architectural Digest & Catherine Gratwicke
Designers are integrating cooker hoods and extractor fans into walls, built into upper cabinets or clad to match tiles or the kitchen colour scheme. The minimal, decluttered aesthetic may be the underlying reason why hoods are being hidden.
Book a Design Appointment
If you enjoyed our design ideas, subscribe for updates.
Get kitchens design ideas in your inbox.
Check out these posts for more Kitchen Design Ideas.
Most Popular
Dublin Kitchens: The 7 Latest Trends
The 12 Most Influential Kitchen Design Trends from the US
5 Tips for Designing Small Kitchens
6 Exciting Colour Palettes for Kitchens with Personality
6 of the Best Solutions for Corner Cupboards
10 of the Most Beautiful Kitchen Backsplashes
Types of Kitchens
In-Frame Kitchens – 5 Things You Should Know
What are Shaker Kitchens and Where are They From?
What Exactly are Hand Painted Kitchens?
The Top 10 Trends for Modern Kitchens
Design Ideas and Trends
5 Clever Ways to Increase Natural Kitchen Lighting
How Much Value Does a Fitted Kitchen Add to Your Home?
12 Must Have Celebrity Kitchens of the Rich and Famous
Families
10 Kitchen Design Tips for Families with Kids
6 Tips for a Kitchen for a Large Family
Cabinets, Doors, Kitchen Islands & Finishes
9 Essential Kitchen Cabinet Types