Solutions to kitchen corner units are difficult to find; what seems to work for one corner, does not work for another! We've compiled 10 of the best clever corner designs to turn your kitchen corner cabinet into a beautiful and functional space.
How to make the most of tricky Kitchen Corner Units:
1. Pick items carefully to store in your corner unit
2. Minimize clutter in this cupboard
3. Install kitchen corner base units with drawers instead of doors
4. Add a kitchen corner unit carousel
5. Install a Magic Corner in your corner cupboard
6. Choose cupboard doors wisely for maximum access
7. Repurpose the kitchen corner cabinet
8. Create a walk-in pantry in the corner
9. Make use of squared-off kitchen cabinetry in the corner
10. Add rotating recycling bins to your corner cabinet
Allow us to explain in more detail below! Also, remember to check out our Kitchen Design Ideas section if you need more design inspiration.
What is a Kitchen Corner Unit?
A kitchen corner unit is created wherever two runs of kitchen units meet at a right angle. By creating a ninety-degree corner, it is often difficult to use the resultant space efficiently. This can lead to cupboards which store barely-used items in awkward and messy stacks.
This video explains the challenges around kitchen corner cupboards and how to resolve them:
What Size is a Corner Kitchen Unit?
With the standard kitchen base cabinet being 57cm (22.5 ") deep, the corner will be about 80cm (31.5″) deep. Considering that the lowest shelf will typically sit just 15cm (6") off the floor, this results in a very impractical space. A great kitchen starts with great kitchen design, so it is very important to consider your options right from the beginning.
Here are the best corner cupboard solutions out there, starting with the simplest ones.
1. Pick Items Carefully for Your Corner Unit
Items stored in kitchen corner units are naturally trickier to get to. Because of this, it is best to use these kitchen units for utensils or dishes that you use less frequently, rather than the ones you need on a day-to-day basis. Smaller items that are frequently used together can also be placed into a neat container in the corner cabinet. This makes it more convenient to take them out when needed and quicker to move them out of the way when looking for other items stored behind them.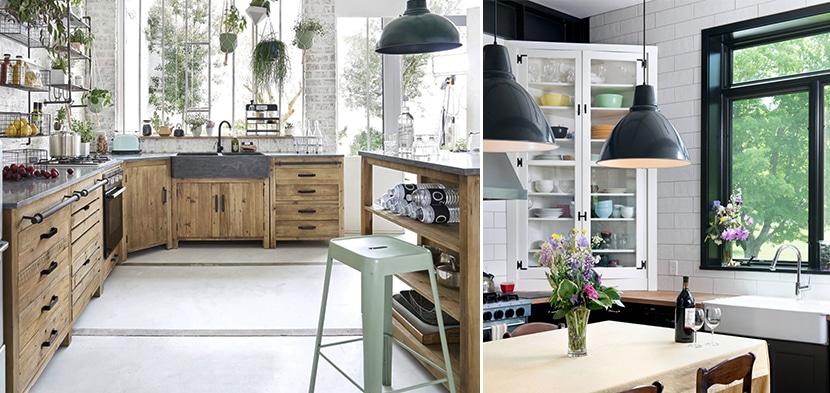 2. Minimise Clutter
Out of sight means out of mind. Don't allow your kitchen corner cupboard to become a dumping ground. Streamline your kitchen with some clever storage solutions. It is also essential to declutter your kitchen and throw out anything that you do use.
A great philosophy to abide by is the KonMari Method™. Watch this video from the Queen of Decluttering on organising your kitchen drawers.
Now that we have cleaned up a bit, let's look at structural solutions.
3. Install Kitchen Corner Base Units with Drawers
Hard-to-reach kitchen corner units can be made more accessible with the right kitchen corner unit storage solutions. In base cupboards, drawers can be easily pulled out, allowing for items stored at the back of the cupboard to be brought forward effortlessly, without having to first remove everything that has been stacked in front of them.
Drawers can be placed diagonally into the corner of the cupboard and made to the depth that suits the items they would store. Corner drawers are suitable for any type of kitchen unit, from Shaker and In-Frame to Minimalist and Country kitchens.
It's best to start planning the use of your kitchen corner cupboards early, so look at our Beginner's Guide to Kitchen Layout to help you make the most of your kitchen.
4. Add A Kitchen Corner Unit Carousel
Rotating shelves, like a Lazy Susan or curved Howdens corner shelves attached to the cupboard door, are practical and easy to install. They allow items hidden at the back of the cupboard to be brought to the front with a simple rotation. A kitchen carousel corner unit works with both folding corner doors and doors that open to the left and right of the corner.
This is a great way to create more storage for your kitchen corner unit.
Depending on the shape desired, they can be made with a pie-shaped cut-out, to fit the doors, or left as a full circle that fits inside the cupboard space. Semi-circle shelves, attached to the door, would be used where the door is on one side of the corner, but the cupboard extends back into the depth of the corner. These are also perfect for round corner kitchen units.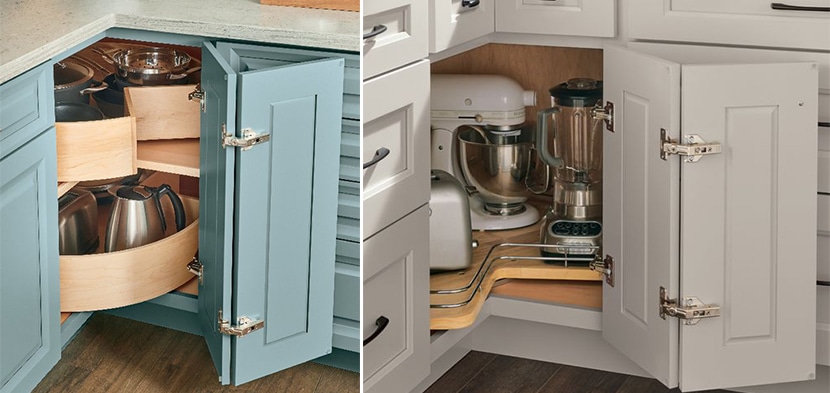 Diamond Cabinets & Shelterness
5. Install a Magic Corner
A Magic Corner is easily the best invention in kitchen hardware that we have seen recently. Consisting of a series of rotating drawer runs, this clever system brings the interior of your kitchen corner all the way out. No more crawling around searching for something in the back!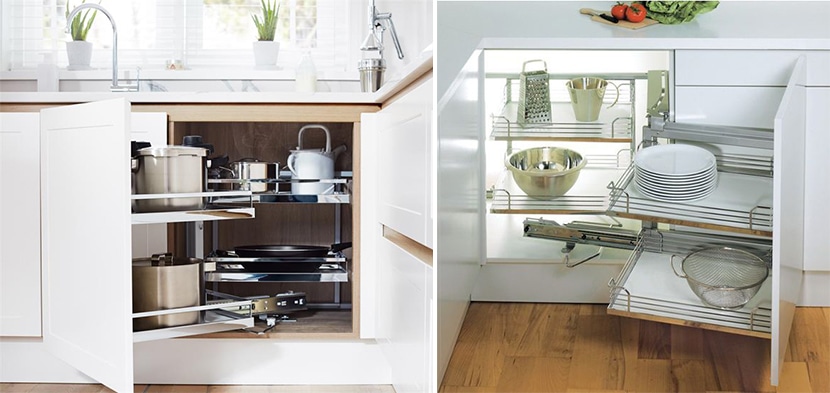 6. Choose Cupboard Doors wisely
Avoid making your kitchen cupboard doors too narrow. This will make access even more difficult. Wider doors on 180-degree hinges will allow you to open up the corner completely.
Another solution is to install folding doors where both doors open up to the same side. This is especially useful where the space on side of the corner is a bit tight.
If the space is limited on both sides of the corner, you could leave the doors off and use it as open shelving.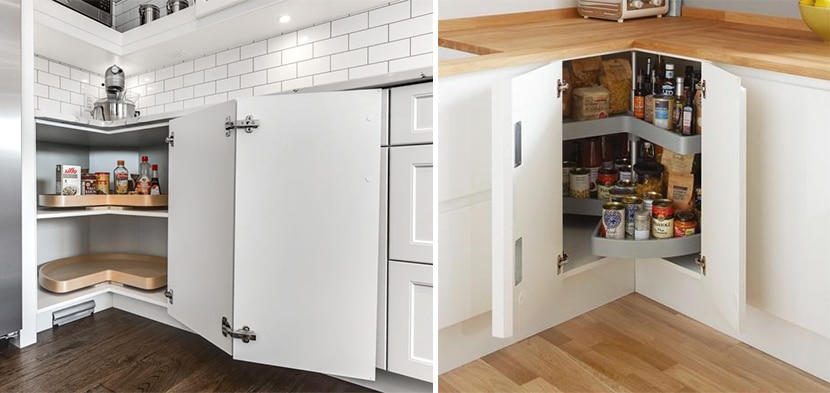 7. Repurpose the Kitchen Corner Cabinet
If you're still stuck for ideas, why not re-think the space completely? Turn it into a coffee station or pretty display shelf.
When fitting kitchen corner wall units, also consider if the area can be used for a microwave or other appliances. And if your corner has a view, make the most of washing up time by placing the sink there. This is especially useful when designing a small kitchen.
8. Make Use of Squared-off Cabinetry
Just because there is a corner, it doesn't mean that you have to create a corner cabinet! While diagonal cabinetry will end up making your corner cupboard even deeper, it often looks better than a sharp right corner. The additional space that you have created in the front will also allow you to close up the impractical corner at the back. You can also choose to run the top cabinets straight into the adjacent wall.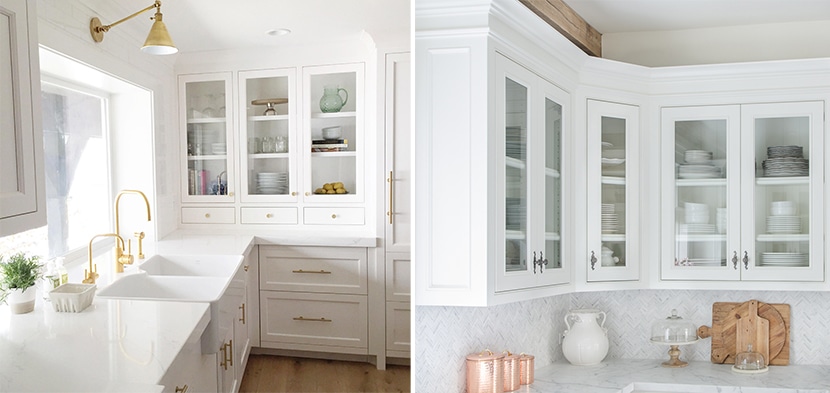 Studio McGee & Sanctuary Home Decor
9. Create a Walk-in Pantry in the Corner
By stealing a bit more space to the left and right of the corner, you can create a full-height walk-in pantry. Because the corner is now accessible, you can make the most of the space with top to bottom shelves. A walk-in pantry works especially well for a bigger family or regular entertainers. Ensure that the entrance door is at least 60cm (24″) wide to allow for easy access.
And don't think that your kitchen is going to be too small for this. The amount of storage you will gain will make up for the bit of counter space lost.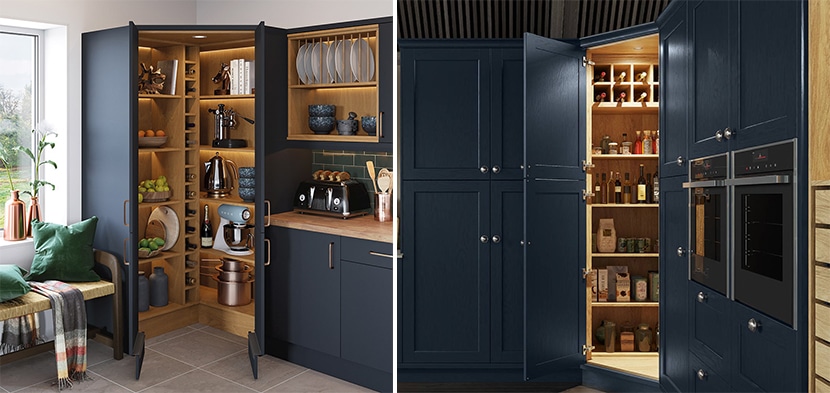 10. Add Rotating Recycling Bins to your Corner Cabinet
If you are not able to change the structure of your corner cabinet, hide away your recycling bins there. Rotating bins will allow you to have easy access while keeping them out of sight.
Choosing the best corner units for kitchens will depend on your kitchen's layout and style, but you can be sure that there is always a way to get around your awkward corner cupboard.
Book a Design Appointment
If you enjoyed our design ideas, subscribe for updates.
Get kitchens design ideas in your inbox.
Check out these posts for more Kitchen Design Ideas.
Most Popular
Dublin Kitchens: The 7 Latest Trends
The 12 Most Influential Kitchen Design Trends from the US
5 Tips for Designing Small Kitchens
6 Exciting Colour Palettes for Kitchens with Personality
6 of the Best Solutions for Corner Cupboards
10 of the Most Beautiful Kitchen Backsplashes
Types of Kitchens
In-Frame Kitchens – 5 Things You Should Know
What are Shaker Kitchens and Where are They From?
What Exactly are Hand Painted Kitchens?
The Top 10 Trends for Modern Kitchens
Design Ideas and Trends
5 Clever Ways to Increase Natural Kitchen Lighting
How Much Value Does a Fitted Kitchen Add to Your Home?
12 Must-Have Celebrity Kitchens of the Rich and Famous
Families
10 Kitchen Design Tips for Families with Kids
6 Tips for a Kitchen for a Large Family
Cabinets, Doors, Kitchen Islands & Finishes
9 Essential Kitchen Cabinet Types