6 of the Best Solutions for Kitchen Corner Cupboards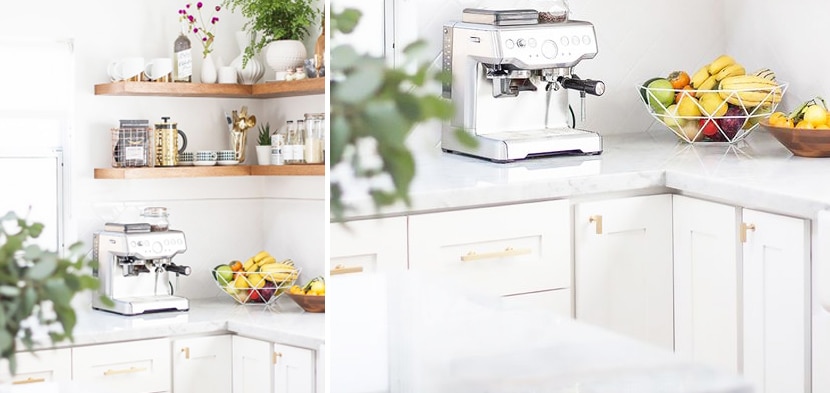 Here are 6 Great Solutions For Kitchen Corner Cupboards
Kitchen corner units can be extremely tricky spaces to use efficiently in a kitchen. These tried and tested solutions will help you get the most storage out of your kitchen corner units.
1. Pick Items Carefully for Your Corner Unit
2. Minimize Clutter
3. Use Kitchen Corner Base Units with Drawers
4. Add a Kitchen Corner Unit Carousel
5. Choose Cupboard Doors Wisely
6. Repurpose the Kitchen Corner Cabinet
Allow us to explain in more detail below! Also remember to check out our Kitchen Design Ideas section if you need more design inspiration.
What is a Kitchen Corner Unit?
A kitchen corner unit is created wherever two runs of kitchen units meet at a right angle. Creating a ninety degree corner, it is often difficult to use the resultant space efficiently. This often leads to cupboards which store barely-used items in awkward and messy stacks. This video explains the challenges around kitchen corner cupboards and how to resolve them.
1. Pick Items Carefully for Your Corner Unit
Items stored in kitchen corner units are naturally trickier to get to. Because of this, it is best to use these kitchen units for utensils or dishes that you use less frequently, rather than the ones you need on a day-to-day basis. Smaller items that are frequently used together can also be placed into a neat container in the corner cabinet. This makes it more convenient to take them out when needed and quicker to move them out of the way when looking for other items stored behind them.
Mobile Home Living and Better Home and Garden
2. Minimise Clutter
Just because you don't use something often, it does not mean that it should automatically be stored in the corner cupboard. Make sure that the items stored in kitchen corner cupboard baskets are necessary items in your kitchen. Even with clever corner kitchen units, adding too many items will make it difficult to get anything out. Unless your kitchen has ample additional storage, declutter your kitchen and throw out anything that you do use.
Watch this video from the Queen of Decluttering, Marie Kondo, on organising your kitchen drawers.
Now that we have cleaned up a bit, let's look at structural solutions.
3. Use Kitchen Corner Base Units with Drawers
Hard-to-reach kitchen corner units can be made more accessible with the right kitchen corner unit storage solutions. Drawers can be easily pulled out, allowing for items stored at the back of the cupboard to be brought forward effortlessly, without having to first remove everything that has been stacked in front of them.
Drawers can be placed diagonally into the corner of the cupboard and made to the depth that suits the items they would store. You can also make the most of your kitchen corner unit by installing a kitchen corner cupboard bin. This works in the same way as a drawer unit that you pull out to access the bin, allowing an unsightly bin to be stored undetected.
It's best to start planning the use of your kitchen corner cupboards early one, so have a look at our Beginner's Guide to Kitchen Layout to help you make the most of your kitchen.
4. Add A Kitchen Corner Unit Carousel
Rotating shelves, like a Lazy Susan or curved shelves attached to the cupboard door, are another way to let items hidden at the back of the cupboard, be brought to the front with a simple rotation. A kitchen carousel corner unit would be most suited to a cupboard that has a door that opens on both sides of the corner.
This is a great way to create more storage for your kitchen corner unit.
Depending on the shape desired, they can be made with a pie-shaped cut-out, to fit the doors, or left as a full circle that fits inside the cupboard space. Semi-circle shelves, attached to the door, would be used for a cupboard where the door is on one side of the corner, but the cupboard extends back into the depth of the corner. These are also perfect for round corner kitchen units.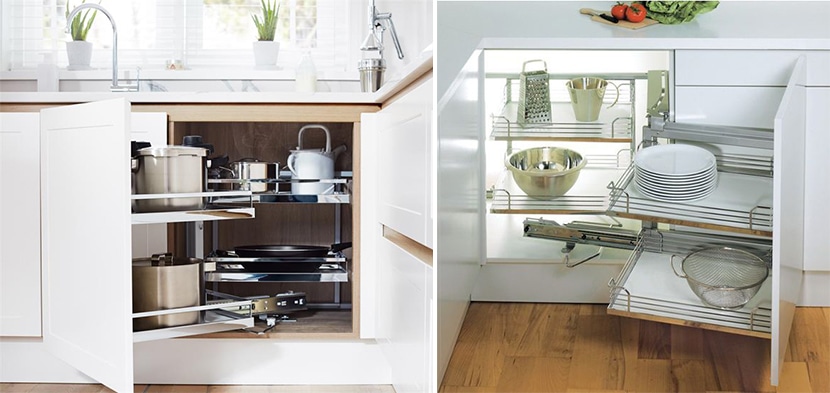 5. Choose Cupboard Doors wisely
When designing a kitchen corner cupboard, the aim is always to minimise the amount of stretching required to get to the back of the cupboard. Install specialised hinges for kitchen corner units that allow doors to be opened extra wide to get access to the interior of the cupboards.
For smaller corner cupboards, a single hinged door works well. This allows for the maximum sized opening, while the doors fold away neatly. Hinged doors are also better for a smaller space as they leave the floor space open around the corner. For a full-length corner cupboard with good shelving, a double door can work well to create a small pantry space.
Another option is to remove the doors completely and leave an open shelf.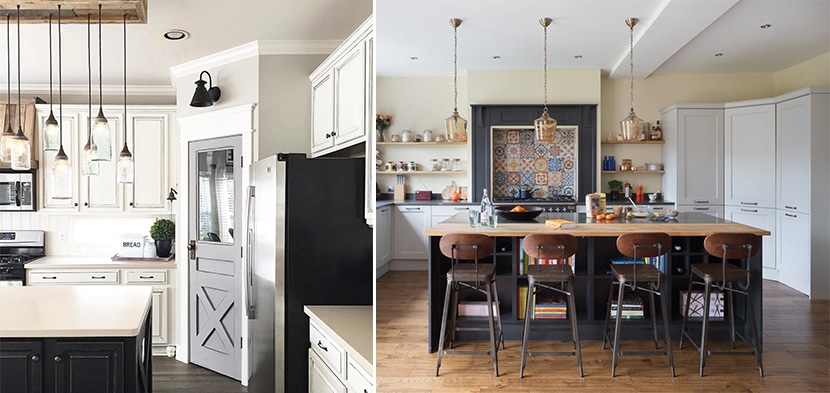 Our Faux Farmhouse & Masterclass Kitchens
6. Repurpose the Kitchen Corner Cabinet
If you're still stuck for ideas, why not re-think the space completely. Shelving for kitchen corner units can turn the space into a pretty display area turning the cupboard into a display unit.
When fitting kitchen corner wall units, also consider if the area can be used for a microwave or other appliances. Corner sink units for kitchens are also readily available and can really make the most of the space when designing a small kitchen.
Choosing the best corner units for kitchens will depend on your kitchen's layout and style, but you can be sure that there is always a way to get around your awkward corner cupboard.
Book a Design Appointment
If you enjoyed our design ideas, subscribe for updates.
Get kitchens design ideas in your inbox.
Check out these posts for more Kitchen Design Ideas.
Most Popular
Dublin Kitchens: The 7 Latest Trends
The 12 Most Influential Kitchen Design Trends from the US
5 Tips for Designing Small Kitchens
6 Exciting Colour Palettes for Kitchens with Personality
6 of the Best Solutions for Corner Cupboards
10 of the Most Beautiful Kitchen Backsplashes
Types of Kitchens
In-Frame Kitchens – 5 Things You Should Know
What are Shaker Kitchens and Where are They From?
What Exactly are Hand Painted Kitchens?
The Top 10 Trends for Modern Kitchens
Design Ideas and Trends
5 Clever Ways to Increase Natural Kitchen Lighting
How Much Value Does a Fitted Kitchen Add to Your Home?
12 Must-Have Celebrity Kitchens of the Rich and Famous
Families
10 Kitchen Design Tips for Families with Kids
6 Tips for a Kitchen for a Large Family
Cabinets, Doors, Kitchen Islands & Finishes
9 Essential Kitchen Cabinet Types