Corner cupboards can be extremely tricky spaces to use efficiently in a kitchen. These cupboards often offer a lot of storage space, but it is space that is difficult to access. This often leads to cupboards which store barely used items in awkward and messy stacks. We've come up with 6 clever solutions for corner cupboards to improve the storage in your kitchen and make your much-loved items easy to use.
1. Pick Items Carefully
Items stored in corner cupboards are naturally trickier to get to. Because of this, it is best to use this space for kitchen utensils or dishes that you use less frequently, rather than the ones you need on a day-to-day basis. Smaller items that are frequently used together can also be placed into a neat container in the cupboard. This makes it more convenient to take them out when needed and quicker to move them out of the way when looking for other items stored behind them.
Mobile Home Living and Better Home and Garden
2. Minimise Clutter
Just because you don't use something often, it does not mean that it should automatically be stored in the corner cupboard. Make sure that the items added are still useful and easy to get to. Even with a well laid out corner cupboard adding too many items will make it difficult to get anything out. Unless your kitchen has ample additional storage, rather store the items that are used only once a year in a separate cupboard completely.
Modern Jane Design and Windsor Smith Home
No that we have cleaned up the corners a bit, let's look at structural solutions.
3. Use Corner Drawers
Drawers can be easily pulled out, allowing for items stored at the back of the cupboard to be brought forward effortlessly, without having to first remove everything that has been stacked in front of them. Drawers can be placed diagonally into the corner of the cupboard and made to the depth that suits the items they would store.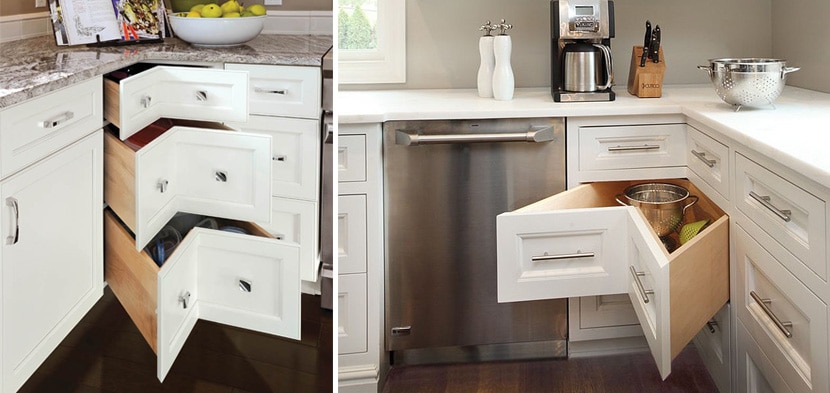 House Trends and Decoist
4. Add Rotating Shelves
Rotating shelves, such as a Lazy Susan or curved shelves attached to the cupboard door are another way to let items hidden at the back of the cupboard, be brought to the front with a simple rotation. Lazy Susan's would be most suited to a cupboard that has a door that opens on both sides of the corner. They are available in a variety of shapes and sizes and can be used not only as a practical storage solution, but also to add a look of sophistication to the cupboard space. Depending on the shape desired, they can be made with a pie shaped cut out, to fit the doors, or left as a full circle that fits inside the cupboard space. Semi-circle shelves, attached to the door, would be used for a cupboard where the door is on one side of the corner, but the cupboard extends back into the depth of the corner.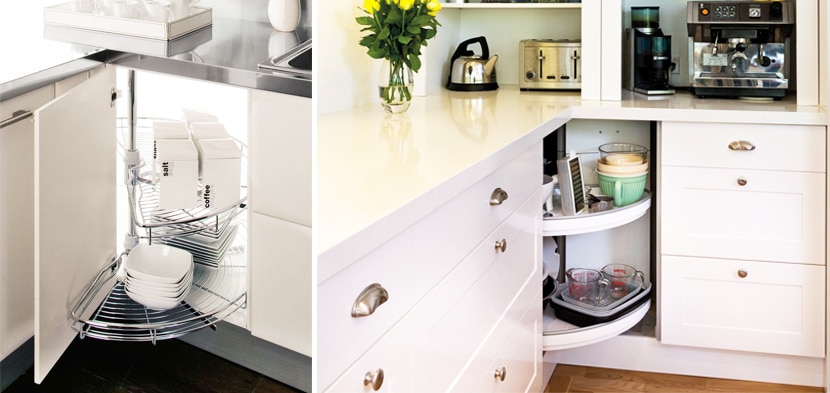 Formed-UK and Kitchens by Peter Gill
5. Choose Cupboard Doors wisely
The aim is always to minimise stretching required to get to the back of the cupboard, as well as for doors to not get in the way. For smaller corner cupboards, a hinged door, around the corner, works well. This allows for the maximum sized opening, while the doors fold away neatly. Hinged doors are also better for a smaller space as they leave the floor space open around the corner. For a full-length corner cupboard with good shelving, a single door can work well to create a small pantry space. A full length, unhinged door, will, however take away the floor space in the corner, making it a better solution in a larger kitchen area. Another option is to remove the doors completely and leave a fun shelf.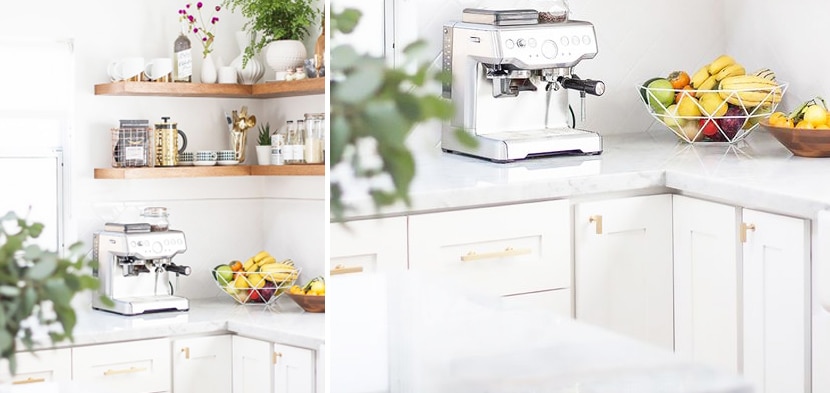 6. Get Creative
If you're still stuck for ideas, why not re-think the space completely. Awkward cupboards do not have to be used as storage for small items. Make the space useful in your own creative way. Examples include using a door with glass and turning the cupboard into a display unit or making it into a space for storing appliances and alternative items such as your recycling bin or microwave.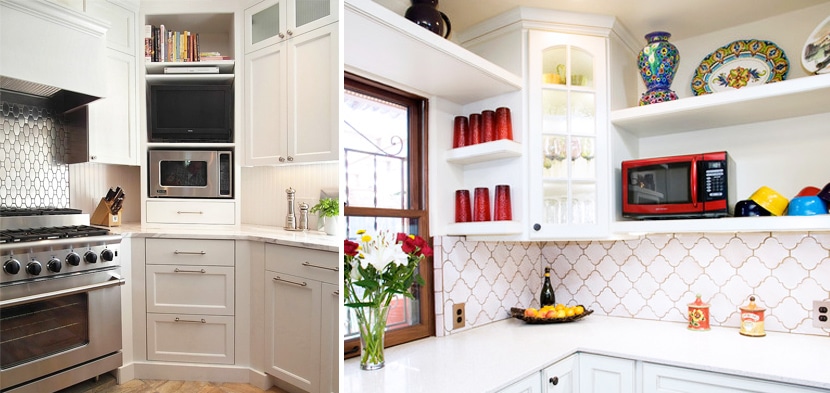 Decoist and UB KItchens
The solution best for you will depend on your kitchen setup and style, but you can be sure that there is always a way to get around your awkward corner cupboard.
Book a Design Appointment
If you enjoyed our design ideas, subscribe for updates.
Get kitchens design ideas in your inbox.