A kitchen is an important part of any home. Not only is it where food is prepared, but it is also often a space for family gatherings, conversation and fun. Because it is such a multi-functional space, it is important to keep your kitchen looking neat and clean. The space around the stove top or kitchen sink is sometimes a difficult area to keep looking good, but a gorgeous backsplash can add personality and ease of cleaning in one go. Here are our top ten beautiful backsplashes to inspire your own.
BTW, check out our Kitchen Design Ideas section if you need more design inspiration.
1. Marble
Using marble as your kitchen backsplash is a subtle way to add both elegance and texture to your kitchen. Marble comes in a wide variety of colours and sizes to suit your needs. These range from small to large tiles in various shapes to pieces of solid marble cut to fit your specific kitchen. Marble has been enjoying a contemporary revival that sees it being used in slick, contemporary kitchens as well in more traditional settings. Its classic good looks rarely go out of fashion and it can be kept fresh over the years by simply updating the kitchen accessories that you use with it.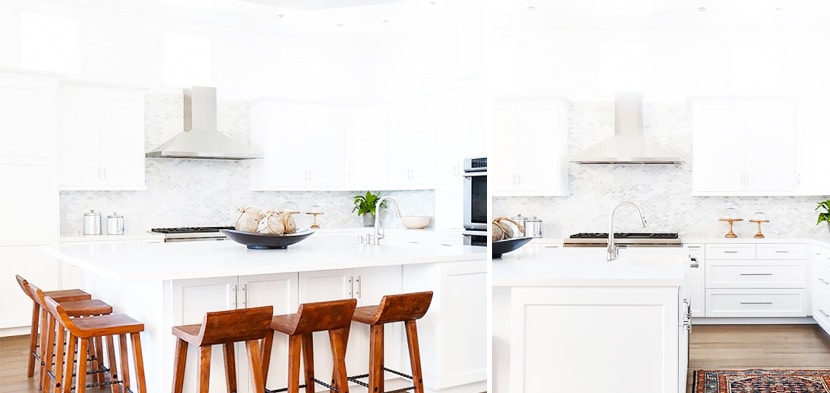 2. Geometric pattern
Geometric patterns have been trending for a few years now, and can lend a touch of the exotic to a space. They are available in monochrome designs as well as multi-coloured patterns, so the options are endless. When using a busy pattern, it may be necessary to tone things down around the backsplash so that it doesn't become overwhelming.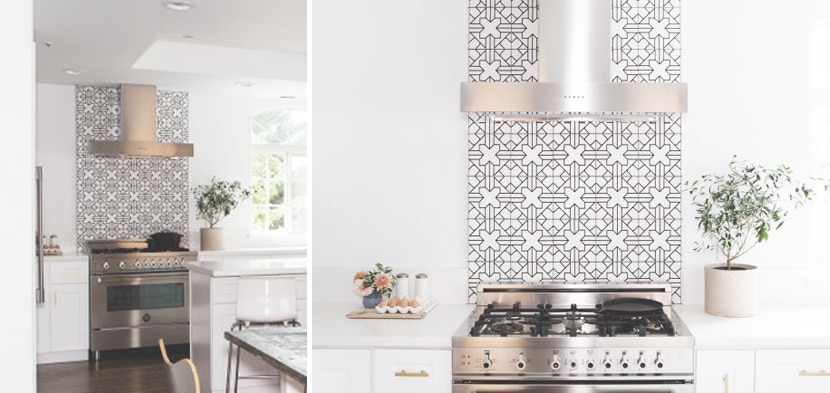 3. Moroccan fish scale tile
While traditionally they were applied to literally look like fish-scales, a Moroccan fish scale tile is a versatile tile that allows for a variety of patterns to be created, depending on how the tile is laid. These tiles create an intriguing effect, adding a feeling of playfulness to the kitchen space. Available in a wide variety of colours, the pattern can be subtle or vibrant and colourful.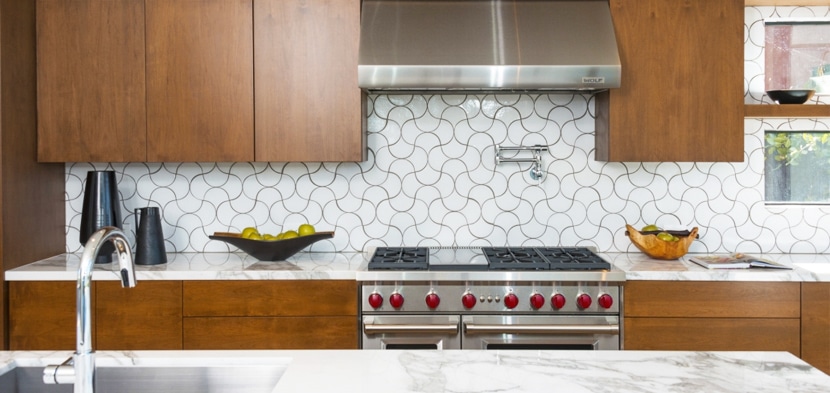 4. Exposed Brick
Exposed brick is incredibly versatile and can be used to complement anything from a traditional to a modern kitchen. Many different looks can be achieved using bricks: when coupled with warm wood and baskets you can achieve an effortless rustic or farmhouse look, but by combining it with cool metals and exposed pipework, you'll create an industrial space.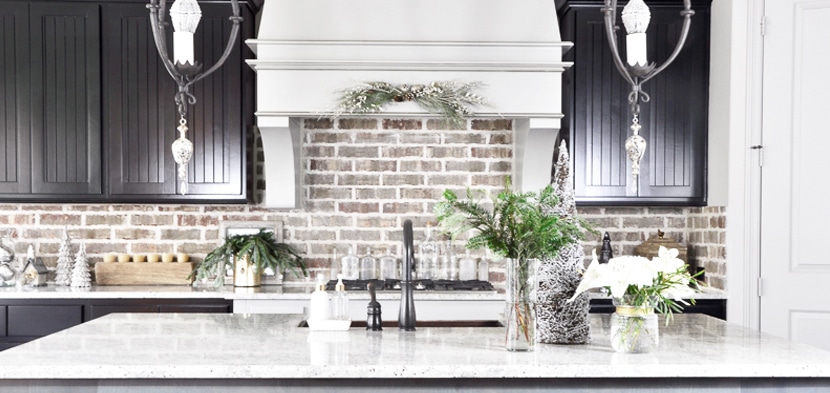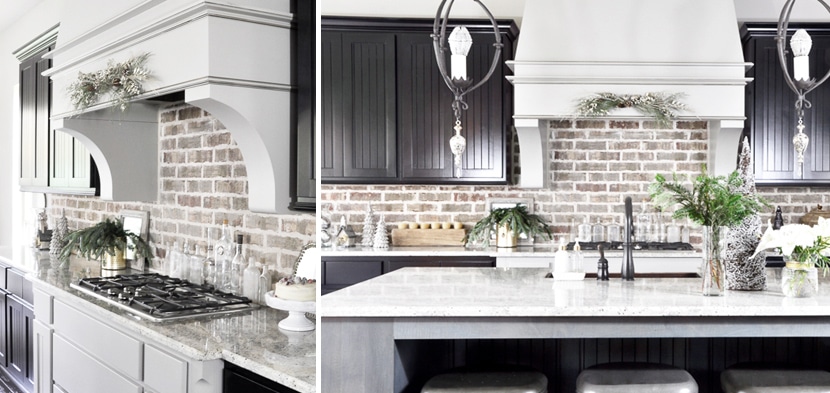 5. Bold contrasting pattern
Use a bold pattern to draw attention to your backsplash. A black and white pattern with lots of contrast creates a beautiful feature, while still allowing the colours of the kitchen to be updated easily by changing small, removable items on the counter or shelf space.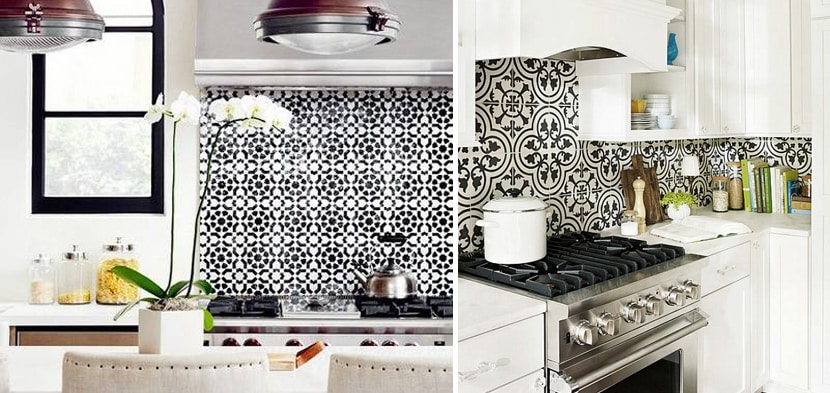 6. Hexagon tiles
Hexagon tiles, creating a beehive effect, make a beautiful backsplash. The colour of the grouting, either matching or contrasting, will influence how much the pattern stands out. These backsplashes create a feeling of order and organization and compliment a minimalist kitchen well.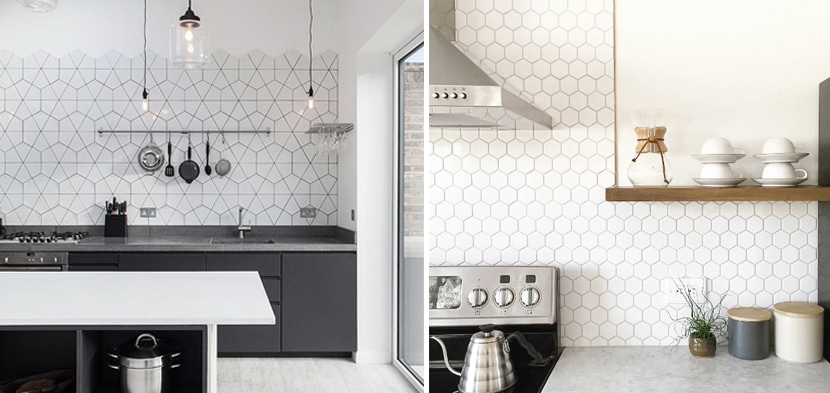 7. Wood-look
While wood is not often used as a backsplash for hygiene reasons, the wooden effect can still be achieved by using wood-look tiles. This can then be accentuated with wooden features like shelves or utensil holders.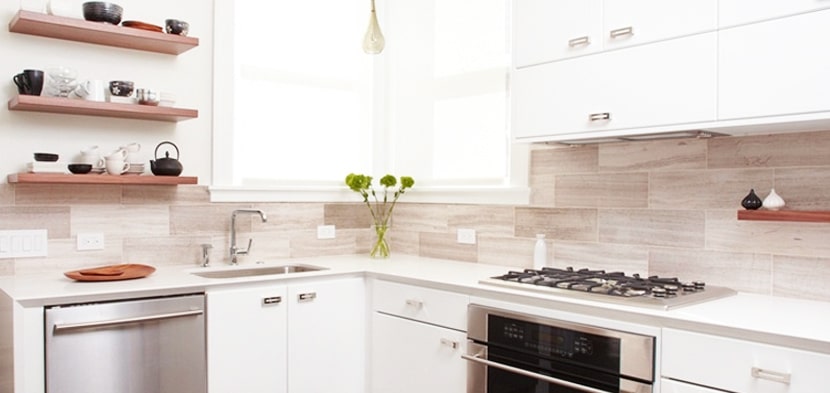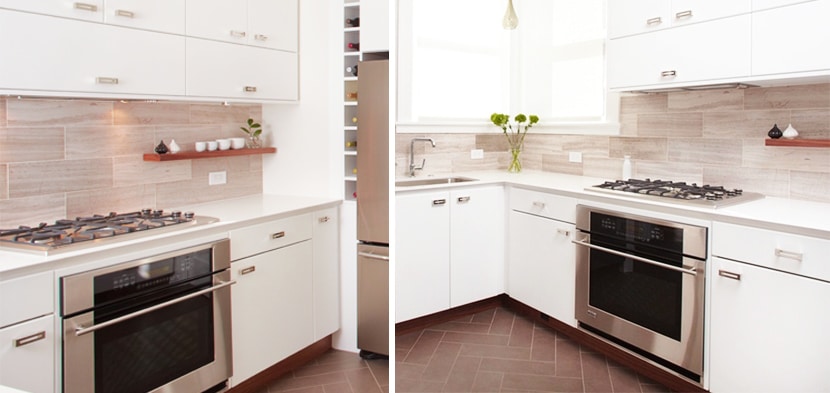 8. Storage
While backsplashes should be beautiful, they should also be practical. Throw in an additional practical element by using it as storage space for those items you always use at the stove. A mini shelf built into the wall, hanging shelf or wire grid all make for easy ways to keep the things you need often, close by.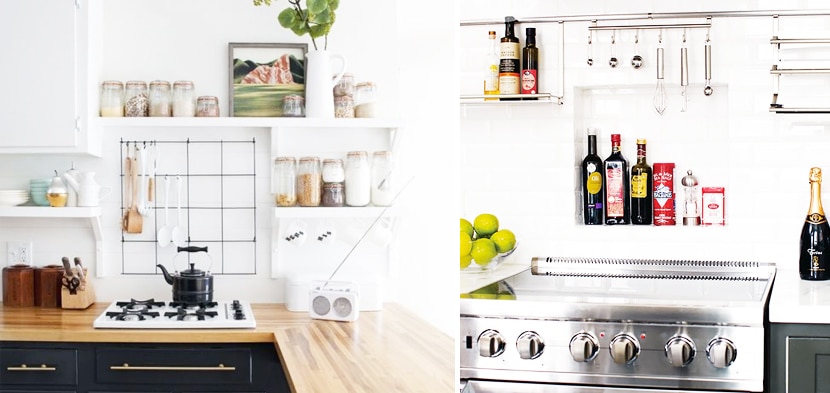 9. Pop of colour
Not all backsplashes need to be neutral colours. Using a colourful tile that either complements the colour of your kitchen, or that acts as the accent colour in your kitchen, is a great idea. Colour helps to brighten the room and highlights a focal area.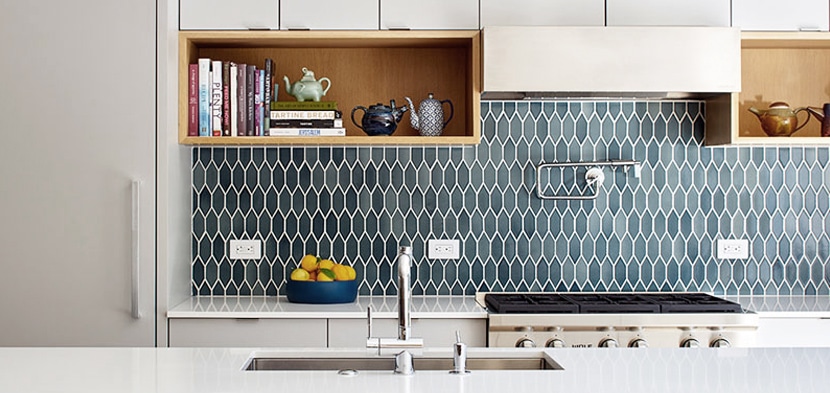 10. Subway tile
The classic subway tile look has become popular in recent years. Subway tiles can be arranged in many ways with the most popular being in a herringbone pattern or horizontally, with each row offset from the row above.
A backsplash is a perfect opportunity to add some texture, colour or pattern to your kitchen. Remember to keep in mind the practical aspects of your own kitchen design, while bringing out your personality and style.
Book a Design Appointment
If you enjoyed our design ideas, subscribe for updates.
Get kitchens design ideas in your inbox.
Check out these posts for more Kitchen Design Ideas.
Most Popular
Dublin Kitchens: The 7 Latest Trends
The 12 Most Influential Kitchen Design Trends from the US
5 Tips for Designing Small Kitchens
6 Exciting Colour Palettes for Kitchens with Personality
6 of the Best Solutions for Corner Cupboards
10 of the Most Beautiful Kitchen Backsplashes
Types of Kitchens
In-Frame Kitchens – 5 Things You Should Know
What are Shaker Kitchens and Where are They From?
What Exactly are Hand Painted Kitchens?
The Top 10 Trends for Modern Kitchens
Design Ideas and Trends
5 Clever Ways to Increase Natural Kitchen Lighting
How Much Value Does a Fitted Kitchen Add to Your Home?
12 Must Have Celebrity Kitchens of the Rich and Famous
Families
10 Kitchen Design Tips for Families with Kids
6 Tips for a Kitchen for a Large Family
Cabinets, Doors, Kitchen Islands & Finishes
9 Essential Kitchen Cabinet Types
Get the Perfect Kitchen Finish for your Lifestyle!