What are Kitchen Backsplashes?
Kitchen backsplashes (also called a splashback in the UK) is the material installed against the wall between the kitchen counter and upper cabinets. It is usually made from durable and wipeable materials, which provides protection against spills and messes. Kitchen backsplashes can also be a decorative feature in a kitchen.
How to choose a Kitchen Backsplash
Durability: the material must be able to withstand heat and moisture
Scratch-resistance: especially in hard-working areas like behind the sink and stovetop, the backsplash must be scratch resistant to avoid damaging while removing dirt.
Hygiene: the surface has to be wipeable. Have a look at the materials section to see which kitchen backsplash is easy to clean.
Take your cue from the countertop: the backsplash sits on top of the countertop, so it could either be the same material, or something that matches it.
Timeless vs trendy: as with most design decisions in your kitchen, choose something that would be happy to live with for a few years and not only with the trending backsplashes this year.
Is a Kitchen Backsplash necessary?
The main purpose of kitchen backsplashes is to protect your wall surface from water damage, spills, steam, oil and dirt. A durable, wipeable surface is far easier to clean than a painted wall, so have a look at our kitchen backsplash pictures below to find the best solution for your kitchen.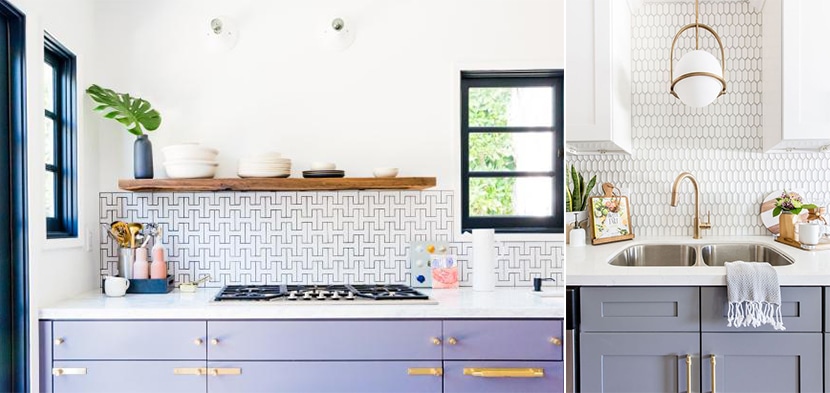 What is the best Kitchen Backsplash material?
Your lifestyle will in large part determine the type of kitchen backsplash you will choose. While it adds an elegant finish to your kitchen, your style of cooking and your kitchen's frequency of use may necessitate a more durable finish over a more decorative one.
Let's look at 15 of the most beautiful kitchen backsplash options to help you choose your kitchen backsplash colour and material.
Remember to have a look at our Kitchen Design Ideas section if you need more design inspiration.
1. Marble
Using marble as your kitchen backsplash is a subtle way to add both elegance and texture to your kitchen. Marble comes in a wide variety of colours and sizes to suit your needs. These range from small to large tiles in various shapes to pieces of solid marble cut to fit your specific kitchen.
Marble has been enjoying a contemporary revival resulting in slick, contemporary kitchens as well in more traditional settings. Its classic good looks rarely go out of fashion because it can be kept fresh over the years by simply updating the kitchen accessories that you use with it.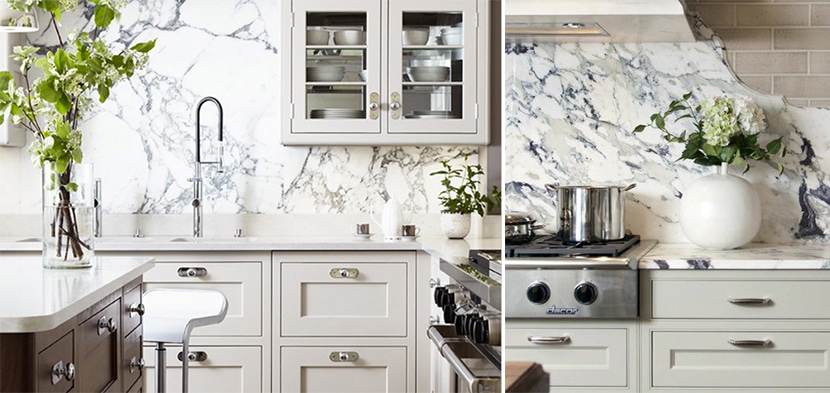 2. Geometric patterned kitchen backsplashes
Geometric patterned tiles are just one of the many kitchen tile backsplash ideas around. They have been trending for a few years now and can lend a touch of the exotic to a space. These tiles are available in monochromatic designs as well as multi-coloured patterns, so the options are endless.
When using a busy pattern, it may be necessary to tone things down around the backsplash so that it doesn't become overwhelming.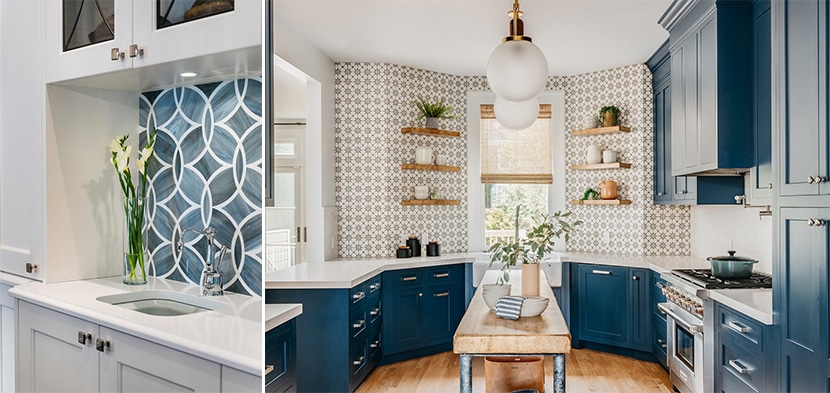 3. Moroccan fish scale tile
Traditionally, these interestingly shaped tiles were applied to literally look like fish-scales. Moroccan-inspired tiles are very versatile however, and allows for a variety of patterns to be created.
These tiles create an intriguing effect, adding a feeling of playfulness to the kitchen space. Available in a wide variety of colours, the pattern can be subtle or vibrant and colourful. Have a look at our Indian kitchen tiles design pictures below for some more exotic inspiration!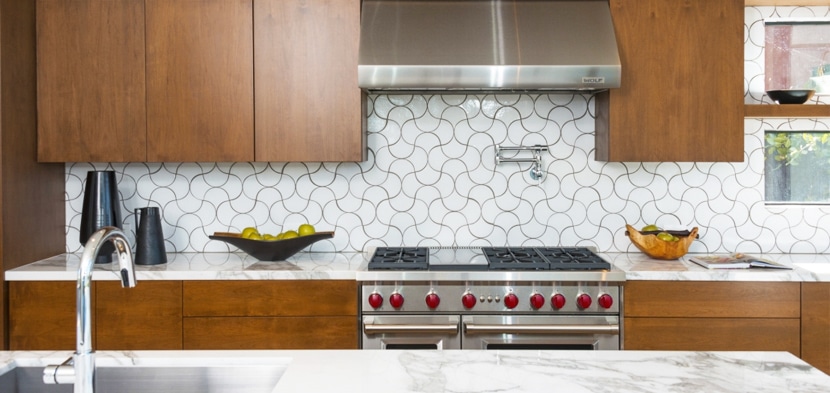 Garden Web
4. Exposed Brick
Exposed brick is incredibly versatile and can be used to complement anything from a traditional to a modern kitchen. It is a very robust and durable material that can be sealed or painted with a clear or coloured coating.
Brick can provide many different looks: when coupled with warm wood and baskets you can achieve an effortless rustic or farmhouse style. You can also create another look by combining it with cool metals and exposed pipework, resulting in an industrial space.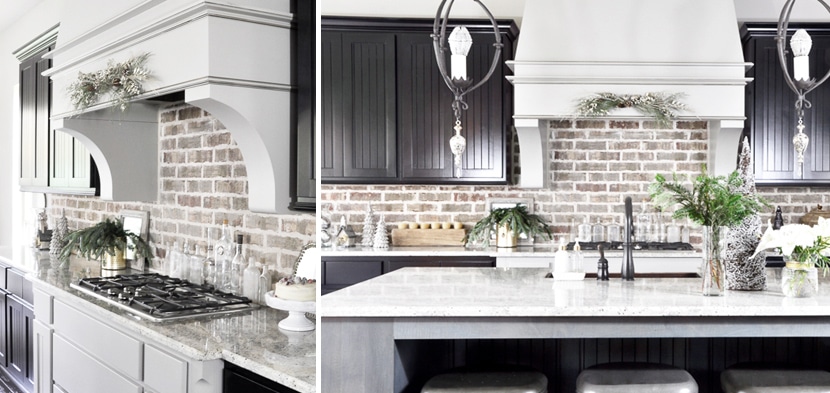 5. Bold contrasting tiled pattern
Use a bold tiled pattern to draw attention to your backsplash. A black and white pattern with lots of contrast creates a beautiful feature. Colourful accessories can then be added to emphasise seasonal changes or trends.
Tiles can also be updated by adding patterned vinyl to them.
But can the kitchen backsplash tile be painted?
With the right primer and appropriate sealer applied afterwards, they most certainly can! Chat with your local paint supplier about the best products and application method to use.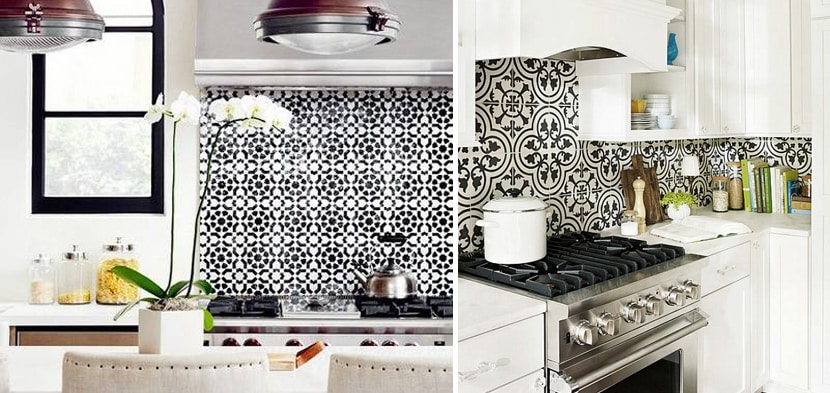 6. Hexagon tiles
Hexagon tiles that create a beehive effect, make a beautiful backsplash. The thickness and especially the colour of the grouting, either matching or contrasting, will influence how much the pattern stands out. These tiles can be either plain or printed for a unique focal backsplash in your kitchen.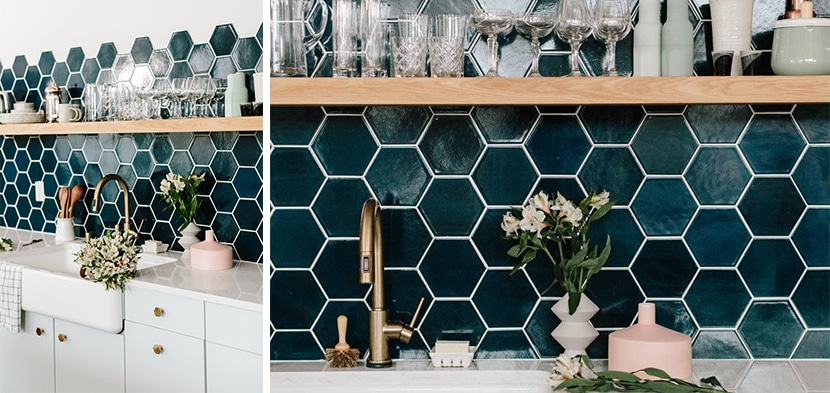 7. Wood-look tiled backsplashes
While natural wood is not often used as a backsplash for hygiene reasons, the effect can still be achieved by using wood-look tiles. This can then be accentuated with wooden features, for example shelves or utensil holders, adding warmth to your kitchen.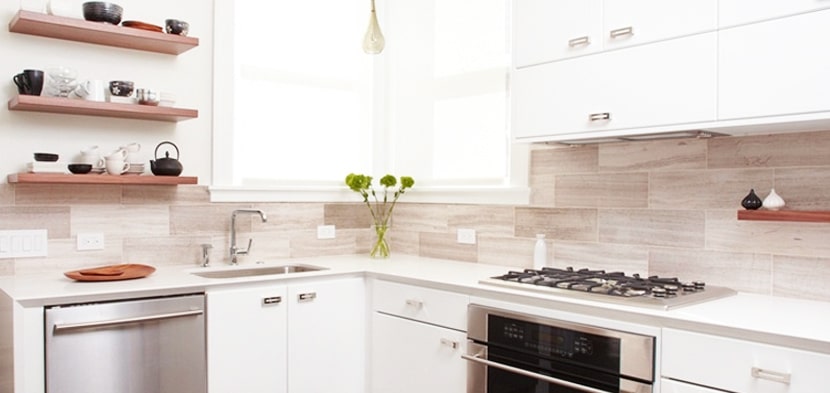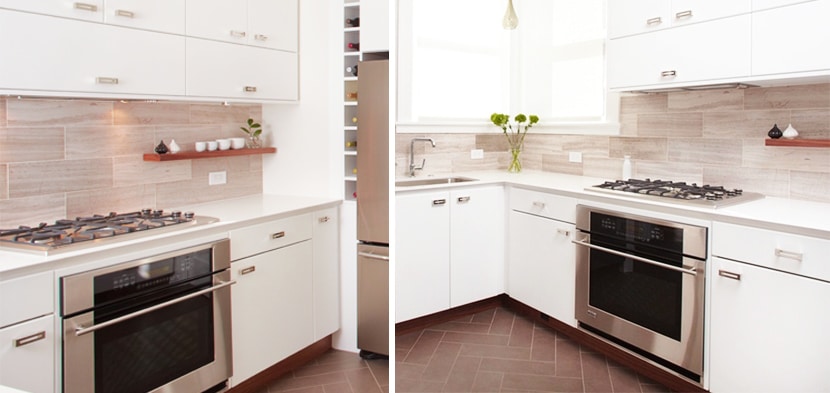 8. Storage
While backsplashes should be beautiful, they should also be practical. Throw in an additional practical element by using it as storage space for those items you always use at the stove. Clever concealed storage can be installed behind backsplash panels to allow for a neat and seamless kitchen.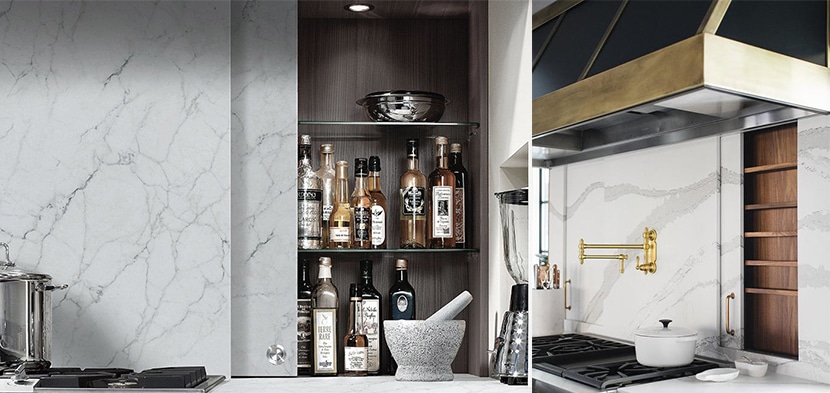 9. Kitchen backsplashes with pops of colour
Using a colourful tile or coloured glass panel makes a powerful statement. This colour block backsplash can bring an accent colour to your kitchen and will instantly brighten the room.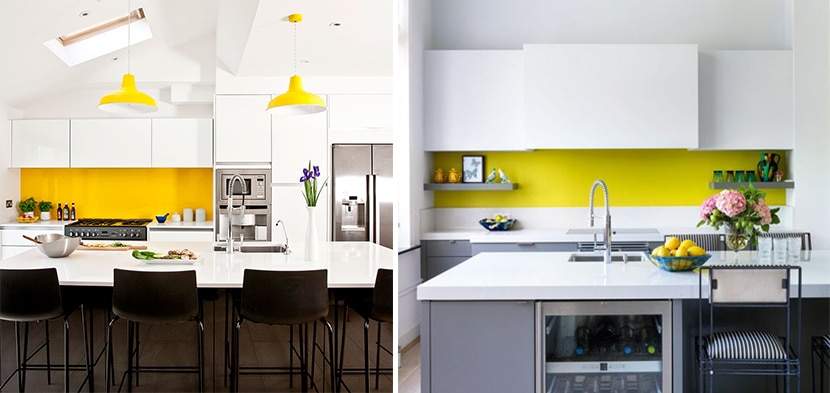 10. Subway tile
The classic subway tile look is still very popular. Subway tiles can be arranged in many ways: a herringbone pattern; horizontally, with each row offset from the row above, or even vertically.
11. Matching Backsplash and Countertop
An easy and effective solution is to simply extend your countertop surface onto the wall to create a backsplash. This creates a beautifully seamless effect. Install a low upstand at the back of work surfaces, with full-height backsplashes in the sink and stove areas.
Alternatively, you can get a luxurious effect by applying the countertop material in a tiled form. Choose subway, herringbone or simple square tiles for a beautiful and elegant backsplash.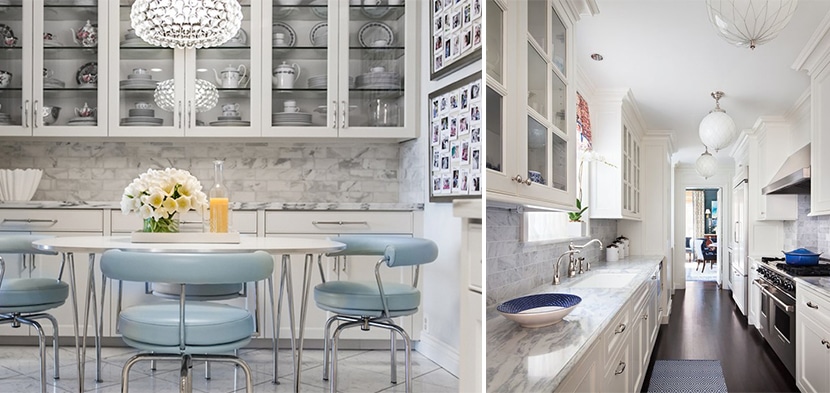 12. Stainless Steel Kitchen Backsplashes
Stainless steel is the material of choice for the ultimate in hygiene. A highly durable surface, it creates a smooth, wipeable surface that is easy to use and looks great too.
Stainless steel tends to show fingerprints and water easily, so if you choose this material for your modern or industrial-look kitchen, be prepared to wipe it regularly to maintain its look. For more ideas on stainless steel kitchens, be sure to read our Beginner's Guide to Kitchen Worktops.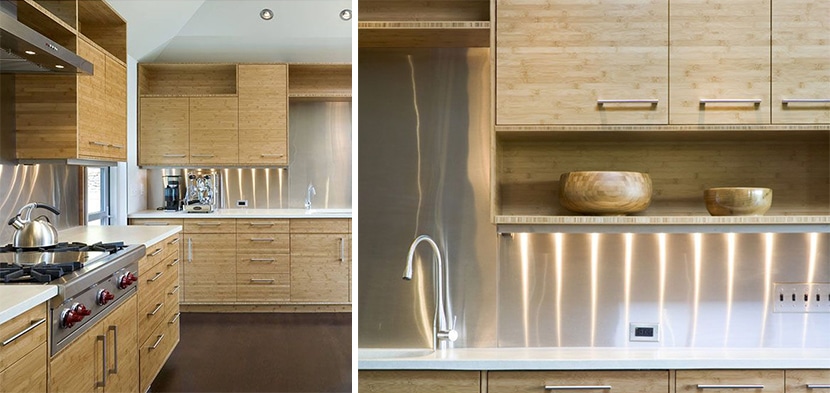 13. Brass and Copper Kitchen Backsplash
Luxurious and super trendy, brass or copper kitchen backsplashes add a wonderful lustrous touch to your kitchen. Combine with warm wood accents and marble for the ultimate in luxury. As with stainless steel, be aware that metal requires quite a bit of maintenance on a daily basis.
These metals will also tarnish with time, adding a beautiful patina to their surface.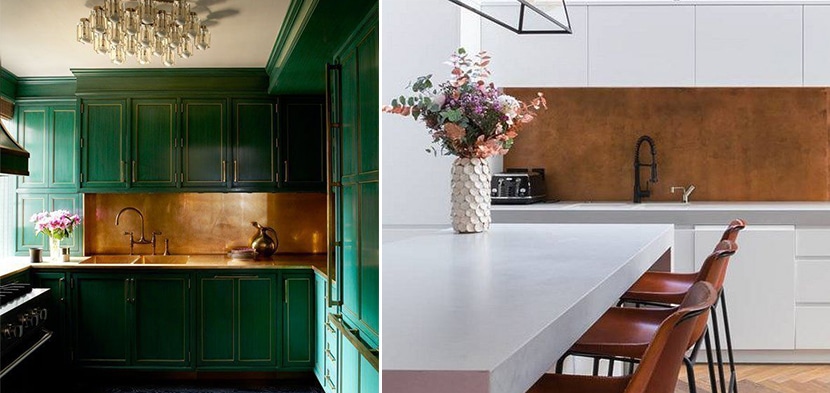 14. Mosaic Tile Backsplashes
Mosaic tiles in all their forms have been a popular option for backsplashes for years. They come in a variety of designs and colours to complement any kitchen, especially when it comes to kitchen backsplash ideas with white cabinets.
The latest mosaic trend adds some bling to your kitchen with metallic mosaic tiles. Use it with pared-down finishes for added effect. And because mosaics come in pre-made sheets, they are easy to install for the DIY enthusiast.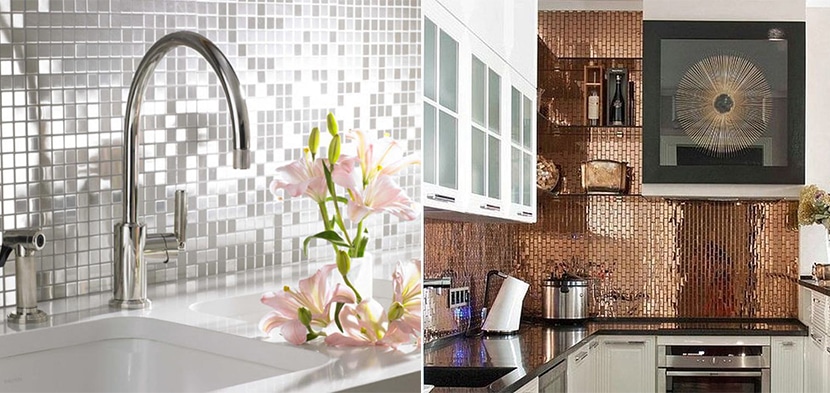 15. Multi-Coloured Kitchen Backsplash
And for the ultimate in personalised finishes, you can install a custom-designed backsplash. Painted resin or printed acrylic sheets allow true expression of your kitchen taste.
An easy and affordable way to get a multi-coloured kitchen backsplash is to install tiles in a variety of different colours. Make this beautiful feature backsplash stand out by keeping the rest of the finishes in the kitchen neutral.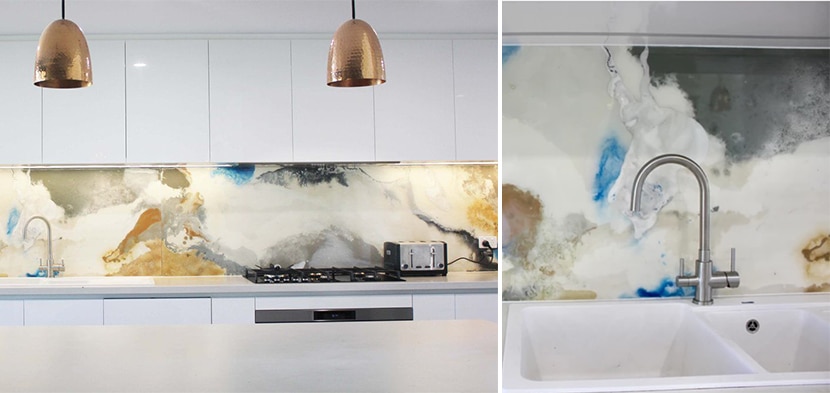 A backsplash is a perfect opportunity to add some texture, colour or pattern to your kitchen. Read our Beginner's Guide To Choosing Tiles for more ideas and inspiration.
Book a Design Appointment
If you enjoyed our design ideas, subscribe for updates.
Get kitchens design ideas in your inbox.
Check out these posts for more Kitchen Design Ideas.
Most Popular
Dublin Kitchens: The 7 Latest Trends
The 12 Most Influential Kitchen Design Trends from the US
5 Tips for Designing Small Kitchens
6 Exciting Colour Palettes for Kitchens with Personality
6 of the Best Solutions for Corner Cupboards
10 of the Most Beautiful Kitchen Backsplashes
Types of Kitchens
In-Frame Kitchens – 5 Things You Should Know
What are Shaker Kitchens and Where are They From?
What Exactly are Hand Painted Kitchens?
The Top 10 Trends for Modern Kitchens
Design Ideas and Trends
5 Clever Ways to Increase Natural Kitchen Lighting
How Much Value Does a Fitted Kitchen Add to Your Home?
12 Must Have Celebrity Kitchens of the Rich and Famous
Families
10 Kitchen Design Tips for Families with Kids
6 Tips for a Kitchen for a Large Family
Cabinets, Doors, Kitchen Islands & Finishes
9 Essential Kitchen Cabinet Types