What is Farrow and Ball?
Farrow and Ball is a British manufacturer of wallpaper and paint. Founded in Dorset, England, in 1946, John Farrow and Richard Ball dedicated themselves to creating richly pigmented and highly durable paints that are still just as popular today as it was when they first made them.
What Distinguishes Farrow & Ball Paints From Their Competitors?
1. The finest ingredients, including chalk, china clay and titanium dioxide.
2. Rich pigments that create an unrivalled depth and complexity of colour.
3. Rigorous testing methods to ensure only the best quality paints reach the shelves.
Farrow and Ball colours are uniquely rich, giving your bespoke hand painted kitchen the perfect finish. And with the extensive Farrow and Ball colour chart, you are spoilt for choice with colours to match any style of kitchen, from modern to traditional.
For best results, it is essential to use the Farrow and Ball System. This consists of a series of products that work together to the best out of the paint, with rich colour rendering and lasting quality. Watch the video below to learn more!
How do I choose a colour palette for my kitchen?
Colour is important for both the mood and style of your kitchen, as well as to express your personality. It can, however, be intimidating to choose the perfect colour palette for your kitchen.
When choosing Farrow and Ball kitchen colours, it is important to consider if there are any permanent fixtures within the kitchen or the adjacent rooms that will contribute toward the colour palette. Especially when it comes to open-plan living, you will want to create a unified look between adjacent rooms.
Whether you're designing a full new kitchen or just adding a few new features, these 6 exciting Farrow and Ball kitchen colour trends will add personality to your home.
Also, remember to have a look at our Kitchen Design Ideas section if you need more design inspiration.
1. Blue Grey, Deep Blue and Marble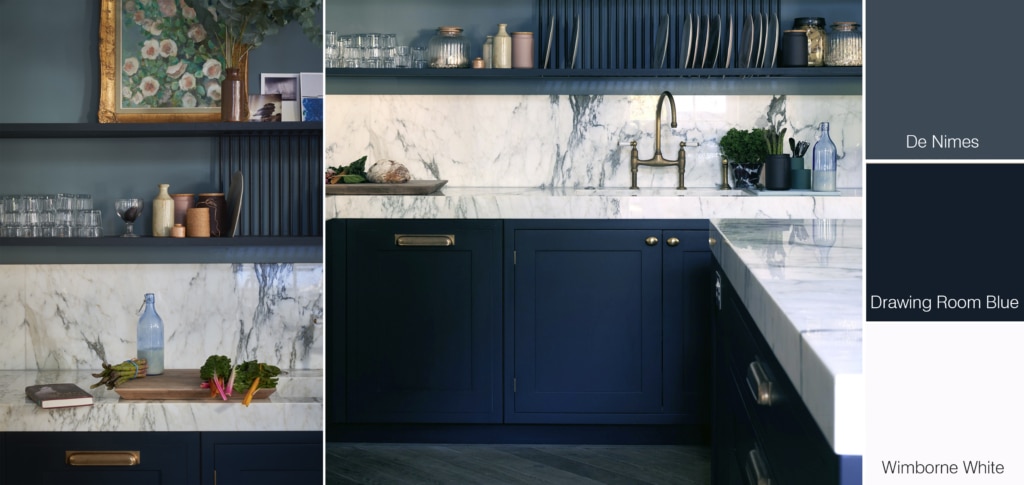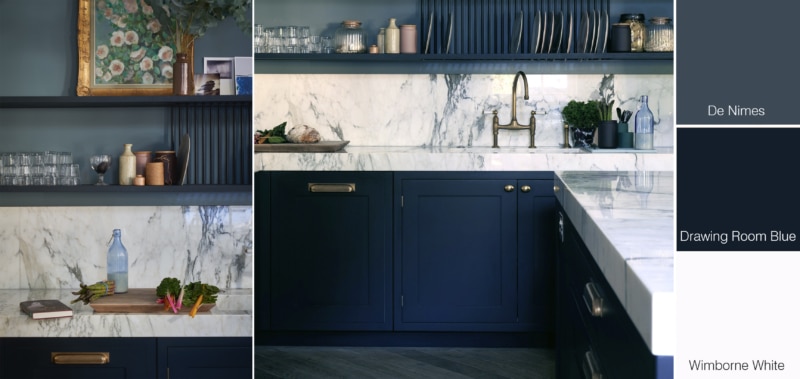 With colour palettes regularly moving away from neutrals, rich and dramatic hues bring calmness and serenity to our homes. De Nimes and Drawing Room Blue with crisp Wimborne White trim, especially when combined with classic marble tops, are sure to become favourite Farrow and Ball kitchen colours.
This denim-inspired blue is always on-trend but feels grounded at the same time. The deep shade is also perfect for home-owners a bit wary of using bright colours, with its grey undertone providing a subtle base.
2. Dusty Pink and Dull Black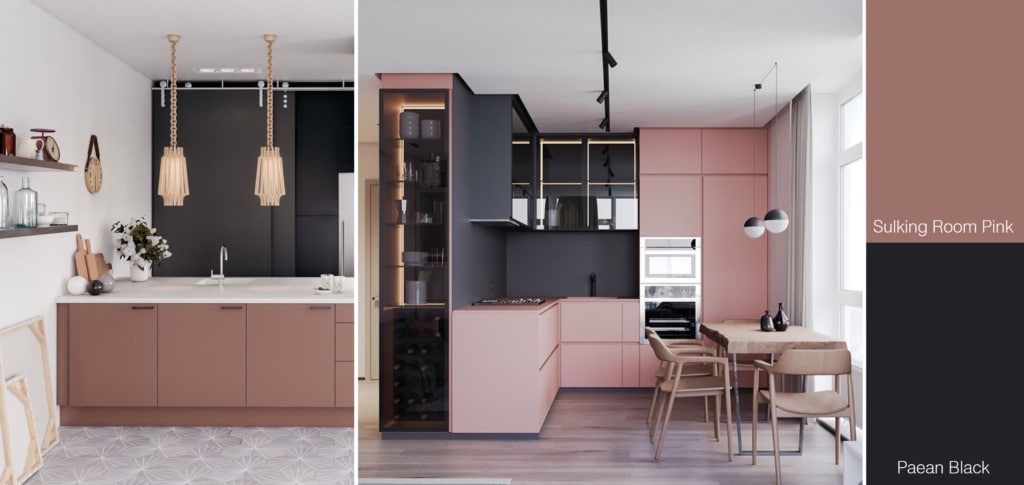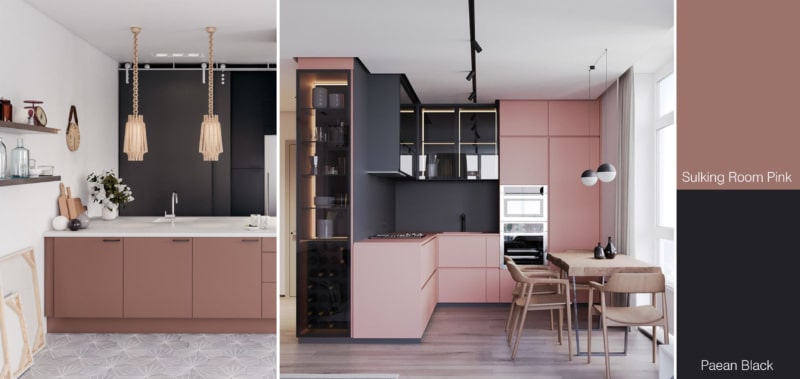 Creating a strong contrast, Sulking Room Pink and Paean Black speak of 1920's elegance. The dull black provides a subtle background, allowing the dusty pink to be the main act.
Proving that pink is not only for women, this soft and dark palette is also one of the perfect Farrow and Ball colour schemes for bedrooms. Combined with gold and Art Deco glass accents, it creates the most stylish and elegant of the Farrow and Ball kitchen colour trends.
3. Charcoal and Rusty Red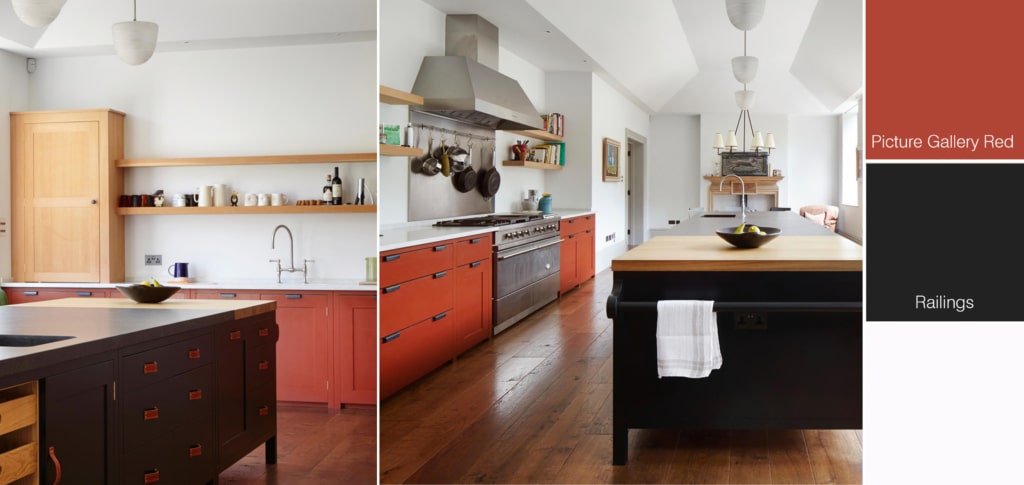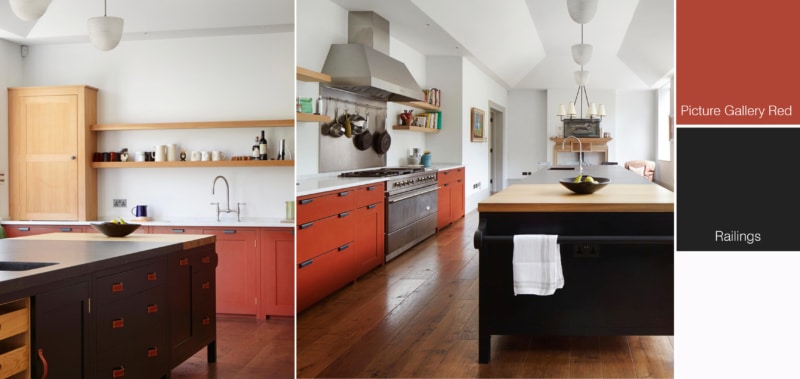 While grey and red may remind of a tired 1980's colour chart, combining rich Railings with Picture Gallery Red creates a lively, inspired kitchen with clean modern touches.
For added interest, add the bright rust colour to the lower cabinetry and keep the island in charcoal. Finish this modern country kitchen with leather handles and natural light wood cupboards and shelving.
4. Green on Green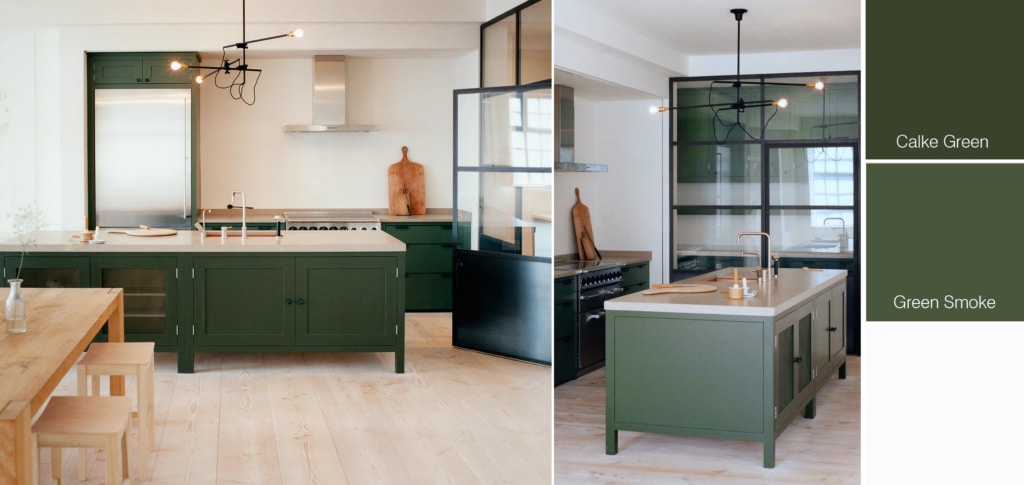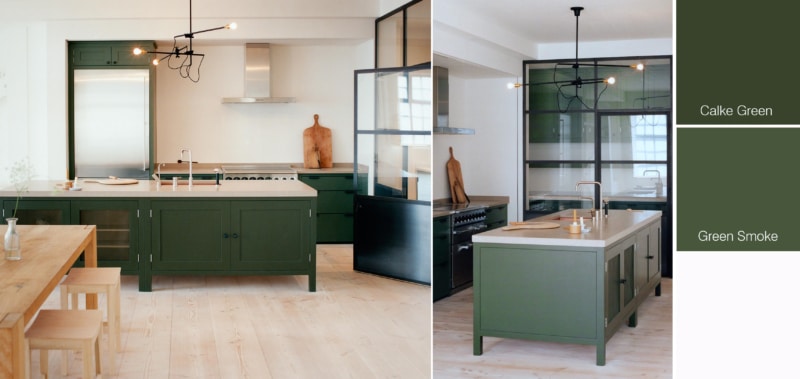 This refreshing palette is perfect for a modern open-plan kitchen. Interpreting the greening trend quite literally, this kitchen combines Calke Green and Bancha on cabinetry and the island.
Keeping all other finishes light and completing the look with industrial elements, this pared-back kitchen is simply striking.
5. Black and White with Brass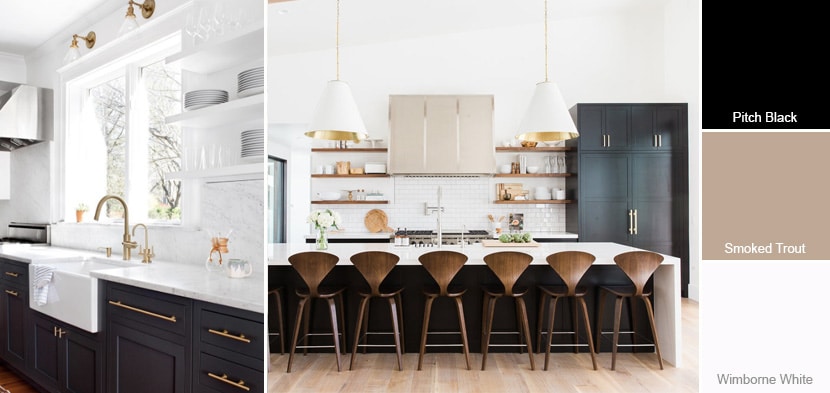 Keeping a kitchen light and airy is great for both family time and entertaining. But black has the ability to add unmatched depth and drama to your family kitchen. Pitch Black and subtle Smoked Trout combined with Wimborne White creates a clean and modern palette for your kitchen.
It's also not only the obvious spaces that lend themselves to being painted in an accent colour. The underside of an island is also a great canvas for adding black. Complete the look with a sophisticated touch in brass features like door handles, plumbing fixtures, and lights.
6. Blue and Yellow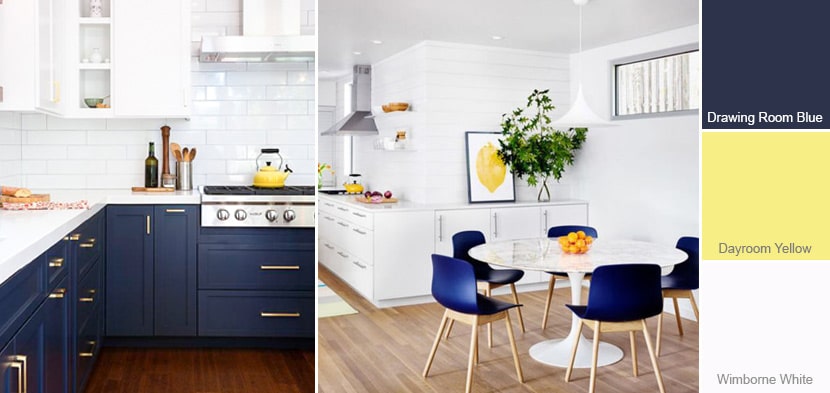 Blue is a colour that brings calmness and relaxation. Drawing Room Blue is a lovely deep shade that adds a naval touch to your kitchen. Apply it to a kitchen cabinet for dramatic effect and mirror the colour in kitchen seating.
The touches of Dayroom Yellow add vibrancy and excitement to the room, perfectly complementing the blue. Even when used in small amounts, yellow brings warmth and lightness to a deep blue kitchen.
7. White with Colour Pops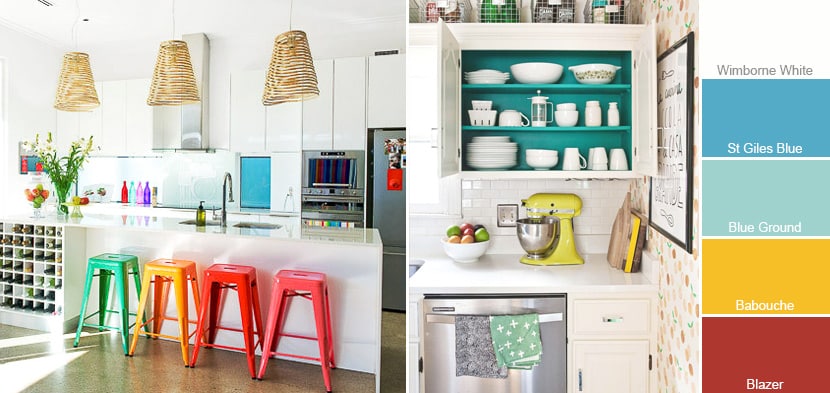 While some people might argue that white is the best Farrow and Ball colour for kitchen units, a little colour can go a long way in a kitchen. If coloured cabinetry is too big a commitment for you, consider having colour pops to add some brightness and personality to your kitchen.
Using pops of colour are a great way to add small touches of one (or numerous) colours. Introduce colour with items like furniture, small appliances, or a coat of paint in a small feature area.
Farrow and Ball paint colours can even be added on the inside of a kitchen cabinet to create an unexpected pop of colour when the doors are opened. St Giles Blue, Blue Ground, Babouch and Blazer are all great contenders!
The advantage of these colour pops is that they can be easily updated, allowing for a quick change with the seasons or trends.
8. Yellow and Grey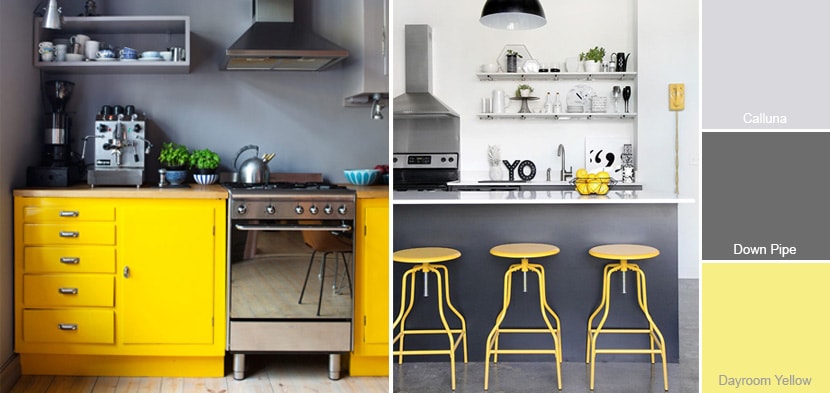 Different shades of grey like Calluna and Down Pipe work well as a neutral base when you want to explore Farrow and Ball kitchen colours in brighter hues. This is especially true of a wonderfully vibrant colour like Dayroom Yellow.
Use grey Farrow and Ball colour for kitchen walls, shelves and islands, complemented by silver appliances. Yellow can then be added as an accent by painting the kitchen cabinets or chairs and by using small yellow décor items.
9. Turquoise and Green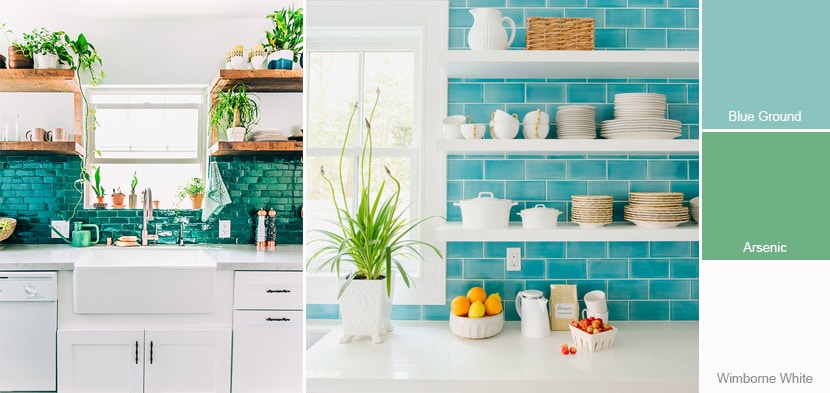 Turquoise and green make a bright pair reminding of seaside holidays and summer fun. These colours are also a great way to bring fun and life into a kitchen, whether through kitchen cabinets or accessories.
Bright tiles with natural greenery will create a kitchen where you feel uplifted and inspired. Farrow and Ball paint colours Blue Ground and Arsenic makes a fantastically fresh combination that can be used on walls and cabinetry, or as accent colours on shelving.
Plants are also a great way to purify the air, so why not create a small herb garden on the windowsill? You will have cleaner air as well as fresh herbs to cook with!
10. Pale Blue and Red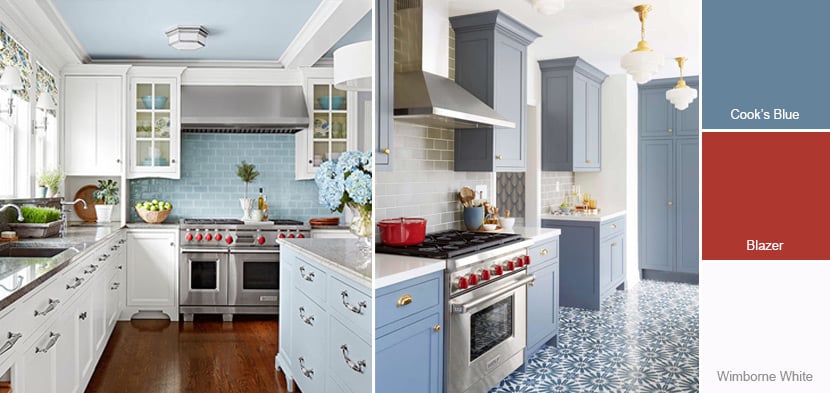 Farrow and Ball kitchen colour combinations have been known to push the envelope, and the pairing of Cook's Blue with Blazer accents is no exception!
Pale blue is very comforting and homely. It can be used successfully for kitchen cabinets, tiled backsplashes and even floors and ceilings. Adding a small pop of contrasting red creates a quirky and fun look. Red can be added using small accessories, cookware displayed on the stove or even in the dials of the stove itself.
Whichever colours you decide to use for your kitchen remember that it is a chance to reflect your own personality and style.
Book a Design Appointment
If you enjoyed our design ideas, subscribe for updates.
Get kitchens design ideas in your inbox.
Check out these posts for more Kitchen Design Ideas.
Most Popular
Dublin Kitchens: The 7 Latest Trends
The 12 Most Influential Kitchen Design Trends from the US
5 Tips for Designing Small Kitchens
6 Exciting Colour Palettes for Kitchens with Personality
6 of the Best Solutions for Corner Cupboards
10 of the Most Beautiful Kitchen Backsplashes
Types of Kitchens
In-Frame Kitchens – 5 Things You Should Know
What are Shaker Kitchens and Where are They From?
What Exactly are Hand Painted Kitchens?
The Top 10 Trends for Modern Kitchens
Design Ideas and Trends
5 Clever Ways to Increase Natural Kitchen Lighting
How Much Value Does a Fitted Kitchen Add to Your Home?
12 Must Have Celebrity Kitchens of the Rich and Famous
Families
10 Kitchen Design Tips for Families with Kids
6 Tips for a Kitchen for a Large Family
Cabinets, Doors, Kitchen Islands & Finishes
9 Essential Kitchen Cabinet Types