When deciding on a kitchen design, a colour palette is likely to be one of the first things you consider. Colour is important in terms of the feeling it gives to guests, as well as in expressing your personality.
When choosing a new colour palette it is important to consider if there are any permanent fixtures within the kitchen or the adjacent rooms that will contribute towards the colour palette, as it is important to create a unified look within areas of your home – especially when it comes to open-plan living.
Whether you're designing a full new kitchen or just adding a few new features, have a look at these 6 exciting colour palettes for kitchens with personality.
BTW, check out our Kitchen Design Ideas section if you need more design inspiration.
Black and White with Brass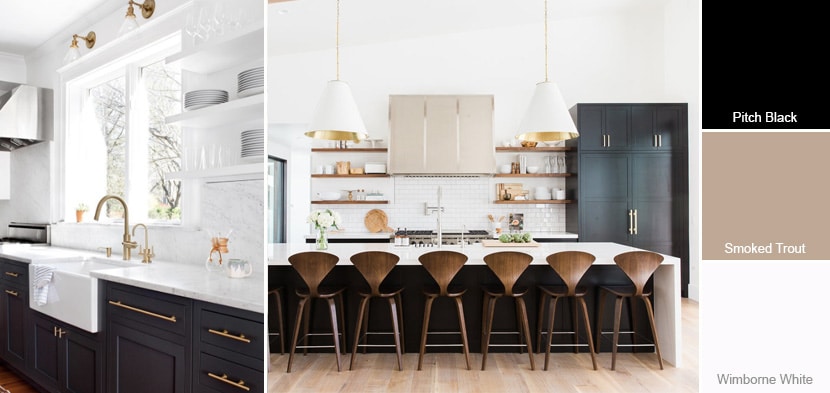 Elizabeth Lawson & Studio McGee
Keeping a kitchen light and airy is great for welcoming in guests and making the space feel larger than it is. In a well-lit space, this feeling can still be achieved even while incorporating some bold black statement pieces. Kitchen cabinets or the underside of an island table are a perfect canvas for adding in black. Brass features, such as door handles, plumbing fixtures, lights and kitchen utensils add sophistication and fun.
Blue and Yellow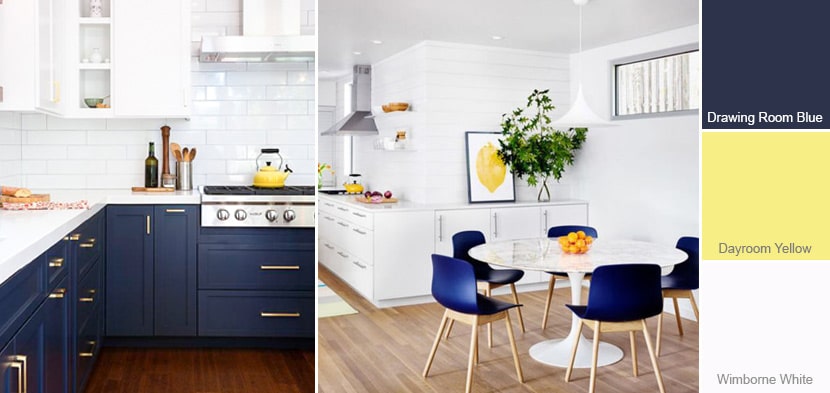 Making your Home Beautiful & Desire to Inspire
Blue is a colour that brings calmness and relaxation. This is especially important considering the amount of time spent in the kitchen after a long day. Blue can easily be added as a coat of paint on kitchen cabinets or used in seating. Yellow adds vibrancy and excitement to the room, perfectly complementing the blue. Even when used in small amounts, such as in an accent artwork, fruit bowl, tea towel or small appliance, yellow is effective at rounding off the look of the kitchen.
 White with Colour Pops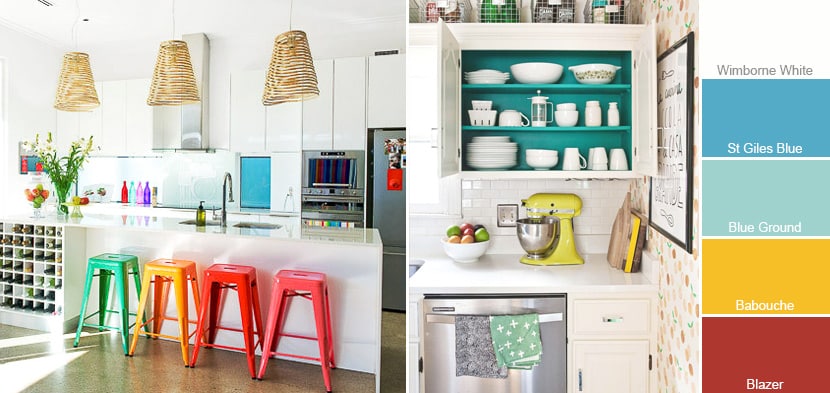 Jody D'Arcy & A Beautiful Mess
White is always a good base to start a kitchen with, again making the kitchen feel larger. However, adding colour adds in your own personality. Using pops of colour is a great way to add in small touches of one (or numerous) colours. These can often be done with accent pieces such as furniture, small appliances or a coat of paint in a small area, such as one cupboard. Colour even be added on the inside of a kitchen cabinet so that it is still white on the outside, but adds the pop of colour when the doors are opened. An advantage of these colour pops is that they can often be easily changed, allowing for a quick change with the seasons or trends.
Yellow and Grey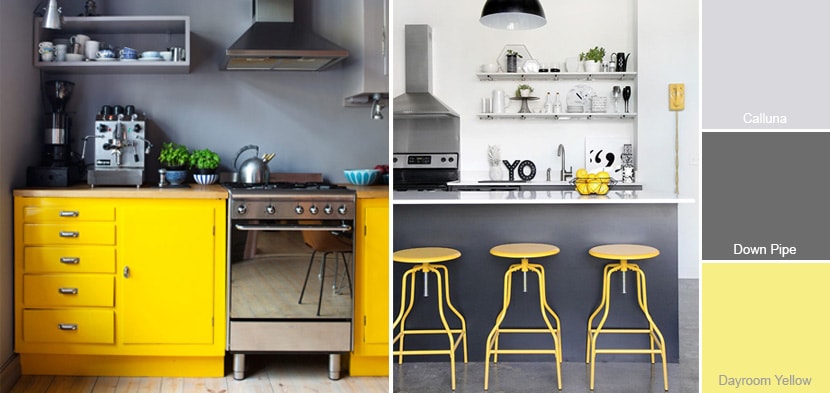 Grey works well as a neutral base to add a bright colour such as yellow, without it being overpowering. Grey can be easily used on the walls, shelves and islands; complemented by silver appliances. Yellow can then be added as accents by painting the kitchen cabinets or chairs and by using small yellow décor items.
Turquoise and Green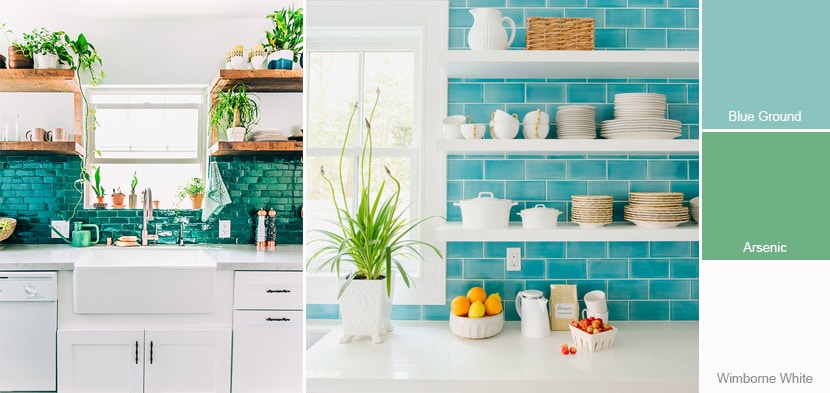 The Jungalow & House of Turquoise
Touches of turquoise are a great way to bring fun and life into a kitchen. A tiled backsplash is a perfect way to achieve this look. Paired with natural greenery for added life, growth and brightness your kitchen can become a place where you feel uplifted and inspired. Additionally, the plants can be used to help purify the air, bring fresh fragrances or be used as fresh herbs while cooking.
Pale Blue and Red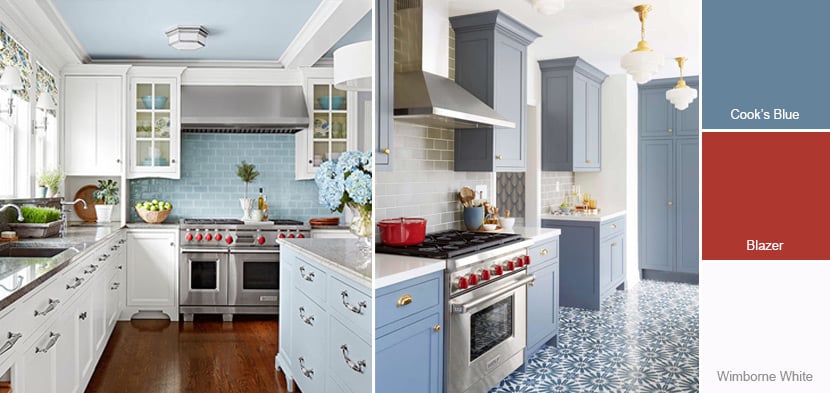 Style by Emily Henderson & BHG
Pale blue is very comforting and homely. It is well matched to being used for kitchen cabinets, tiled backsplashes and even floors and ceilings. Adding a small pop of colour, such as a rich red, adds some fun, keeping it fresh. Red can be added using small accesories, such as a lovely pot displayed on the stove or even in the dials of the stove itself.
Whichever colours you decide to use for your kitchen remember that it is a chance to reflect your own personality and style.
Book a Design Appointment
If you enjoyed our design ideas, subscribe for updates.
Get kitchens design ideas in your inbox.
Check out these posts for more Kitchen Design Ideas.
Most Popular
Dublin Kitchens: The 7 Latest Trends
The 12 Most Influential Kitchen Design Trends from the US
5 Tips for Designing Small Kitchens
6 Exciting Colour Palettes for Kitchens with Personality
6 of the Best Solutions for Corner Cupboards
10 of the Most Beautiful Kitchen Backsplashes
Types of Kitchens
In-Frame Kitchens – 5 Things You Should Know
What are Shaker Kitchens and Where are They From?
What Exactly are Hand Painted Kitchens?
The Top 10 Trends for Modern Kitchens
Design Ideas and Trends
5 Clever Ways to Increase Natural Kitchen Lighting
How Much Value Does a Fitted Kitchen Add to Your Home?
12 Must Have Celebrity Kitchens of the Rich and Famous
Families
10 Kitchen Design Tips for Families with Kids
6 Tips for a Kitchen for a Large Family
Cabinets, Doors, Kitchen Islands & Finishes
9 Essential Kitchen Cabinet Types
Get the Perfect Kitchen Finish for your Lifestyle!