Successful small kitchen design is space efficient and includes all the features that make a full-scale kitchen convenient: a seamless workflow, techy appliances, ample storage and layered lighting.
What you need for successful small kitchen design in a nutshell:
1. Space-efficient small kitchen floorplan
2. A bright or light wall colour
3. General, task and accent lighting
4. Frugal use of appliances
5. Multifunctional storage solutions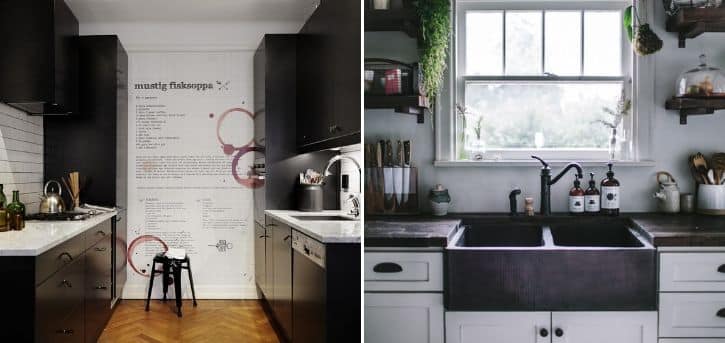 Fantastic Frank & Adventures in Cooking
Even the teeniest kitchen can become the hub of your dream home, all you need is a few small kitchen design tricks and tips. Making the most of a limited space involves prioritising, using space wisely and planning to avoid both physical and visual clutter.
Now that you have the basic framework of a small kitchen design needs let's get into the details. BTW, you can chat with one of our expert kitchen designers to find the kitchen that suits your home.
STEP 1: Get the Layout Right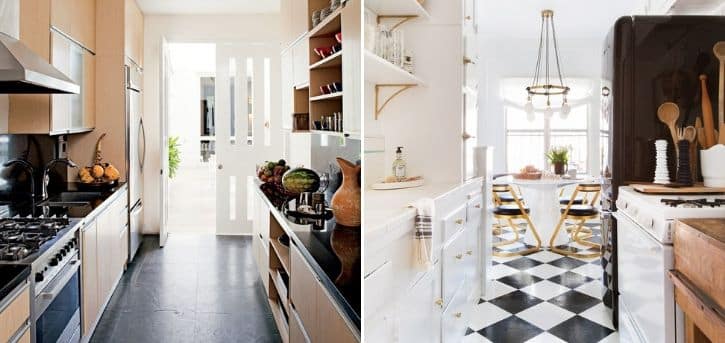 First thing first, decide on a small kitchen design layout. The aim is to work with the space you have, not fight against it. You might make structural changes, like removing a wall, to make more room. However, it's best to try and work within the existing structure as the walls house a network of wires and pipes that can cost time and money.
Often, light can make a compact space feel open and welcoming. So, instead of breaking down an entire wall, you can:
Create a gap for an entryway or small kitchen design pass through between load-bearing beams in an existing wall to provide openness. This kind of change can quickly transform a dark, pokey little kitchen into a spacious kitchen that opens to the living room area and can increase the value of your home.
Add natural light into your small kitchen design by replacing the back door with a glass door, or by installing a skylight.
But if this is not an option, or your budget won't allow for it, there are other small kitchen layout tips you can try to create a successful design. All you need to know is how to arrange and organize the small kitchen, and where to put the fridge.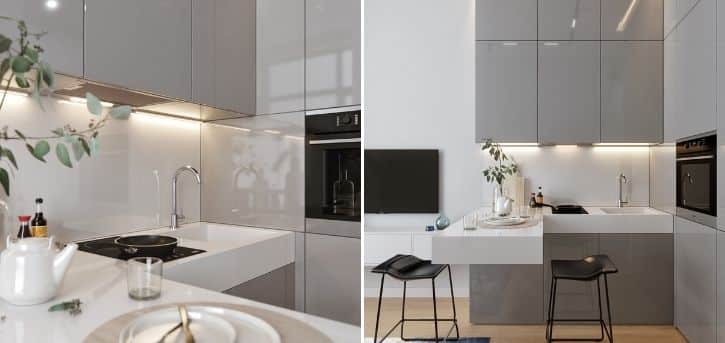 What is the Best Small Kitchen Layout?
Even a very small and narrow kitchen design can wow guests and be easy to use. But some kitchen layouts are far better suited to small spaces than others are. Here are the best small kitchen floor plans to incorporate in your home and a video that explains the different layouts.
Single wall kitchens – This kitchen layout aligns appliances, storage and workspace along a single wall, and uses very little of the surrounding areas. A small single wall kitchen uses space efficiently, and the design is well-suited to a room with three doorways but isn't ideal for heavy cooking.
L-shaped kitchens – If your small kitchen area is the corner of a larger room, an L-shape (also known as a 10×10 layout) or a U-shape design will give you a complete work triangle between the refrigerator, stove and sink. Here appliances and cabinets flow along two joining walls. One-wall small kitchen design with a jutting peninsula counter is ideal for a space-saving breakfast bar.
Galley kitchens – If your kitchen is very narrow, small galley-style design with counters and appliances on opposing walls works best. These types of kitchens offer fantastic efficiency in terms of the storage and workspace they provide. Pinterest is an excellent source of small galley kitchen ideas, so simply have a look for more inspiration.
Island kitchens – A single wall kitchen with an island creates a galley-type design that is appropriate for open-plan apartments, as they allow a second work surface (and potentially a small kitchen breakfast bar) without enclosing the area.
Pro tip: It's easy to overlook something as simple as an open cupboard preventing access to the fridge or dishwasher with a small L-shaped kitchen. Think about how certain areas can be used for different functions and see what areas can double up.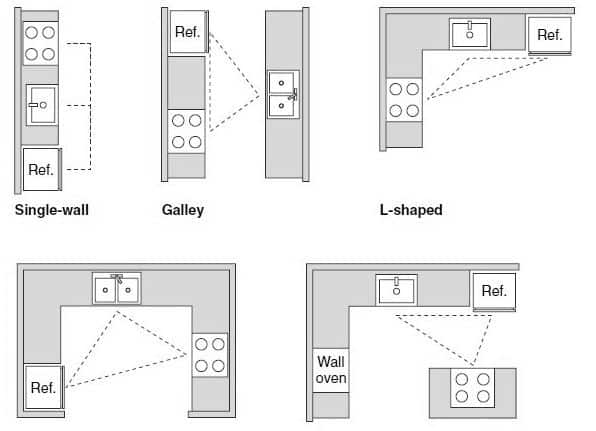 How to Design a Very Small Kitchen Layout?
When it comes to designing your small kitchen on your own, the floorplan is the most crucial step. So, try a few small kitchen design templates first before you knock down walls.
Start by measuring the area of your small kitchen.
Allow a walkway of at least 1m between the kitchen counters and 1,5m between kitchen surfaces and other living zones. More isle width might be necessary if you want to incorporate your dining area ideas into the small kitchen.
Ensure free traffic movement by placing the most used items, like a fridge, in an easily accessible area and out of the way of preparation and cooking stations.
If your space allows, use the golden work triangle (between the fridge, stove and sink) to create an efficient kitchen area.
STEP 2: Pick the Best Colour for Your Small Kitchen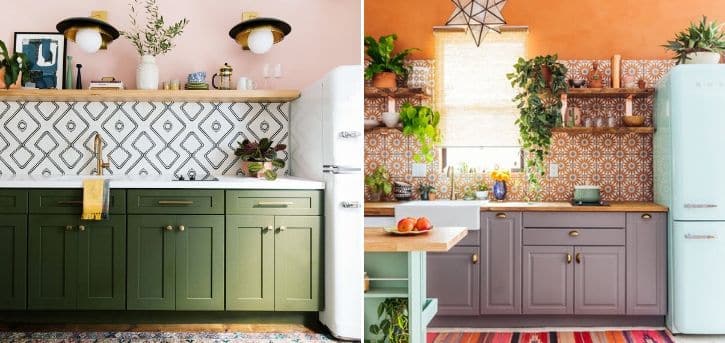 Old Brand New & Justina Blakeney
Popular small kitchen design ideas are characterised by being bright and light-filled. So, how do they do it? The key to recreating an airy atmosphere is colour. After using one of the many lively colour ideas on your small kitchen cabinets or walls, you can add LEDs to accent certain features.
But what colour is best for a small kitchen? The answer is simple: whites, bright pastels and lively greens or yellow.
A bold colour in the kitchen can brighten the area and turn it into a feature room. Plus, you can use reflective surfaces to bounce even more light and colour into the space.
It's not all about the colour, the paint finish matters too. Choose a paint that is heat, water and stain resistant with an eggshell finish. This finish has a slight shimmer that will reflect light, and make a room seem airier and roomier than it is.
Check out the editorial director of House & Home's kitchen reveal
STEP 3: Make the Most of Your Light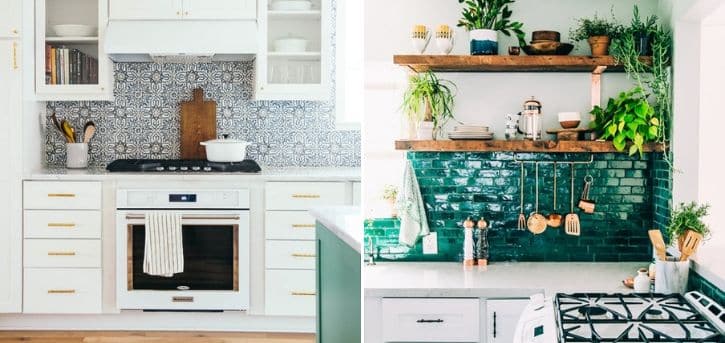 Keller Interiors & Justina Blakeney
Without enough light, even the best kitchen colour will go to waste. Make sure to incorporate the three kitchen light essentials: accent, task and general lighting.
Use recessed ceiling lights for general lighting. These round LED lights are compact, and you need only two to three for kitchen design in a tiny space.
Under-cabinet lights are best for task lighting. Shine a light on your work area and make the room feel professionally designed with power-efficient LED light strips.
A pendant light as accent lighting creates a focal above an island or in a galley kitchen.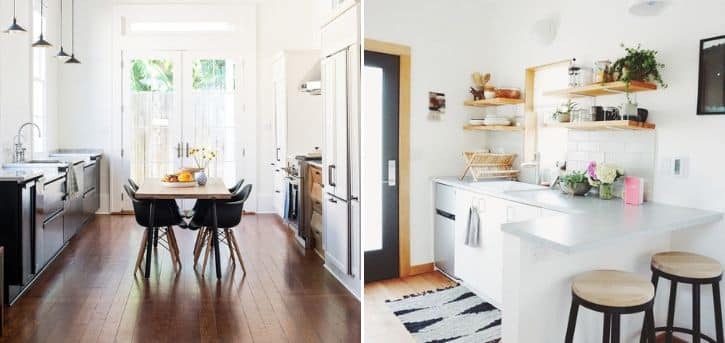 Keller Interiors & Magic Dream Life
Don't forget natural light! You can install a skylight in a, particularly dark kitchen. Go beyond lighting by removing clutter from your window and using glossy surfaces to bounce the light around the room.
Textured wallpaper and carpets absorb the light, so stick to shiny tiling and glossy kitchen cabinets. Adding mirrored surfaces in the right places can also help to create the illusion of space and project light further into the room.
Pro Tip: Use accent lighting to highlight features on shelves that will also make the ceiling seem higher. Again, complementing glossy surfaces with accent light will enhance the impact.
STEP 4: Choose Your Kitchen Accessories Wisely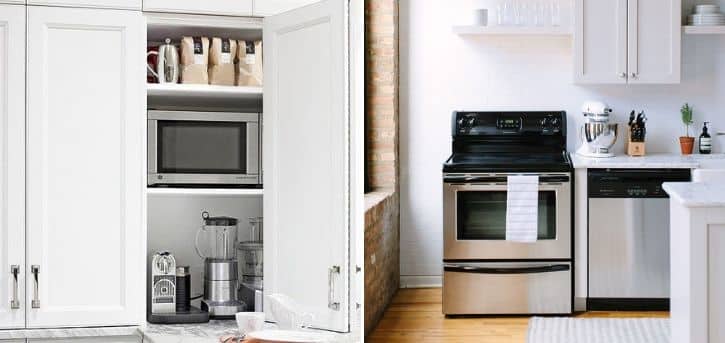 Appliances take up space. When it comes to adding functionality into the kitchen, you need to pick the essentials first. Check out our handy kitchen appliance guide to help you choose the best for your space.
So, what are the best small kitchen appliances, and which should you choose?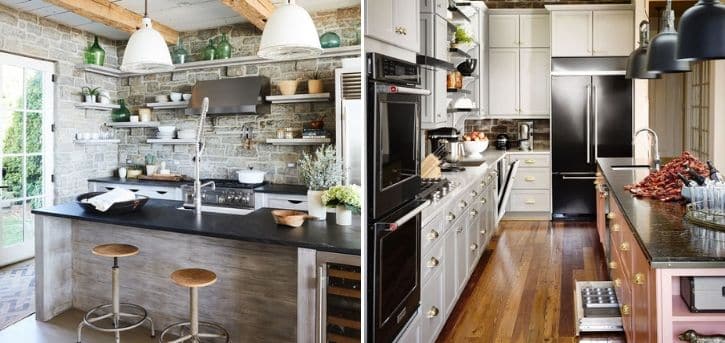 Nicole Franzen & House Beautiful
Approach organising the small kitchen appliances systematically. Pick your non-negotiable devices first, then move on to items that your tiny kitchen design might not need, like a corner sink and washing machine. Follow the tips below to save space in your kitchen:
Keep the non-negotiables: fridge, cooker and a sink
Evaluate your specific kitchen-needs and be realistic about what your kitchen can accommodate
Leave the items that you don't regularly use, like bulky blenders
Consider a half-sized dishwasher, or no dishwasher if you don't cook anything substantial or host dinner parties regularly
Choose a slim fridge instead of a full-sized one
Pick a single or 1.5 sink bowl that can accommodate drain or chopping boards.
In summary, shop around and look for more compact models to make more space. Even if you already have a cooker, if you're spending money on refitting an entire kitchen, a bit extra to replace your existing model with something more compact may be worth the expense.
See how designer, Scott McGillivray fit a full-size cooking range into a small single wall kitchen
STEP 5: Space Saving Kitchen Design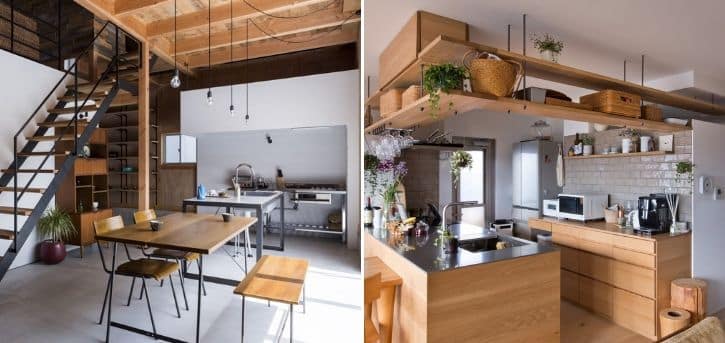 Using smart storage ideas in your small kitchen is one way how you can maximise the space without a significant renovation.
First, get rid of clutter
Clutter is the enemy in small kitchens. Worktops with random bits and pieces on them make the area feel crowded and claustrophobic. So, incorporate plenty of storage space instead. Only essential, regularly-used items should be out on your work surfaces – the rest of it needs to find a home.
Second, go up
If you're lucky enough to have a high ceiling, make the most of your wall space by using high kitchen cabinets that extend to the roof. Also, add extra shelves wherever possible; if your washing machine is smaller than your worktop height, fit a shelf in just above it – the same goes for the cooker, fridge etc.
Third, amp up the angles
Use the odd angles in a smaller kitchen. For instance, can you angle a sink into a corner, or can you install angled corner pantries? Deep corners may well be wasted space otherwise.
Fourth, revise the breakfast bar
If you're adding a breakfast bar or nook into your tiny kitchen design, could shallow shelves or drawers sit comfortably underneath the countertop? Solutions, like under bar shelving, provide a great deal of storage space without affecting the space in the room.
Fifth, add free-standing units
Don't forget you can complement your kitchen cabinets with some free-standing drawer units, but we have one great tip for you: use units which stand on longer legs because if you can see the floor underneath, it will make the floor space – and therefore the room – feel bigger.
How to Make a Small Kitchen Look Bigger and Better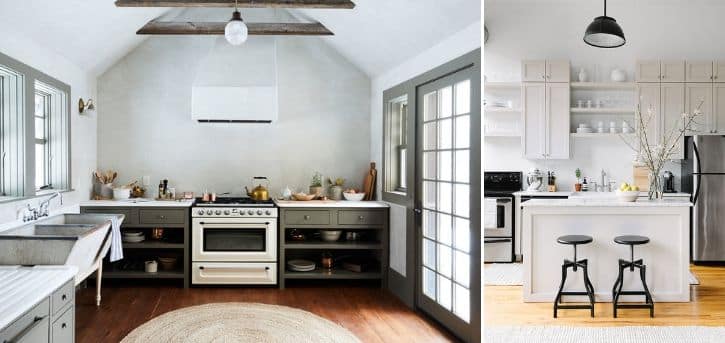 Nicole Franzen & The Everygirl
When it comes to moving into a home or apartment with an existing tiny kitchen, chances are it's outdated or doesn't efficiently use the space provided. How you decorate your small kitchen has an impact on the perceived size. Luckily, our small kitchen design updating tips and ideas will help you achieve your happy-home goal, even when you're on a budget.
Use layered Light – accent, task and ambient.
Add a light-reflecting tile backsplash to your small kitchen.
Remove clutter from the countertops and those blocking light in front of the window.
Paint the walls in a bright and light-reflective colour.
Implement clever storage ideas.
Add a large mirror on the opposite end of the kitchen.
Check out the tour of blogger, Autumn Hachey's DIY kitchen renovation
Remodelling a Small Kitchen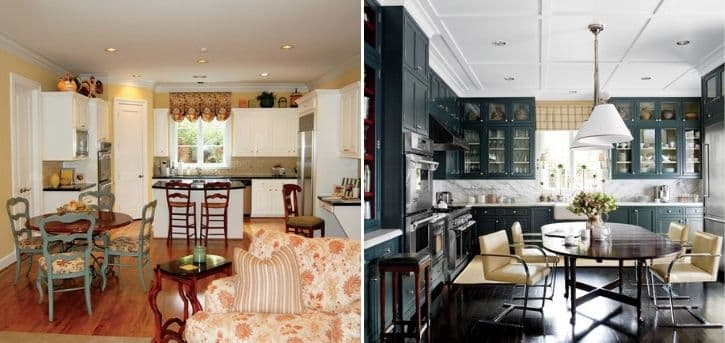 Small kitchen before and after by Architectural Digest
The surest way to improve your cramped kitchen is with a renovation. You can remodel a small kitchen and find a way to make it bigger with the help of a contractor. If you work with a professional kitchen designer and tell them what type of kitchen you'd prefer, they will be able to create a new design specifically for your space.
What does a Small Kitchen Remodel Cost?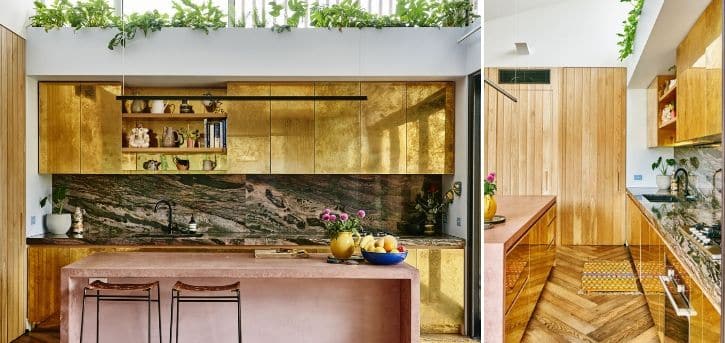 Apartment Therapy
One question sure to come up is how much does a small kitchen remodel cost. What the final price is, depends on whether you need a small kitchen extension or a full-scale renovation.
First, set up a budget before you delve into small kitchen design ideas. Can you afford a quick update or a full-scale renovation? Repainting and installing new countertops will be cost-effective, while changing the layout will demand a bigger cut. Have a look at small kitchen remodel before and after images for inspiration and get quotes from trusted kitchen designers to calculate your expenses.
Your kitchen might be little but it doesn't have to be limited. Contact our team today for expert advice, assistance, and design to get the dream kitchen you deserve.
Book a Design Appointment
If you enjoyed our design ideas, subscribe for updates.
Get kitchens design ideas in your inbox.
Check out these posts for more Kitchen Design Ideas.
Most Popular
Dublin Kitchens: The 7 Latest Trends
The 12 Most Influential Kitchen Design Trends from the US
5 Tips for Designing Small Kitchens
6 Exciting Colour Palettes for Kitchens with Personality
6 of the Best Solutions for Corner Cupboards
10 of the Most Beautiful Kitchen Backsplashes
Types of Kitchens
In-Frame Kitchens – 5 Things You Should Know
What are Shaker Kitchens and Where are They From?
What Exactly are Hand Painted Kitchens?
The Top 10 Trends for Modern Kitchens
Design Ideas and Trends
5 Clever Ways to Increase Natural Kitchen Lighting
How Much Value Does a Fitted Kitchen Add to Your Home?
12 Must Have Celebrity Kitchens of the Rich and Famous
Families
10 Kitchen Design Tips for Families with Kids
6 Tips for a Kitchen for a Large Family
Cabinets, Doors, Kitchen Islands & Finishes
9 Essential Kitchen Cabinet Types