Sometimes, kitchen clutter can take on a life of its own. Practical and efficient storage is an essential, but often overlooked part of a functional home. Luckily, a sticky storage situation can be remedied with a little planning and some help from Häfele! Whether you want to update your existing kitchen or are planning to ensure sufficient storage before you move into a new home, we are here to help. Here is our list of ten super storage solutions to fit any home.
BTW, check out our Kitchen Design Ideas section if you need more design inspiration.
1) Pull-Out Pantry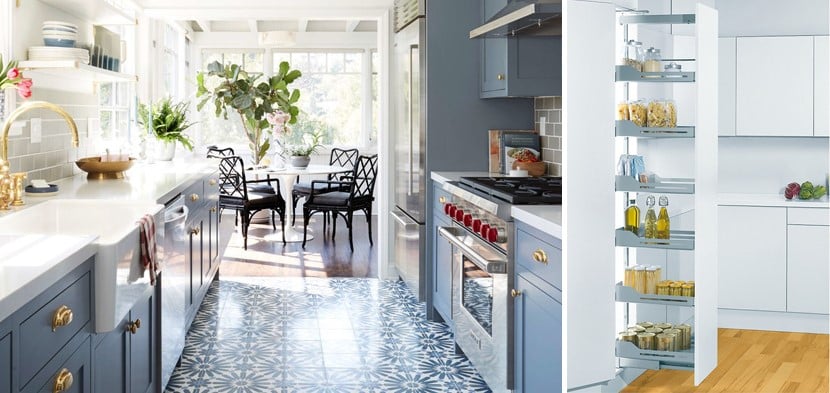 Home Depot & Nicole Franzen Haefele
Shelving is nice to have, but shelving that doubles as a pantry or spice rack is magical. Save space by choosing vertical and narrow pull-outs for spices, condiments and utensils. Where there is enough space to ad height, go for it. A vertical pantry pull-out can be modified to suit your kitchen's specific dimensions. Even the smallest area of kitchen cabinetry can be converted into an innovative pull-out rack.
2) Carousel Shelving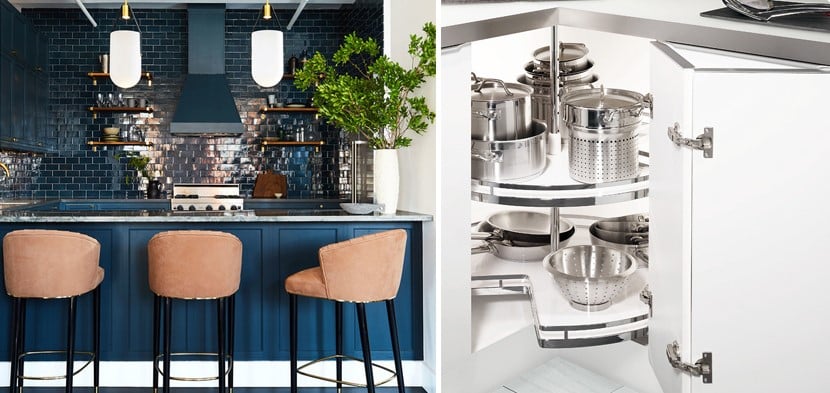 Kitchen corner cabinets are often plagued with inconvenience. These dark nooks are difficult to reach and nearly impossible to keep tidy and clean. Make your life easier by installing a half circle carousel or a 3/4 carousel shelving unit. These shelves fit corner cupboards perfectly and rotate on a spindle. So, when you open the cabinet, you can rotate the carousel to reach previously unreachable items. If you're not particularly fond of carousel fittings, a pivoting extension unit is a beautiful contemporary option.
3) Foldable Furniture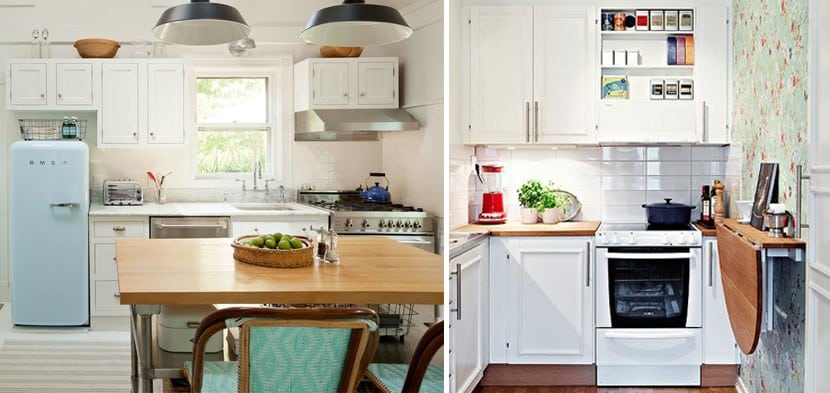 Small spaces have to work extra hard to accommodate everything needed in the kitchen. Add legroom to your kitchen by opting for foldaway furniture. The breakfast table can become a fold-up counter attached to the wall and swivel barstools can be fixed to the side of the kitchen island. These adjustments may not directly affect the storage issue, but they will surely free up some much-needed space.
4) Beautiful Bins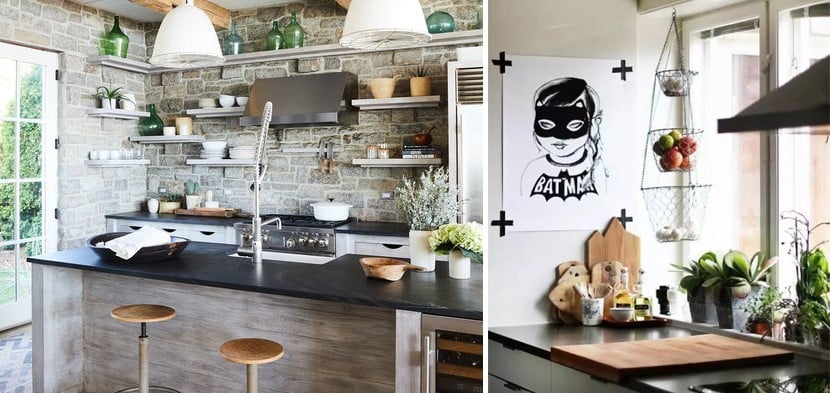 A freestanding waste bin can become a source of annoyance and agitation in the kitchen. Bins can quickly transform into something unsightly, smelly, and unhygienic. Opt for a neater version by installing a built-in waste bin in a lower cabinet. Built-in bins also make for an attractive recycling station which won't take up a lot of room. Or, choose a countertop bin where the lid of the bin is installed in the countertop.
5) Optional Organisers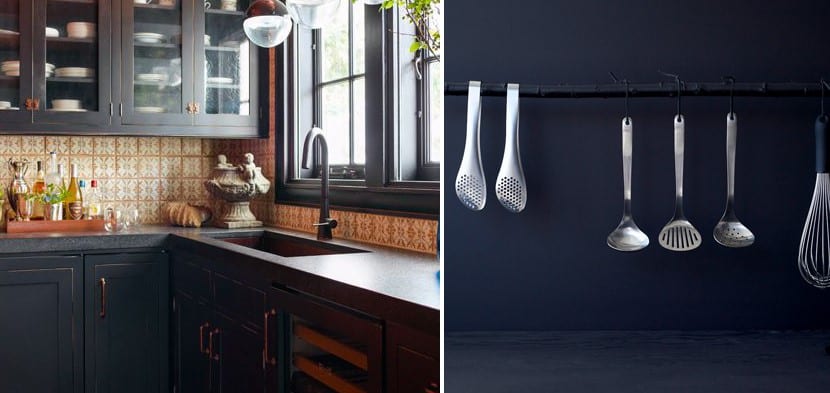 If you have ever opened the broom closet just to be greeted by a falling mop or broom, it is time to consider an upgrade! Brooms, mops and whatever else is hiding in the obscure kitchen corner doesn't have to be in shambles. Install broom holders to keep cleaning tools in place until you need it.
6) Storage High Up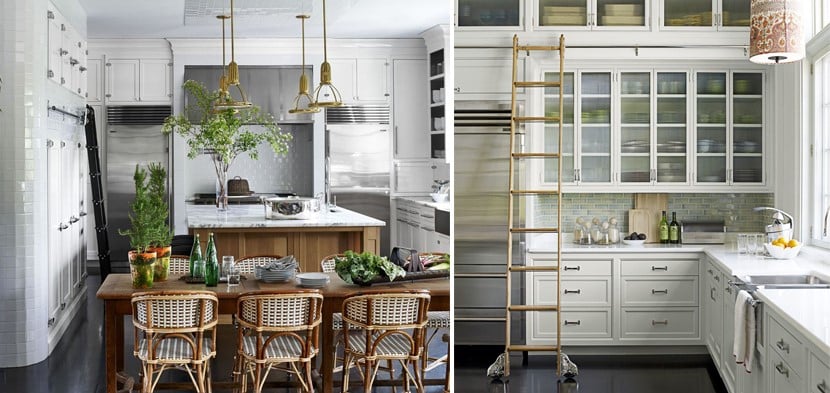 Think Up by installing extra cabinets, open shelving or using the existing cabinets as shelves above the fridge or sink. Use pretty storage boxes for smaller items and remember to stow away lesser-used items high-up to avoid clambering around excessively. You will need a step ladder to reach the top shelf, so be sure to store the ladder neatly too. You can hang a small ladder from brackets on the side of cabinets, or slide larger ladders in next to the fridge.
7) Doors and Pegboards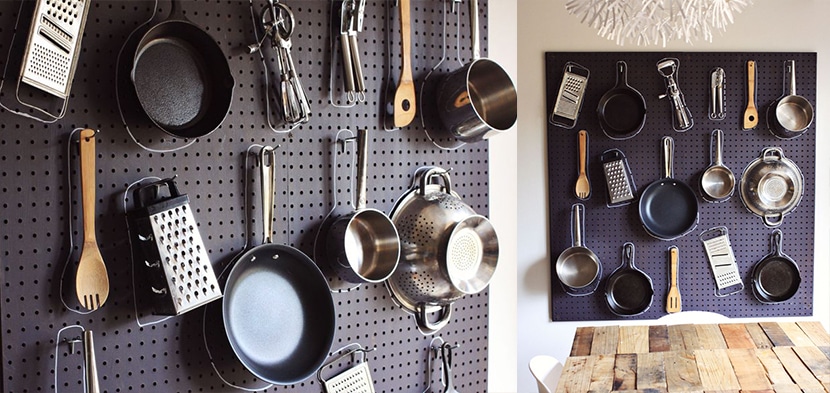 Did you know that you are not obligated to store kitchenware in the cupboard and utensils in a drawer? Replace cluttered drawers with a pegboard or panelled door fixed to, or just leaning on a wall. Use hooks to hang cookware, dishcloths and pans. Add wire baskets to hold smaller items like cutlery. Now your drawers will be free to use for plates, bowls and serving platters.
8) Open Shelving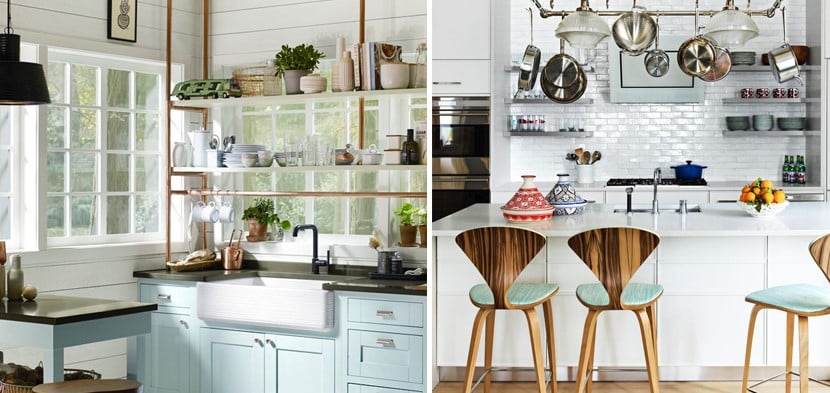 Open shelves have become a must in many contemporary homes. The appeal of this minimal trend is rooted in simplicity. But once your home has open shelves, you will understand that you have to keep them tidy, every day. An open-shelved-kitchen is a lifestyle choice. You will soon realise what is essential to your kitchen and what isn't. Strengthen shelves with a sturdy shelf support and decorate them with fresh greenery.
9) Go Vertical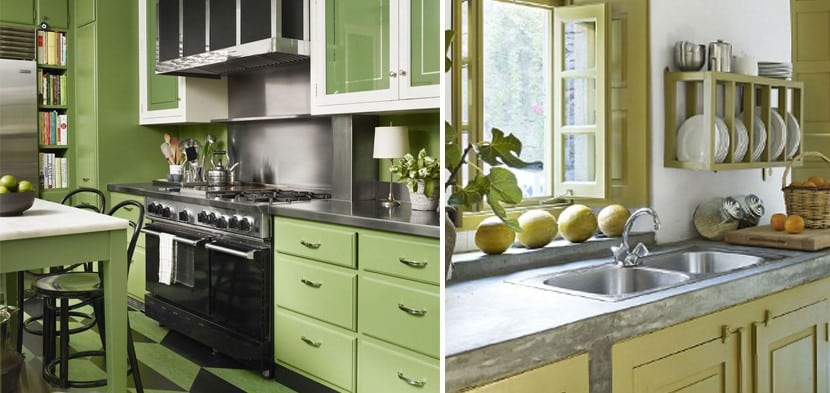 Incorporate vertical storage racks that are ideal for large flat items like plates and cutting boards. Horizontal storage takes up more ground than vertical storage and is not optimal for flat objects. Add farmhouse flair to your kitchen with a vertical plate rack with dowel partitions.
10) Think Alternative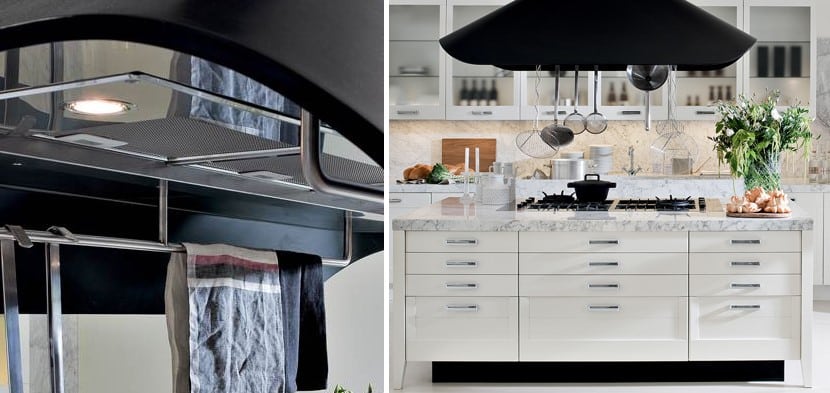 Your home is your playground to change and adjust to suit your lifestyle. So, be brave and try new things that you are excited about. If you want to hang your mugs from copper pipes or metal rods, then do that! And don't forget to look up; the ceiling is a 5th surface that can be a great platform for pot hangers and suspended shelves.
For assistance in all aspects of your kitchen including cabinet and storage layout and design, speak to one of our friendly consultants.
Book a Design Appointment
If you enjoyed our design ideas, subscribe for updates.
Get kitchens design ideas in your inbox.
Check out these posts for more Kitchen Design Ideas.
Most Popular
Dublin Kitchens: The 7 Latest Trends
The 12 Most Influential Kitchen Design Trends from the US
5 Tips for Designing Small Kitchens
6 Exciting Colour Palettes for Kitchens with Personality
6 of the Best Solutions for Corner Cupboards
10 of the Most Beautiful Kitchen Backsplashes
Types of Kitchens
In-Frame Kitchens – 5 Things You Should Know
What are Shaker Kitchens and Where are They From?
What Exactly are Hand Painted Kitchens?
The Top 10 Trends for Modern Kitchens
Design Ideas and Trends
5 Clever Ways to Increase Natural Kitchen Lighting
How Much Value Does a Fitted Kitchen Add to Your Home?
12 Must Have Celebrity Kitchens of the Rich and Famous
Families
10 Kitchen Design Tips for Families with Kids
6 Tips for a Kitchen for a Large Family
Cabinets, Doors, Kitchen Islands & Finishes
9 Essential Kitchen Cabinet Types