One kitchen cabinet style that has stood the test of time is the Shaker Kitchen. These understated cabinets modestly conceal their excellent design and craftsmanship. Because of its naive simplicity, you can find Shaker style in modern, traditional, high-end and budget kitchens alike. Its inception is a story of honesty of materials, traditional joinery, and good intentions.
The United Society of Believers in Christ's Second Appearance, commonly known as the Shakers, was a religious sect founded in England in 1783. The group fled to the Americas after religious persecution.
They built their faith on equality of the sexes and races, pacifism and communal ownership of property. They also practised celibacy, and it was this abstinence that led to the ultimate demise of the group's numbers. There are only two members of the group remaining today in Sabbathday Lake Shaker Village, Maine.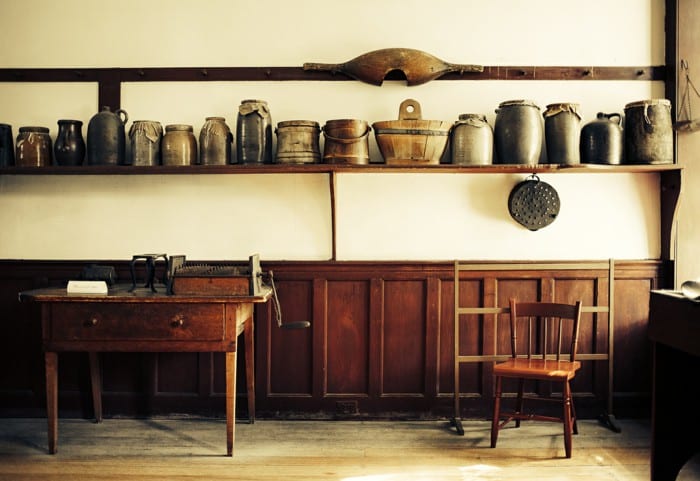 The Shakers believed that it was a form of meditative prayer when you created something with intention. They also believed that unnecessary adornment was self-indulgent and therefore a sin.
This resulted in an architectural and design style that was without decorations but with incredibly beautiful joinery details and precision. The items were minimalist and were made exclusively for their intended purpose, with beauty rests in utility being an important guideline.
This practical outlook allowed the Shakers to invent a few things that we are still finding very useful today: the spring-loaded clothes-peg and flat-faced broom being a couple of great examples.
Another Shaker invention that is still popular today is the peg rail: a piece of wood with pegs that was installed around the perimeter of a room to allow for clothes, cloths and light furniture items to be hung out of the way.
The Shakers often wanted to move their furniture out of the way for other activities like dancing. For this reason, they preferred light-weight furniture, making tapered and turned legs a characteristic of the style.
BTW, check out our Kitchen Design Ideas section if you need more design inspiration.
Shaker Cabinetry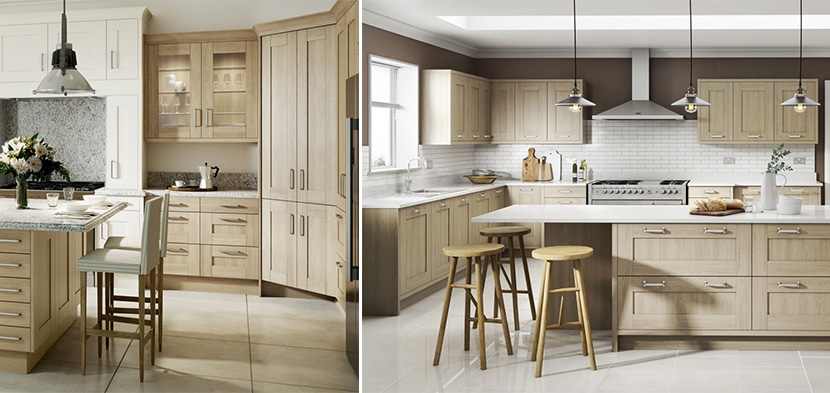 The Shakers traditionally used cheaper woods like fruit tree or pine to make their furniture, resulting in the quintessential light-wood look of the style.
The cabinet fronts are without adornment, consisting only of the four wide frame pieces with a flat panel in the middle. The frame is constructed with traditional dovetail joins that hark back to its humble origins. While the original kitchen doors would have been treated with oil only to retain its natural look, modern Shaker kitchens are also painted.
Metal pulls would have attracted too much attention and be seen as elaborate, so the pulls and handles of cabinets were made from the same wood species as the rest of the item.
Finishing your Shaker Kitchen
The simple lines of the cabinetry mean that it can easily compliment any style of kitchen. Here are some ideas for finishing your Shaker-style kitchen.
Add Some Deep Colour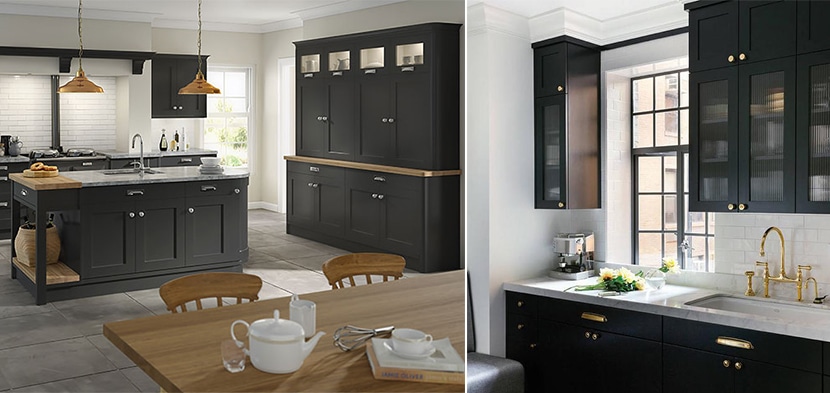 Aztec Kitchens & Best & Company
While traditionally a Shaker kitchen was unpainted, you can bring your kitchen into the 21st century with some deep, bold colour. Finish your cabinets in black, navy or chocolate brown for a dramatic and modern room. Add some warmth and contrast with light wood, wicker, and brass.
Keep Things Natural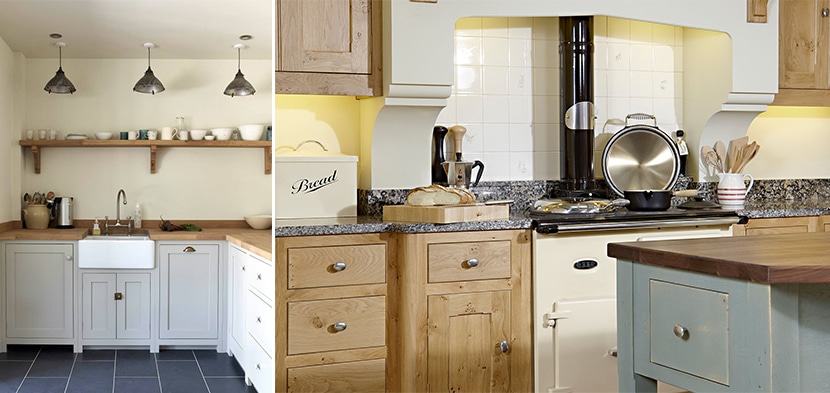 Modern Country Style & Period Living
Honour the original principles of the style by keeping your cabinets in natural wood like maple, pine, cherry or walnut. If you prefer painted cabinets, then choose solid wood tops for a beautiful country-style kitchen.
Minimalist & Modern
Even though it's a very traditional style, Shaker cabinets are equally at home in a modern kitchen. Wrap-around solid surface countertops are a sleek way to add a modern touch to your kitchen. You can also paint the upper cabinets in a different shade to contrast with lower cabinets for a contemporary two-tone look.
Styling Tips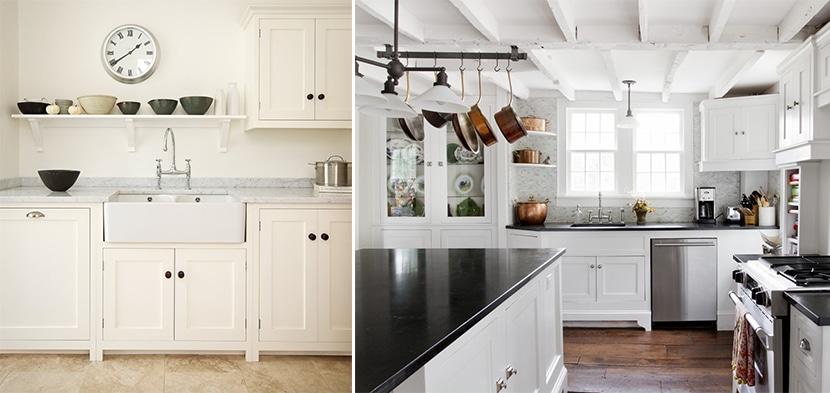 Devol Kitchens & Cleveland.com
Open shelving with both useful and decorative items on display is a great way to add some interest and colour to your kitchen. Choose items in natural materials like ceramics and copper to compliment the style. A utilitarian butcher's rack is another great way to display often-used items.
We'd love to help you create your Shaker kitchen. Contact our consultants or visit one of our showrooms to chat with us about your perfect kitchen.
Book a Design Appointment
If you enjoyed our design ideas, subscribe for updates.
Get kitchens design ideas in your inbox.
Check out these posts for more Kitchen Design Ideas.
Most Popular
Dublin Kitchens: The 7 Latest Trends
The 12 Most Influential Kitchen Design Trends from the US
5 Tips for Designing Small Kitchens
6 Exciting Colour Palettes for Kitchens with Personality
6 of the Best Solutions for Corner Cupboards
10 of the Most Beautiful Kitchen Backsplashes
Types of Kitchens
In-Frame Kitchens – 5 Things You Should Know
What are Shaker Kitchens and Where are They From?
What Exactly are Hand Painted Kitchens?
The Top 10 Trends for Modern Kitchens
Design Ideas and Trends
5 Clever Ways to Increase Natural Kitchen Lighting
How Much Value Does a Fitted Kitchen Add to Your Home?
12 Must Have Celebrity Kitchens of the Rich and Famous
Families
10 Kitchen Design Tips for Families with Kids
6 Tips for a Kitchen for a Large Family
Cabinets, Doors, Kitchen Islands & Finishes
9 Essential Kitchen Cabinet Types
Get the Perfect Kitchen Finish for your Lifestyle!