What is a Shaker Kitchen Style?
A Shaker Kitchen is a kitchen style that is distinctly minimal with a clean-lined design that has little or no decoration.
Shaker Style Kitchens
have simple lines
are understated
have timeless elegance
are specifically unadorned
focus on practical design
showcase exquisite craftsmanship
Shaker Kitchen cabinet doors consist of a recessed panel and a four-piece wood frame. Most of these kitchen cabinets are constructed from wood and dovetail joints.
The original Shaker Kitchens were modest due to the Shaker's religious views. The group had a need to create furniture from bare essentials and without embellishments. Because of its simplicity, you can find a Shaker style kitchen in modern, traditional, high-end, and budget homes alike.
A Lesson in History: What is a Shaker Kitchen?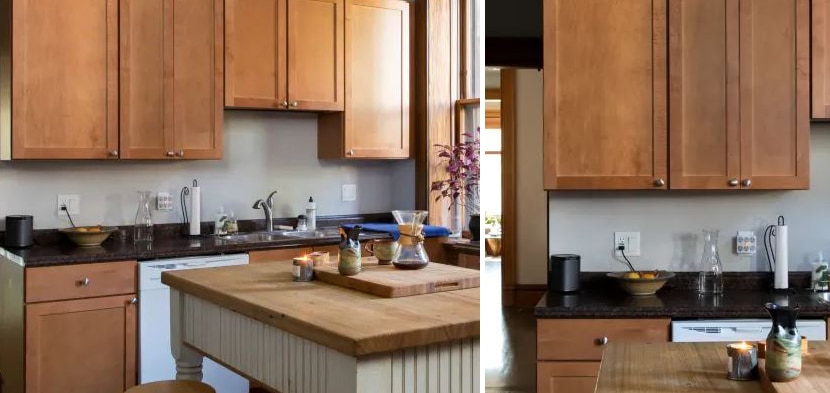 Who are the Shakers?
The Shakers, officially The United Society of Believers in Christ's Second Appearance, is a religious sect founded in England circa 1747. With a strong belief in social equality, they emigrated to the revolutionary new world in the 1780's and settled in New York state. The Shakers' name comes from "Shaking Quakers", which is what they were called because of their ecstatic behaviour during worship.
They believed in a utopian society with men and women taking on equal roles. They are also known for their very simple lifestyle, technological innovation, furniture design, music and architecture. However, Shakers also practised celibacy which significantly shrunk their numbers. Since members cannot be born into the group and have to join from the outside, only three members remain today in Sabbathday Lake Shaker Village, Maine. (Source)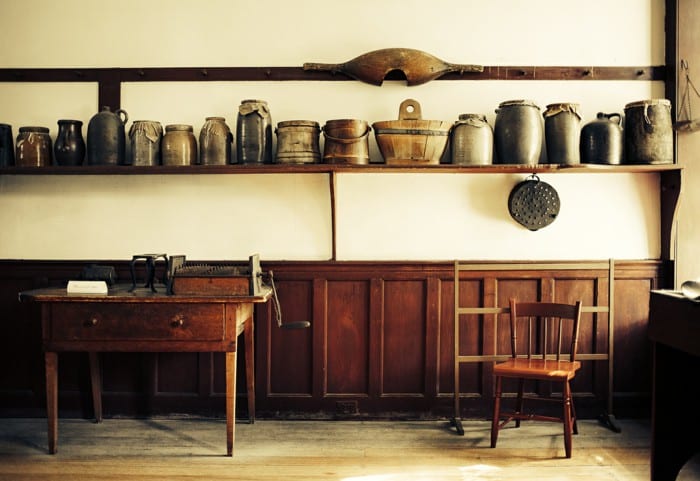 To the Shakers, to create something with intention was a form of meditative prayer. Consequently, crafters kept to the principle that beauty rests in utility and avoided unnecessary adornment that was believed to be too self-indulgent.
However, since they liked to dance, they preferred and made lightweight Shaker furniture that was easy to move around. That's why tapered and turned legs, in particular, are characteristic of the style.
The Shaker Style
Their focus on practicality allowed the Shakers to invent things that we still find useful today: the spring-loaded clothes peg, peg rail and flat-faced broom are great examples.
Watch this video from Ask the Decorator for more information on Shaker style and where it came from.
Can a Shaker Kitchen be Modern?
While Shaker style is without decoration, it has exquisitely detailed joinery and precision. Furniture items are minimalist and made exclusively for their intended purpose. For this reason, Shaker kitchens are sleek yet unassuming.
The simple lines of the cabinetry mean they can easily be incorporated into a modern Shaker style kitchen. These definitive guides on Kitchen Design Ideas will help you plan your kitchen, whether modern, traditional or Shaker!
Shaker Kitchen Basics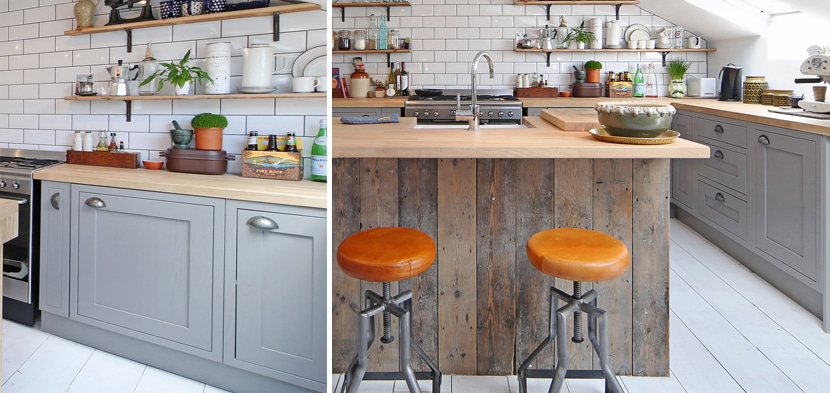 Now that we've covered the history, let's look at Shaker kitchen cabinet doors and Shaker style kitchen units. Design trends keep turning to sleeker, simplified kitchens which are making Shaker kitchen design ever more popular. Here are the basic characteristics of a traditional Shaker kitchen.
The Look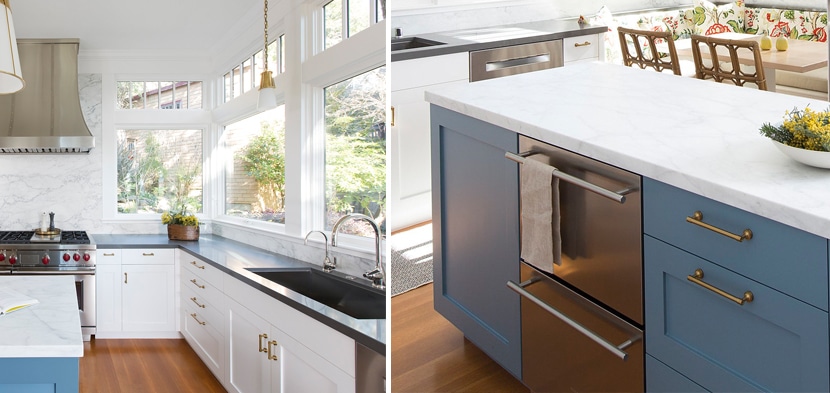 Traditionally, Shaker kitchens were made from the best but least expensive wood available. Fruit trees or pine were often used in Shaker furniture, resulting in the quintessential light-wood look. However, modern Shaker cabinet kitchen designs can make use of mixed materials and almost any available wood type.
Shaker Style Kitchen Cabinets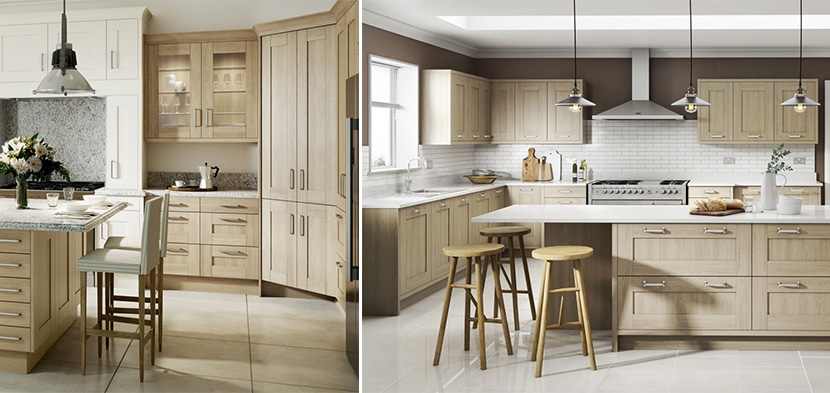 Shaker style kitchen doors are without decoration, consisting of a wide frame with a flat panel. The frame is constructed with traditional dovetail joints that hark back to its humble origins. While the original kitchen doors would have been treated with oil only to retain their natural look, modern Shaker kitchen cabinets are also stained or painted.
Painted Shaker style kitchen cabinets are a great option if you want a solid colour kitchen. And if you prefer wood, unfinished Shaker kitchen cabinets can be contemporary or traditional to suit any style.
Shaker Hardware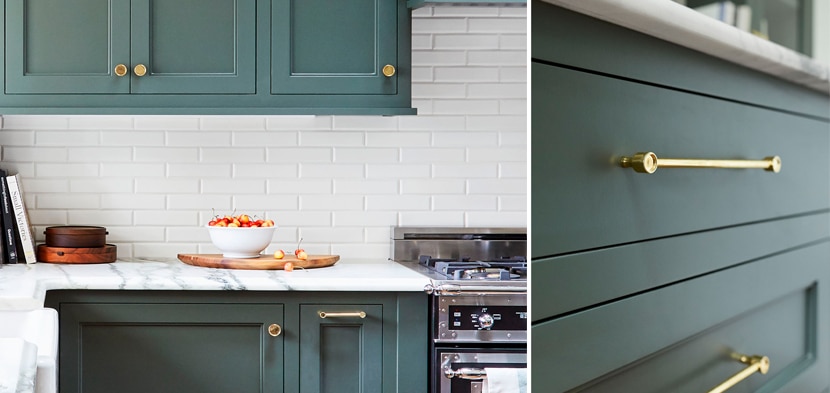 The pulls and handles of Shaker kitchen drawers and cabinets were traditionally made from matching wood because metal versions were seen as too elaborate. To mimic the original look of a Shaker style kitchen cabinet design, stick with minimal and humble pulls. But the cabinetry works equally well with polished metal finishes if you want to add some personality to them.
Finishing your Shaker Kitchen
The simple lines of the cabinetry mean that it can easily complement any style of kitchen. Here are some ideas for finishing your Shaker-style kitchen.
Add Deep Colour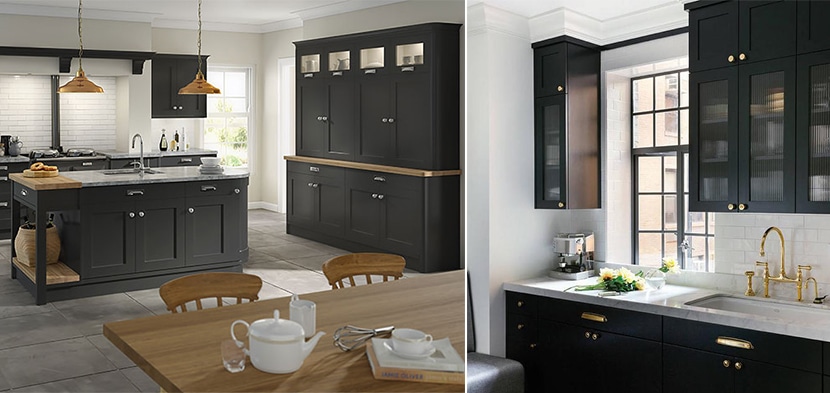 While a traditional Shaker kitchen was unpainted, you can bring your kitchen into the 21st century by finishing it in some deep, bold colours. Finish your cabinets in black or navy for a dramatic kitchen. Or, invert the look with dark countertops and light door fronts for a grey Shaker style kitchen. Add some warmth and contrast with light wood, wicker, and brass.
Keep Things Natural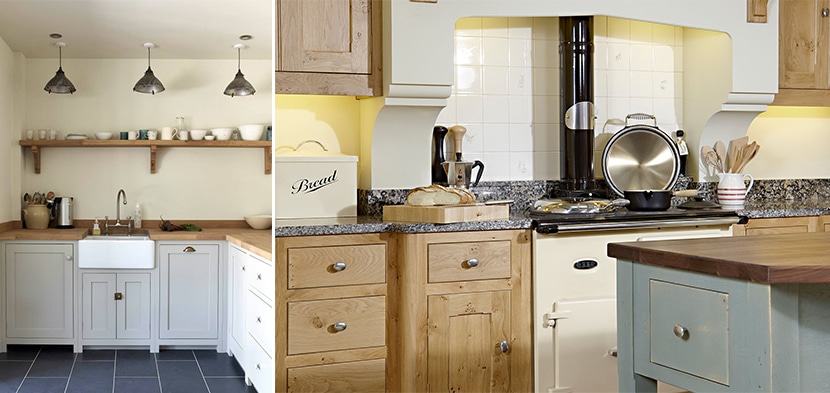 Honour the original principles of the style with a Shaker style oak kitchen or other timbers like maple, pine, cherry or walnut. Timber cabinets can be successfully paired with natural stone countertops. Remember to choose wood that was harvested from sustainable forests in your area.
A white in-frame Shaker style kitchen works very well with timber countertops, creating an elegant country-style kitchen. Download our guide to choosing the right worktop for your kitchen or contact us to discuss which option will work best for your home.
Are Shaker kitchens old-fashioned?
Shaker kitchens may have originated more than 250 years ago, but that doesn't mean they are old-fashioned. Their simplicity can create a backdrop for any kitchen style and there are a few design styles that pair exceptionally well with its unadorned look.
Minimalist & Modern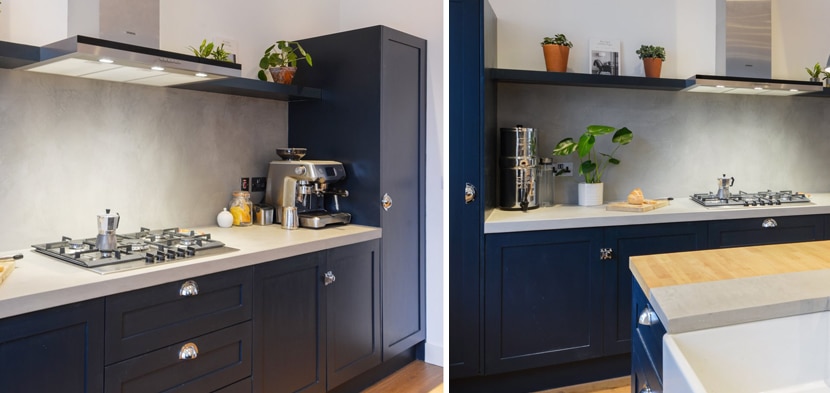 Even though it's very traditional, the Shaker kitchen cabinet style is equally at home in a modern kitchen. Wrap-around solid surface countertops are a sleek way to add a modern touch to your kitchen. You can also add white shaker kitchen doors to the upper cabinets to contrast with darker lower cabinets for a two-tone look.
Contemporary Touch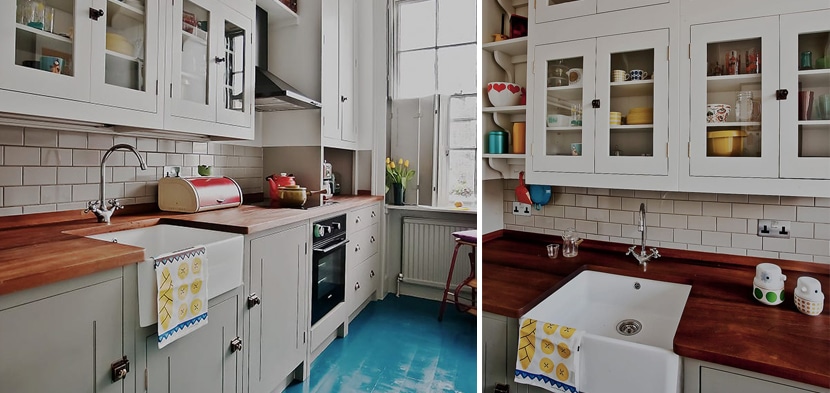 Contemporary shaker kitchen cabinets with glass door front add an edgy twist to the beloved classic. Or, spruce up the basic form with pale Shaker style kitchen cabinets and a contrasting contemporary natural stone countertop.
Scandinavian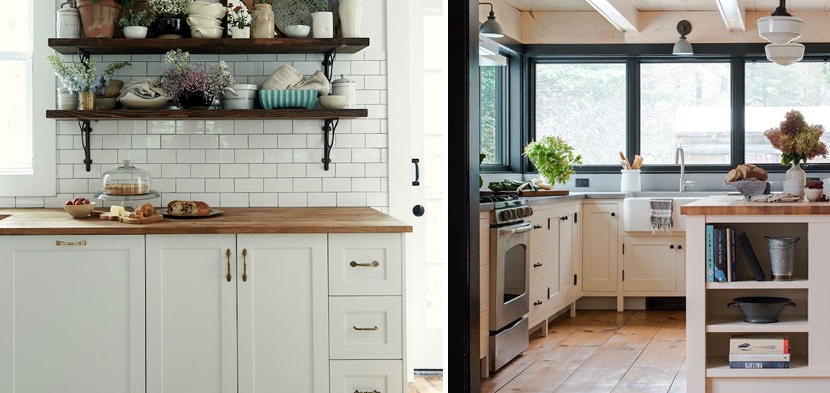 The simple aesthetic of both of these styles explains why they complement each other so well. Rooted in great design with form that follows function, and celebrating minimalism, Shaker and Scandi is a perfect match.
Industrial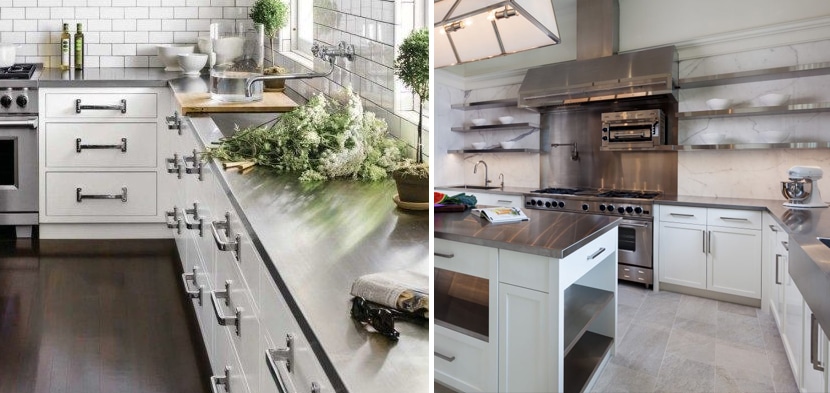 The simple lines of a Shaker style kitchen allow for additions that don't compete with the design. For an industrial Shaker style kitchen, add chrome or stainless steel hardware and countertops and appliances. A contemporary metal light fitting above a Shaker style kitchen island completes this very trendy look.
Mid-Century Modern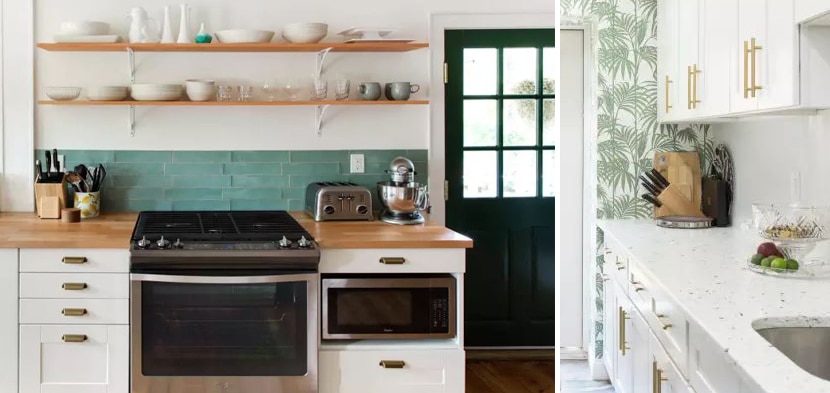 Mid-century modern furniture is still a firm favourite in homes around the globe, and kitchens are not being left out. As with an industrial kitchen, the hardware and other finishes added to a Shaker kitchen are what create the mid-century look. Think pastels, retro appliances, and Eames chairs around the kitchen table. Complete the look with cream gloss shaker cabinets – the perfect ode to the modern style of the 1950's.
Cottage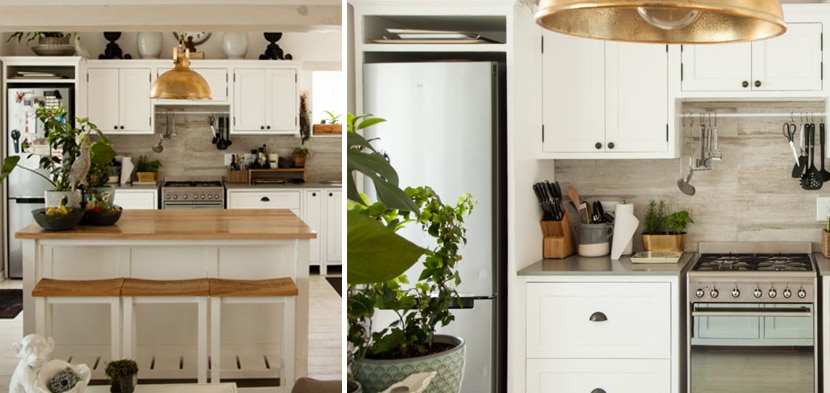 To create a cottage style kitchen, pair some farmhouse elements with Shaker cabinets. Add cup drawer pulls and brass finishes together with natural materials like bamboo and wicker. And don't forget about the suspended pot storage rack above the island! The addition of a Shaker style kitchen island is ideal when cooking big family meals and to show off beautiful fresh flowers or fruit.
Styling Tips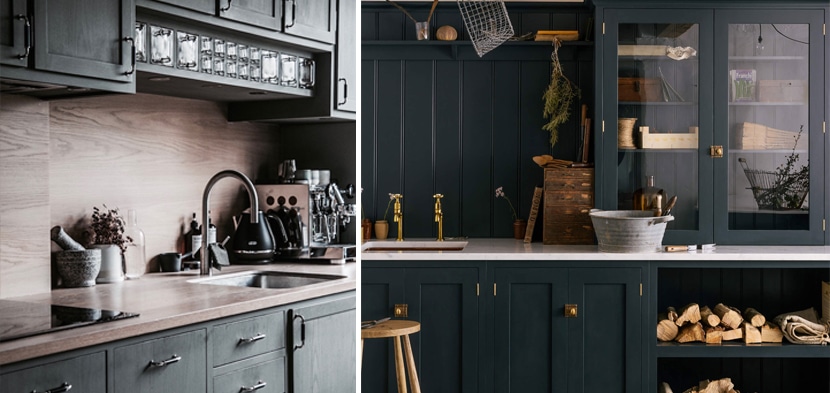 Open shelving with both useful and decorative items on display is a great way to add some interest and colour to your kitchen.
Choose items in natural materials, ceramics and copper to complement the style.
A Shaker kitchen island with open shelving on the side allows for the display of often-used items like cookbooks and tableware.
Click here for more Shaker style kitchen photos or get in touch with us today! We'd certainly love to help you create your Shaker kitchen. Contact our consultants or visit one of our showrooms to chat with us about your perfect kitchen!
Book a Design Appointment
If you enjoyed our design ideas, subscribe for updates.
Get kitchens design ideas in your inbox.
Check out these posts for more Kitchen Design Ideas.
Most Popular
Dublin Kitchens: The 7 Latest Trends
The 12 Most Influential Kitchen Design Trends from the US
5 Tips for Designing Small Kitchens
6 Exciting Colour Palettes for Kitchens with Personality
6 of the Best Solutions for Corner Cupboards