The traditional kitchen table has made way for its multi-functional cousin: the kitchen island. A versatile piece of furniture, it provides a comfortable work surface as well as a place to eat and socialize. There are many varieties of kitchen island: from free-standing units on castor wheels to built-in areas that house appliances. Here are our top 10 kitchen island design ideas.
BTW, check out our Kitchen Design Ideas section if you need more design inspiration.
1. Basket Case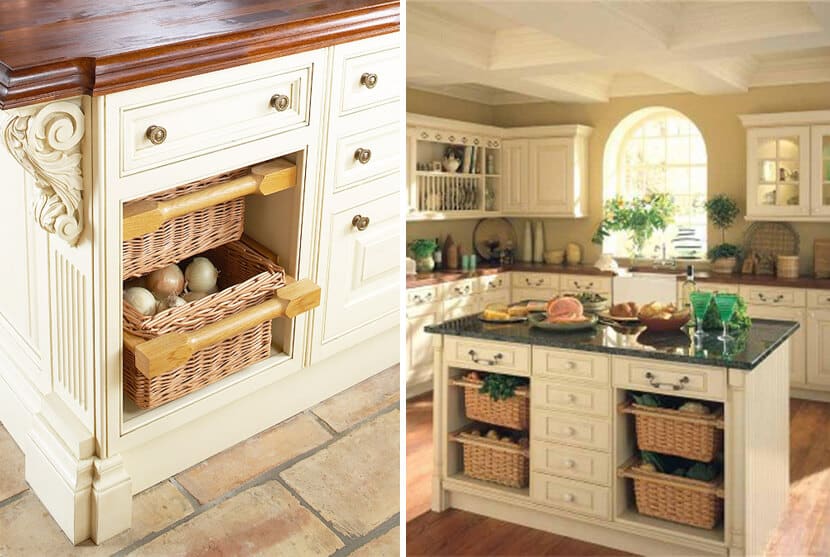 Traditional Home & Giesen Design
Add some baskets and shelving on the side for storage of vegetables, utensils or cook books. They can create an interesting display on the side of the unit while being a very practical storage place.
2. Bin it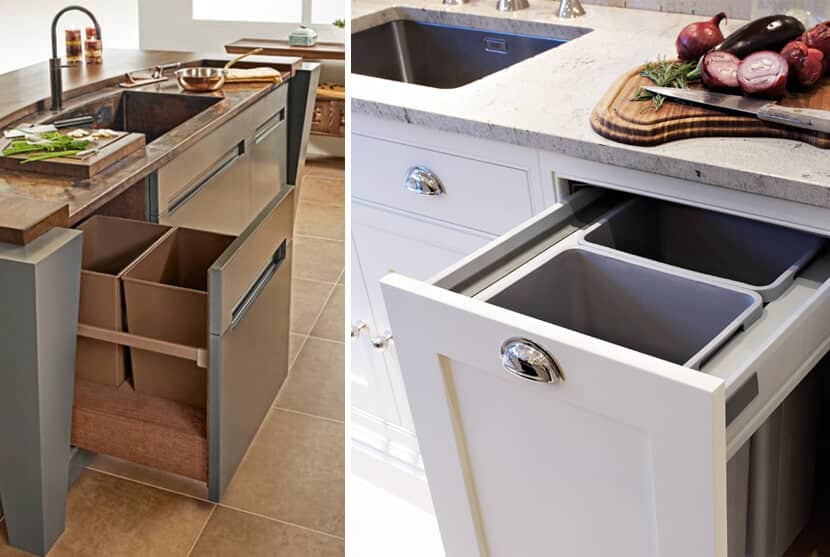 A kitchen island is great place for a rubbish bin, especially if the island is your main work surface. Have a concealed bin in a drawer underneath to keep it out of sight and smell. You can even cut a hole through the counter top which allows for easy depositing of composting waste.
3. Hide your appliances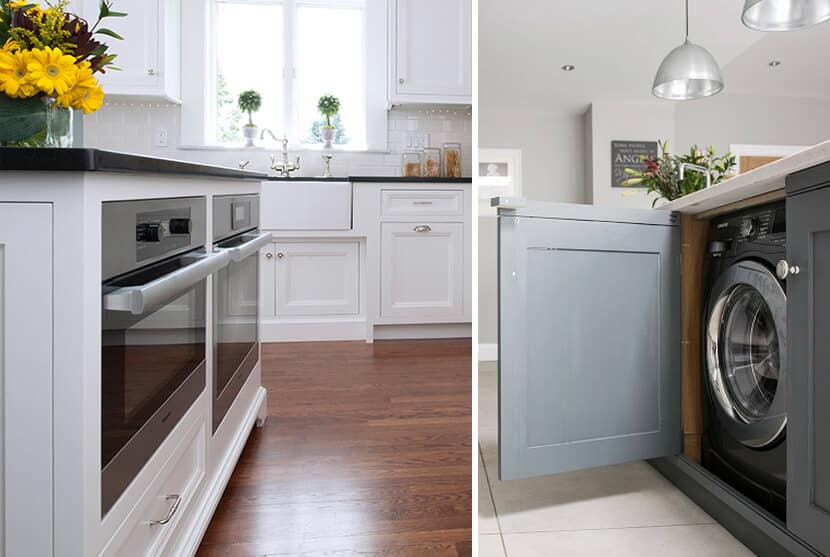 Conceal your basic appliances by integrating them into your island: a dishwasher, oven and even a washing machine can all comfortably form part of your central island, provided your space allows it of course! Make sure that you finalize the position of any appliances before your fit the island since retro fitting gas, water and electrical points can become quite expensive.
4. An Island with Seating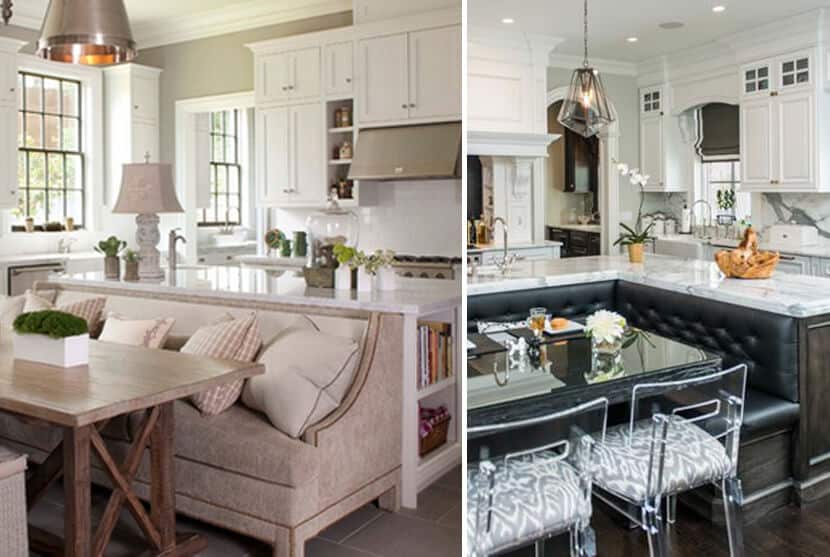 8 Ball & The Millennial Housewife
If you have a spacious kitchen, consider making the most of it by incorporating seating into or around your island to create a breakfast area. A U-shaped or L-shaped island offers multiple work surfaces and creates a cozy place to eat.
5. Dog Box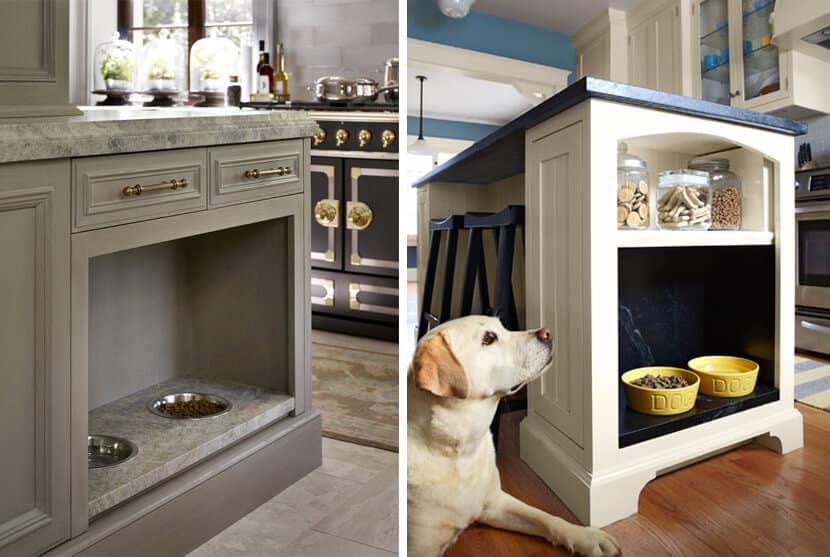 Give man's best friend a space on the island to store his food and bowls. Easy to keep clean and it's out of way of foot traffic to prevent accidental knocking over.
6. Hide and Seek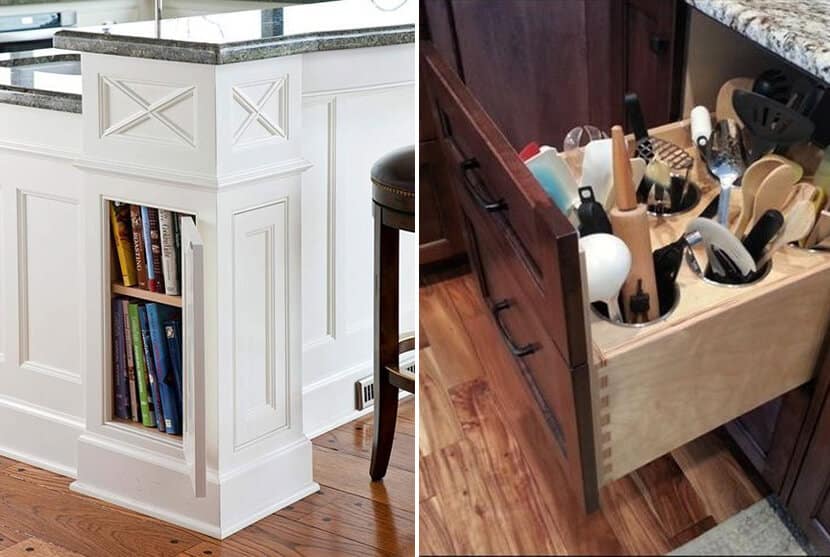 The design of your kitchen island can provide a great opportunity to have concealed storage. Clutter is not everyone's friend, so it's great to hide away books, small appliances and other paraphernalia within clever panelling.
7. Wine Shelving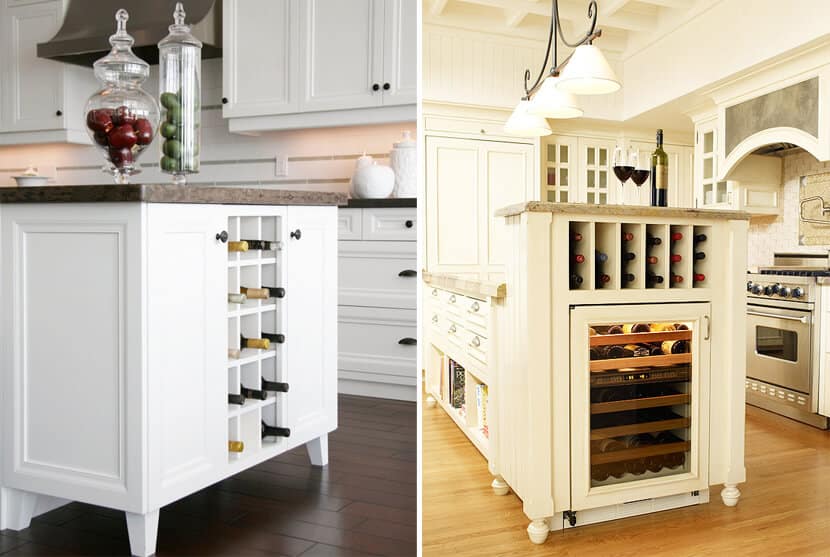 House your wine collection out of the way by installing wine shelves on the side of the island. Just make sure that it is not near an oven, otherwise it will become undrinkable!
8. Integrated Microwave and Bar Fridge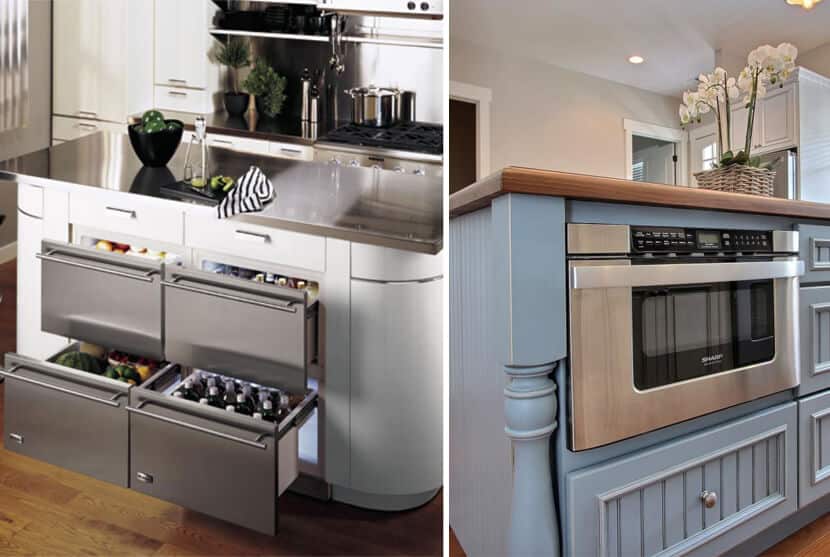 The height of the island is perfect for an under counter microwave of bar fridge – which works great especially if you have kids! See our post here on designing kitchens with kids in mind.
9. Pull-out Benches and Work Surface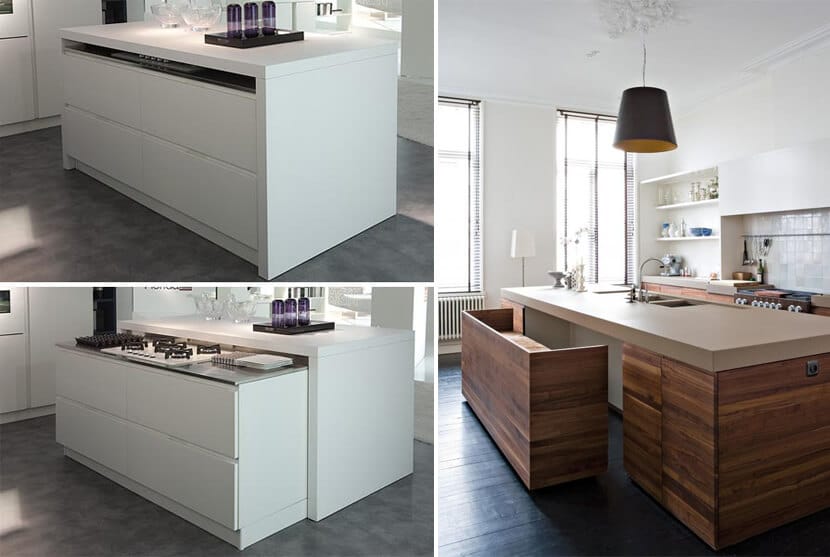 Keep your kitchen slick and utterly clutter-free with benches that tuck under and work surfaces that slide away when you don't need them.
10. Hang it up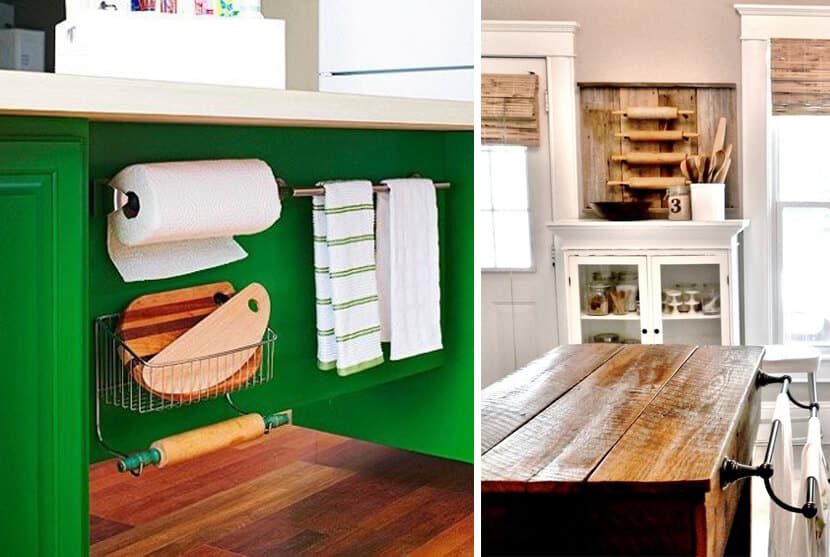 Install hooks, rails and other useful fittings to get all the little things out of the way. A recessed panel underneath the top will ensure that everything stays within reach while remaining out of sight.
For more great ideas on the best kitchen island for your kitchen, contact one of our designers here now for your free consultation.[/fusion_text]
Book a Design Appointment
If you enjoyed our design ideas, subscribe for updates.
Get kitchens design ideas in your inbox.
Check out these posts for more Kitchen Design Ideas.
Most Popular
Dublin Kitchens: The 7 Latest Trends
The 12 Most Influential Kitchen Design Trends from the US
5 Tips for Designing Small Kitchens
6 Exciting Colour Palettes for Kitchens with Personality
6 of the Best Solutions for Corner Cupboards
10 of the Most Beautiful Kitchen Backsplashes
Types of Kitchens
In-Frame Kitchens – 5 Things You Should Know
What are Shaker Kitchens and Where are They From?
What Exactly are Hand Painted Kitchens?
The Top 10 Trends for Modern Kitchens
Design Ideas and Trends
5 Clever Ways to Increase Natural Kitchen Lighting
How Much Value Does a Fitted Kitchen Add to Your Home?
12 Must Have Celebrity Kitchens of the Rich and Famous
Families
10 Kitchen Design Tips for Families with Kids
6 Tips for a Kitchen for a Large Family
Cabinets, Doors, Kitchen Islands & Finishes
9 Essential Kitchen Cabinet Types
Get the Perfect Kitchen Finish for your Lifestyle!