12 Must Have Celebrity Kitchens of the Rich and Famous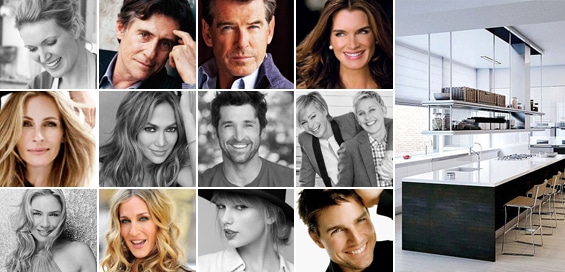 Always wanted to know what Pierce Brosnan, Julia Roberts or Jennifer Lopez's kitchens look like? In this post we'll take a sneak peek at 12 celebrity kitchens of the rich and famous and you're sure to find a celebrity kitchen that you love!
BTW, check out our Kitchen Design Ideas section if you need more design inspiration.
1. Pierce Brosnan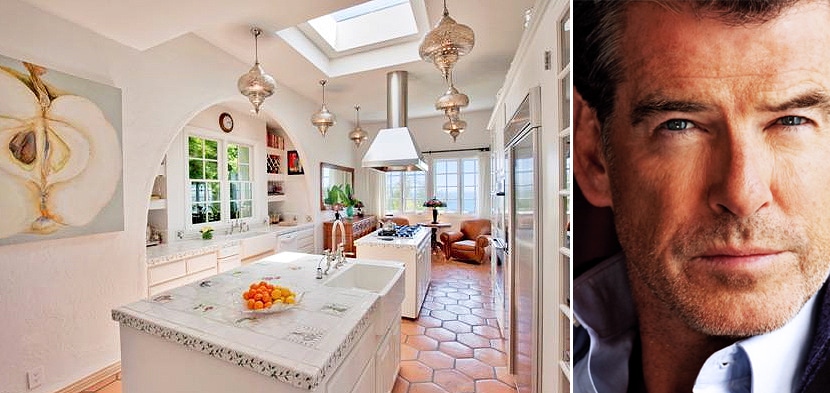 Mr Brosnan's Malibu home makes the most of the ocean views – even from the kitchen – with a trio of windows. Incorporating skylights and white tiles optimize natural light and makes this kitchen wonderfully bright. The two kitchen islands add much needed work surfaces and is beautifully finished off with painted tiles. The Moroccan pendant lights provide an unexpected design element in this beautiful kitchen.
2. Rachel Allen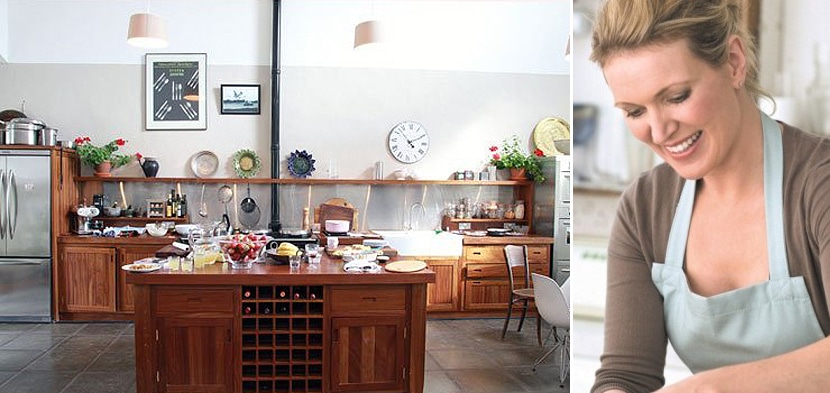 The Kitchn & Rochdale Town Centre
"We knew what we wanted. A great big kitchen that would be the heart of the house."
That is exactly what celebrity Chef Rachel achieved. She built this warm wooden family kitchen in her new home with husband Isaac, on land that they got as a wedding present from Isaac's father. This truly is a chef's kitchen with a wall of ovens, deep farm sink and Aga stove for a touch of the traditional. The hob is housed on the center island.
The layout of the enormous kitchen allows for guests to sit, stand and have a chat while watching Rachel and Isaac create magic with their meals.
3. Gabriel Byrne

In 2009, Gabriel Byrne bought a two bedroom apartment in the iconic Nolita district of New York. His kitchen speaks of old-world charm with a modern touch: the high gloss cabinets add some glamour and are edged off with a solid walnut trim. The lovely parquet flooring echoes the wood in the rest of the kitchen and creates a masculine and inviting room.
4. Brooke Shields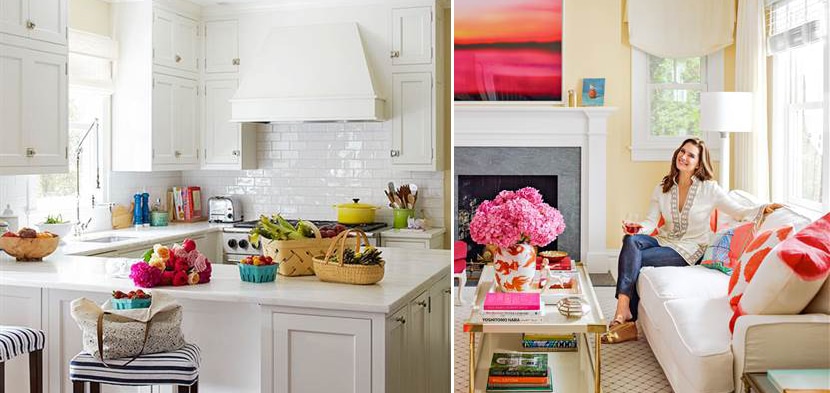 This much loved actress, author, wife and mother decorated her Long Island cottage single-handedly. She clearly has a passion and talent for interior decorating!
"A little colour goes a long way", she reveals as her decorating philosophy and it works beautifully here in her kitchen that has a clean white palette, energized with sparsely applied splashes of colour. This creates a kitchen that has a wholesome family quality to it, instead of an over-decorated one.
5. Ellen Degeneres & Portia De Rossi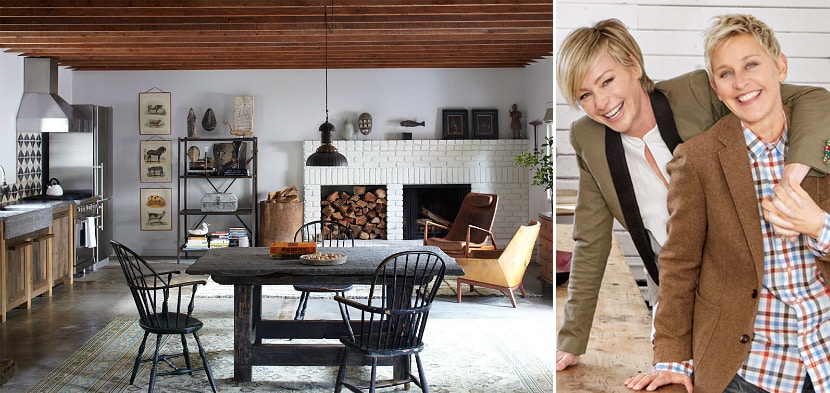 It's been widely publicized that the queen of talk shows TV, Ellen Degeneres also shares a love for interiors with her wife, actress Portia De Rossi.
In Cabin 6's on their Santa Monica Mountains ranch, the kitchen is decorated in a beautiful eclectic style, incorporating a seating area next to the fireplace. The room also proudly features Ib Kofod-Larsen Danish lounge chairs in their original leather. Meticulous planning and attention to detail was given with the placement of every piece in this open plan dining room / kitchen to create a warm and welcoming extension of the home's living areas.
6. Jennifer Lopez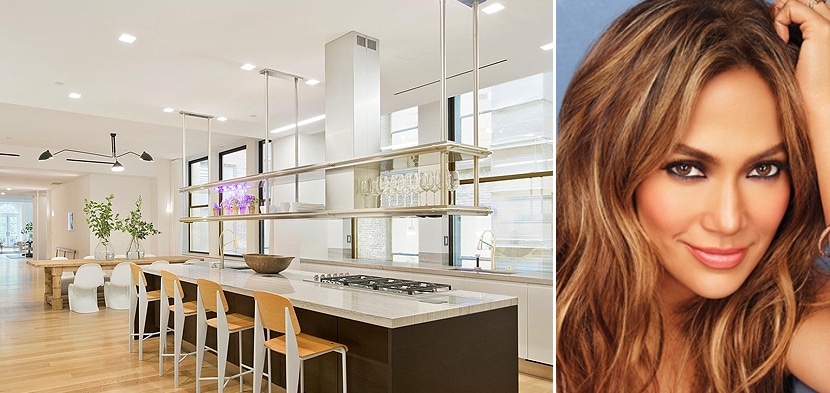 Zillow & Celebrity Without Makeup
World famous singer and actress Jennifer Lopez's pre-war penthouse in the Manhattan's Flatiron district is fitted with a modern high-gloss kitchen accented with warmer wood tones. Sparsely decorated, it has a lovely clean an open feel. The property also has 3,000 square feet of terrace space perfect for alfresco dining and loft style cocktail parties fit for the stars.
7. Julia Roberts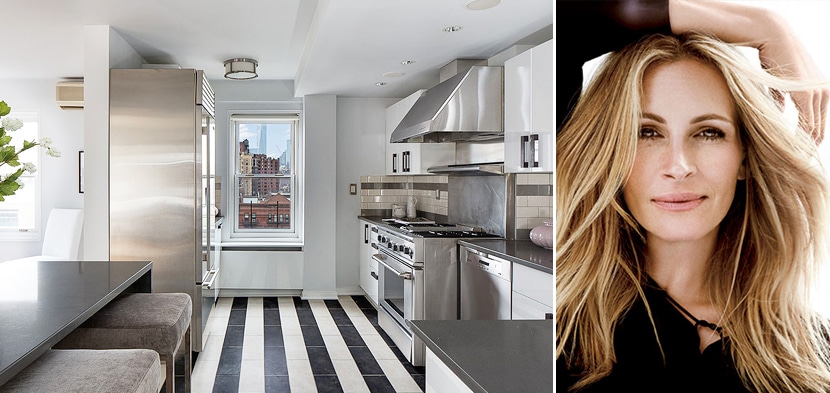 The actress' West Village apartment in New York City has an open, spacious kitchen fitted with clean lines, stainless steel fittings and appliances. The large kitchen island provides for comfy breakfast seating. The striking black and white tile floor leads the eye to the spectacular city views from the kitchen window.
8. Patrick Dempsey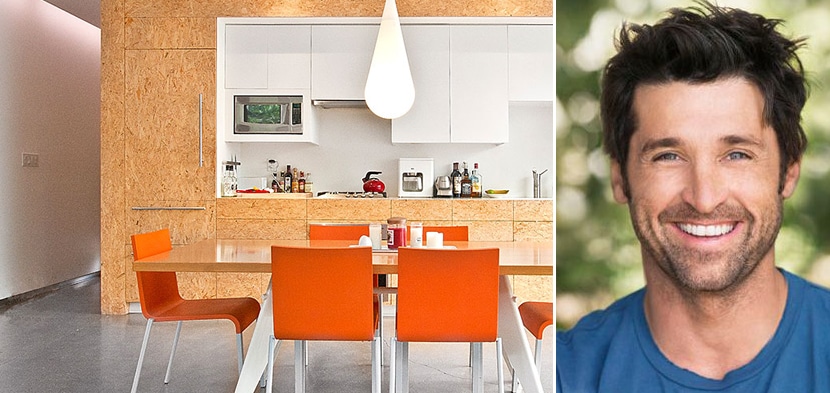 The Grey's Anatomy star prepares his sandwiches for work in this dreamy, modern kitchen in LA's Venice Beach neighbourhood. This modular kitchen with textured OSB (oriented strand board) cabinets and retro orange colour scheme is truly refreshing.
9. Rene Zwellweger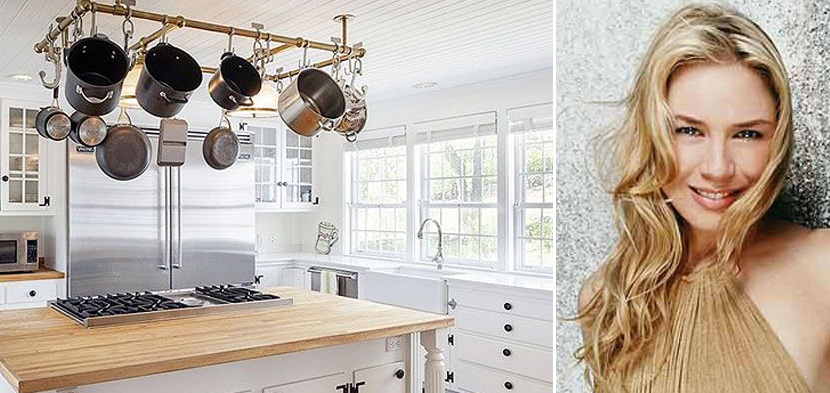 The Bridget Jones Diaries star's 38-acre Connecticut farmhouse dates back to 1770 and has a rich history attached. The kitchen has a distinct traditional theme honouring the style of the home but with all the latest luxuries. The six-burner stove and larger-than-life refrigerator make catering in the kitchen a breeze. The all-white colour palette is contrasted with striking black cabinet fittings and a natural wood butcher block on the island.
10. Sarah Jessica Parker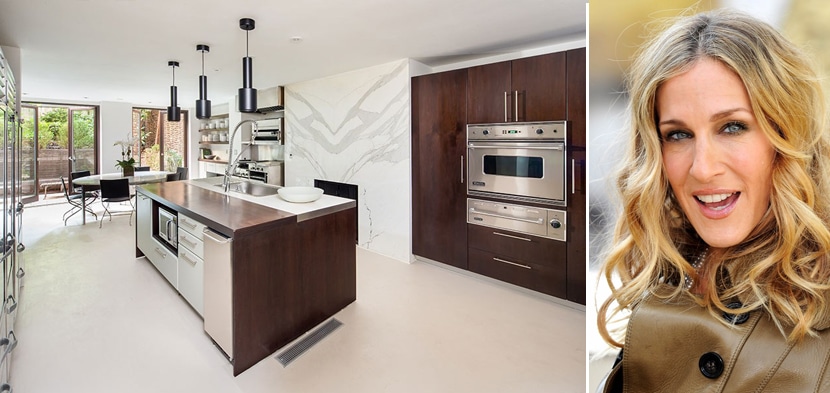 Aria Stone Gallery & Just Jared
The sleek, modern kitchen with exquisite marble fireplace in the much loved 'Sex and the City' star's Manhattan townhouse is truly the benchmark for style and sophistication. Light and bright, it has the perfect balance of large white surfaces contrasted with dark wood cabinets. The kitchen flows onto the terrace that is separated with big glass pane doors to bring the outdoors into the space.
11. Tailor Swift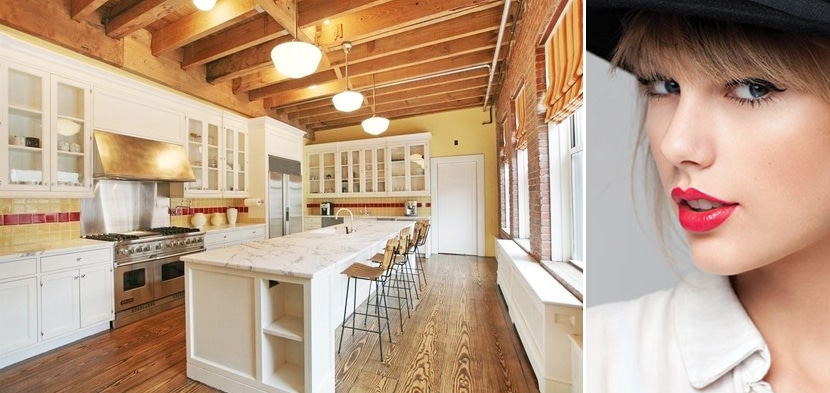 Grammy award winner Taylor Swift's Tribeca Penthouse kitchen is surprisingly traditional and boasts enough space to host a small pop concert. Traditional elements like the exposed ceiling beams and grainy wooden floor add a lot of warmth to the room. The kitchen island has a marble top and the glass doors in the upper cabinets allow for display of curated crockery. The soft yellow and maroon of the tiles on the splash back are echoed by the fabric chosen for the blinds and the wall colour.
12. Tom Cruise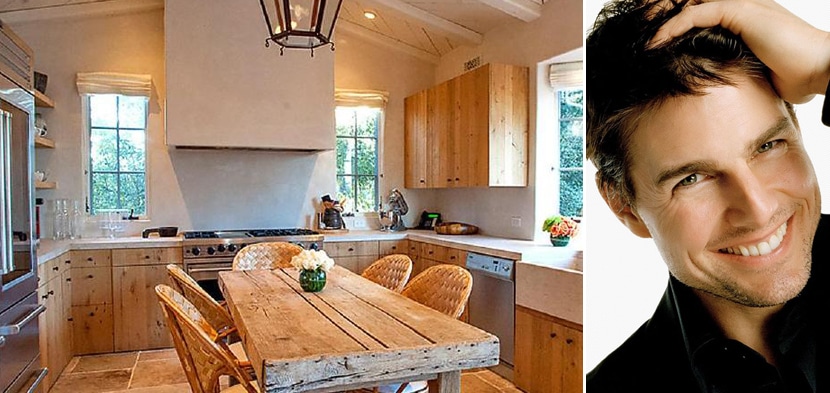 The controversial action star's former 2.5 acre property in Hollywood Hills has Italian farmhouse flair with a kitchen to match. Charming rustic wood cabinets and a rough solid wood dining table add to the natural look and create a lived-in quality rarely seen in mega superstars' homes in the Hills.
This might be why the fabulous Eva Longoria of Desperate Housewives fame decided to 'show him the money' and buy it for 11.4 million dollars, according to The Daily Mail.
Book a Design Appointment
If you enjoyed our design ideas, subscribe for updates.
Get kitchens design ideas in your inbox.
Check out these posts for more Kitchen Design Ideas.
Most Popular
Dublin Kitchens: The 7 Latest Trends
The 12 Most Influential Kitchen Design Trends from the US
5 Tips for Designing Small Kitchens
6 Exciting Colour Palettes for Kitchens with Personality
6 of the Best Solutions for Corner Cupboards
10 of the Most Beautiful Kitchen Backsplashes
Types of Kitchens
In-Frame Kitchens – 5 Things You Should Know
What are Shaker Kitchens and Where are They From?
What Exactly are Hand Painted Kitchens?
The Top 10 Trends for Modern Kitchens
Design Ideas and Trends
5 Clever Ways to Increase Natural Kitchen Lighting
How Much Value Does a Fitted Kitchen Add to Your Home?
12 Must Have Celebrity Kitchens of the Rich and Famous
Families
10 Kitchen Design Tips for Families with Kids
6 Tips for a Kitchen for a Large Family
Cabinets, Doors, Kitchen Islands & Finishes
9 Essential Kitchen Cabinet Types