Looking for the perfect kitchen style to suit your home and lifestyle? We have searched high and low to bring you these inspirational images, grouped in twelve different styles to help you find the best fit. Here are 101 kitchen design ideas to inspire your new kitchen!
BTW, check out our Kitchen Design Ideas section if you need more design inspiration.
1. Bohemian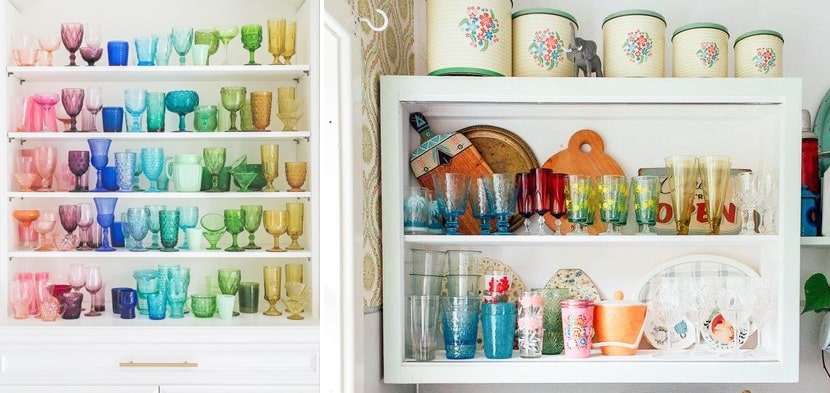 A Beautiful Mess & Apartment Therapy
Being free-spirited, with a love of thrift shops and handmade items are prerequisites for Bohemians. These type of kitchens tell many stories and play on all the senses. Layers of textures and colours adorn the space.
Key elements: Bold, collection displays, populated spaces, eclectic furniture placing, playful styling with found objects.
The overall feel is collected but also can have a DIY element, like using ladders and wooden crates for display purposes.
Ikat prints, macramé items and wicker furniture are great to use in Bohemian kitchens.
Finishes: There are no rules when it comes to the use of finishes in a Bohemian space – the bigger the variety, the better!
Color palette: Bright colours and bold pattern.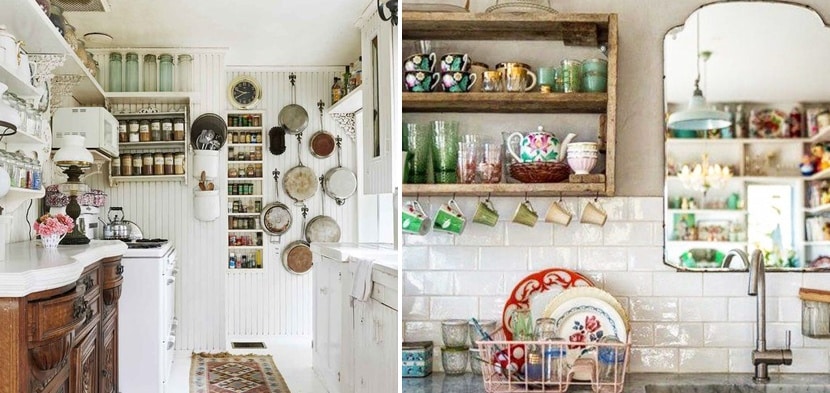 The Style Saloniste & Apartment Therapy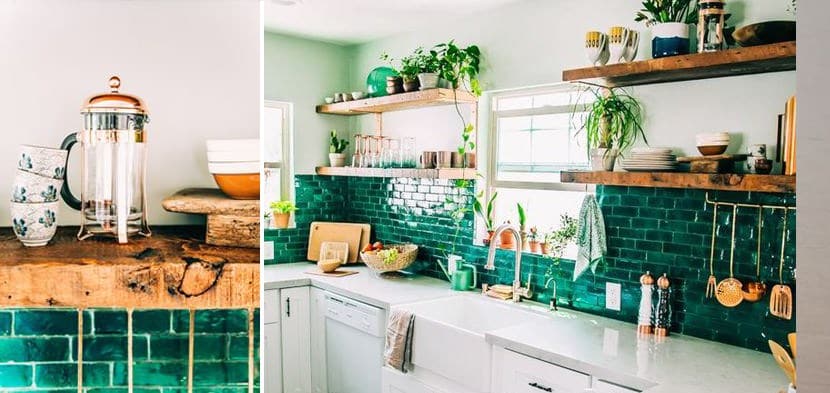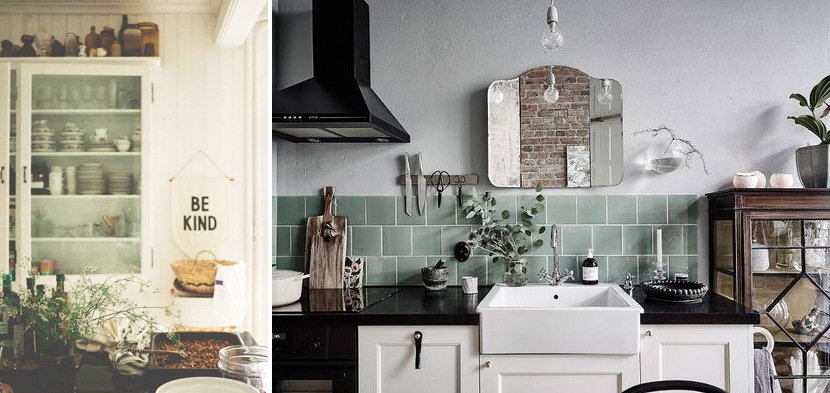 Lovely Life & Desire to Inspire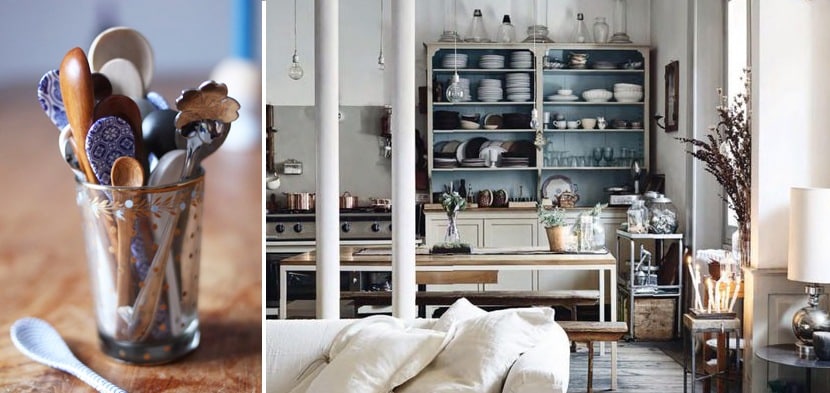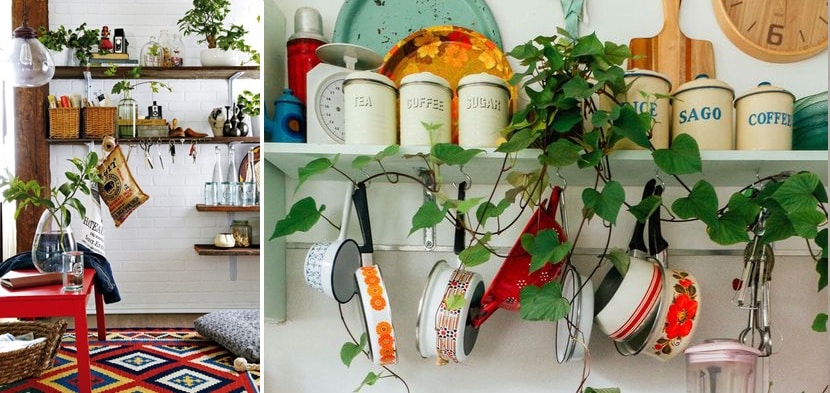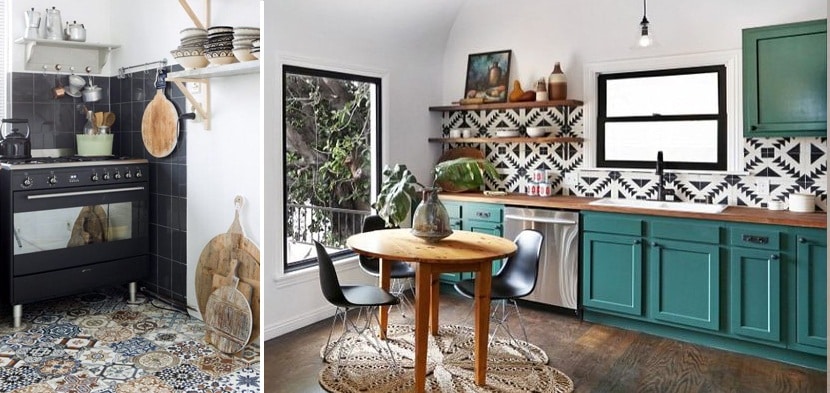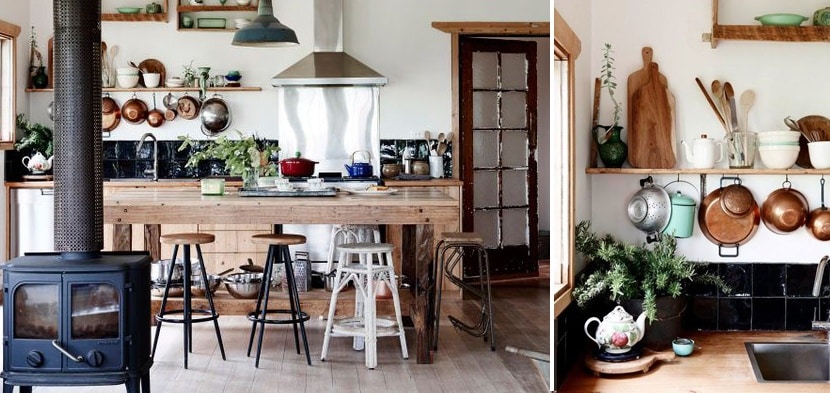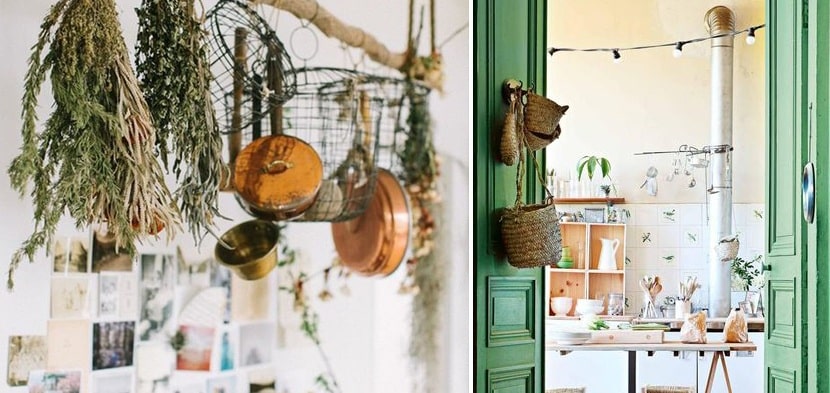 Poppytalk & Gravity Home Blog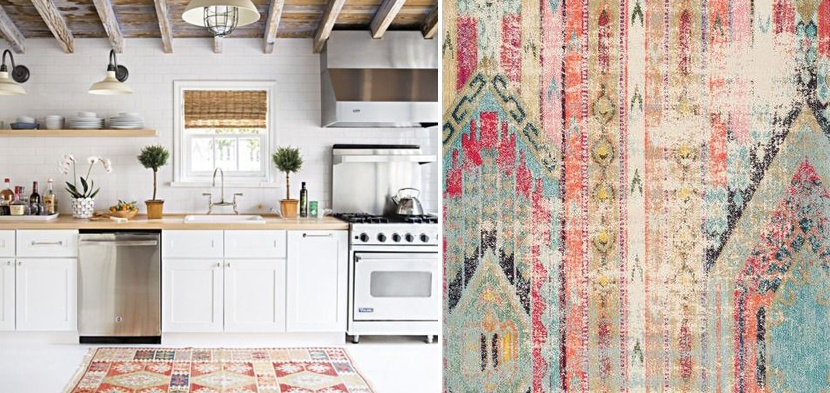 TopHome & Sky Home Decor
2. French Country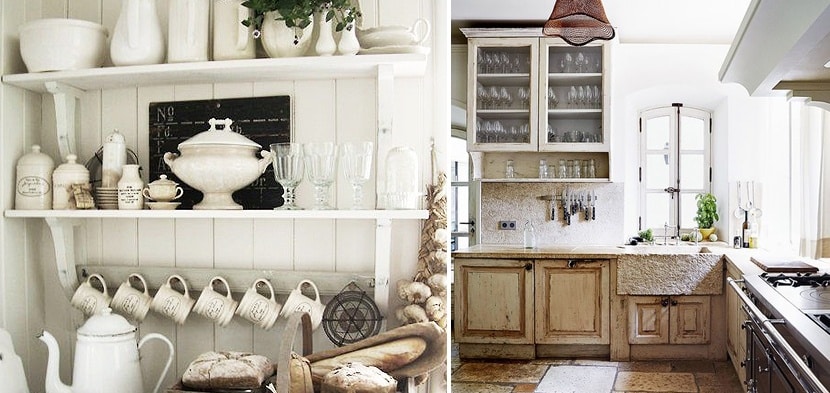 Live Creatively Inspired & My Domaine
Romantic souls opt for this style of kitchen. Items like a vintage butchers block and beautiful crystal chandelier takes center stage. Fresh flowers or hanging herbs and delicate detailing add the finishing touches.
Key elements: Chandelier, butchers block, vintage ceramics, French linen, dresser used as kitchen cupboard, vintage silverware.
This style combines luxury with rustic elements and uses natural finishes including wood, marble, glass and stone. Solid wooden flooring or stone with counter tops in marble, granite or limestone defines the style. Tiled splash backs with hand cut ceramic tiles add character.
Ceramic or enameled cast iron butler sinks with elegant lever taps add the old world charm essential to this style of kitchen.
Finishes: Solid wood, marble, limestone, enamel, linen
Colour palettes: soft pastels, white, cream, grey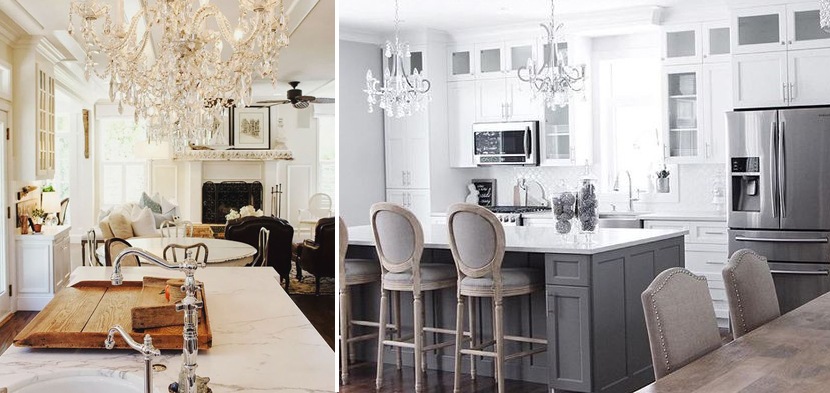 Franki Durbin & Instagram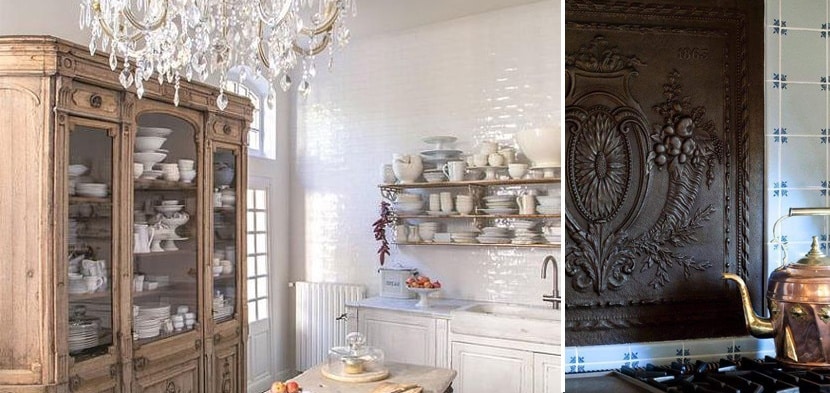 Etsy & ZsaZsa Bellagio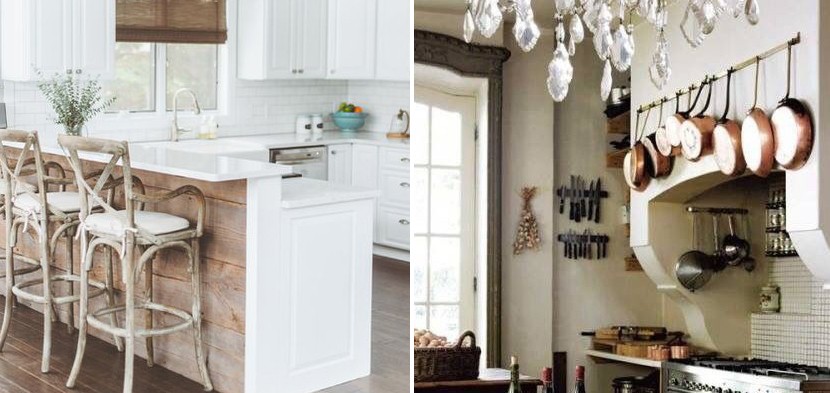 Harper's Bazaar & Wings View at Home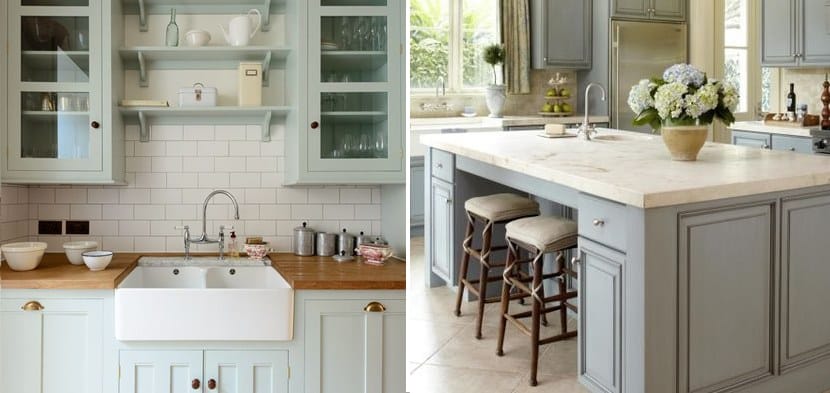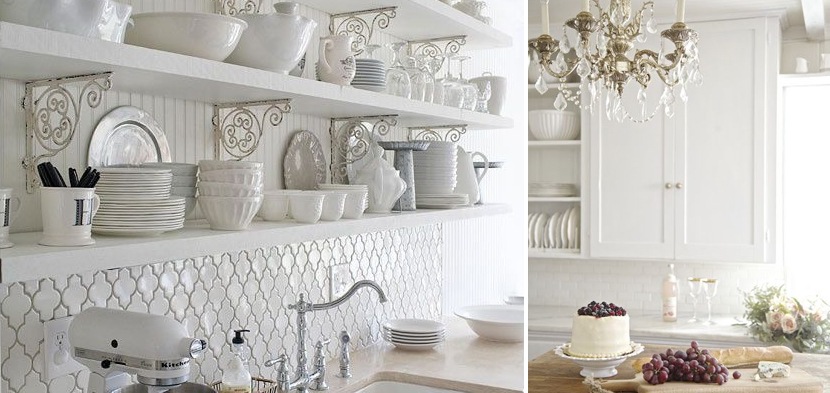 Sharon Santoni & French Country Cottage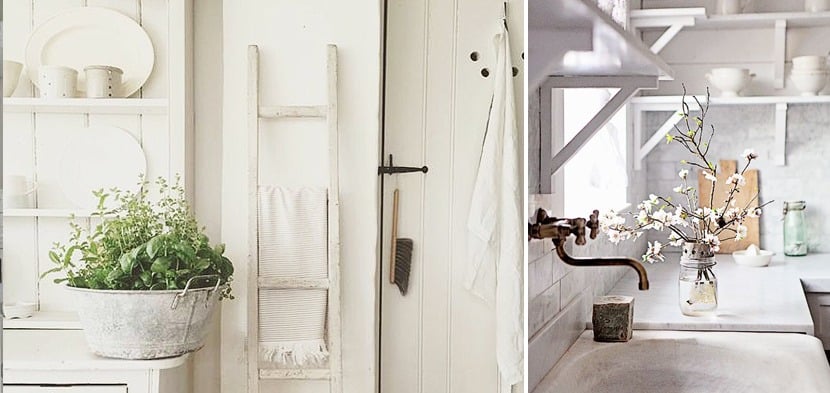 Shabby & Charme & Dreamy Whites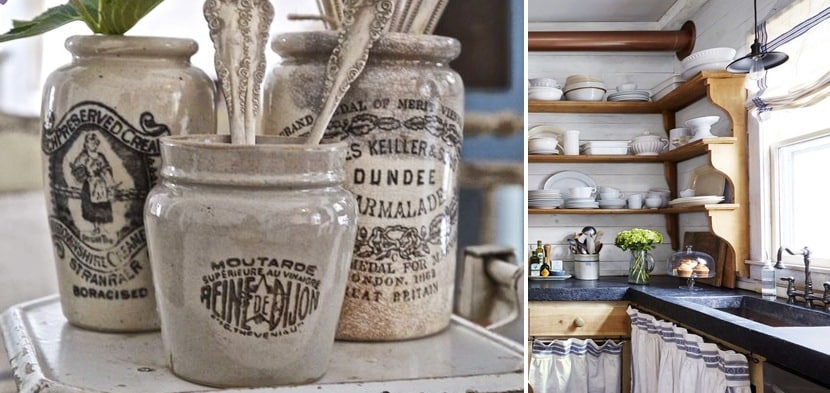 Chateau Chic & Farmhouse Touches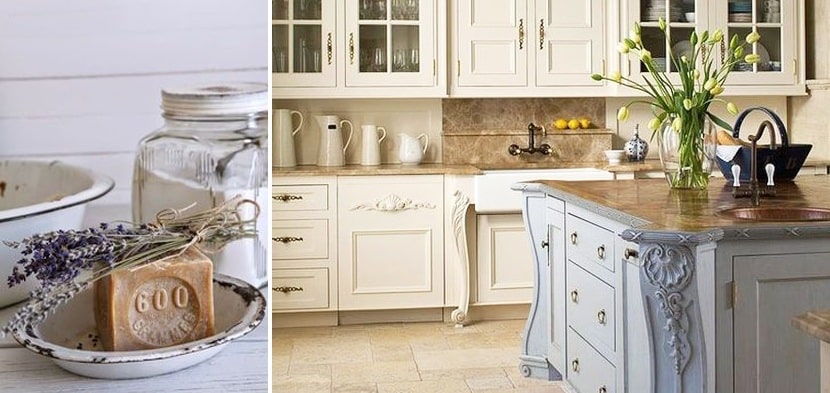 My Rustic Farm & 99 Home Decor Pictures
3. English Cottage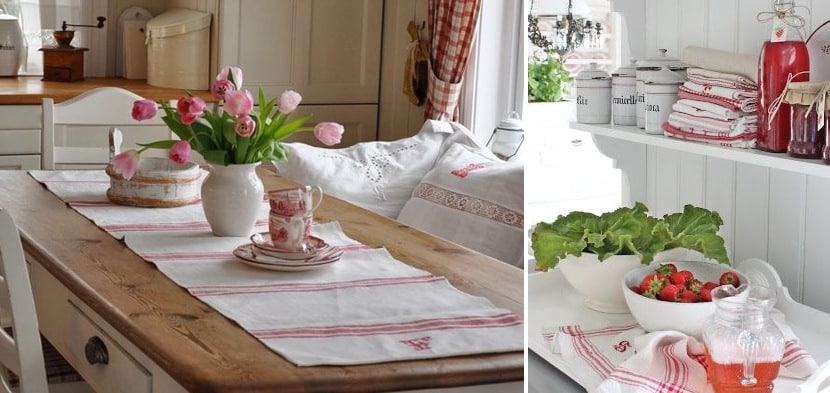 Not So Shabby Chic & Vibeke Design
Cozy with a nostalgic twist defines the English cottage kitchen. Cooking on an open fire with a lazy cat curled up in front of it is the picture you would want to paint. Worn items with a sense of history fills the space as essential items.
Key elements: All things are centered around the old AGA stove in an English cottage kitchen. This is the must-have item that then gets accessorized with nostalgic items, like a collection of hanging copper pots or ceramic plates on display.
Using armoires as kitchen cabinets add some grandeur to the cottage kitchen as well as a vintage twist. Cup pulls on cabinets are a must in either oil-rubbed bronze or brushed nickel, combined with solid hardwood on the floors. Low-hanging pendant lights and wall mounted lights create intimate task lighting and add to the cozy feel.
Finishes: Bead board or tongue and groove paneling, solid wood, decorative tiles, wallpaper.
Colour palettes: Traditionally, the English cottage kitchen has a somber colour palette but lately it's been given a fresh approach with more vibrant colours like red and turquoise with a splash of yellow. Gingham checks, stripes and florals add a soft and colourful touch.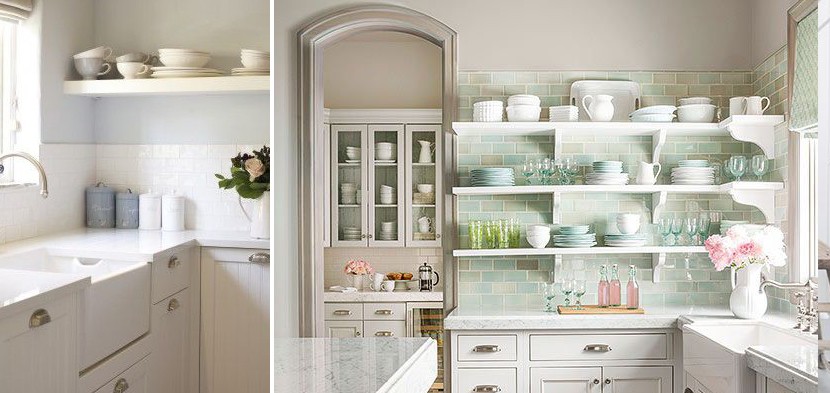 Unique Homestays & BHG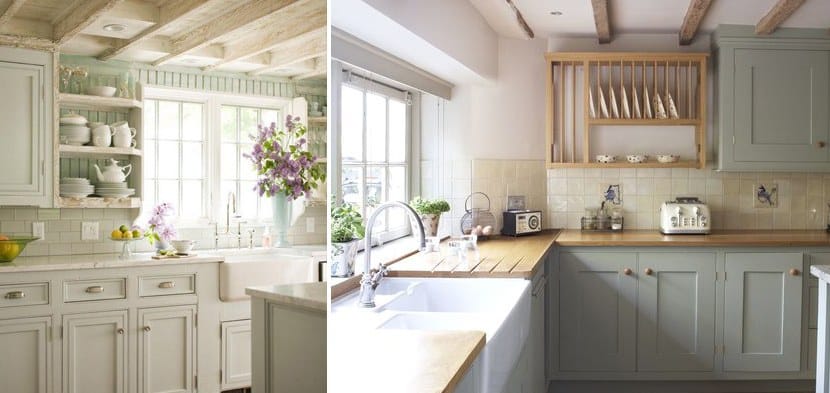 Our Boathouse & Creative Venom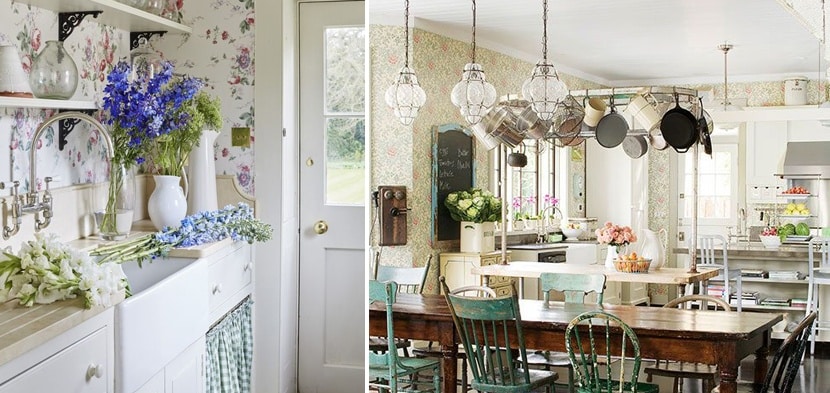 This Ivy House & BHG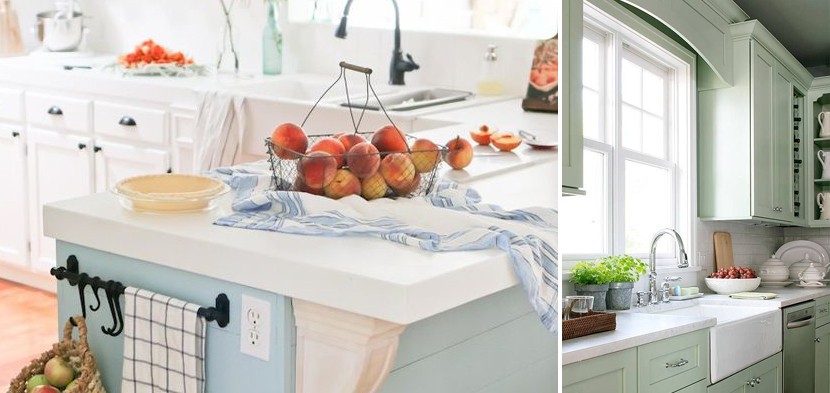 Tidbits & BHG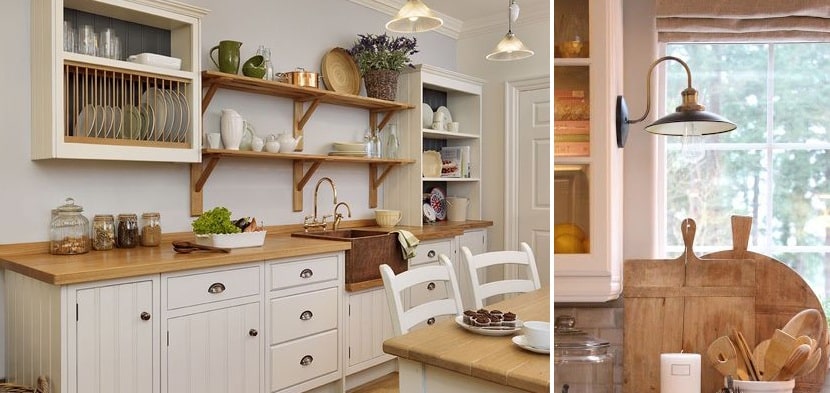 John Lewis & BHG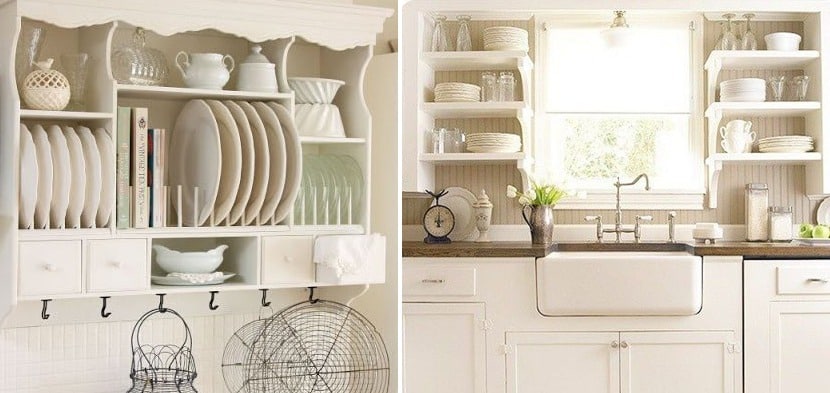 Little Emma English Home & The Cottage Market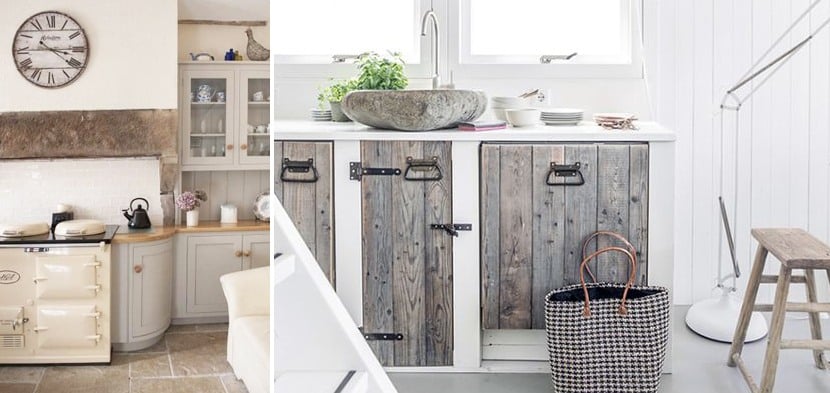 Gorgeous Cottages Ireland & Werannas
4. Farmhouse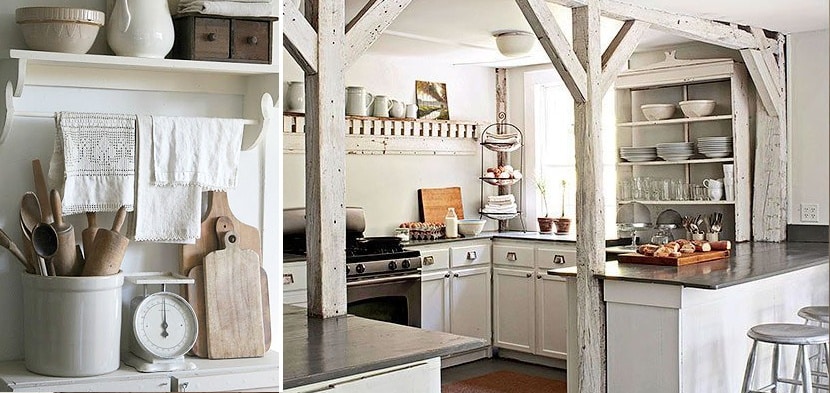 Farmhouse 5540 & BHG
The farmhouse kitchen style is becoming increasingly popular due to people yearning for a slower pace and a wholesome lifestyle. All things natural go in this kitchen, like exposed wood, stone and fresh produce.
Key elements: Exposed wooden beams as architectural element, crisscross features reminiscent of a barn door. Vintage chopping blocks and baking aids make for great styling accessories. Harvest baskets and a butchers block give the space a real farm quality, combined with the iconic butler sink.
Open shelving displaying vintage baking aids and ceramic collections are a must.
Having an open fireplace and a big table in the kitchen, add to the social functions of the room. Here the entire family can gather to help with preparing dinner like they did in the old days.
Mix in some freestanding cabinetry to finish the look and create essential storage space.
Finishes: Solid wood, ceramic, distressed surfaces, tin, enamel.
Colour palette: Subtle palette with lots of exposed, natural elements and colours reminding of baked bread, wheat fields and silvery green herbs like sage leaves.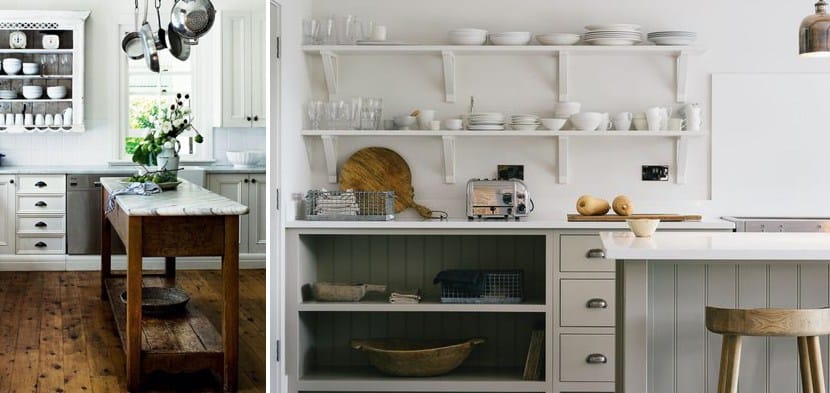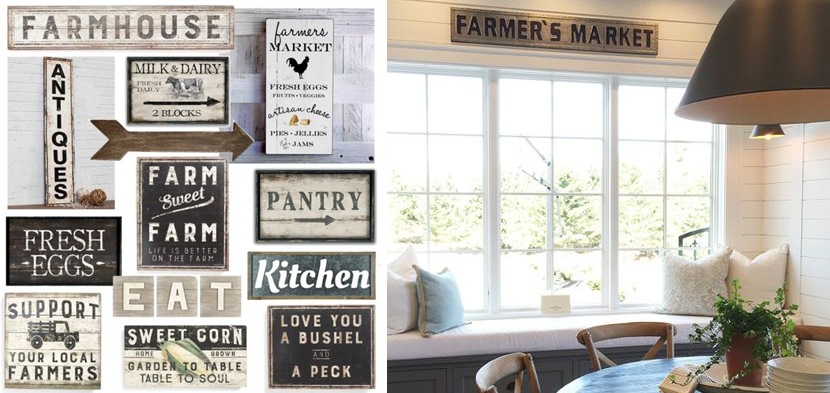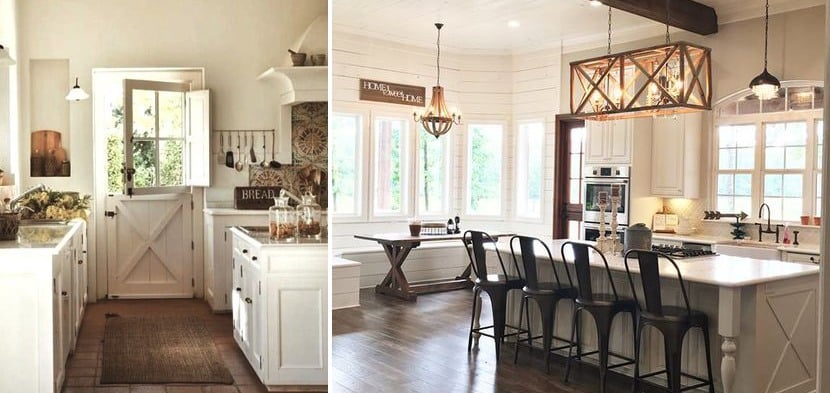 Fresh Farmhouse & Farmhouse Touches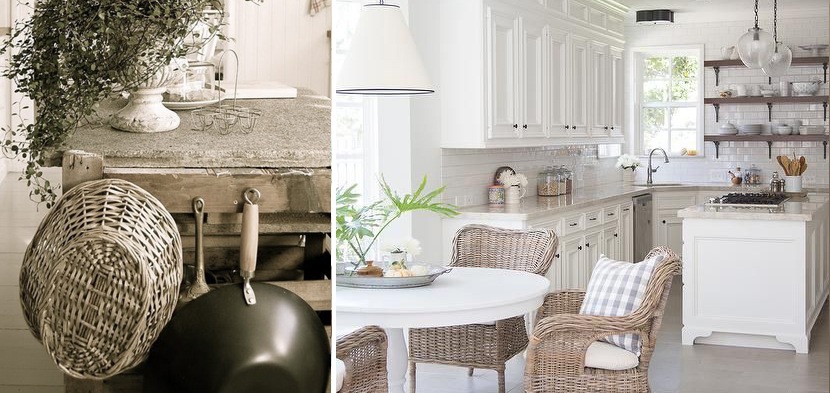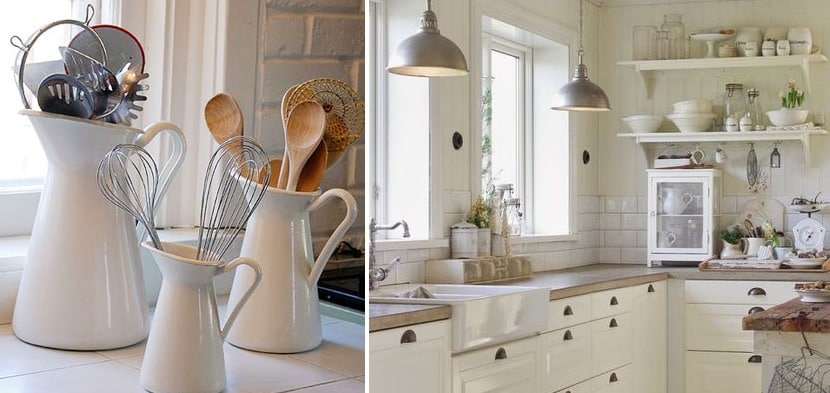 The Art of Doing Stuff & DIY and Mag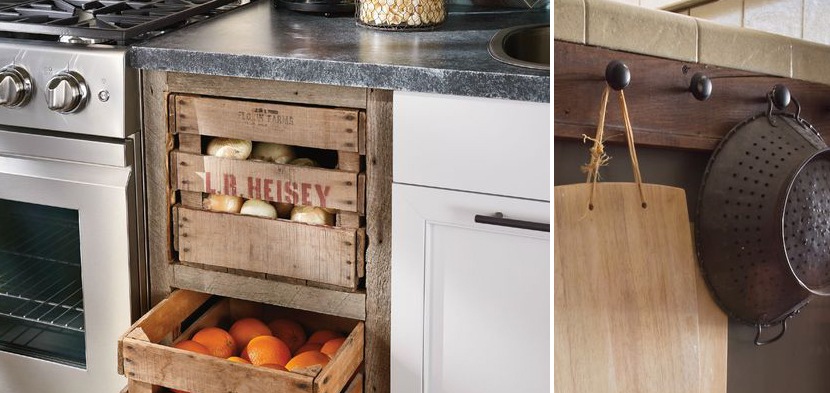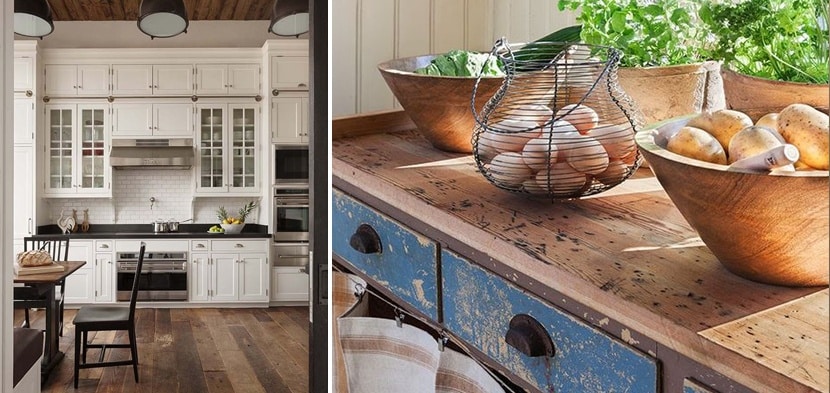 JBM Architect & Fresh Farmhouse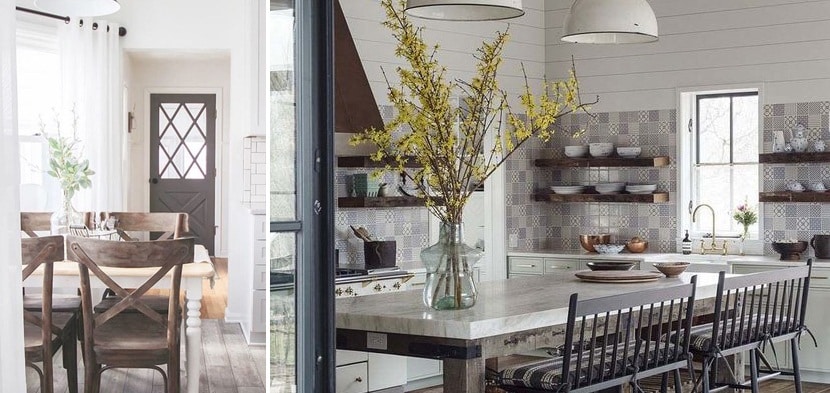 5. Manhattan Loft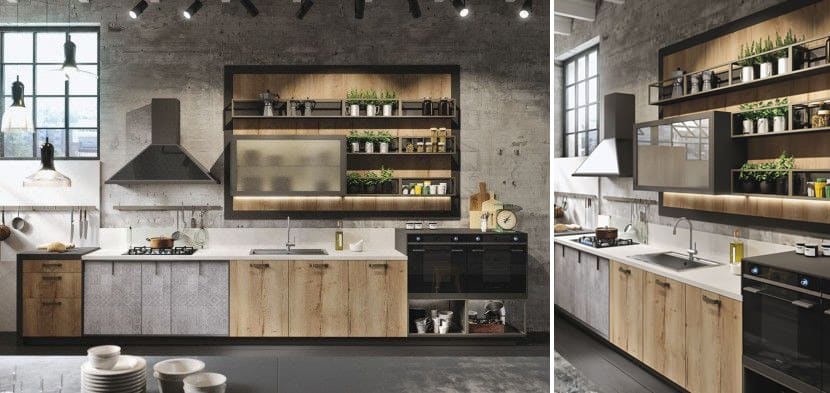 Double volume spaces require innovative and well-designed kitchens. Lofts are fun, toned down spaces that love raw elements, juxtaposed with polished elements to create contrast.
Key elements: Textured walls and exposed industrial piping. Big wall art, lettering or clocks and pendant lights.
Finishes: Raw bricks, steel, copper, concrete, tin.
Color palettes: Dark, dramatic color scheme – masculine.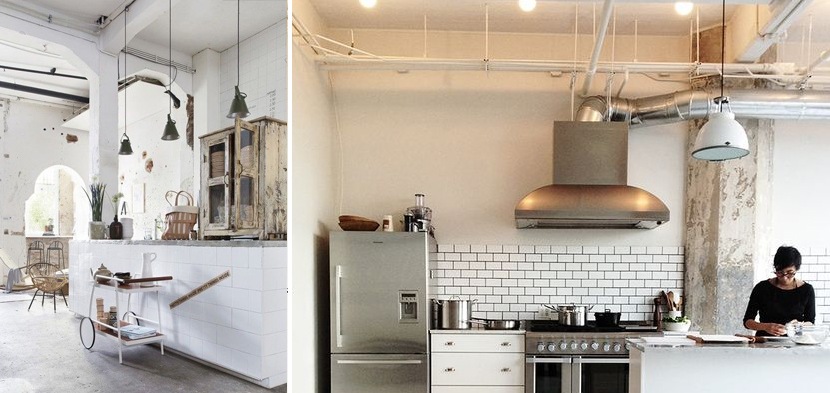 ZsaZsa Bellagio & Lingered Upon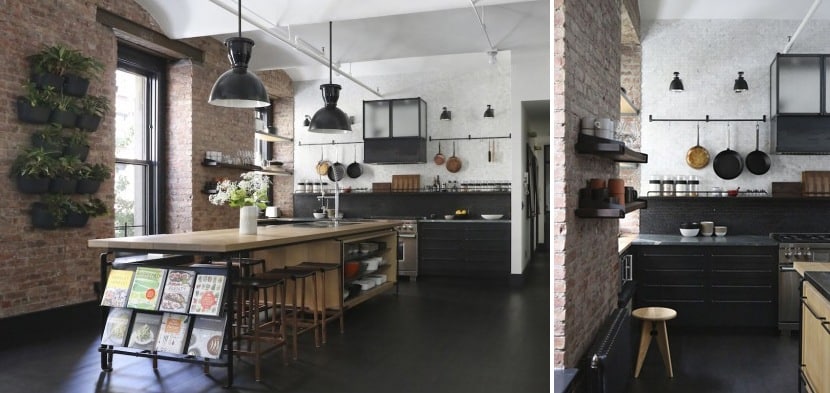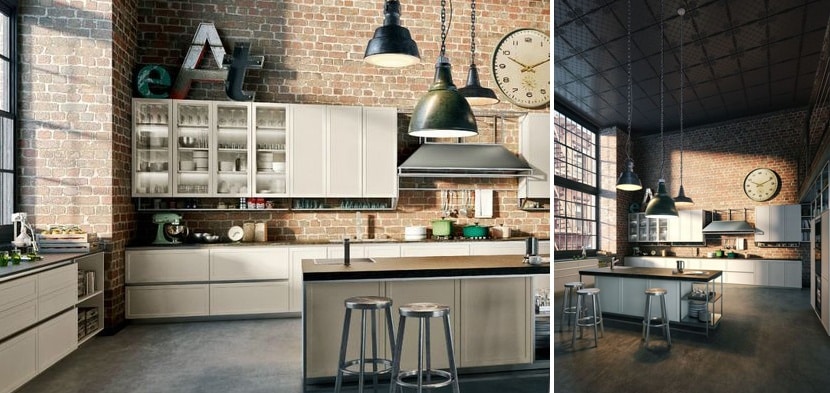 Archiproducts & Kathy Kuo Home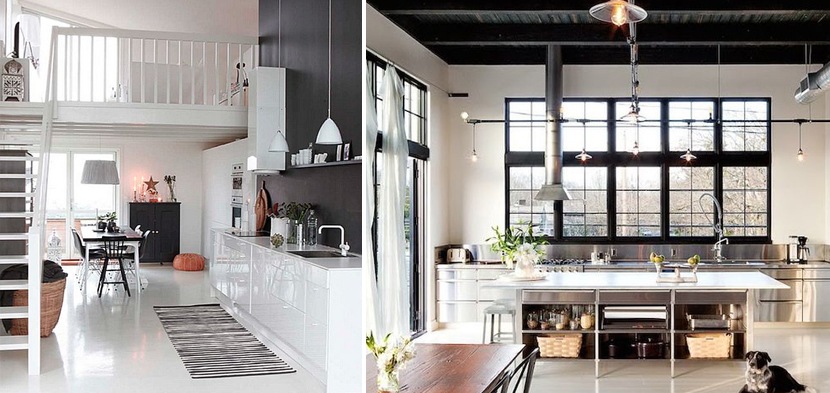 Skona Hem & Cap Du Sud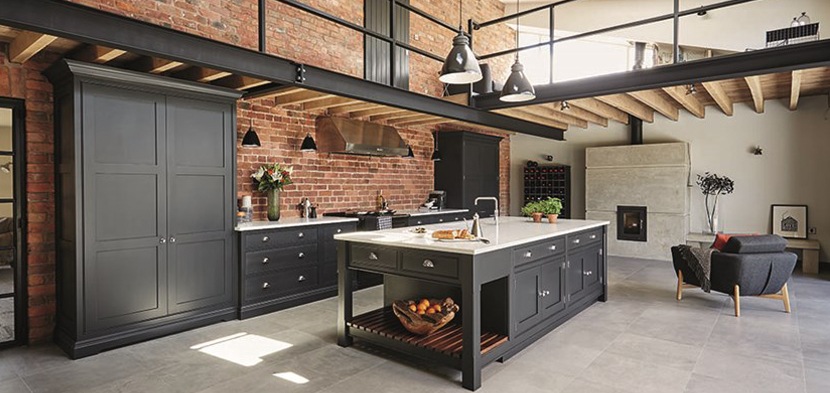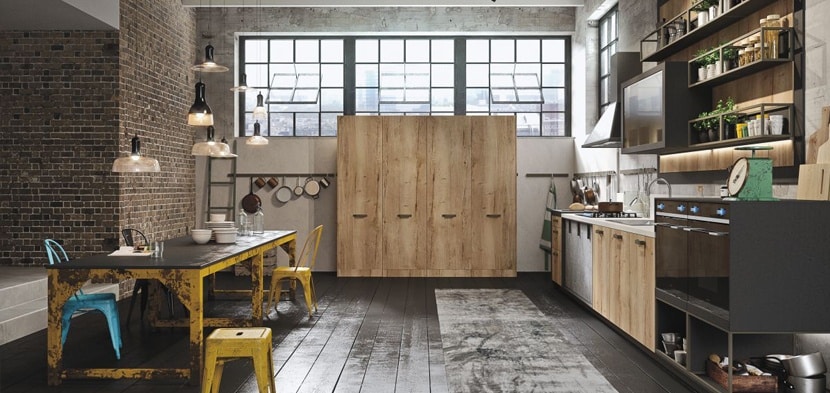 6. Industrial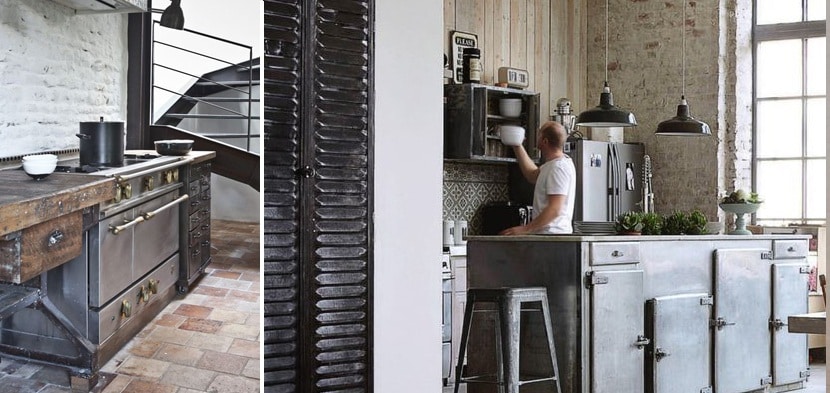 Blood & Champagne & Casa Tres Chic
Since the steampunk revolution, we have seen some very quirky industrial style kitchens. All manner of mechanics are used to create these rugged kitchens with a tongue in cheek look and feel.
Key elements: Exposed piping, industrial fridges or ovens, cage lighting, steel cabinets or lockers, black steel framed windows, quirky furniture with a reclaimed feel.
The overall look reminds us of a workshop, and so you should incorporate old work benches and vice grips between the cabinets to make it feel authentic.
Keep your appliances in stainless steel or black to fit the mood of the space.
Finishes: wood, steel, wire, tin, brass, copper and cast iron.
Colour palette: metallics, black, gunmetal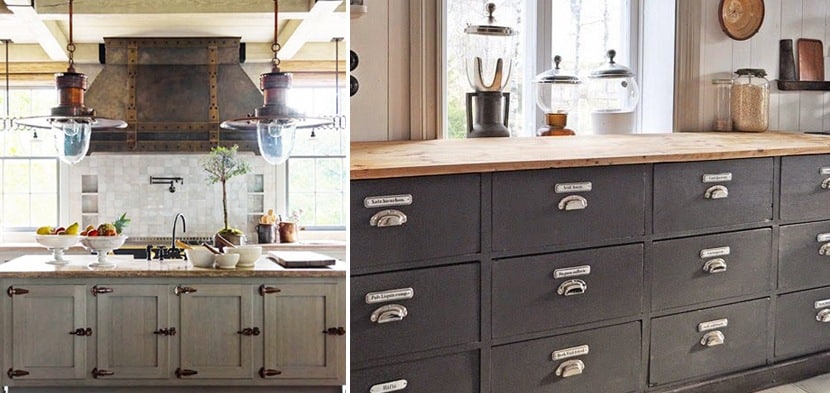 Blood & Champagne & Lunda Gard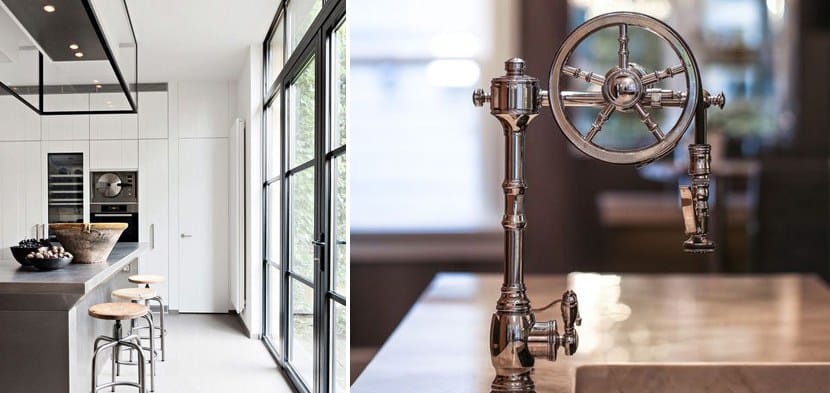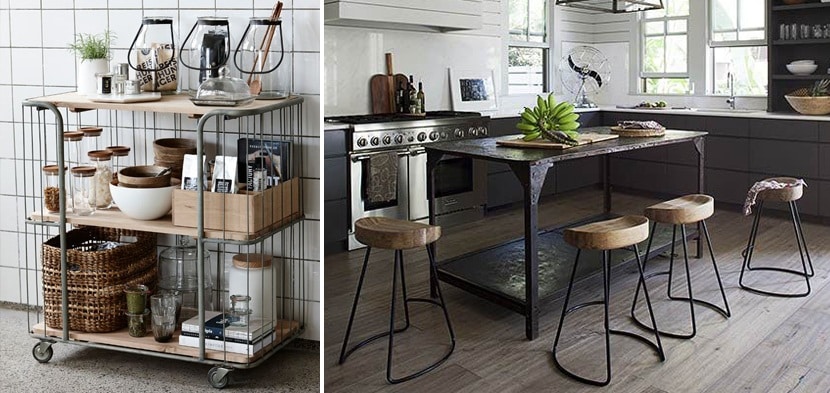 Home Deco & BHG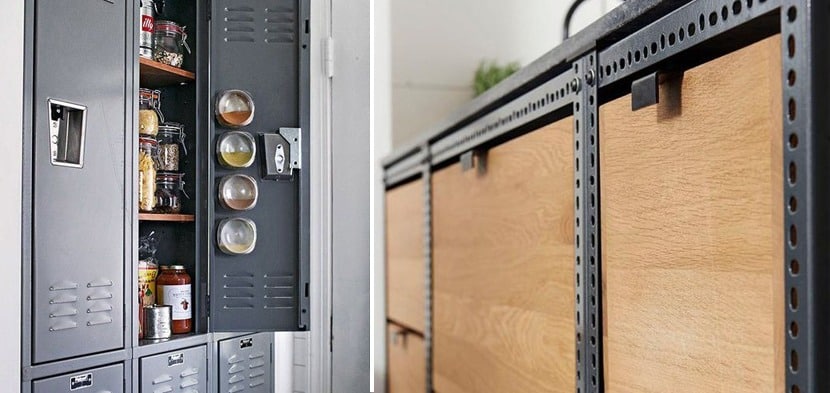 The Kitchn & Desire to Inspire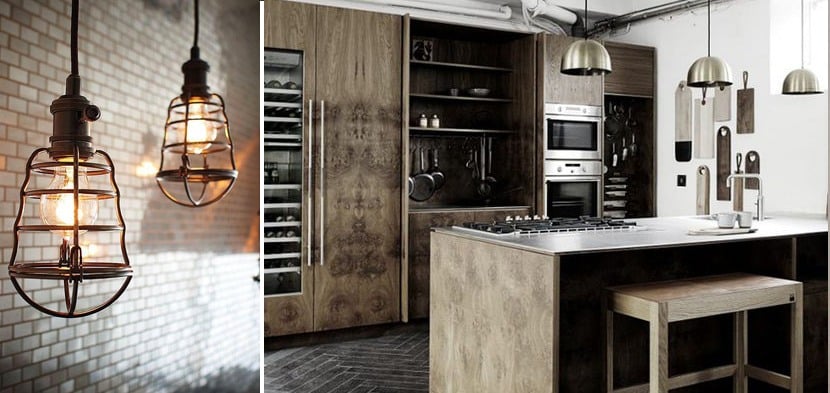 Home Depot & The Design Chaser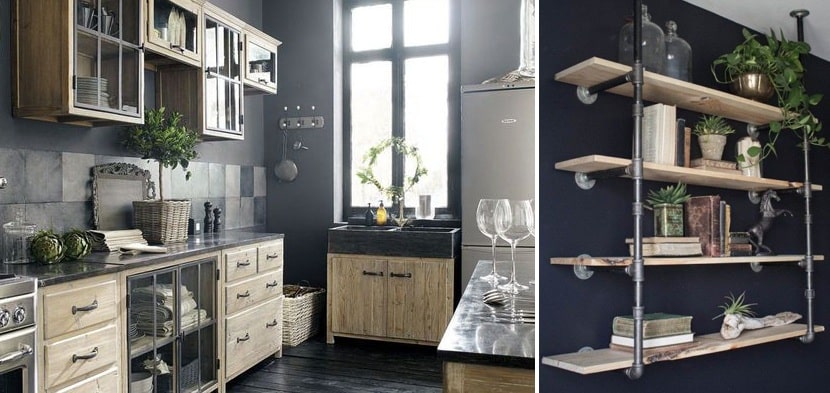 Planete Deco & Magnolia Market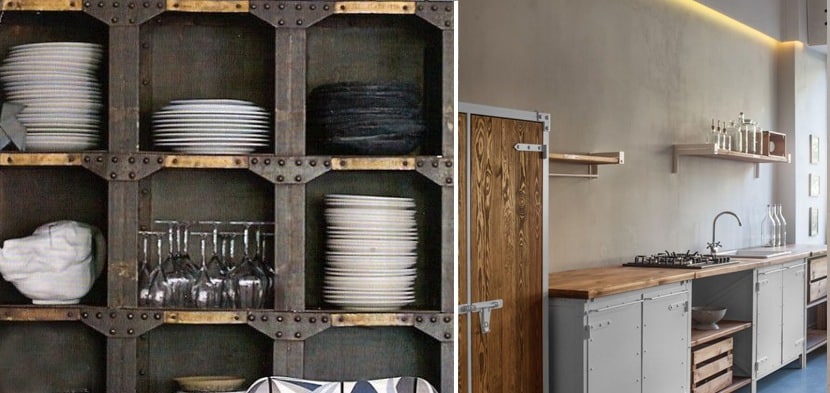 Bret TV Design & Food 52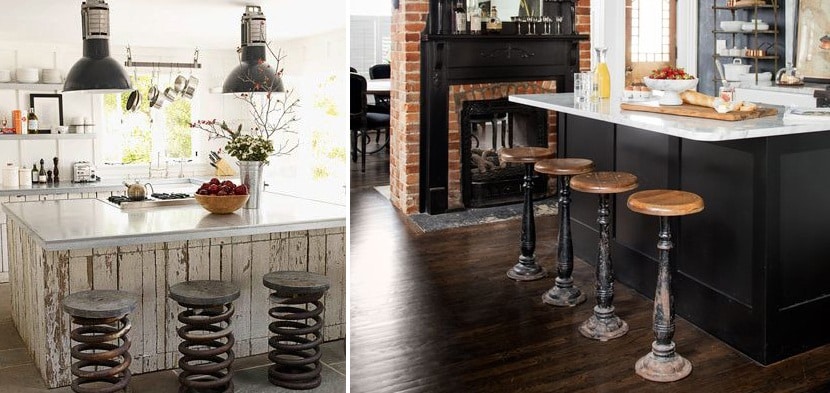 Industrial Cottage & Style Me Pretty
7. Traditional
This style gets interpreted on a very personal level in a variety of different ways. We'll look at a simple version, celebrating simplicity with a hint of nostalgia.
Key elements: Vintage blue and white ceramics, AGA stove, butchers block, marble, linen blinds and decorative cabinetry.
Architectural details and embellishments like corbels, columns, moldings and beading add visual interest to the traditional kitchen.
Counter tops are made up of luxury finishes like marble, quartz or granite.
Custom metal, plaster or stone hoods create an focal point above the oven, that is the heart of this space, especially in the traditional style.
Finishes: natural stone, linen, enameled cast iron
Colour palette: soft blues and reds paired with white and neutrals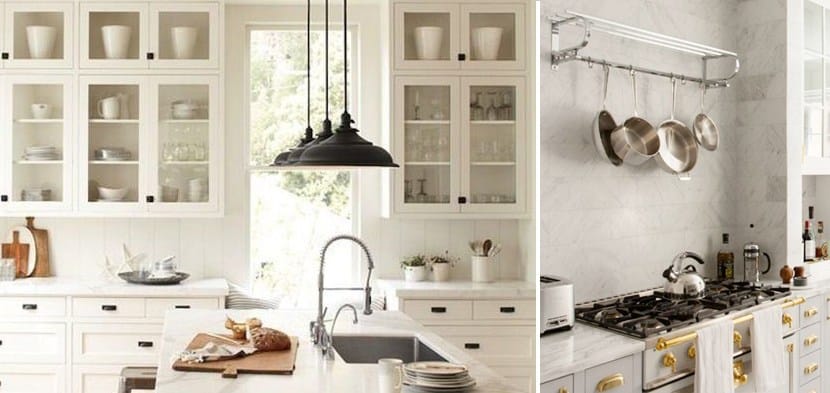 Apartment Therapy & Coco Kelley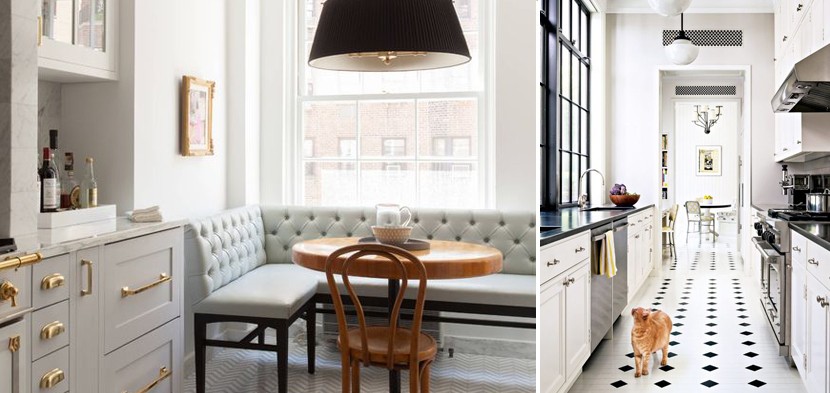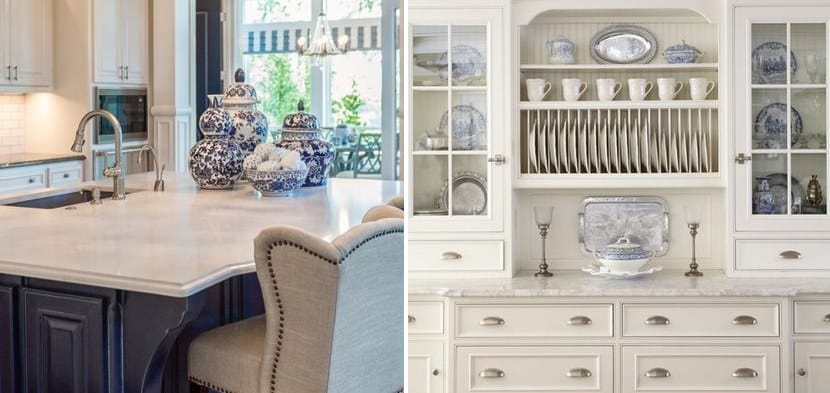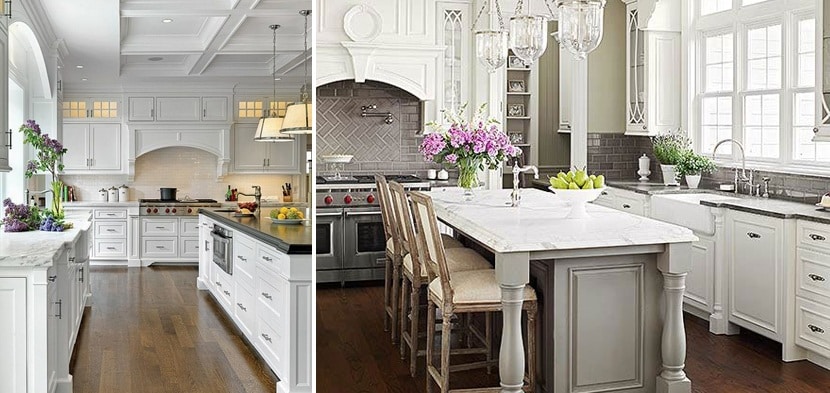 Laurel Bern Interiors & BHG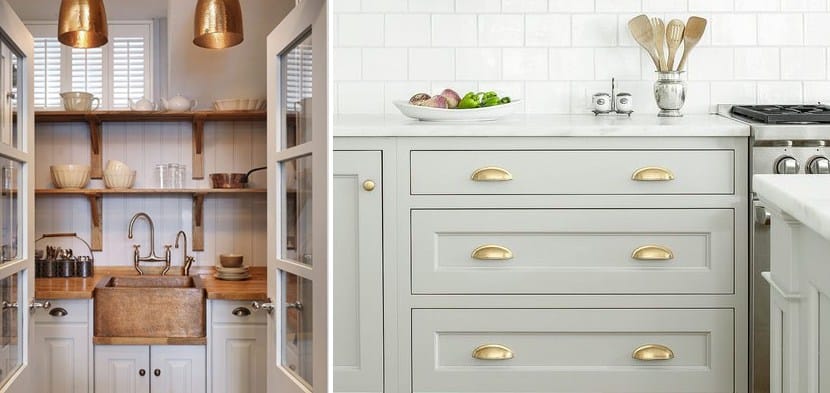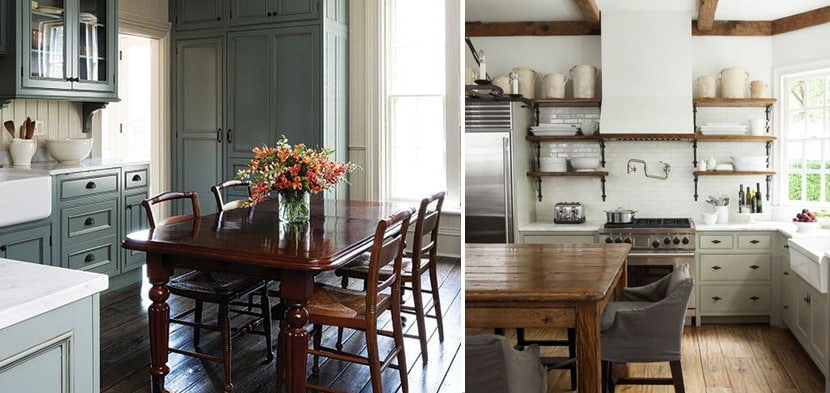 House & Home & Little Glass Jar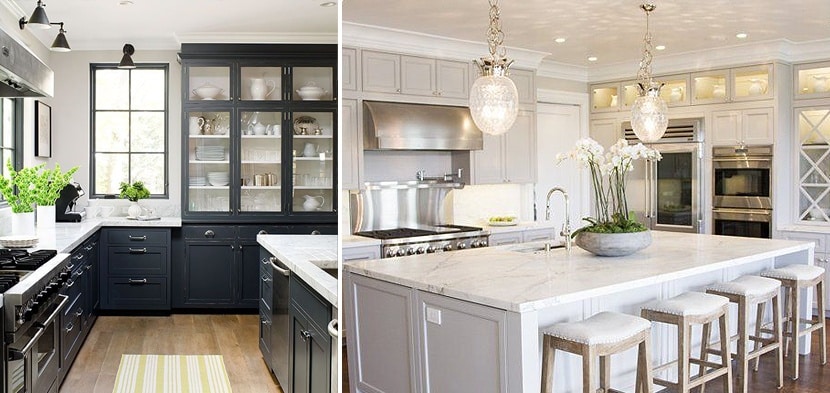 BHG & Apartment Therapy
8. Rustic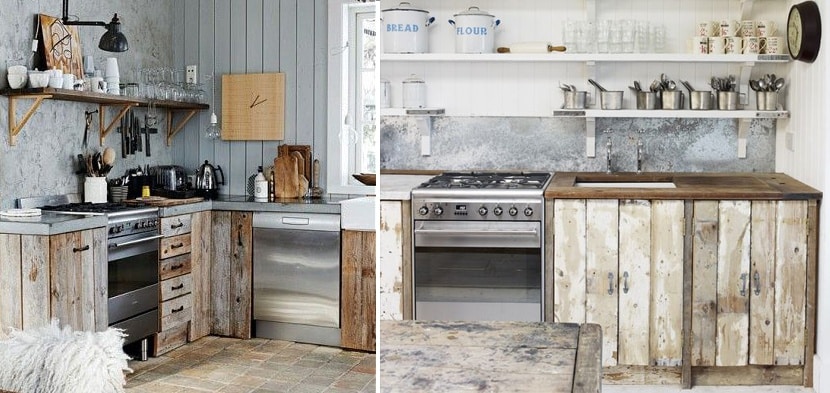 Worn, weathered and distressed are three ideal words to describe this style. The biggest secret to creating this look successfully, is to get the mix of distressed pieces with sleek finishes just right.
Key elements: Reclaimed finishes or fittings create this look: distressed or gently worn with paint peeling or chipped. It should be elements that celebrate their age.
Textured walls showing raw brick and worn solid wooden flooring make a great backdrop for the rustic kitchen with rich texture throughout.
Incorporate textile by using upholstered chairs, cushions and table cloths. Rugs also soften the look and the feel underfoot.
Finishes: Wood, tin, metal, textile
Colour palette: This style is more defined by the texture of distressed surfaces than by a quintessential colour palette.