5 Inspiring Ways to Design a Beautiful Country Kitchen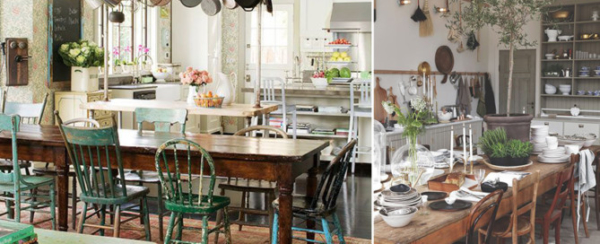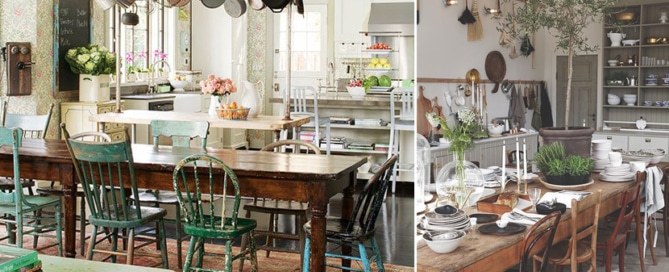 Most home owners are willing to go the extra mile to give their kitchen a unique touch. A country kitchen provides many opportunities for unique styling to truly make your kitchen your own and it doesn't necessarily have to look like it belongs in a farmhouse! From paint colours and materials to fabric patterns and hardware; how you choose to combine these elements is what will create the warmth and style of your space. Here are our top 5 tips to help you create the perfect country kitchen.
BTW, check out our Kitchen Design Ideas section if you need more design inspiration.
1. Contemporary Meets Country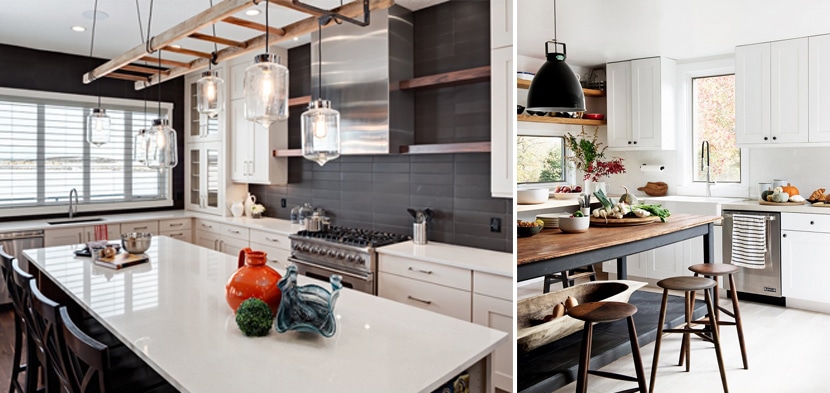 Trickle Creek & MyDomaine
A perfect blend of contrasting old world charm and modern comfort is an effective way to enjoy the best of both design worlds in one cohesive kitchen. Think modern elements like clean white cabinets, black walls and shiny stainless steel, combined with traditional wooden furniture and décor elements. A rustic wooden island is another way to get this contemporary meets country charm kitchen.
2. Well-worn Style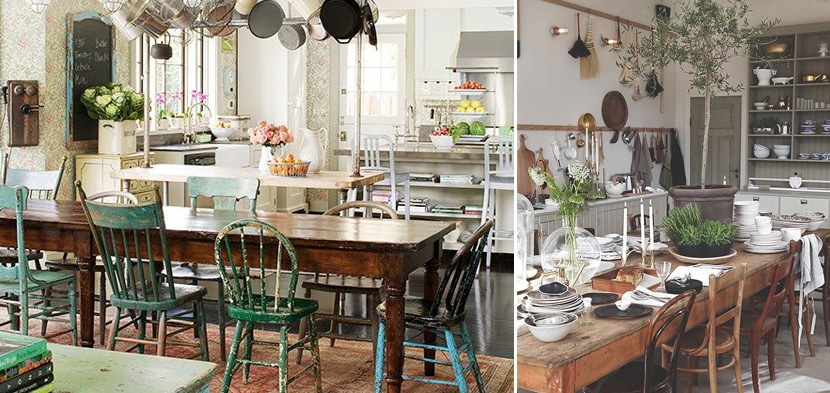 BHG & Go Feminin
A great way to incorporate country style into your kitchen is by adding a large rustic table and chairs, which is perfect not only for meal preparation but also for entertaining family and guests. Mix and match vintage style furniture pieces that will only get more beautiful with age and use. Matching the furniture items should not be a big deal, as the furniture is often passed from one generation to another, with newer items being added to the existing collection.
3. Get Nostalgic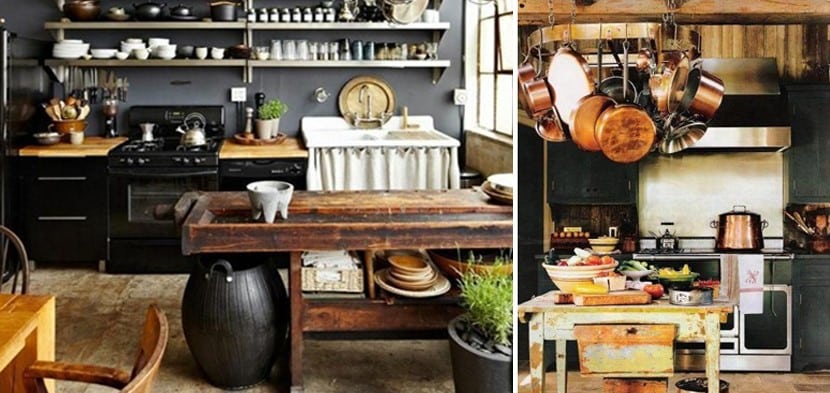 Country Living & Shelterness
Country kitchens can look time-worn but well-loved and inspires a feeling of togetherness. Ideas like hanging pot racks, a little herb garden or displaying beautiful line of antique dishware, will completely change the feel of your kitchen. Display these throughout the kitchen on table tops, on shelves and inside your open cupboards. A good tip is to group these items together to give them a collected theme. Go for copper bottomed pans, cast iron skillets, and copper or distressed brass utensils and leave them out in the open to become part of the room's design.
4. Element of Nature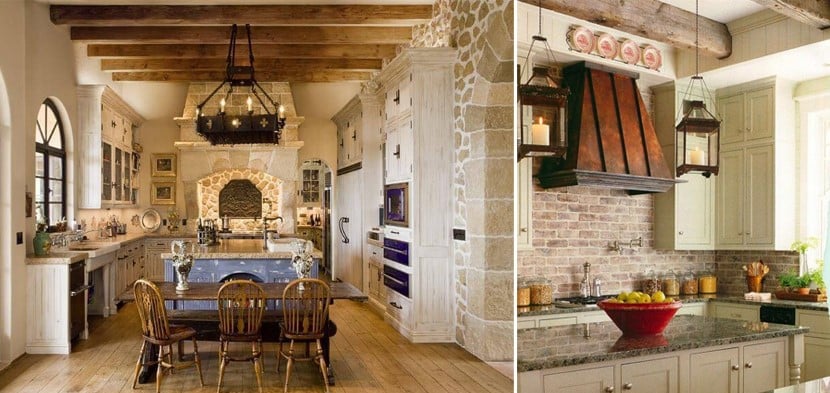 Home Stratosphere & Beneathmyheart.net
Use natural materials to introduce a rustic feel to your country kitchen, even if the architecture lacks traditional elements like archways. Rough plaster, wood, stone and exposed brick will all add texture and character to the space. For warmth and colour, have wool or cotton rugs on the floors. Alternatively, a stone splashback or feature around the oven can create a magnificent focal area and will contribute to the country kitchen look.
5. Dress the Interior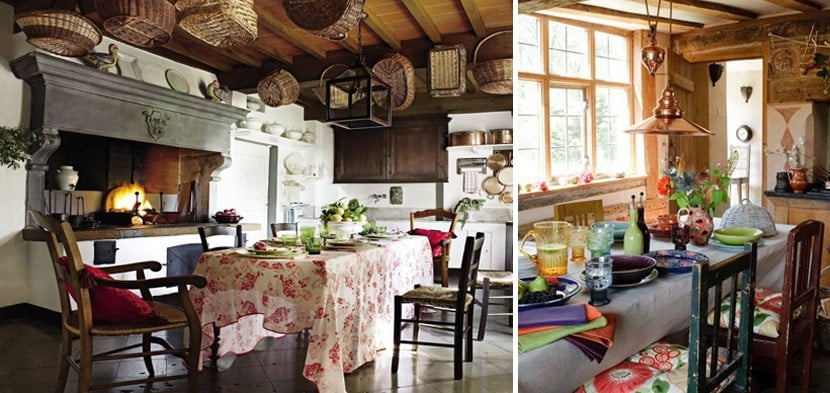 CLH & AVSO.ORG
Playing with patterns is yet another way of injecting that charm into your country kitchen. Use curtains, tablecloths and chair covers in plaids, florals, dots and farm animal patterns for colour and interest. Deep and rich colours are another way of getting the look just right: pomegranate reds, deep golds and hunter greens lend a old-world touch and an inviting atmosphere to the space. Also, attractive recipe books with leather or fabric covers will add detail to this country style. The addition of woven baskets for fresh produce on tables or counter tops can also add character and support this design.
Book a Design Appointment
If you enjoyed our design ideas, subscribe for updates.
Get kitchens design ideas in your inbox.
Check out these posts for more Kitchen Design Ideas.
Most Popular
Dublin Kitchens: The 7 Latest Trends
The 12 Most Influential Kitchen Design Trends from the US
5 Tips for Designing Small Kitchens
6 Exciting Colour Palettes for Kitchens with Personality
6 of the Best Solutions for Corner Cupboards
10 of the Most Beautiful Kitchen Backsplashes
Types of Kitchens
In-Frame Kitchens – 5 Things You Should Know
What are Shaker Kitchens and Where are They From?
What Exactly are Hand Painted Kitchens?
The Top 10 Trends for Modern Kitchens
Design Ideas and Trends
5 Clever Ways to Increase Natural Kitchen Lighting
How Much Value Does a Fitted Kitchen Add to Your Home?
12 Must Have Celebrity Kitchens of the Rich and Famous
Families
10 Kitchen Design Tips for Families with Kids
6 Tips for a Kitchen for a Large Family
Cabinets, Doors, Kitchen Islands & Finishes
9 Essential Kitchen Cabinet Types