5 Design Characteristics of a Minimalist Kitchen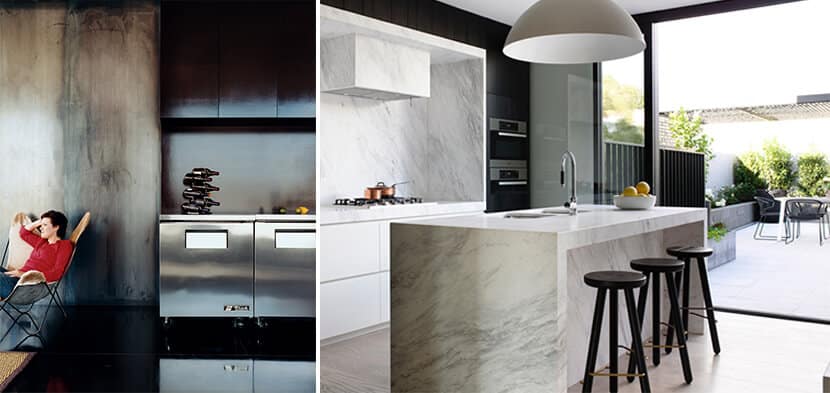 The minimalist movement has been around since the 1950's and although it has taken various forms, its simple clean lines are still very popular. The principle of minimalism is to achieve better design through simplicity of materials, object, space and form. If you like the idea of having a minimalist kitchen, there are a few things to consider in your design and planning phase. Here is our list of top 5 design characteristics of a minimalist kitchen.
BTW, check out our Kitchen Design Ideas section if you need more design inspiration.
Less is More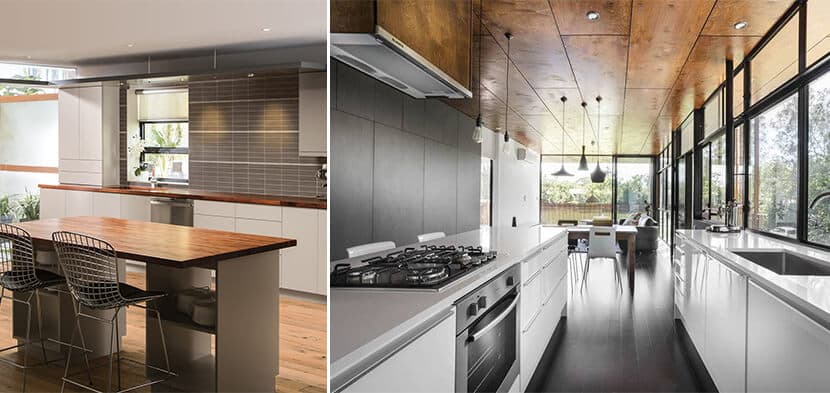 Minimalism aims to keep things simple. But the simplifying of design doesn't imply the absence of design. Make sure that you have everything you need in your kitchen, but nothing more. The challenge is avoiding wanting to adorn everything with little unnecessary details – the beauty is the design itself. Choose base and top cabinets with solid door panels and optimise every nook and cranny for storage. Choose a simple monochromatic colour palette, and if you must add colour, do so modestly.
Clean Lines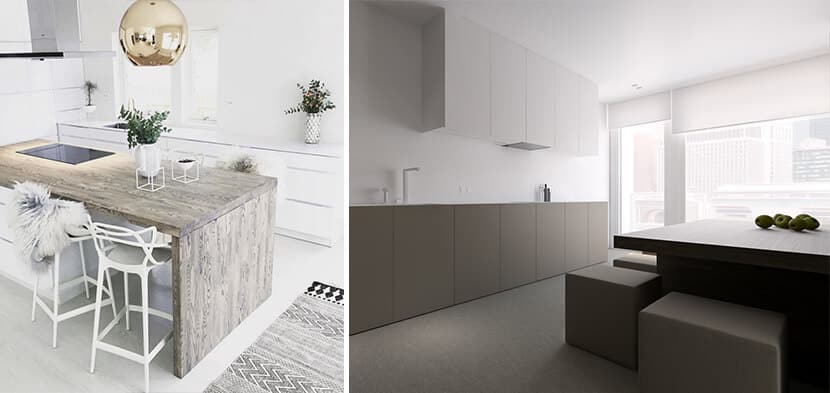 The style is unfussed, so it is essential to keep the lines in your minimalist kitchen clean and crisp. Sharp corners, concealed hinges and handles, and square edges all contribute. The style is known for the use of squares, rectangles and simple vertical and horizontal lines, so play on these when you choose tiles and other finishes. Solid forms likes cubes are another trademark of minimalism, which further emphasise squares and rectangular shapes.
Clutter Free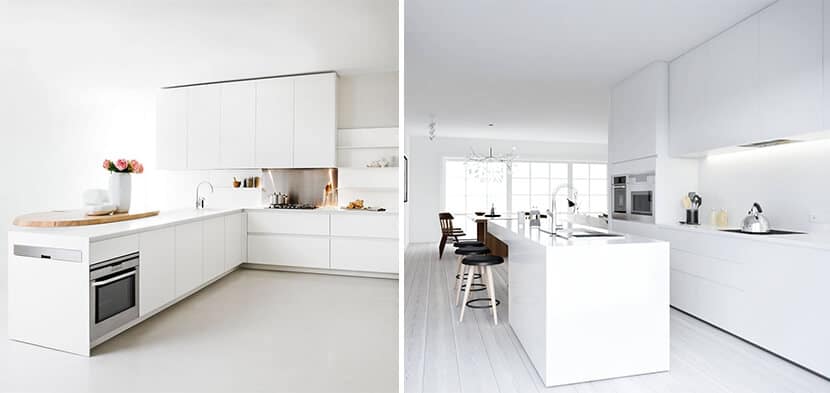 Paper to Stone & Home Designing
Probably the most important factor is to keep your kitchen clutter free. A place for everything and everything in its place. Clever storage solutions for appliances and concealed bins and other utilities are essential to having that clean, fuss-free look. Minimalism is traditionally associated with free, open spaces. But if you are not able to have an airy kitchen, then aim to emulate it by limiting the items on your countertops and shelves.
Single Focal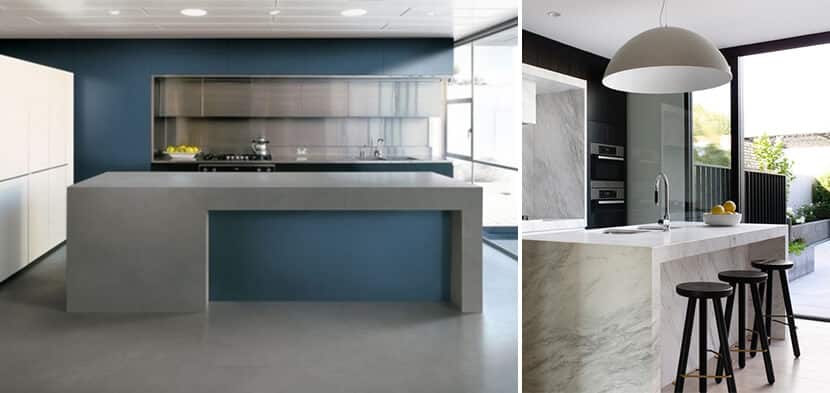 Minimalisti & Jackson Stone Works
Just because it's minimalist, it doesn't mean that your room can't have a focal. A single colour or finish will add a personal touch to the room. But stick to 1 colour or texture only so as not to dilute the effect. A prominent light fitting over an island is another great way to add personality to your minimalist space.
Material Beauty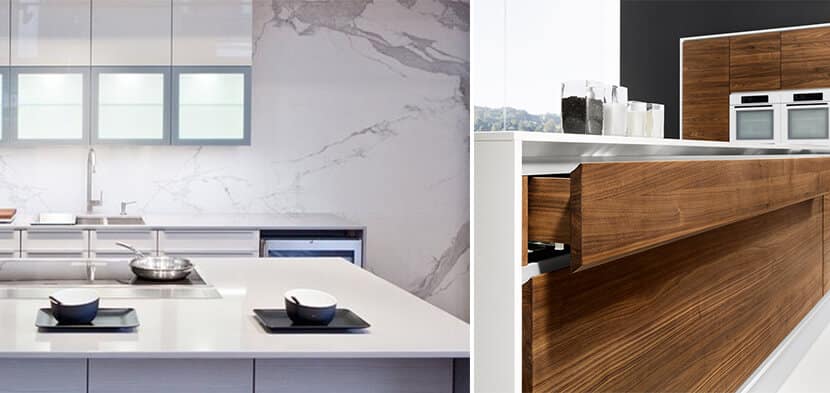 Minimalism celebrates the beauty of materials, so choosing the right textures and surfaces is essential to the design. Using humble concrete or exposed wood grain in itself has beautiful qualities – there is no need to adorn it with anything else. A single shiny chrome tap protruding from a counter is also great design in its own right.
With these characteristics in mind, let us create your minimalist kitchen – book a design consultation with one our accomplished designers today!
Book a Design Appointment
If you enjoyed our design ideas, subscribe for updates.
Get kitchens design ideas in your inbox.
Check out these posts for more Kitchen Design Ideas.
Most Popular
Dublin Kitchens: The 7 Latest Trends
The 12 Most Influential Kitchen Design Trends from the US
5 Tips for Designing Small Kitchens
6 Exciting Colour Palettes for Kitchens with Personality
6 of the Best Solutions for Corner Cupboards
10 of the Most Beautiful Kitchen Backsplashes
Types of Kitchens
In-Frame Kitchens – 5 Things You Should Know
What are Shaker Kitchens and Where are They From?
What Exactly are Hand Painted Kitchens?
The Top 10 Trends for Modern Kitchens
Design Ideas and Trends
5 Clever Ways to Increase Natural Kitchen Lighting
How Much Value Does a Fitted Kitchen Add to Your Home?
12 Must Have Celebrity Kitchens of the Rich and Famous
Families
10 Kitchen Design Tips for Families with Kids
6 Tips for a Kitchen for a Large Family
Cabinets, Doors, Kitchen Islands & Finishes
9 Essential Kitchen Cabinet Types