How to Make Your Own Mobile Outdoor Kitchen for Summer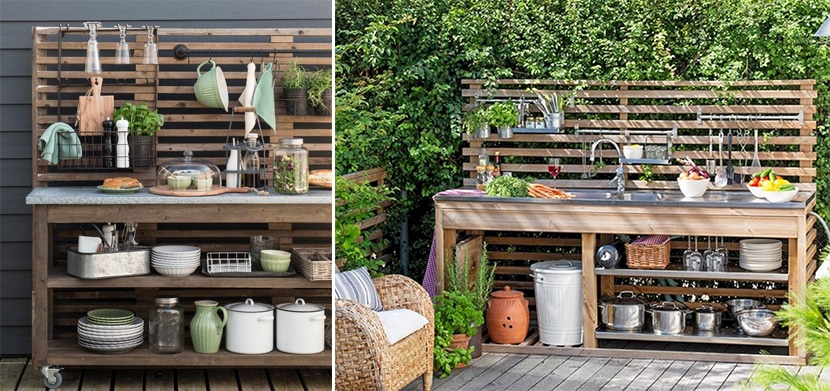 Lazing on a thick blanket under a large, shady tree with a cold drink in hand is a very satisfying way to make the most of balmy summer days.
Thanks to the popularity of mobile outdoor kitchens in our gardens, hosts no longer have to forfeit the sun and fun outside to take on the kitchen's heat.
Making your own mobile kitchen unit to use for drinks and food preparation is as simple as utilising a workbench. But, to get the most out of it, you must ensure that it is properly equipped. Here are our 7 must-haves for a practical and convenient mobile outdoor kitchen.
BTW, check out our Kitchen Design Ideas section if you need more design inspiration.
1. Carefully Consider Your Materials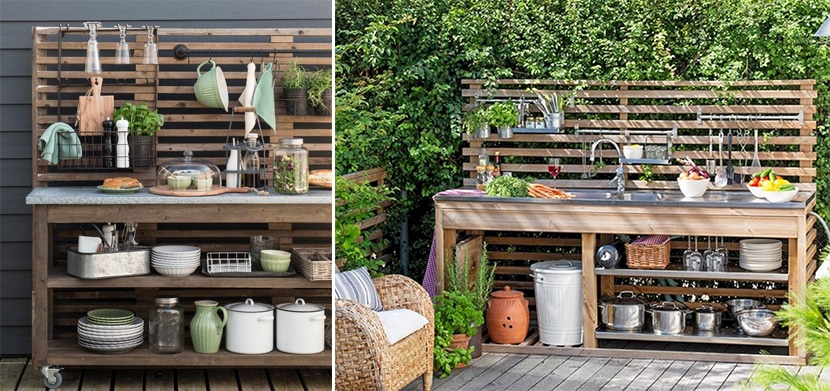 Even if you use a workbench, you can increase the lifespan of your unit by installing a stone or stainless steel worktop. This will protect the wood and is a lot more hygienic as well.
If you choose to keep your workbench as is, then make sure that you use a good outdoor wood sealer to prevent your mobile kitchen unit from being damaged by the elements.
2. Everything and the Kitchen Sink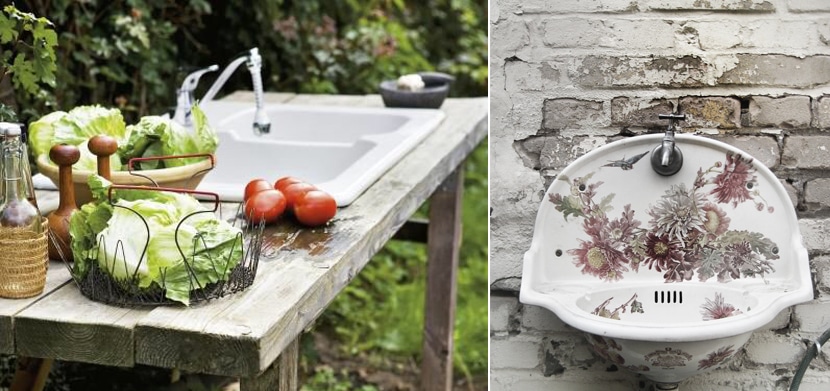 Having a place to rinse your vegetables and wash your hands while preparing food is essential for good hygiene. Many mobile outdoor kitchens come with a basin and tap that can easily connect to a standard hose.
Remember to also connect the outlet to a pipe that you can place in the nearest flower bed to make good use of the wastewater. If your unit doesn't allow the inclusion of a sink, then choose to mount one a nearby wall.
3. A Place for Everything, and Everything in Its Place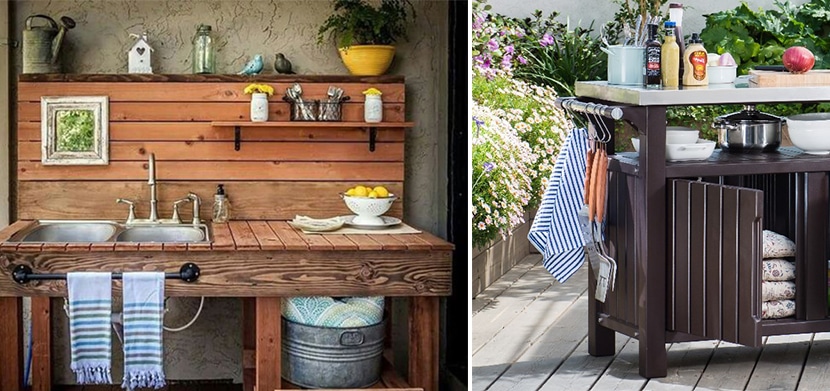 For a small area to pack a lot of punch, it is essential to ensure that you have a place for everything.
Whether that is hooks and rails or rugged outdoor storage baskets, make sure that you have sufficient storage for your BBQ tongs, a sharp knife, and spices away from the elements. Don't forget the bottle of surface spray and liquid soap!
4. Keep the Herbs Handy
What could better complement the outdoor status of your mobile kitchen than some live herbs? A pot or three with your favourite fresh herbs displayed on your kitchen top not only adds a touch of colour to the wood or steel structure but means you're much more likely to reach over for a handful of fresh flavour for your summer cooking.
You can even cut holes through a wooden countertop to put the pots in. Just remember to place something underneath to catch the run-off after watering.
5. A Good Pair of Wheels Go a Long Way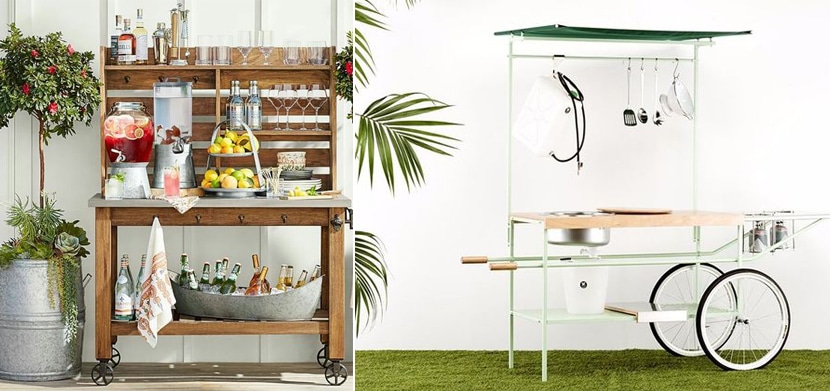 If you're building a unit, be sure to select a decent pair of wheels large enough to navigate the rough outdoor terrain and keep your kitchen mobile.
While you're at it, have a look for something with a little vintage flair to further set the scene for your summer BBQ. If your wheels do not have a locking mechanism, it is better to make a cart with two wheels instead of four.
6. Wet Towels Make the Best Kitchen Companions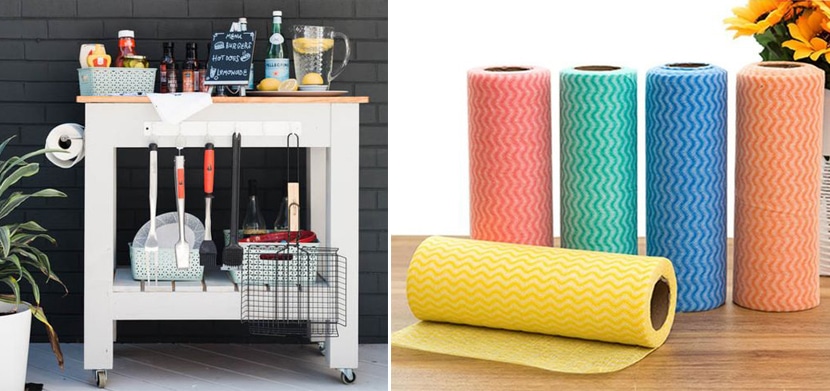 Handy little towel railings bolted onto your mobile kitchen are just that – handy. They're most often used for kitchen towelling or dishcloths, but a roll of disposable kitchen cloths may prove more versatile and suited to the task.
Unlike a paper towel, you can soak one when you need to, and unlike a dishcloth, you won't mind throwing it out when it's dirty.
7. Waste Bins Needn't Be Rubbish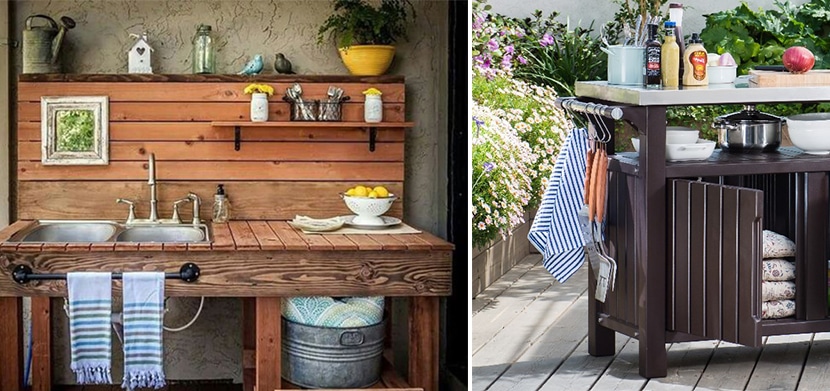 Include a built-in waste bin in your unit to really keep things super practical. Conceal it underneath the countertop – you can even ad a little door in front to properly hide it away.
If your trolley space doesn't allow it, then choose a beautiful large garden pot, lined with a refuse bag. It serves the same purpose while making a statement. Alternatively, consider a charming vintage rubbish bin that blends in with your other kitchen gear.
A surprising amount of convenience can be built into your mobile outdoor kitchen. But even the greatest inventions can do with a little extra glam or innovation. Get in touch with our helpful consultants to discuss your specific summer kitchen needs.
Feature Image Amazon & Conan Homes
Book a Design Appointment
If you enjoyed our design ideas, subscribe for updates.
Get kitchens design ideas in your inbox.
Check out these posts for more Kitchen Design Ideas.
Most Popular
Dublin Kitchens: The 7 Latest Trends
The 12 Most Influential Kitchen Design Trends from the US
5 Tips for Designing Small Kitchens
6 Exciting Colour Palettes for Kitchens with Personality
6 of the Best Solutions for Corner Cupboards
10 of the Most Beautiful Kitchen Backsplashes
Types of Kitchens
In-Frame Kitchens – 5 Things You Should Know
What are Shaker Kitchens and Where are They From?
What Exactly are Hand Painted Kitchens?
The Top 10 Trends for Modern Kitchens
Design Ideas and Trends
5 Clever Ways to Increase Natural Kitchen Lighting
How Much Value Does a Fitted Kitchen Add to Your Home?
12 Must Have Celebrity Kitchens of the Rich and Famous
Families
10 Kitchen Design Tips for Families with Kids
6 Tips for a Kitchen for a Large Family
Cabinets, Doors, Kitchen Islands & Finishes
9 Essential Kitchen Cabinet Types