7 Little Things That'll Make all the Difference to Your Laundry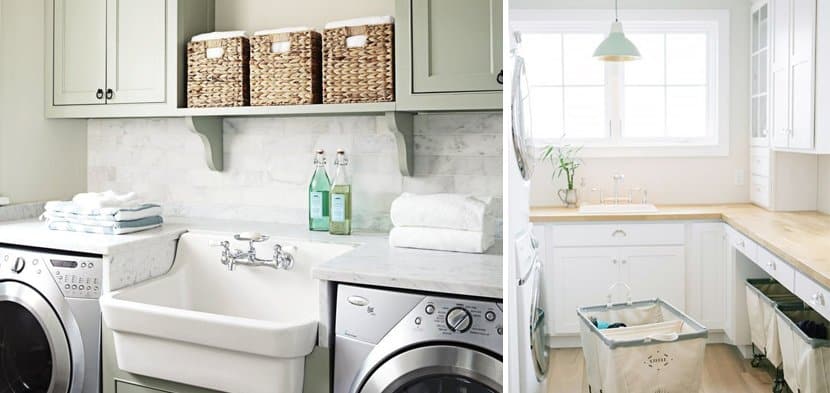 So much of our time every day is spent doing chores, whether we like it or not. From sorting clothing to washing, drying, ironing and folding it again, doing laundry can be a particularly time-consuming chore. By following these seven simple design tips, you can create the most efficient laundry, leaving you with more time to do the things you love.
BTW, check out our Kitchen Design Ideas section if you need more design inspiration.
1. Create Functional Zones Within the Laundry Area
It is important to have a logical and easy to follow workflow in order to enjoy using a space. Design designated zones for sorting, washing, drying and ironing of your laundry. The convenience of having all the necessary appliances and tools within their zone will save a large amount of time as well as minimize necessary movements between appliances. It is also useful to have counter areas at different heights for the different tasks being performed.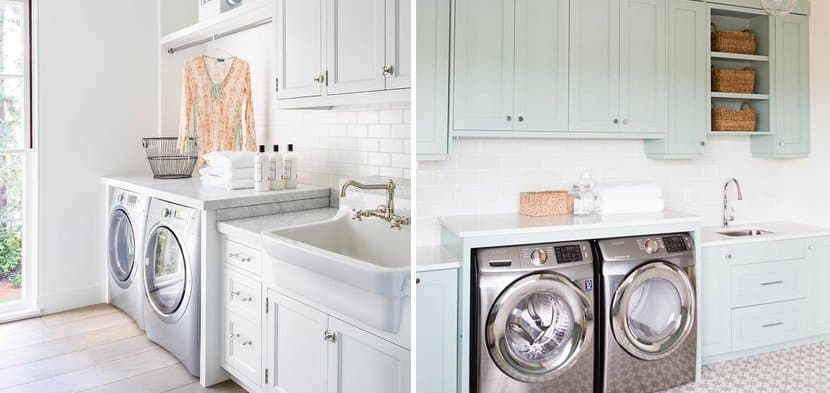 Decor Pad and Home Bunch
2. Take Full Advantage of Storage Space
Storage space is something that is lacking in many homes. A laundry offers the perfect opportunity to create storage space to your advantage. Cupboards up to the ceiling, shelves, drawers and baskets all help to add additional storage options. While there are plenty of laundry related items that require storage, lesser-used household items, and cleaning equipment could also be neatly hidden away in a closed laundry cupboard. Having a variety of cupboard sizes and shelves allows for different items to be stored in the most appropriate place, using space wisely.
Be sure to store laundry detergents and other chemicals on higher shelves, to keep them away from children and pets.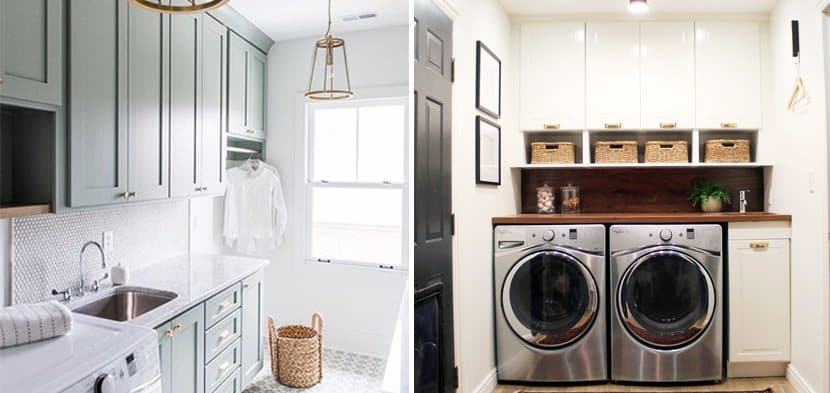 Pinterest and Chris loves Julia
3. Include Hanging Space
Hanging space is a great idea for anyone's laundry, but especially for those who live in areas that have extended rainy seasons. Hanging laundry immediately after washing to air-dry, or after drying them in a dryer, will prevent unnecessary creasing and save time on ironing. Hanging space can be created with fixed rods, temporary tension rods or with folding clothing racks that can be stored away neatly against the wall when not in use.
Southern Living and Vintage Revivals
4. Choose Appropriate Surfaces
Since the functioning of a laundry room involves dirty laundry, water, and strong detergents, it is important to choose countertop and floor finishes that are easy to clean and not easily damaged by water or chemicals. Tiles, sealed stone or vinyl work well for floors, while quartz, composite or laminates are good for countertops. Be sure that your countertops are well maintained to prevent any laundry from getting caught and snagged.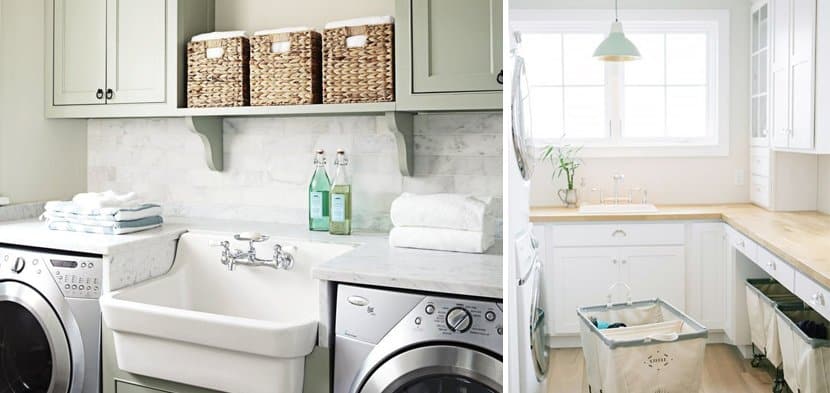 My domaine and House Beautiful
5. Keep Everything Accessible
Along with good storage and workflow design, accessibility is key to having an efficient laundry room. Keep all the items that are used when the laundry is done, on a shelf that is easy to reach, or in a cupboard that is easy to open. Using baskets or laundry bags on wheels is a useful way to be able to move the laundry around throughout the process. If some of the lesser-used items are stored on shelves that are not easy to reach, keep a small foldable stepladder nearby. To make reaching for the ironing board as effortless as possible, simply hang it on wall hooks or use a fitted board that can fold out straight from the wall.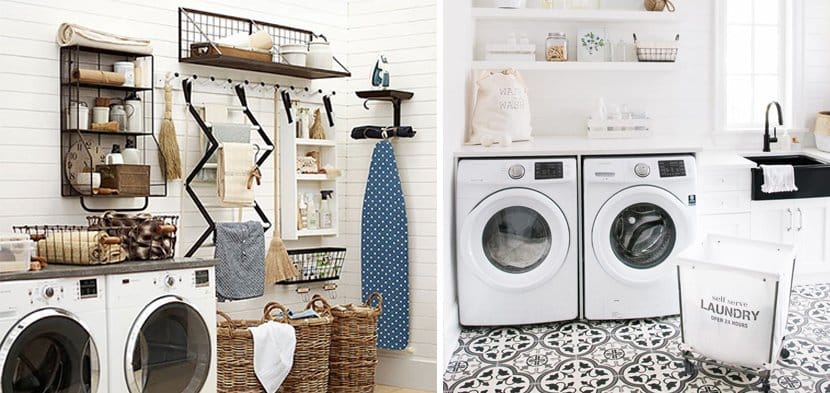 6. Ensure Good Lighting
While good lighting is important in any room, it is particularly important in a laundry room where laundry is checked for stains and whether or not clothing has come out of the wash clean. Natural light is first prize but often artificial lighting is also needed. Layer your lighting so that it is both decorative and functional. Decorative lighting, including pretty light fittings in the ceiling, will help to illuminate the room, but the addition of task-specific lighting under cabinets to light up work surfaces, is very useful.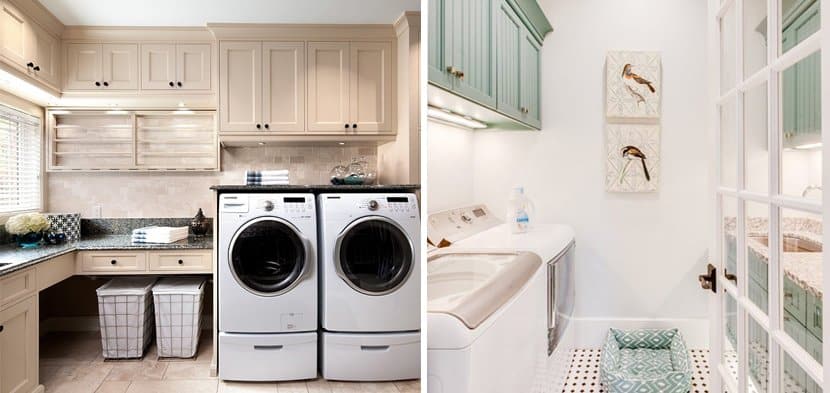 Home Bunch and House of Turquoise
7. For Smaller Rooms, Turn a Cupboard Into a Hidden Laundry
Many homes do not have enough space for a separate laundry room. Even when there is a limited amount of space, a beautiful and functional laundry area can still be achieved. Add simple folding or stacking doors to create a laundry cupboard in an alcove or recess. This allows the doors to be closed in front of the laundry, leaving it neat and tidy when it is not in use.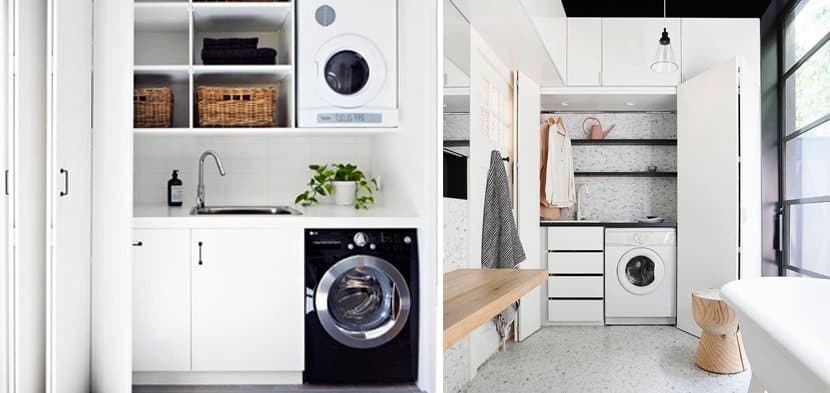 Homes to love and Contemporist
Doing the laundry is something that many people do not enjoy, so be sure to make your laundry space as welcoming and energizing as possible. Decorate it in a way that shows your personality and makes you want to spend time in it. Contact one of our friendly designers who will be happy to
Book a Design Appointment
If you enjoyed our design ideas, subscribe for updates.
Get kitchens design ideas in your inbox.
Check out these posts for more Kitchen Design Ideas.
Most Popular
Dublin Kitchens: The 7 Latest Trends
The 12 Most Influential Kitchen Design Trends from the US
5 Tips for Designing Small Kitchens
6 Exciting Colour Palettes for Kitchens with Personality
6 of the Best Solutions for Corner Cupboards
10 of the Most Beautiful Kitchen Backsplashes
Types of Kitchens
In-Frame Kitchens – 5 Things You Should Know
What are Shaker Kitchens and Where are They From?
What Exactly are Hand Painted Kitchens?
The Top 10 Trends for Modern Kitchens
Design Ideas and Trends
5 Clever Ways to Increase Natural Kitchen Lighting
How Much Value Does a Fitted Kitchen Add to Your Home?
12 Must Have Celebrity Kitchens of the Rich and Famous
Families
10 Kitchen Design Tips for Families with Kids
6 Tips for a Kitchen for a Large Family
Cabinets, Doors, Kitchen Islands & Finishes
9 Essential Kitchen Cabinet Types