6 Tips to Make the Most of an Outdoor Kitchen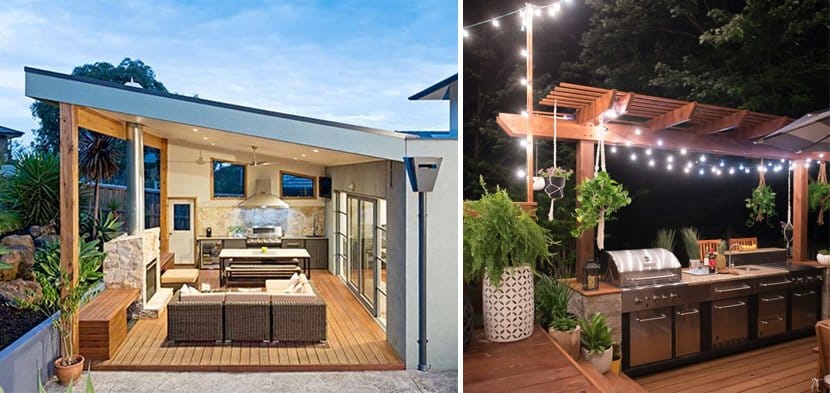 Whether it's for simple family meals or for large gatherings, having an area outdoors for entertaining is a great way to enjoy beautiful days.
Including cooking facilities with an al fresco kitchen allows everything to happen in one space. The design of your kitchen is important, ensuring ease of use and practicality.
The simpler it is to have meals outside, the more frequently it will be enjoyed. Here are our top 6 tips to make the most of what if left of the summer with your outdoor kitchen.
BTW, check out our Kitchen Design Ideas section if you need more design inspiration.
1. Consider Functionality
Al fresco kitchens are a great space for entertaining guests.
When designing an outdoor kitchen it is important to consider the type of meals that you would like to prepare as well as the energy source available. If electrical power is available a suitable outdoor hob can be included.
If not, a gas hob, barbeque, fire pit or pizza oven are also good options. Another aspect to consider is the size of the gatherings.
Be sure to have enough seating space for family and friends. Keep them close to the preparation area with a drink in their hand to keep you company while you prepare the meal.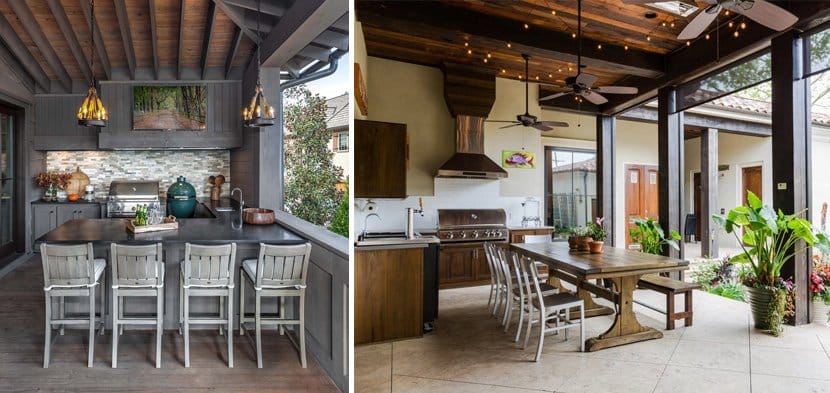 2. Keep Everything Within Easy Reach
To keep your al fresco dining experience simple, good storage is a must. Having outdoor cutlery, crockery and cooking utensils will prevent the need to make frequent trips back inside.
Include a good food preparation area close to the cooking facilities. If plumbing is available, having an outdoor sink will make both preparation and cleaning up much simpler.
If the outdoor area is on a patio or along an exterior house wall, an opening hatch or wide doors can be used to ensure a good flow from inside to outside.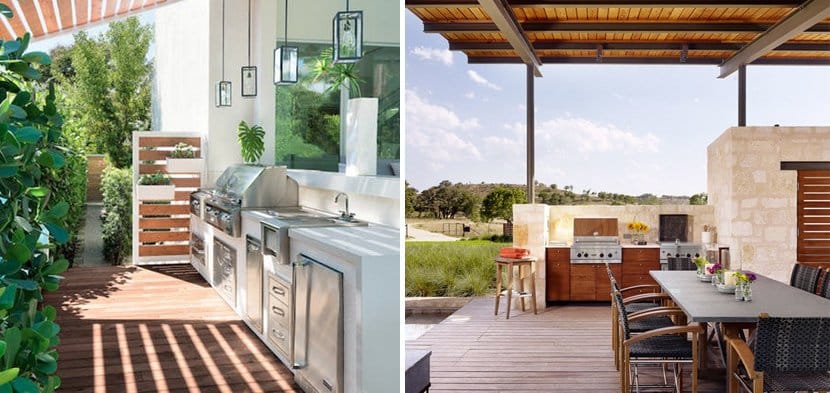 Maite Granda & Architectural digest
3. Choose Durable Surfaces and Equipment
To ensure the longevity of your outdoor entertaining area, the furniture, surfaces, and equipment will need to be able to withstand the elements.
Choose items that are durable, waterproof and resistant to UV light damage. Getting the appropriate covers for furniture and equipment will further increase their lifespan.
Using concrete, recycled plastic, sealed tiles or stainless steel are good options to consider. It is also important to design the space so that it is easy to clean.
Any fabric items should be easily washable, surfaces easy to wipe down and furniture easy to move to clean around.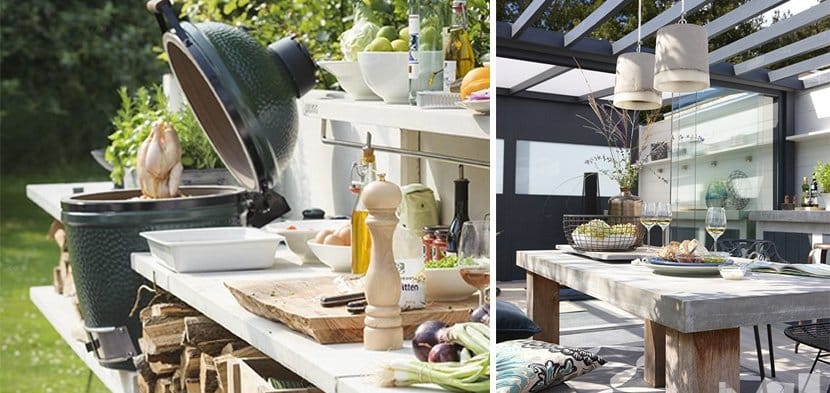 4. Include a Shelter
Since weather can often be unpredictable, including a shelter is always a good idea.
A permanent awning, canvas or even folding and stacking glass doors that create an uninterrupted flow between indoor and outdoor spaces work very well.
These allow for al fresco dining to continue no matter the weather conditions by providing shelter from wind and rain, as well as shade from the sun.
Add an outdoor heater or cuddle up close to the fire with some blankets when the temperatures fall. Always be safe by making sure that cooking equipment and enclosed fires have sufficient ventilation.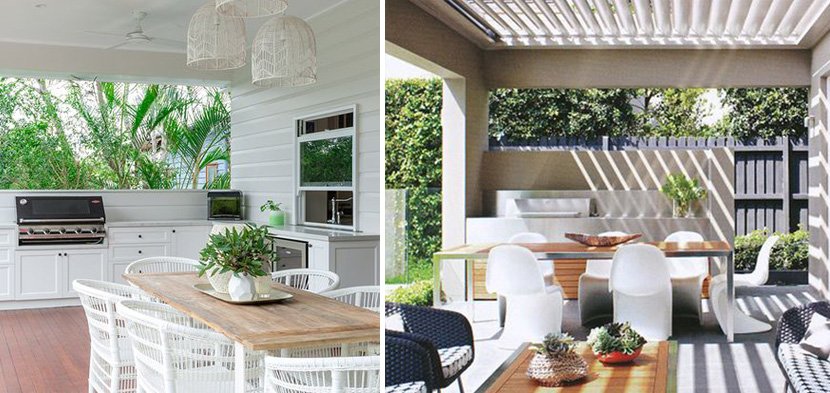 Modern Survival Living & I Build New
5. Add Good Lighting
Outdoor lighting is not only functional, but also adds to the atmosphere.
Choose lighting that is bright enough for guests to see what they are eating, but still feel like they are outside in the evening. Soft lights such as fairy lights or small pendant lights are a great option, as well as small portable lights or candles placed on the table.
If there is no electrical power to your al fresco kitchen, solar powered lights can also be used.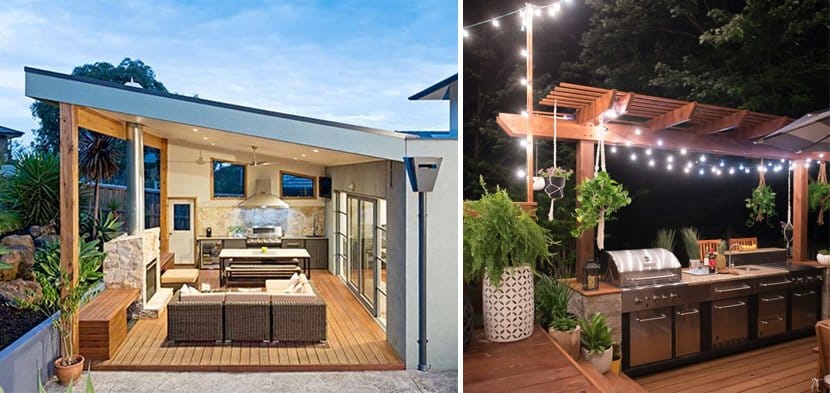 Custom Outdoor Living & Place of my Taste
6. If You Don't Have an Outside Space, Bring the Outdoors Inside.
Just because you may not have a garden or patio, doesn't mean that you can't still enjoy a meal with an outdoor feel.
Place a table close to the windows and bring the feeling of the outdoors inside with some oversized greenery and gentle lighting.
To maintain the relaxed atmosphere set the food out on the table, allowing family and friends to serve themselves.
If the weather is pleasant, open up the windows and let the cool breeze in.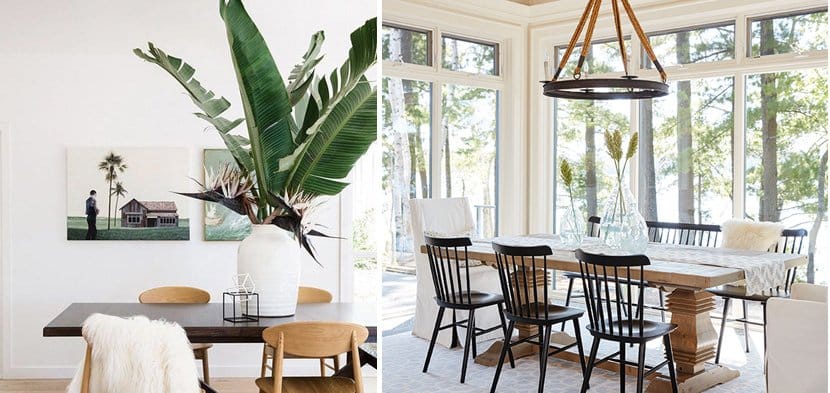 There are many options to consider when designing your perfect al fresco kitchen.
For assistance, contact one of our welcoming consultants who will be happy to guide you in designing the right kitchen for your needs.
Book a Design Appointment
If you enjoyed our design ideas, subscribe for updates.
Get kitchens design ideas in your inbox.
Check out these posts for more Kitchen Design Ideas.
Most Popular
Dublin Kitchens: The 7 Latest Trends
The 12 Most Influential Kitchen Design Trends from the US
5 Tips for Designing Small Kitchens
6 Exciting Colour Palettes for Kitchens with Personality
6 of the Best Solutions for Corner Cupboards
10 of the Most Beautiful Kitchen Backsplashes
Types of Kitchens
In-Frame Kitchens – 5 Things You Should Know
What are Shaker Kitchens and Where are They From?
What Exactly are Hand Painted Kitchens?
The Top 10 Trends for Modern Kitchens
Design Ideas and Trends
5 Clever Ways to Increase Natural Kitchen Lighting
How Much Value Does a Fitted Kitchen Add to Your Home?
12 Must Have Celebrity Kitchens of the Rich and Famous
Families
10 Kitchen Design Tips for Families with Kids
6 Tips for a Kitchen for a Large Family
Cabinets, Doors, Kitchen Islands & Finishes
9 Essential Kitchen Cabinet Types