Apart from the Celtic cross, Guinness and rolling fields of green, Ireland is building up quite the inventory of celebrities. It may be the scenic beauty of the landscape, friendly locals or privacy that draw big names to Ireland's tranquil environment. Here, celebrity houses are unlike their big-city counterparts; homes are often smaller and have a magical quality to them. Celebrity kitchens in Ireland are just as quaint, which is exactly why we love them! Here's a peek into the top ten celebrity kitchens in Ireland.
BTW, check out our Kitchen Design Ideas section if you need more design inspiration.
1) Jeremy Irons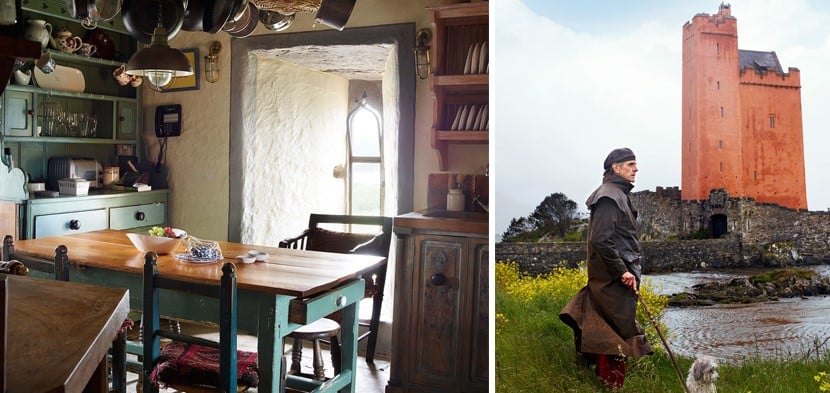 Triple Crown actor, Jeremy Irons, and his wife, actress Sinead Cusack, are among a few of the big names to call Ireland home. According to Vanity Fair, Irons "rescued and restored" Kilcoe Castle and even painted the piece of history pink. Irons saved the ruin and the treasure within speaks of another world.
The castle looks completely archaic, but inside it's an esoteric blend of Bohemia, theatre and medieval royalty with lavish tapestries and textiles. Irons chose to keep the historical relevance within the castle's interior. The turret-like castle consists of multiple levels, which means rooms can be rather small and dark as the recesses don't let a lot of light into the interior.
But this is all part of the magical experience that is Kilcoe Castle. The small kitchen with its stone floors and wooden cabinetry is quaint and homely. Open shelving and a hanging utensil rack help save space where possible. Teal accents suit this tiny seaside kitchen perfectly and bring lightness to the interior.
2) Dame Angela Lansbury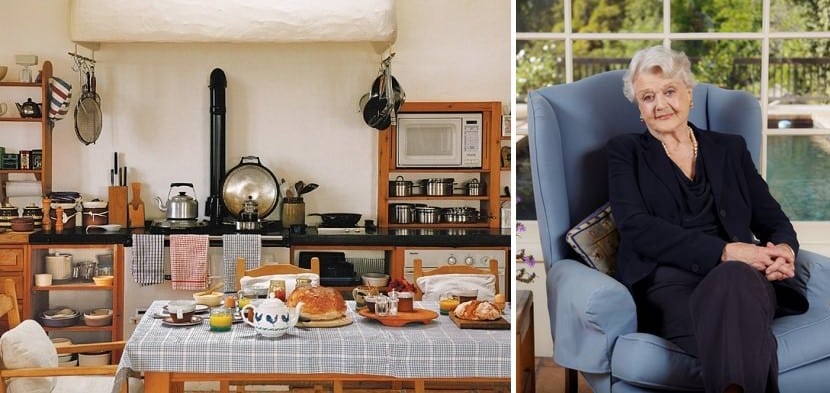 Architectural Digest & Belfast Telegraph
Dame Angela Lansbury is an American actress with multiple awards and a rather humble cottage in Ireland. Lansbury recently sold her Irish cottage, but the beauty of it remains. The white walls and open shelving of the kitchen are unpretentious in its minimalism. An extensive dining table features in the kitchen, perfect for a large family breakfast or tea. Like many other celebrity homes in Ireland, the simplicity of the cottage is in stark contrast with the opulence of celebrity homes in large cities. This homely kitchen interior shifts the focus to the essentials that make a home.
3) Ronnie Wood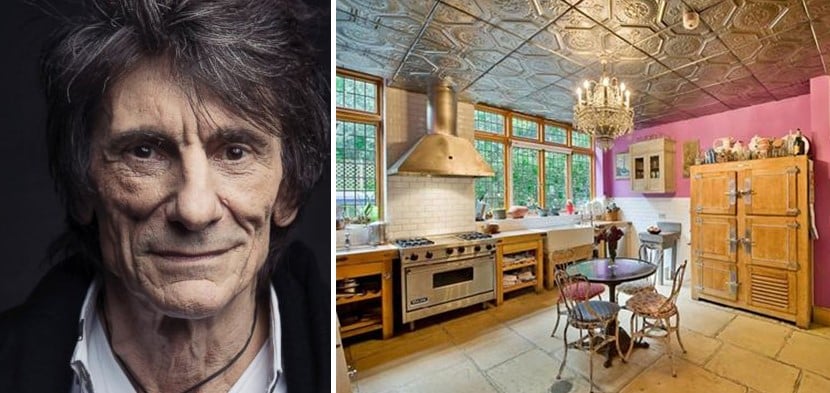 English musician, Ronnie Wood from The Rolling Stones, chose to settle down in Ireland with his wife. While the marriage was brief, the house is still a great place for the band members to come together. The kitchen is bold by Irish standards, with a metallic ceiling giving a rock-star atmosphere alongside contrasting pink walls. The kitchen itself, however, is not as ostentatious as its cladding. A large gas hob and oven, with natural wood open shelves, add balance the aesthetic of the interior. The small four-seater breakfast table adds a touch of Mad Hatter flare to this unusual home.
4) John Hurt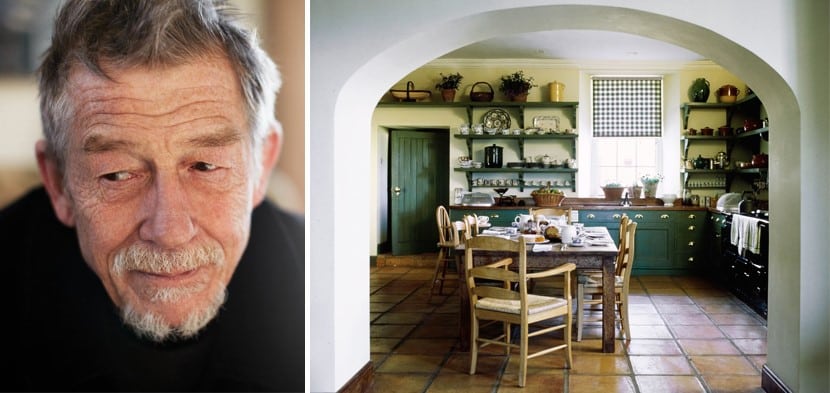 The late John Hurt, described as "simply the greatest actor in the world" by director David Lynch, owned this beautiful cottage until his death in 2017. However, his immense talent is forever captured on film and his taste in interiors in his home in Ireland. Terracotta tiles juxtaposed with green cabinetry creates a warm and cosy old-world kitchen. Here again, open shelves and brass finishes play a large part in the aesthetic of this traditional cottage kitchen.
5) Saoirse Ronan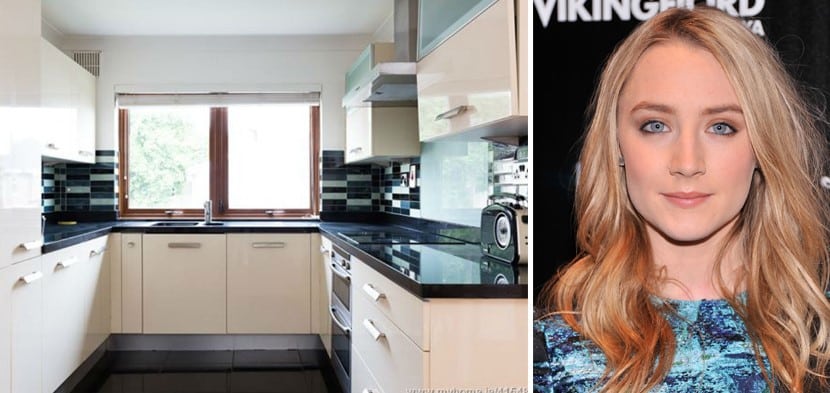 A 1200sq ft house might not be what we expect from A-list celebrities, but the Mary Queen of Scots actress, Saoirse Ronan's Dublin home is exactly that. This pint-sized terraced house boasts a contemporary kitchen with white cabinetry in a high gloss finish and a black and grey subway-tile backsplash. Frosted glass cabinet doors frame the kitchen's central feature, the hob. The strong lines of this sophisticated kitchen are emphasised with a black marble countertop and floor tiles. The kitchen opens to a large dining room with wooden floors. And if this is your style, Ronan's home is up for grabs!
6) Maureen O'Hara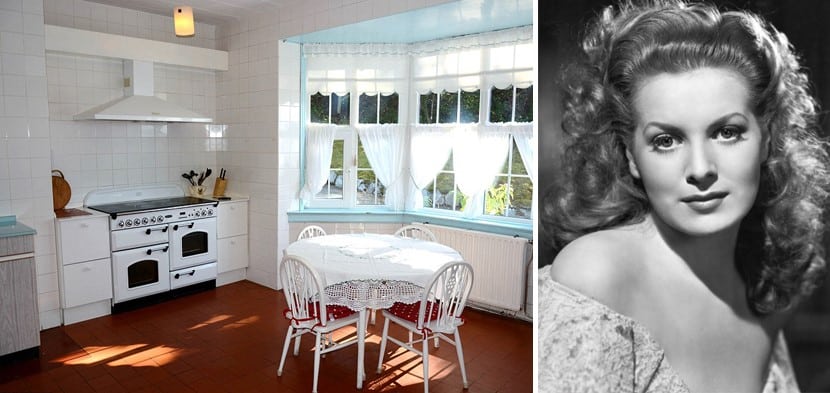 Irish Central & House Crazy
American-Irish actress, Maureen O'Hara, known for her roles in How Green was my Valley and Sinbad the Sailor lived in her Irish home up until a few months before her passing. The stately home sits comfortably within a 35-acre estate. The interior is reminiscent of the 1930s when the structure was built. The large oven and hob is the focus in the unassuming kitchen. Like many stately homes, the kitchen does not have a dual function of entertaining and cooking. Sky-blue lacquer fills the inside of the bay window adorned with lace curtains. Terracotta tiles replace the more traditional checkerboard linoleum option that was popular in the 1930s.
7) Lorraine Keane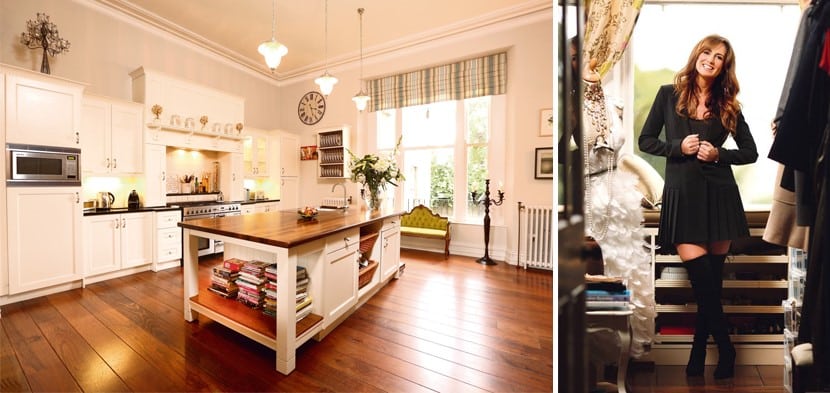 The kitchen of Irish broadcaster and journalist, Lorraine Keane, is a food lover's dream. A large kitchen island sits proudly in the middle of the kitchen with a built-in sink. The space is large enough to accommodate multiple shelving units and a generous worktop. The kitchen is a contemporary take on French country and traditional styles. The off-white cabinetry, open dish rack and hidden hood add to the classic elegance of the room.
8) Marian Keyes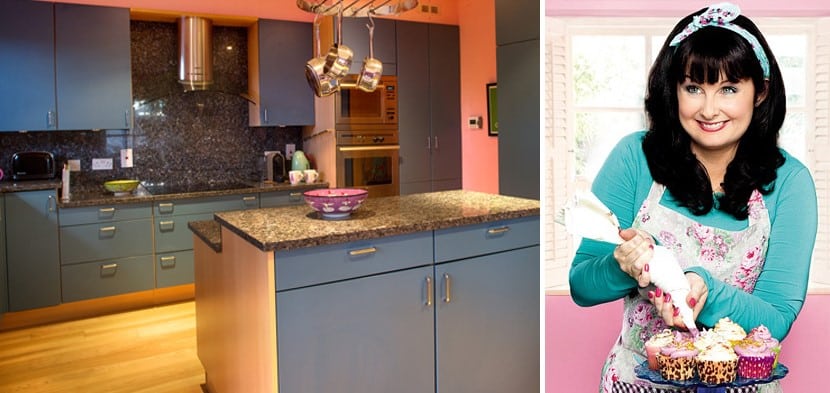 Author of Saved by Cake, Marian Keyes, surely knows how to make the most of a kitchen. During her struggle with depression, Keyes learned how to bake herself happy, and we can see why. Her colourful kitchen is inviting and unapologetically cheery. Pink walls and blue cabinets evoke memories of cupcakes and deliciousness. Granite countertops and a granite backsplash complement the daring colour-combo and add texture to the kitchen. A suspended pot-rack, a fitted double oven and minimalist extractor finish the quirky and fun space.
9) Eilish O'Carroll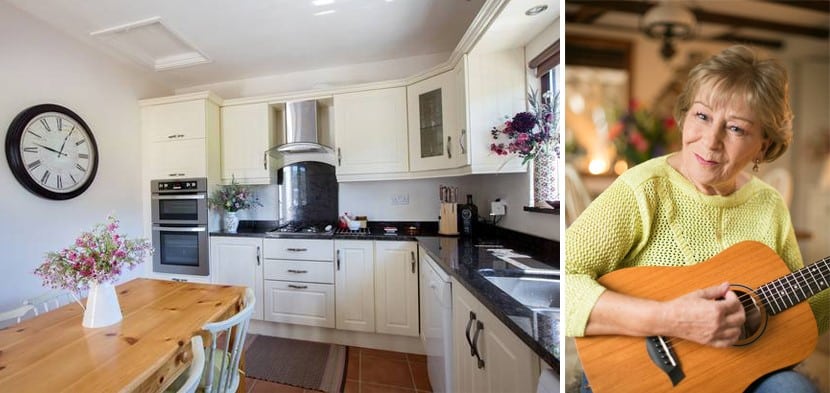 The home of Mrs Brown's Boys actress, Eilish O'Carroll, is welcoming and comfortable. Wrought iron finishes complement the classic black countertop and off-white French doors of the L-shaped kitchen. Earthy floor tiles add warmth to the black-and-white palette. A great breakfast table sits at the heart of the kitchen, making it easy to entertain while cooking.
10) Sonya Lennon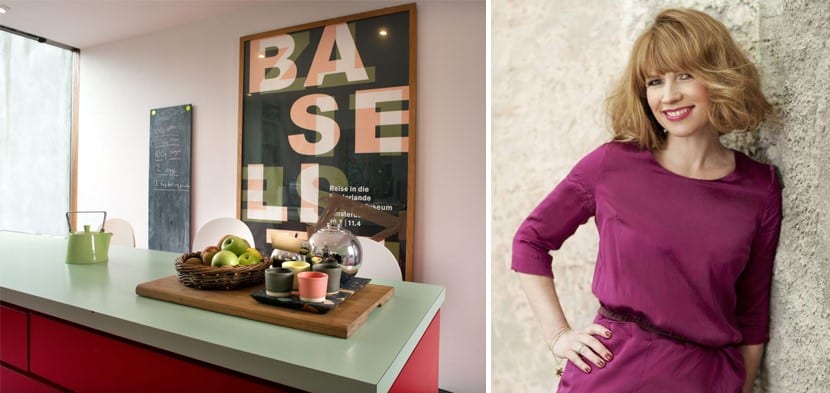 Fashion designer, Sonya Lennon, is a colour-lover and it shows in her work and home interior. Duck egg countertops and bright red cabinets are a pleasant contrast that gives the kitchen an edgy, retro atmosphere. Contemporary art in the form of a poster further enhances a casual air, a move away from more traditional interiors. The kitchen is sleek and uncluttered with strong lines and handleless cabinet fronts.
Contact one of our designers to assist you in designing your ultimate kitchen right here in beautiful Ireland!
Book a Design Appointment
If you enjoyed our design ideas, subscribe for updates.
Get kitchens design ideas in your inbox.
Check out these posts for more Kitchen Design Ideas.
Most Popular
Dublin Kitchens: The 7 Latest Trends
The 12 Most Influential Kitchen Design Trends from the US
5 Tips for Designing Small Kitchens
6 Exciting Colour Palettes for Kitchens with Personality
6 of the Best Solutions for Corner Cupboards
10 of the Most Beautiful Kitchen Backsplashes
Types of Kitchens
In-Frame Kitchens – 5 Things You Should Know
What are Shaker Kitchens and Where are They From?
What Exactly are Hand Painted Kitchens?
The Top 10 Trends for Modern Kitchens
Design Ideas and Trends
5 Clever Ways to Increase Natural Kitchen Lighting
How Much Value Does a Fitted Kitchen Add to Your Home?
12 Must Have Celebrity Kitchens of the Rich and Famous
Families
10 Kitchen Design Tips for Families with Kids
6 Tips for a Kitchen for a Large Family
Cabinets, Doors, Kitchen Islands & Finishes
9 Essential Kitchen Cabinet Types