There's no denying it; the US is a major influence on culture and design across the world. Whether you get your design fix through beautiful images on Pinterest or follow celebrities to emulate their homes, we are inundated with imagery from the States.
While many of the interior design trends we see originate in Europe, their high-street interpretation and absorption into popular culture is often driven by the US consumer.
Let's look at the top 7 most influential kitchen design ideas from the USA.
1. Kitchens integrated with living spaces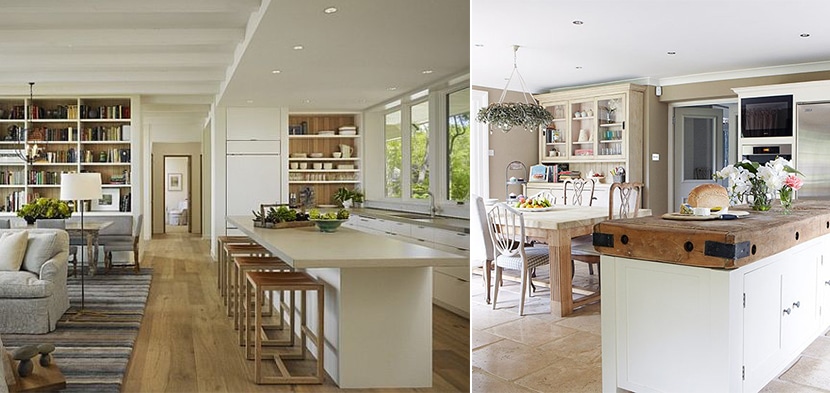 Designed with families and gatherings in mind, the integrated kitchen/living room merges your cooking area with your home's primary living area. Think Monica's kitchen from Friends.
Designers further bring these areas together by including integrated appliances as well as multi-functional eating and working areas to enable a seamless flow between the 2 living spaces.
2. Bold, statement-making ceilings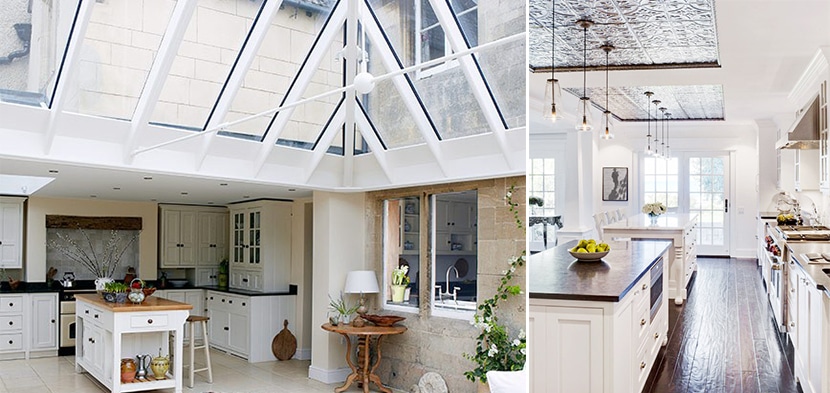 Through the use of elements like coffer ceilings, bulkheads, exposed beams and focal lighting, ceilings become a visual attention-grabber.
To bring the ceiling into focus, designers can get creative with stunning higher-level cabinet designs, clerestory windows, sky lights and beautiful light fixtures.
3. Traditional design repackaged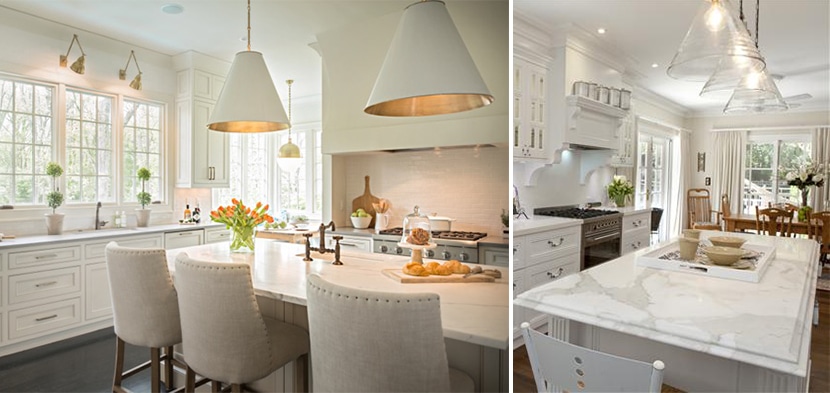 This trend sees present-day home owners with traditionally designed kitchens making the shift to simple, no-frills design. Without taking anything away from traditional design, its elements are being incorporated into more modern spaces through subtle details and finishes.
Look for elements like spindles, cabinet crowns, and plate racks to come back into prominence.
4. Subdued colour themes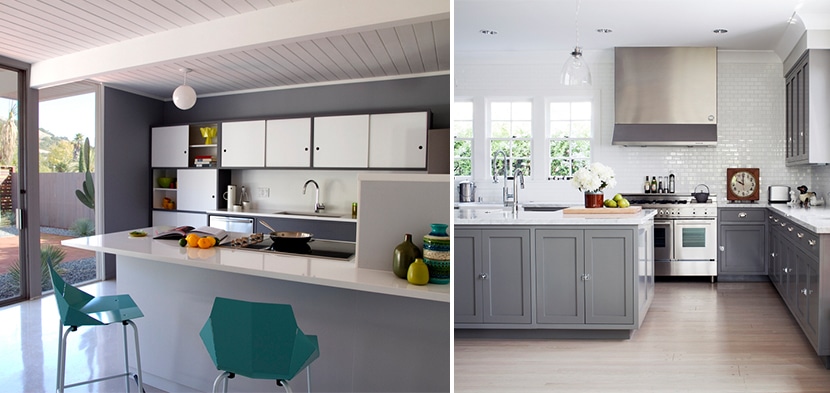 If you're thinking about a new paint job to revamp your kitchen space, you just might want to go in for a muted palette. While pure white themes are still very popular, they are now being combined with deeper colours as well —accents of muted blues and greens, yellow and pastels are making their presence felt across the kitchen design world.
Woods are also going lighter with walnut, white oak, and whitewashed wood making a definite comeback.
5. Metal playing a more dominant role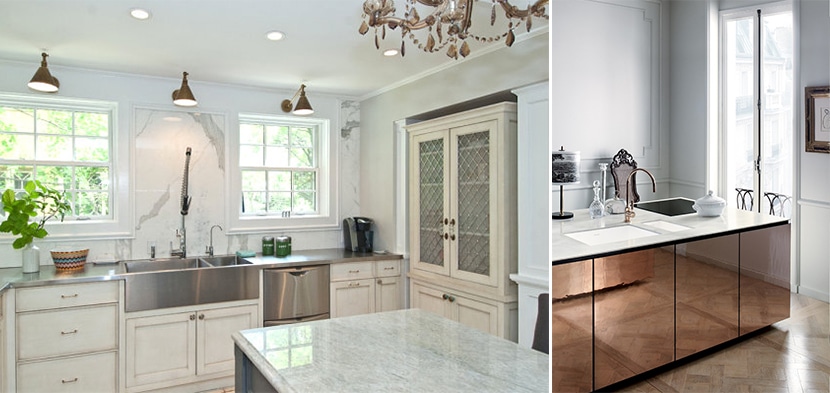 Metals have never been out of fashion in kitchen design; a certain amount of design elements have always been made using copper, stainless steel and brass.
However, the latest US trends point toward an increased use of metal finishes, with traditional wood surfaces being exchanged for metallic versions. From counter tops and cabinet fronts to sinks and appliances are all being treated with copper or stainless steel finishing to provide a trendy alternative to the norm.
6. The rise of smart spaces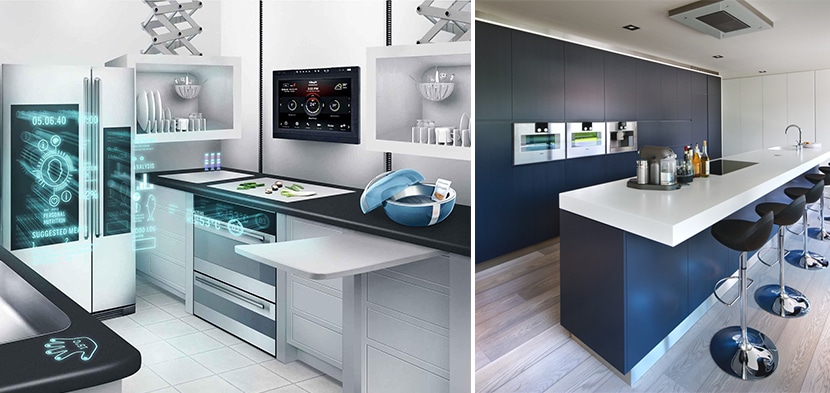 With integrated technology becoming a standard, the smart kitchen is the logical successor of the traditional version. Designers look to incorporate charging points and docks for phones and tablets, which are now commonplace devices in the kitchen.
State-of-the-art technology like smartphone-integrated steam ovens, coffee makers and the like are also quickly becoming the must-have items in a designer kitchen.
7. Wall coverings and cladding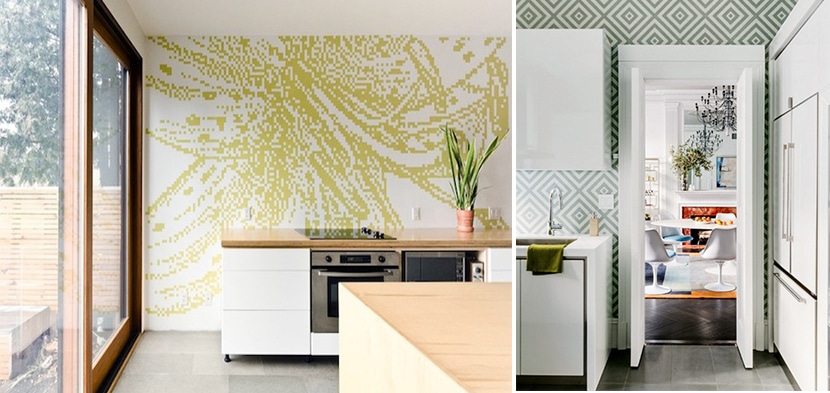 Black Lab Architects & Elect House
Different wall coverings are sure to add a unique touch to your kitchen. You can easily showcase your personality by complementing your kitchen décor with some well-chosen wallpaper.
You can even create a focal wall with a custom-printed graphic or photograph. Traditional printed paper is also being updated with printed glass sheets, cork and laminated fabrics, making for endless design possibilities in the kitchen.
Book a Design Appointment
If you enjoyed our design ideas, subscribe for updates.
Get kitchens design ideas in your inbox.