Small kitchens can be incredibly challenging to design and fit, but just because your kitchen might be short on space it doesn't mean that it can't be big on style and efficiency. In this article, we'll be sharing 5 clever ways to make sure that you get the most out of your small kitchen area.
BTW, check out our Kitchen Design Ideas section if you need more design inspiration.
1. Bright and Shiny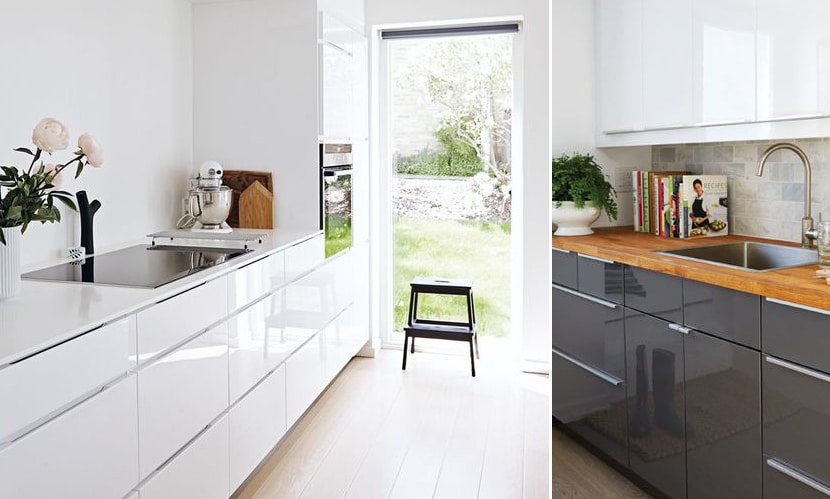 Having a high-gloss reflective surface is a great way to visually create more space in your kitchen. Opt for high-gloss laminates, gloss paint, stainless steel or glass. Other reflective surfaces like glass tiles and mirrored splash backs also add to the illusion of space in a small kitchen. Remember that the ceiling also counts as a very large surface. By painting it with a reflective sheen you will bounce more natural light into the space and create an airy room.
2. The Only Way is Up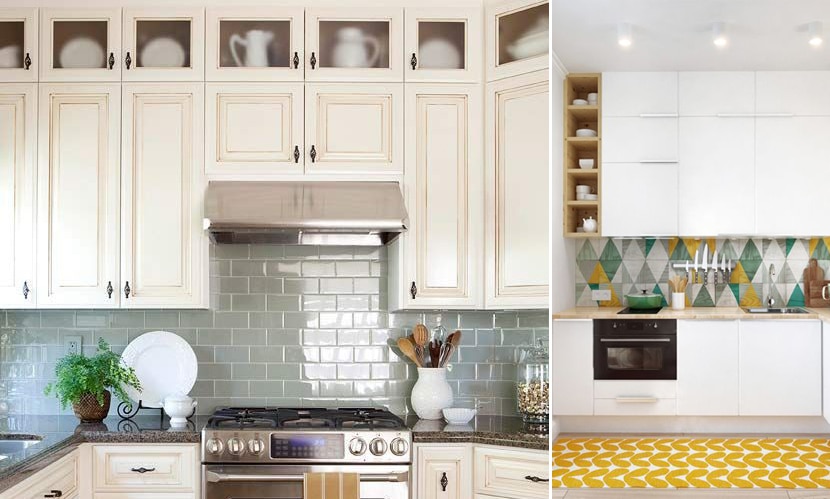 When designing a small kitchen, it is essential to focus on the vertical lines as well in order to be most space efficient. Install tall cabinets to optimize the packing space and by adding glass cabinet doors to some of them, you will add a bit of light reflection. Remember to keep glass door cabinets tidy and only display your best looking items. Alternatively, choose back-painted glass which will hide all manner of untidiness inside. In informal small kitchens, floating shelves are another great addition to make the most use of tall walls.
3. Hard Workers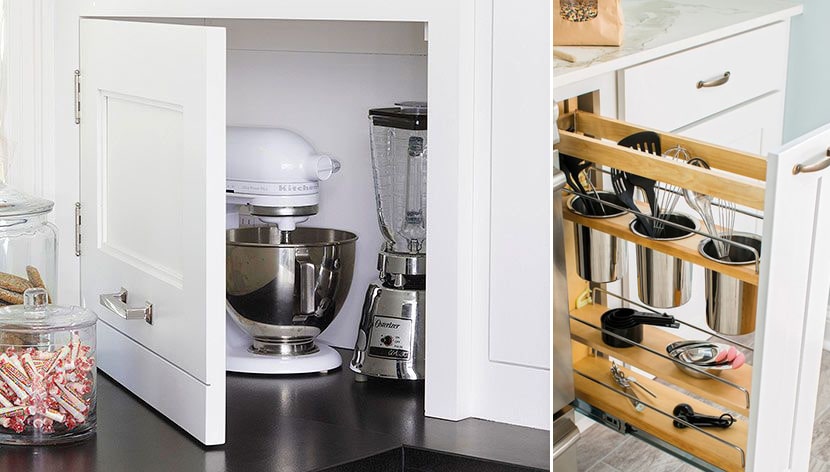 All elements of a small kitchen should be carefully considered and, if possible, should be multi-functional. Having a cupboard that hides appliances, all neatly plugged in, is a great way to save on precious counter space. There are a multitude of multi-functional storage solutions available that will allow you to make the most use of every nook and cranny in your kitchen. Integrated spice racks, rails for pot lids, stacking units for crockery, deep pot drawers and concealed rubbish bins – all of these will help make you small kitchen more efficient.
4. Out of the Box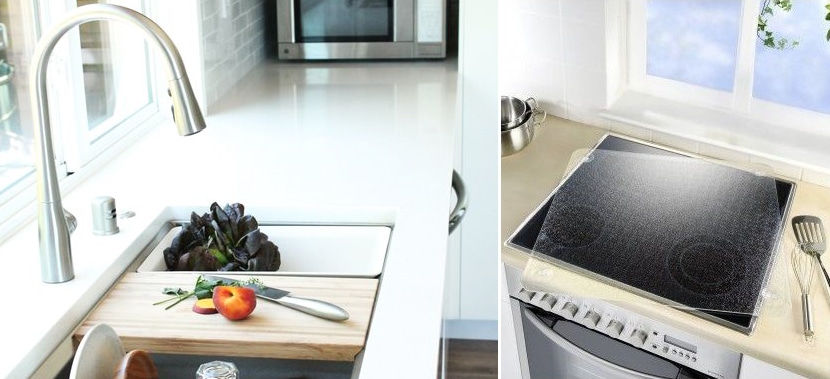 Look at your kitchen surfaces in a new light. Why not add extra counter space by having a cover over your sink or oven area? Work space in a small kitchen is the biggest challenge apart from cupboard space so consider these kind of solutions to make life much easier.
5. Trendy Extensions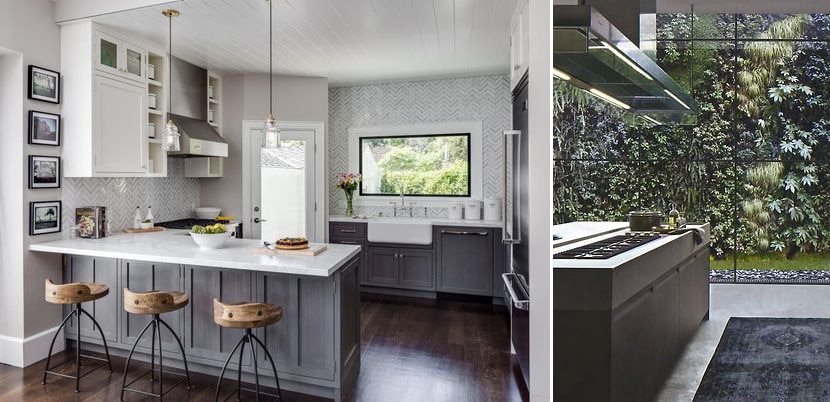 If the adjacent room lends itself that way, then consider knocking through one of your kitchen walls into a dining or living room on the other side. This is a very effective way to not only enlarge your kitchen, but it also integrates the kitchen into your living area. If your kitchen is next to a courtyard or outdoor area, you might want to consider extending your indoor space, outdoors. This does not have to be an actual extension – even just by adding a glass panel, large windows or door if the architecture allows, you can create the feeling of a bigger space. It also maximizes natural light that will make your kitchen feel double its size.
Book a Design Appointment
If you enjoyed our design ideas, subscribe for updates.
Get kitchens design ideas in your inbox.
Check out these posts for more Kitchen Design Ideas.
Most Popular
Dublin Kitchens: The 7 Latest Trends
The 12 Most Influential Kitchen Design Trends from the US
5 Tips for Designing Small Kitchens
6 Exciting Colour Palettes for Kitchens with Personality
6 of the Best Solutions for Corner Cupboards
10 of the Most Beautiful Kitchen Backsplashes
Types of Kitchens
In-Frame Kitchens – 5 Things You Should Know
What are Shaker Kitchens and Where are They From?
What Exactly are Hand Painted Kitchens?
The Top 10 Trends for Modern Kitchens
Design Ideas and Trends
5 Clever Ways to Increase Natural Kitchen Lighting
How Much Value Does a Fitted Kitchen Add to Your Home?
12 Must Have Celebrity Kitchens of the Rich and Famous
Families
10 Kitchen Design Tips for Families with Kids
6 Tips for a Kitchen for a Large Family
Cabinets, Doors, Kitchen Islands & Finishes
9 Essential Kitchen Cabinet Types
Get the Perfect Kitchen Finish for your Lifestyle!